05 Facebook Advertising Tips To Help You Maximize Your Budget
Facebook is a social media platform that continues to dominate because of its advanced advertising capabilities and massive user base.
Business owners or marketers on Facebook are always looking for ways to learn how to use its advertising feature more effectively.
Well! Many budding entrepreneurs have spent a lot of chunks on Facebook advertising but ended up with no results.
If you are one of them, then, you are at the right place!
In this blog you will find out why businesses need Facebook ads and five helpful tips to create FB advertising campaigns that will help you make the most of your ad Budget.
Hit 'Play' Button & Tune Into The Blog!
Why Your Business Needs Facebook Advertising
Facebook offers highly effective ad targeting because of its vast user base. One can reach their desired audience precisely.
A successful Facebook ad can help you drive the right set of audiences and convert them into your customers.
Your ads usually reach people who are interested in them. On this platform you can also target based on interest and age.
Facebook ads are essential for promoting brands, attracting customers, and converting them into buyers.
For all this, we have some useful Facebook advertising tips if you want to use this powerful platform to grow your business and avoid mistakes! Let's get started!
1. Always Define Your Audience And Set Clear Goals
With Facebook advertising, defining your target audience and setting clear goals is crucial.
You can reach specific audiences, interests, and behaviors through Facebook's diverse targeting options.
When you narrow down your audience, you reach people that are eager to know about your business, open to discover your content, and approachable to your message.
Consider the characteristics of your ideal customer when defining your audience.
Factors like age, gender, location, interests, and behaviors are crucial and should be considered when deciding audiences.
After defining the audience the next step comes to set clear goals. In this part you should be sorted on points whether you want to increase brand recognition, increase website traffic, or produce leads.
Establishing clear campaign goals is equally important in addition to audience definition.
Setting clear goals allows you to align your efforts and track progress effectively
When defining your target audience and setting goals, consider the following steps:
1. Firstly, identify the characteristics of your ideal customer.
2. To enhance your targeting efforts, create detailed audience personas based on the characteristics collected.
3. Setting goals for your Facebook advertising campaigns. Depending on what you want, like increasing traffic to your website, raising brand awareness, or increasing conversions.
4. Don't go for goals that are out of your league because you will then aim for something you are not sure about. Instead set goals that are specific, measurable, achievable, relevant, and time-bound.
Following these 4 steps You lay a solid foundation for effective ads by defining your audience and setting clear goals.
This strategic approach maximizes the potential of reaching the right people and achieving meaningful results for your brand.
2. Implement Retargeting Campaign
Retargeting is a Facebook advertising method that brings back site visitors who haven't converted into potential customers on their first visit to an online store.
When a particular person goes to your online shop, a "cookie" is set.
The cookie gives you a chance to recognize and take after your store's visitors when they visit different websites and display advertisements to these individuals. Many efficient brands use retargeting. Some of them use this to its complete potential.
Retargeting helps you to advertise and connect with people who have already gone through your website.
Facebook's retargeting abilities let you target two different categories of people:
People who are already on your Facebook list

This list includes email subscribers, blog subscribers, or past customers.

To best use this list, you can create targeted and timely offers that are relevant to these specific groups.

Think of an exclusive sale for "platinum customers" or a new product that works well with certain audience members' past purchases.

People who recently have interacted with your business

This category includes people who have taken action on your site, like adding items to a cart or watching a certain percentage of a video on the platform.

In fact, Facebook now even allows retargeting of people who interacted with your store in person. This is possible by setting up offline events.

An incredibly well-planned FB retargeting advertising campaigns ensure that you are giving your users what they require the most while meeting your business objectives in a considerably more brilliant way.

Overall, Retargeting is a powerful Facebook advertising technique that helps online stores remind and reconnect with potential customers who have shown an interest in their products or services.It's an effective way to boost sales and engage with a targeted audience.
3. Test Different Facebook Ads For Better Ad Campaign
Another way to drive engagement is by trying different ad creatives and messaging to ensure your Facebook ads are highly effective.
Use A/B testing to compare multiple versions of your ads and determine which ones go best with your audience.
You can enhance your ad campaigns and its overall performance using various kinds of visuals, headlines, CTA and format for ads.
Check out how A/B testing works and ways to implement it:
In A/B testing focus is on measuring one element at a time to check it's impact on your Facebook advertising.
Keep the rest of the ad consistent and change only one aspect, such as headline or the visual.
Systematically test different ad creative and use this to check which factor is driving audience engagement and conversion rates.
To simplify the A/B testing, Facebook offers a more convenient solution called split testing.
In split testing, your audiences get split into groups and different versions of ads are distributed among them evenly.
This kind of testing gives ideas on how each ad variation performs.
Use split testing results to make informed decisions for future advertising strategies.
Implement this testing, ensures fair distribution of ad variations and eliminates the need for manual audience segmentation.
Conduct A/B tests regularly and analyze the result to better your ad campaigns.
Consistently testing and improving ads on Facebook maximizes their effectiveness.
To improve the overall Facebook advertising campaign's performance implementing successful A/B testing strategies works.
This will help in gaining higher conversion and engagement.
4. Monitor and Enhance Your Facebook Advertising Campaigns
For better performance of the Facebook ads campaign, It is necessary to monitor and then bring enhancement to it next time.
Know campaign-related data, such as click-through rates (CTR), conversion rates, and cost per result, and keep track of this data.
Through careful observation, you will be able to identify areas for improvement and make necessary adjustments.
Follow these steps if you want to monitor and improve your ad campaign effectively
Use Facebook's Ad Manager Analytics:

To analyze data and gain insights to know the effectiveness of ad campaigns, try using Facebook's Ad Manager.

It will make it easy to discover which ad generates the best results with details on audience segments and locations.

You can improve your ad campaigns by shifting your budget to these high-performing factors, and this will lead to better outcomes.

Stay Ahead Following Facebook Advertising Trends:

It is crucial to stay up-to-date with the ongoing FB advertising trends and the best practices as people pay more attention to trendy content.

Trying new ad formats, targeting options, and optimization strategies helps to gain a competitive edge.

Continuously evolve with trends and adapt your ad campaigns to make them more effective and relevant.

Analyze Campaign Metrics For Improvement:

Analyzing ad campaign metrics is necessary because this will help to gain insights into the campaign and identify areas that require improvement. Try to keep an eye on CTR to determine how engaged your audience is.

To measure the success of your campaigns, evaluate the conversion rate. If you find that the conversion rate is low, you can revise your ad creative or messaging to improve it.

Another way to improve conversion is to optimize the landing pages or refine your targeting strategy.Keep track of cost per result to identify cost-efficient campaigns.

Make necessary budget adjustments depending on these data for profit and saving capital.

Implement A/B Testing For Improvement:

A/B testing is an effective method using which you can make data-driven decisions and can continuously improve ad campaign performance.

Many businesses use A/B testing to improve their ad campaign.

They have seen better results after implementing it in their strategies.

Another proven way is to use Facebook advertising tools which help businesses enhance their campaigns and save time.
PowerAdSpy is one such tool that can effectively assist you in improving your ad campaign.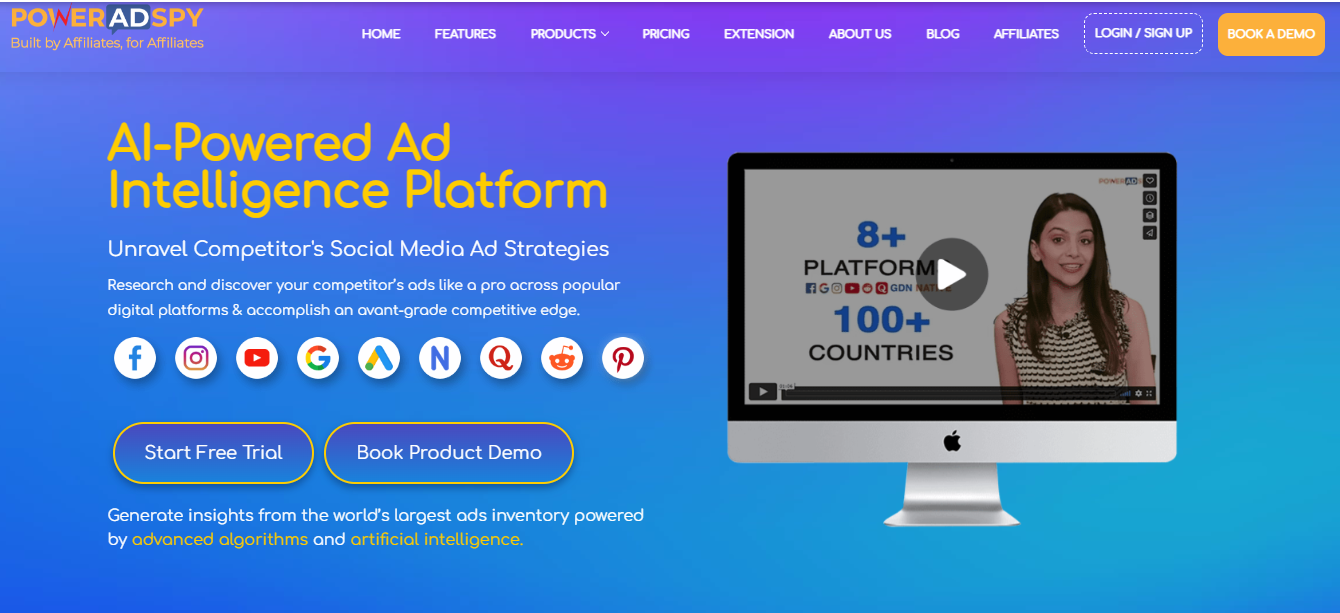 Poweradspy can help you gain insights into your competitors' ads, allowing you to stay updated on best practices for facebook ads with the latest trends and generate new ideas for your ad campaigns.
With its search algorithm, Poweradspy enables you to narrow down your search and access data from various countries. It's the ideal tool for individuals who lack a large team to handle different tasks, as it allows you to search for ads based on location and prioritize your focus.
5. Get Most Out Of Lookalike Audience
Do you really need to catch up to a lot of customers along with your Facebook ads?
Facebook lookalike audiences associate innovative targeting possibilities that strictly go on the far side of the first interest and demographic targeting practicality. They're presently the utmost powerful Facebook targeting gizmo to get your ideal potential client.
Unlike interest-based targeting, look alike audiences enable you to make the supply audience, simplifying your audience search.
As a result, you finish up with better-quality audiences, and also you'll be able to notice new audiences that are nearly just like your existing ones.
Lookalike audiences are perfect for reaching new people who don't know about your business yet. It's like finding new friends who are just like your old friends!
You can show them special ads and get their attention and this will help you with Facebook advertising.
Wrapping Words
Facebook ads have proven to be an efficient way to reach billions of people out there. They are very impactful and a powerful approach to reach such a huge amount of people within a very less span of time.
The above mentioned Facebook Advertising guide is the best way to advertise on Facebook and will surely help you to achieve higher ROIs, pumped up conversion rates and minimized ad costs.
All you need to do is to be wise and play well with your ads.