03 Effective Ways To Find Facebook Competitors Ads
There was a time when Facebook was a medium for interacting with friends and family, but now it has become one of the largest hubs for businesses, promoting their products and services. The platform provides the highest reach with a wide range of audiences, making it ideal for businesses to run advertisements.
But in this cutting-edge competition having a successful ad campaign is not everyone's cup of tea. There are a lot of factors that need to be taken care of, if you want to stand ahead of the curve, and one such important thing is understanding what strategies your market rivals are using for their ad success.
So if you are looking to gain some insights into your competitors advertising tactics, you are at the right place. In this blog we will tell you about the 03 easy and effective ways to check out your Facebook competitors ads.
Let's take a moment to understand what the significance of these ads is before we move forward
In a hurry? Listen to the blog instead!
What Is The Importance Of Facebook Competitors Ads?
Facebook competitors ads hold a lot of importance for any business trying to advertise their product. You can gather insights and strategies from your competitor's ad campaigns.
These competitors are those who are working in the same domain and targeting the same audience. When you are a beginner in this field, you will find that they have a lot more experience and knowledge. And you can take ideas to market strategically and attract audience at your end.
You can take ideas and plan your campaign by analyzing the kind of strategies that they employ to engage their target audience effectively.
Let's see some more benefits of gaining insights into Facebook competitors ads:
In-Depth Competitor Analysis:
You can do competitor analysis on Facebook to achieve your goals of running a successful ad campaign.
When one does a thorough competitive analysis, it helps them to understand how to approach their target audience through their ads. This is a result of all the insights they gain about tactics, audience engagement methods, and the overall strategy of competitors.
Maximizes Budget Efficiency:
You can save your marketing expenses by conducting a competitive analysis of the ads of Facebook competitors.
Utilize tried and tested strategies and ideas from competitors' successful ad campaigns to avoid the unnecessary hassle of trial and error.
And by doing this, you are bound to allocate your budget more effectively and focus on strategies more likely to deliver favorable results.
Enhances Strategies For Better Results:
It becomes simple for you to refine strategies by taking ideas from competitors' ad campaigns. Try not to copy them entirely but implement ideas according to your brand's uniqueness and identity.
Analysis of other ads can help pinpoint areas where your competitors might have an advantage and find ways to improve your approach.
All this will lead to a more impactful outcome for your brand, and you will make maximum profit, and will be ahead of many in your industry.
So this was all about the importance of Facebook competitors ads so continue further to explore ways to find these ads.
Ways To Search Facebook Competitors Ads
From the above discussion, we learned how Facebook ads are helpful to run a business and how Facebook ad search helps to grow your business.
If you are wondering how to find Facebook ads, here are the 03 steps in detail to research Facebook competitors ads.
1. Use Ad Intelligence Tools:
This is the best way to research ads and check what type of Facebook competitors ads are trending.
When you have insight into the ads of your competitor, then you have information related to their targeting and messaging, etc. It also helps you with ads tracking and performance. You also get an ad spending estimate with this tool.
This tool gives an overview of your industry advertisement strategy and enhances the process of ad analysis.
Do you want to know which tool will be best for you? The answer is PowerAdSpy.
This powerful tool can handle multiple tasks along with ad management.
PowerAdSpy is the best software to help you explore Facebook competitors ads.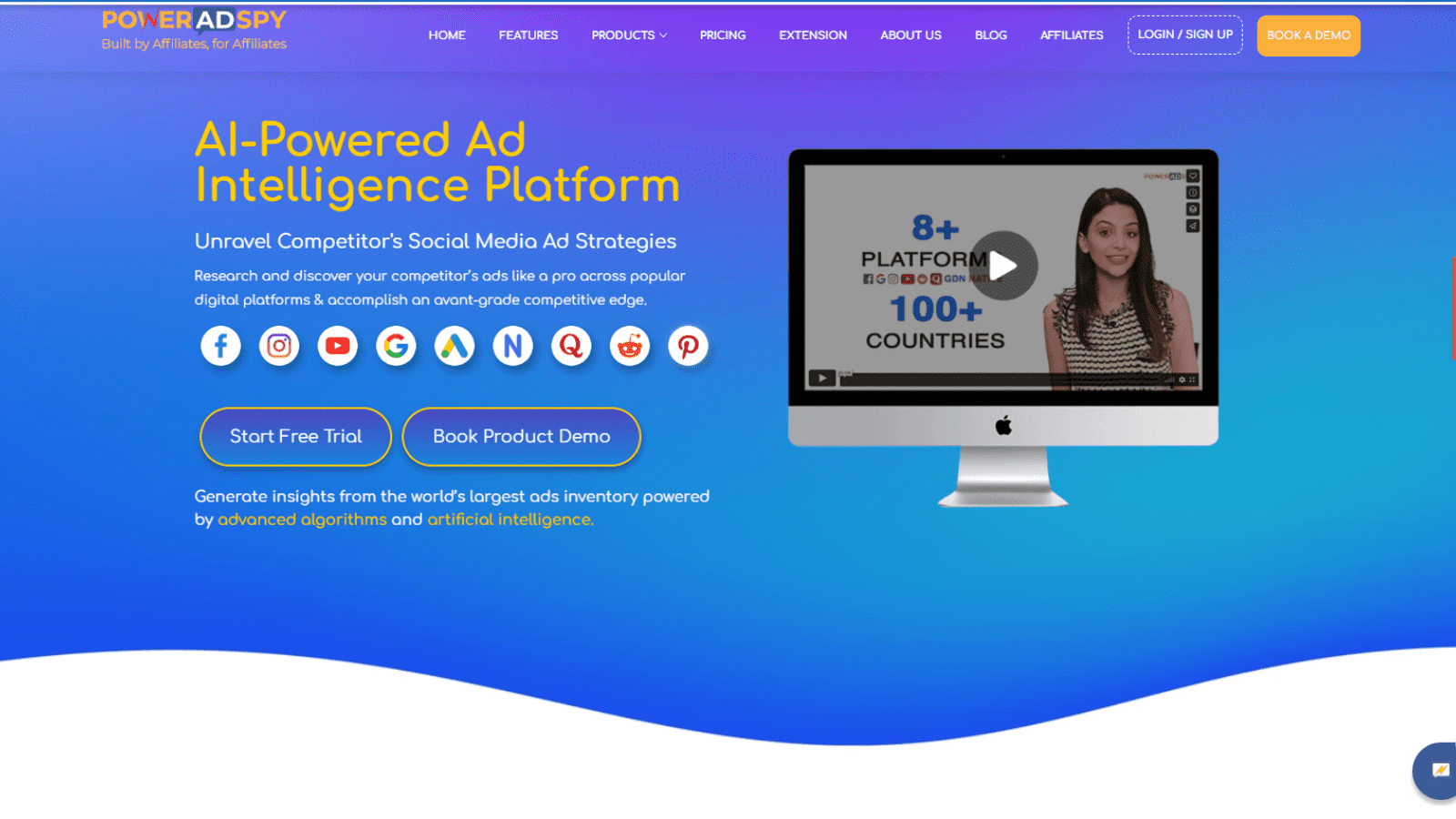 It is the most powerful social advertising analytics tool which improves your social ads advertising campaigns. It can find ads according to your keywords and helps with hassle-free content creation.
Now check out some features of this powerful tool:
1. PowerAdSpy offers the fastest-growing data with millions of ads in over 100+ countries. Thousands of fresh ads are updated in the database daily, so you get the latest ads in just a few seconds using this tool.
2. You can search for as many Facebook competitors ads as you want and analyze them to know which performs well according to your niche.
3. You can visit live ad posts directly from the platform to get crystal clear visibility of ad analytics. It helps to cross-check the real-time engagement with people's opinions over these ads.
4. You can filter the ads according to your requirements to avoid confusion between many ads. Its algorithm helps you search ads according to your keywords.
5. You can find several ads that you can use in your upcoming ad campaigns. You can save it in a bookmark option available and use it in future.
6. With PowerAdSpy, you can easily collect the best ideas to use in your video ads. For your advertising campaigns, you can download it.
Not only these, it has many more exciting features waiting for you in a single package. Don't think much, and grab it now!
2. Access The Facebook Ads Library:
Facebook has introduced the Ad Library because of the growing demand for transparency. It lets users explore active and inactive ads on different pages with Facebook competitors ads.
With the ad library, you get information about the regions where the ad is running with more details like ad content, targeting, etc.
As a result, advertisers understand the creative elements, the ad copy, and the overall strategy of their competition.
Facebook ad library gives you valuable information regarding competitors' ads.
You can know how many platforms these ads are shared. For more information about these ads, you can click on the details.
Here is how you can use the ad library on Facebook:
Go to the Meta Ads Library page at https://www.facebook.com/ads/library/?active_status=all&ad_type=political_and_issue_ads&country=IN&media_type=all.
You see the search bar in the Facebook Ad Library. First, pick the country in which advertisements you wish to see.
Choose All Ads from the adjacent dropdown menu after that.
Then type the competitor company name or keyword in the search bar.
You will get the search result once you complete step no. 5.
Click the ad, and each card will provide information of your use.
Underneath every advertisement in the meta Ad Library, you will notice a see ad details button to explore any variation in the ad.
Lastly, ad filters can narrow down the search based on the social media platform, type of language and the kind of content etc
If you want to enhance your experience with the Facebook Ad Library utilizing tools like PowerAdSpy is the best option. It will give better search choices and analytics, helping you uncover ad strategies that are much more effective.
3. Competitor Page Monitoring:
Facebook competitors ads monitoring is a way to carefully follow and observe FB Pages to learn more about how they approach marketing.
Businesses can uncover the valuable patterns and tactics their competitors apply in their brand's promotion. They can also get a good idea of how their audience engages with their content.
Using this method makes it easy to get a real-time understanding of the competitor's messaging and approach.
However, this approach requires a certain degree of manual effort. In this step of Facebook competitor ads research, businesses consistently keep an eye on the competitors' pages and content.
While it provides direct visibility into immediate strategies, This competitor page monitoring is a grassroots method of staying informed about rival advertising endeavors.
It is helpful to gain short-term trends knowledge and immediate messaging strategies. If businesses complement this approach with tools like PowerAdSpy, it yields a comprehensive understanding of the market and leads to successful campaigns.
ALSO READ

13 Facebook ad benefits for your business
05 Facebook Advertising Tips To Help You Maximize Your Budget
07 Ultimate Tips To Innovate Ads For Your Brand
How It Can Help Business Grow
Facebook with billions of monthly active users, is not only a choice for reaching your dear ones but also has become a powerful tool for running most of the business.
As Facebook is a powerful social network, you will see thousands of Facebook competitors ads on this platform. So, to fulfill your Facebook business goals, you need to use a few unique strategies with which you can grow your business despite your rivals.
Let's see…
1. Use a personal profile to promote business:
For running a business on Facebook, a personal business account should be there for the promotion. For marketing purposes, you cannot use your Facebook profile. But yes, you can share insights and information in your Facebook account along with links and posts.
2. Commenting on popular business pages on Facebook:
Small business owners often check the popular business pages to get more information about their marketing strategies, talk with their fellow followers and get more ideas to promote their own business.
Pro tip: Add comments to a famous FB page by using your business name, and you will notice this in most of your Facebook competitors ads.
3. Start a private group:
Every business opens a personal group where important pieces of information and working credentials are shared. You can share business tips, lessons, deals and strategies in your private group. This group can have common interactions about their business and can have planned for the development of their products and services.
4. Create advertisements for your page:
Of course, you cannot skip having an online presence for your business. Ads are the best way to have an online presence and reach millions of people around the globe.
Yes, you have to spend some money but think about the revenue that you will get from these ads. You will have more followers and leads. So, the content of your ad should be unique, and it should have a CTA button through which users can reach you.
5. Conduct Facebook events:
Words from your mouth are more effective than visual description. Conducting small events like seminars or workshops can be a great idea to reach people, win their confidence and promote your business.
6. Create engaging videos:
Simply words framed in a box does not work. Images are good, but videos are the best. Videos with quality content can be more interesting for the customers than ads in banners.
Your videos should have business insights and pieces of information along with a little entertainment. Along with Facebook, upload your advertisements and videos on YouTube to get more likes, views, and business reach.
The above discussion was all about business development through Facebook. Now let us know why we need to find your competitors' ads on FB.
Wrapping Up:
Well, it was a long article with many valuable pieces of information. With this information, you can conduct your ad campaigns with new strategies.
Businesses can get insight into Facebook competitors ads in a vibrant and constantly changing manner. There are various paths to explore but the fundamental lies in stable analysis with innovation.
Try to work on new ideas using these insights instead of copying them to enhance your ad campaign. The evolving digital landscape demands to always be watchful and flexible, and staying informed about competitors' strategies is just one piece of the puzzle.
In order to tackle it you can try PowerAdSpy to experience the best Facebook ad campaigns.