Top 8 Facebook Ad Metrics That Are Worth Tracking
It is evident that Facebook ads are still one of the most profitable avenues to reach potential customers and generate leads for business. With highly advanced targeting options, it ensures you get better returns out of what you spend on it. However, if you want to benefit most from Facebook advertising, make sure to keep track of your Facebook ad metrics.
It will help you to know how well your ads are performing. Accordingly, you can upgrade your advertising strategies and optimize your Facebook ads to gain more favorable results for your business.
Here, we will explore why social media metrics are crucial in growing your business online and some of the most essential Facebook ad metrics that you mustn't miss.
In a hurry? Listen to the blog instead!
Why Are Facebook Ad Metrics Important For Business?
From the recent Facebook stats, around 1.6 billion people check out the brand products of many small businesses on Facebook. It shows- how enormous the opportunity marketers have to advertise their brands on Facebook.
However, if you are investing in Facebook ads without considering the Facebook ad insights, things wouldn't be that great for you. But if you implement data-driven marketing strategies by utilizing the key ad metrics, you can ensure greater success and growth for your business.
So, without further ado, let's check out the most important Facebook ad metrics that you must follow in your marketing.
08 Essential Facebook Ad Metrics To Follow
#1. Cost Per Result
It is one of the performance Facebook ad metrics under which you will learn about the total cost spent to achieve a certain business goal through Facebook advertising. This metric is similar to Cost Per Action (CPA), where you want the action to be conversion.
Suppose you have an advertising goal of gaining more conversions for your business. So whenever a customer checks your ad on Facebook and takes action to make a purchase, it would count as a success.
This metric shows how cost-efficiently you have achieved your marketing goals using Facebook advertising. It would help you to identify and compare ads that are performing well without spending much in the bidding.
You can compare ads that bring better value to your money. And thereby, use similar tactics in your other Facebook ads to reduce expenditure and obtain better results.
#2. Cost Per Action (CPA)
It is also one of the performance-based Facebook ad metrics where you check the ad expenditure to achieve a desirable action from the audience.
For example, whether your advertising goal is to gain more website visits, bring conversion, or create awareness for your business. If people click on your ads to get the desired action, your Facebook advertising is successful.
The cost-per-action metric would help you to get a more accurate view of your ads' performance. That means if you have a lower CPA score, for the minimum cost of expenditure, you would be getting more click and conversion actions on your Facebook ads.
#3. Cost Per Click (CPC)
Cost per cost-per-click metric could help you find the amount you have spent to get clicks on your ads. If you have a lower CPC value for your ad campaign, it shows that your advertising is also more effective.
However, if your CPC value is quite high, that means you are overspending on your ads. Therefore, it could be a possibility that your Return on Ad Spend (ROAS) will be on the lower side as well.
#4. Return On Ad Spend (ROAS)
It shows the revenue amount for which you have spent every single dollar. To calculate ROAS, here is the formula:-  Total Revenue/ Total Ad Spend.
ROAS is one of the most important Facebook ad metrics to track. While most companies try to set their campaign goals according to ROAS, marketers sometimes overspend on ads more than what they gain.
Especially if you are an eCommerce retailer, targeting the Facebook ROAS metric can be very helpful for your business. Install a Facebook pixel tracking code on your website. So, it can help you to keep track of your sales record.
If you have installed Pixel, go to your- Pixel dashboard via the Ad Manager main menu. Under the Columns, select Customize Column. On the right side, you will see all the metrics that you have been seeing on the dashboard. You can add or remove any metrics you want to track.
If you search, you will find- Purchase ROAS metrics. Select that, and now it will also show you the purchase ROAS value coming from your website through Facebook ads.
Also Read
Here's Everything You Need To Know About Ad Relevance (7 Top Tips To Improve Relevance Score)
How To Measure Your Facebook ROI And Drive More Sales For Your Business?
A Complete Guide To Facebook Audience Insights: 06 Best Practices To Use It
#5. Click Through Rate (CTR)
Monitoring this Facebook ad metric would help you learn about the ad copies that are resonating well with your target audiences. On the other hand, it will also show ad copies that are not performing well.
It shows the percentage of people who have clicked on your ads out of all the other individuals who have looked at your ads. To find this metric, go to Ad Manager. Under the Column drop-down menu, select- Performance and click. It will show you the click-through rate of all ongoing campaigns.
#6. Cost Per Mille (CPM)
CPM shows the cost to achieve 1000 impressions on your Facebook ads. It is one of the most common Facebook ad metrics targeted by marketers since it helps them measure the cost-effectiveness of their ad campaign.
If you are confused about the cost fluctuations on different placements with Facebook ads. Knowing the CPM metric will help you opt for the ad placements that will provide you with better ad impressions even when you are spending low.
#7. Conversion Rate
This metric shows the number of people who have viewed your ads, clicked on your ads, and made a purchase order to become your customers. As there is a possibility that people who have viewed your ads but have not clicked on them. And even if they have clicked on it, they may or may not have made any purchase.
That is why- your Facebook advertising goal should be to increase your conversion rate. So, even with the minimum ad expenditure, you can generate a fair share of conversions for your business.
#8. Ad Relevance Score
The Ad Relevance score can help you assess the audience to know whether they relate to your campaign or not. A lower Relevance score shows that your target audience is not interested in viewing your campaign.
In such a case, Facebook is going to charge you a premium amount to showcase your ads, which may result in higher CPMs, higher CPCs, and low ROAS.
Facebook Ads Analytic Tools
You can utilize Facebook ads analytics like Meta Business Suite, Ad Manager, and Event Manager solutions to check on the key Facebook ads KPI for your campaign.
However, it won't help you much in knowing about your competitors on Facebook. In such a case, you can also utilize the Powerful Facebook ads analytic solution like PowerAdSpy.
Now, PowerAdSpy has become better with much better features, as it also allows you to search for the most popular ads and ads with higher impressions. Along with that, it also provides you the information about ad engagement and target audiences.
PowerAdSpy
As we know, the competitiveness in Facebook advertising is on the rise. So, to overcome the marketing hurdles due to cut-throat competition, people rely on various competitive Ad analytics solutions to keep their competitors in check.
PowerAdSpy is also one such tool that helps you search for the most popular and engaging ad campaigns in your niche. Recently, PowerAdSpy has improved its engagement analytics reporting by getting real-time engagement figures (likes, shares, comments).
Also, it shows you detailed target audiences' demographic insights of every ad campaign, through which you can learn about your relevant target audiences.
Coming to its latest update, PowerAdSpy has added two more options under its short by filter. It provides you the option to search for Facebook ads that have higher popularity and impressions.
And under the Ad category, you will find more categories to search for the most relevant competitors' Facebook ad campaigns without much effort.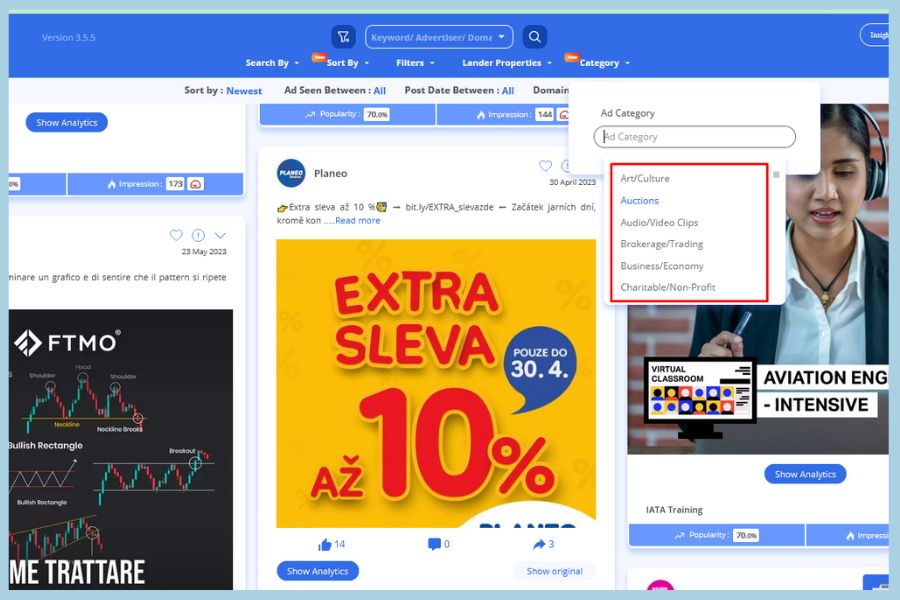 What Makes A Great Facebook Ads Analytics Report?
You can use Ad Manager to track important Facebook ad metrics. However, if you have already hit a plateau in your marketing, you can rely on other ads analytic solution that provides accurate data.
Suppose you have been tracking your ad analytic reports on Ad Manager. You can also track your Facebook ad metric using Google Analytics 360. Compare the performance data collected on both ad-analytic platforms. It will help you get a clear picture- how well your ads are performing on Facebook.
Also, we know that many Facebook ad metrics might not help you improve results. In such a case, you should save time and effort by focusing only on the result-oriented metrics.
Wrapping Words
So, in conclusion, these are some of the most important Facebook ad metrics that could help you create better-performing campaigns on Facebook.
However, along with these Facebook ad metrics, you can also try other Facebook ads monitoring platforms to look for the key performance indicators.
When seeing individually, a Facebook ads analytic would not make much difference, but when we keep it together with other ad metrics and compare, it can crossbar your expectations!
Are you currently using any tool to know the trendy Facebook ad metrics? If yes, then, how is it working for your business? Share your experience with us!