Clothing Ads: A Comprehensive Guide For Advertisers
What is your first reaction when you hear about advertising?
Let us guess-
On the first attempt, you think about the giant banners of your favorite brands on social media, in malls, stations, and different places.
But advertising is not just what it looks like.
Advertising is more than just what meets the eye. It is a multi-faceted tool that helps businesses to achieve their marketing objectives and reach their target audience more effectively. But at the same time, it is also vital to recognize the broader impact of advertising on society to use it responsibly and ethically.
While we have an idea about advertising, let's know about clothing ads and get a detailed view of how fashion ads are impacting our society culture with this article.
Hit The Play Button To Listen to This Article
What is advertising, and how it works
Advertising is the act of creating social buzz via social posts, flyers, printables, tv ads, and more with psychological tactics to attract the public and make them buy your products. As this trend is continuing from the oldest times to influence the audience, it has to be influential and eye-catching. 
Now, the question is how it works.
Let's take an example of clothing ads, for selling a clothing product you have to first create awareness among the audience with an attractive advertisement. This advertisement has to make the audience think of buying the product.
Advertising is to sell your product by using psychology to influence the audience. You can achieve your goal through different platforms such as radio commercials, billboards, and clothes with your brand names.
Nowadays, social media is super beneficial for marketing and advertisements. You can also get insight into your competitor's clothing ads.
Since many such tools are available in the market, we introduce you to the best ad intelligence tool Poweradspy. With this tool, you can explore shopping ads and analyze the strategies to attain insights into your chosen ads.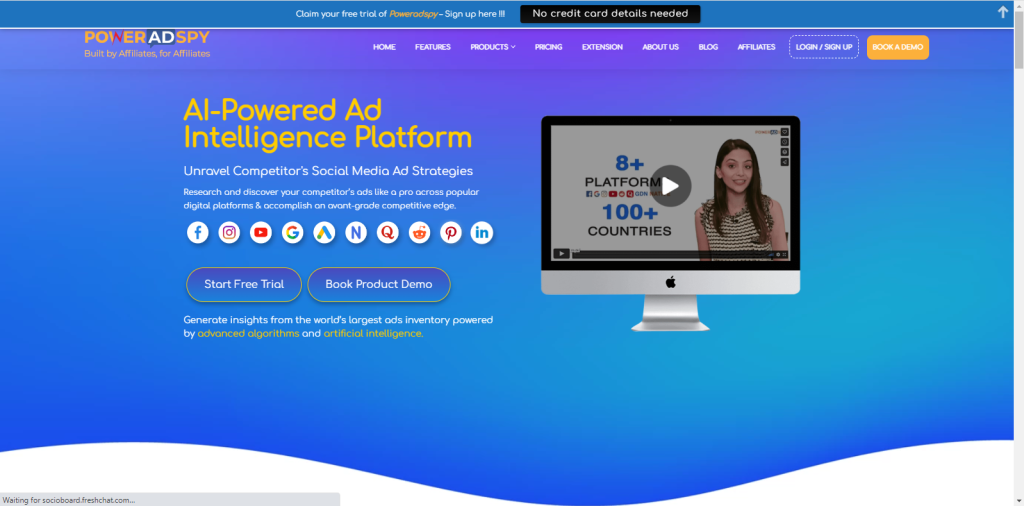 Many companies use PowerAdSpy for competitor research and to strengthen their advertising game. Being a powerful social ad analytics tool, it can enhance your marketing strategy to be successful. Here are some features:
It filters ads based on their position so that you get the control to search the ads according to your niche.

It offers crystal-clear visibility of ad analytics from the ads directly from the platform so that you can cross-check the real-time engagement with the audience. 

Poweradspy has the fastest growing data with millions of ads in over 100+ countries that help you empower your ad strategies with few clicks.

With the help of its advanced search algorithm, it gives you the exact ads you are looking for by searching for popular keywords/phrases/terms. You can also sort the ads by dates, shares, likes, and comment to find the best ads to grow your ad campaign.

It also has the feature of call-to-action-based sorting, which is the most vital factor behind a successful ad campaign. With this feature, you configure the best call to action working in your niche.
With PowerAdSpy you can search clothing ads of your competitors with exact and relevant keywords and analyze them to chase your ad strategies.
Why a tailored marketing strategy is essential for your clothing ads
Having a customized marketing approach is crucial for promoting clothing advertisements online. Selling clothing products in the digital realm can be both promising and challenging. 
The fashion industry (including clothing ads and accessories) generated nearly 30% of all e-commerce revenue in 2021 and projects an increase to $3.3 trillion by 2030. With many retail companies transitioning from physical stores to online sales, fashion e-commerce has been exponential. While this presents an opportunity for individuals looking to start their online brand.
Certain apparel brands have nailed their advertising campaigns, with the design, messaging, and targeting all falling into place flawlessly. 
Furthermore, consumers are seeking out brands that are ethical and transparent. Therefore, it is essential to put in extra effort to stand out from the crowd with a well-planned marketing strategy. 
However, this is not a coincidence. As a marketing agency focusing on e-commerce, we understand the importance of shopping ads spy. As creating an ideal clothing advertisement entails extensive strategic planning. With our article, we deliver what constitutes a successful clothing ad and discover lucrative marketing tactics.
Simply promoting your brand is not enough consistency, and uniqueness is the key.
How can you make a clothing brand your money land?
As advertising of clothing brands is getting stiff, day by day, that does not mean you give up on it. Thousands of fashion brands fail in marketing, not because their brand is not good but only because they have not mapped out a game plan.
So, if you want to stay ahead in the long race, make a goal and stick to it.
Your brand is your lead asset in the fashion industry, drenched with numerous clothing businesses. To differentiate yourself from others and make a lasting impression, you could establish a unique identity that resonates with your target audience. 
Developing a recognizable clothing ads image through a consistent color scheme, logo, typography, voice, and tagline is crucial to achieving this goal.
Investing your time and resources in branding will help you stand out in a crowded market and create a strong connection with your customers. By defining your brand's values, personality, and tone of voice, you can attract and retain loyal customers who share your vision and beliefs. 
Therefore, it's essential to understand your target audience and create a brand that reflects their preferences and aspirations.
Choose the target audience and platform to make a supportive strategy. 
While some argue that small clothing brands cannot compete with established clothing advertisement industry giants, this is untrue. 
While big brands may have wider recognition, products, and budgets, smaller brands can still carve out a distinctive niche and target market to gain a share of the audience. Social media platforms provide interests and demographics to target, making it easier for small fashion brands to reach their ideal customer profile. 
For instance, if a brand sells plus-sized apparel for women, targeting male athletes will be a waste of time.
Different demographics also use social media platforms, such as Facebook clothing ads. Facebook shopping and on-platform payments provide a seamless buying experience. So it's essential to understand how each advertising channel positions itself in the sales funnel. 
Retention strategies, such as email, SMS marketing, remarketing ads, and user-generated content incentives, are crucial. And also for recurring revenue and transforming customers into loyalists and ambassadors. 
Finally, a high-quality product and exceptional logistics are essential for retention.
Best practices for clothing ads
Include reviews in your clothing ads.
Getting social proof through testimonials and reviews can be highly effective. Even if user-generated content (UGC)is complicated, in the initial stages, you can still leverage your customers' positive comments about your brand. It's vital to monitor all channels where customers can leave feedback regularly and select the most compelling ones to include in your ad copy or creative.
Additionally, if your brand is in highlights in an online magazine or a popular fashion blog, it's essential to take advantage of the publicity. People pay attention to advertisements that include "as featured in…" statements.
Here's a helpful tip: You can utilize Poweradspy to analyze backlinks to your online store. Sometimes, your brand can be showcased on blogs or publications without your knowledge. These features can be a valuable addition to your clothing advertisements.
Invest in quality creative talent.
It's important not to be stingy with creative assets. Investing in high-quality product photos and editing is essential. It demonstrates your commitment to your business and contradicts the belief that buyers prefer natural-looking photos.
In addition, pairing a high-quality product photo with an environment that relates to your target audience will capture their attention and prompt them to pause and notice.
Utilize influencer marketing
In today's online advertising landscape, influencer marketing has gained immense popularity, particularly for clothing brands, due to its high effectiveness. 
Essentially, this marketing strategy involves social media influencers creating content to promote products or services. These influencers are not just ordinary people; they have a large and loyal following, ranging from thousands to millions of users, influenced by their opinions and actions.
For example, a clothing brand can partner with a micro-influencer having a dedicated following and create a first-person copy ad with a buying incentive, such as a free pair of leggings. If you are a small clothing brand, using influencers is a great way to acquire new customers. To do this, you should first research influencers who match your target audience, introduce your brand and offer a collaboration deal, such as payment or free clothing items. Then, allow the influencers to promote your brand organically.
It's essential to optimize and monitor the results of your clothing ads to ensure the success of your influencer marketing campaign. 
Use video in ads
The most effective method to display your clothing ad is through video ads.
Video ads grab attention and can furnish potential shoppers with additional information.
As per Hubspot, the significance of video ads in the marketing strategies of marketers grew to 92% in 2022 from 61% in 2016.
Additionally, 87% of marketers now claim that video ads provide them with a positive return on investment, with a significant increase of 53% from 2015.
Keep an eye on your competitor's ads. 
If you're seeking inspiration, exploring rival clothing brands is a great way to find it.
It's acceptable to conduct this type of research.
To spy on shopping ads and your competitors' clothing advertisements, you can gain ideas for your campaigns and perhaps get insight into what's working within your industry.
Pro-tip, If you're unaware of who your competitors are, conducting research is essential. Tools like PowerAdSpy can help you identify competitors' pages to get insights if you have a content-rich website. 
To view the clothing ads of competing companies, use Poweradspy, which provides active ads from thousands of clothing retailers.
Read more
:
How Social Media Impacts The Clothing Advertisement Industry?
How Fashion Ads Are Impacting Our Society Culture
Shape The Future Of Your Fashion Brand With Display Ads
Conclusion
In conclusion, advertising is a powerful tool that can benefit your marketing strategy by offering a variety of platforms to promote your brand. To effectively connect with your audience, craft an authentic brand story that resonates with values and emotions. While creating clothing ads it is vital to relate a sense of community. 
By implementing these proven techniques, your brand can attract customers, build a loyal following, and generate revenue, ultimately leading to long-lasting success like that of the advertising industry itself.
We hope this article shows you the path to growing your business.
Have a question? Comment below