7 Brilliant Clothing Ads Ideas For Your Brands
Fashion brands are cropping up left, right, and center. So how do you ensure that you stand out from the crowd? If you are thinking about running clothing ads online, you are on the right path.
Online fast fashion retailers and luxury brands spend millions of dollars on digital advertising.
It alone tells you that running ads is one of the most effective ways to boost awareness and get sales for your fashion brand.
Well, everyone needs clothes. In most circumstances, clothes are both essential and a "luxury" item at once, making marketing complicated, exciting, and fun.
Because everyone is always buying clothes, you have much less of a difficult time identifying and advertising to your target audience. However, because clothes are so popular, it can make the competition fierce regarding clothing ads.
If you are looking for a brand advertising guide, we have got you. Let us dig in further.
LITSTEN TO THIS PODCAST TO KNOW ABOUT CLOTHING ADS
Why Do You Need Clothing Ads?
There might be many different answers to this, but if you ask us, the simple answer is that ads help you reach your target audience where they spend most of their time online. 
Think of social media as a stage. Your clothing ads efforts are the lights, music, props, and quality of the product. The main event? Your clothing. 
A clothing campaign is the best and perfect way to spread the news about your brand, put the focus on particular products, and grow your online audience, even when starting from the bottom.
Brand Strategies
 If you want your brand to be profitable and run big, there should be a full-fledged strategy from manufacturing to advertisement. These strategies also include marketing and ads.
Seven highlighted tips for clothing ads are-
Establishing a brand

 Identify your target.

Create a carousel ad for Facebook and Instagram

Create a product lookbook as a clothing ad

Bring out the value of your product

Feature influencers and actors in your clothing ads

Promote social causes your brand stands for as a clothing ad
Establishing Your Brand Appearance
First, what is a Brand? A brand is a feature or set of features that distinguish one organization from another.
Brand appearance is the aspect of branding that focuses on your brand's personality, furthermore, the values you convey to customers through your advertisements.
Advertising elements such as logos, color schemes, fonts, and taglines are ways to establish a brand identity and create a difference between your product and other companies.
If a customer recognizes or likes your branding, it may increase the chance of them purchasing your product in the future.
Identify Your Target Audience
It is money down the drain to advertise without a target audience. 
So, who is your target audience? Identifying your target audience is foremost because it tells you WHO you should be targeting, WHERE your clothing ads should put the efforts on, and HOW they should be focused, specifically.
Who should you target?
For this, you have quite a lead. Who can wear your clothes? Men? Women? Children? Babies? Maybe you are targeting specific regions, climates, or genders. 
Whoever you are targeting, one thing we can guarantee you as a marketer is that your target audience IS on social media. And while it's not always EASY to find them, they're waiting for you. It CAN be done.
How should you target?
If you don't have an audience, how do you know whom to target?
The most simple and convenient key we may tell you is that Take a peek into another's strategy.
We can understand how exhausting it might get if you peek at every competitor's digital marketing and strategy on your own. 
There are several shopping ads spy tools available in the market.
It allows you to analyze other shopping advertising campaigns through which you can come up with the best strategies.
PowerAdSpy – The Leading Ad Intelligence Tool
PowerAdSpy is one such tool that can be used to spy on shopping ads of your competitors and track their marketing activities and ad campaigns such as their landing pages, and engagement statistics in a single dashboard.
It gives the value in 3 quick steps
Explore Ads
Analyze ad strategies
Optimize your marketing strategy
Let us take Facebook as a platform to make you understand how PowerAdSpy works.
Step 1: Login or sign up to PowerAdSpy 
You will see the dashboard with all the available platform ads consisting of YouTube, Facebook, Google, Twitter, Instagram, Reddit, Linkedin, Quora, Pinterest, and native ads. You can choose this platform to get knowledge of your competitors.
Step 2: Now Click on the Facebook Icon
Once you select Facebook, you will see all kinds of Facebook Ads in the dashboard.
Step 3: Narrow Down your Search 
Enter a keyword on the search bar to find more specific ads you are looking for. It can be any word on your niche, company, name of the advertiser, or domain of your competitor.
Step 4:  Filter your Search
Choose the advanced filter option given below the search bar. You can search by specific ad images, text, brand name, object used, or featured celebrity on the ads.
Moreover, through its advanced filter options, you can filter advertisements by type (video/image), country, target age, language, position, and call to action.
Step 5: Hit the search icon.
Click on the search button and wait for the results to load. Tons of ads related to that particular keyword will pop up. You can also change the language of the dashboard from the top right column beside the notification bell.
Step 6: Check the Ad Analytics
Once you have your desired ads on the dashboard, you can pick any and go to "show analytics" on the bottom left of the ad image to check the analytics of that particular ad. 
Step 7: Get Results
PowerAdSpy will show you all the ad specifications ranging from the landing page and the ads to the audience demographic, location, and many more.
By leveraging an ad intelligence tool like PowerAdSpy, you can access invaluable information about your competitor's ads campaigns, just like we did for the clothing ads niche.
Create Carousel Ads for Facebook & Instagram
A carousel allows you to show multiple images or videos in one ad. Users can scroll through the carousel and view several of your products in one post.
It is a great format to showcase various features of your product or services or to show multiple products your brand may have. You can create a carousel ad on Facebook or Instagram by using the Facebook ads manager.
what's even better is using Facebook Pixel to retarget your clothing ads, A carousel allows you to show multiple images or videos in one ad. Users can scroll through the carousel and view several of your products.
This is a great format to showcase various features of your product or services or multiple products your brand may have. You can create a carousel ad on Facebook or Instagram using the features of the Facebook ads manager. 
Even better is using Facebook Pixel to retarget your ads exclusively on Facebook. It also makes Instagram and Facebook clothing ads more interactive with the audience.
Using this feature, you can target users who have added items to their cart but have not purchased yet. 
You can also see the cost of the products with a "Shop Now" button. This causal makes the clothing ads hyper-targeted and very effective.
Create A Product Look Book As A Clothing Ad
One of the simplest and most effective clothing ads ideas is to create a lookbook featuring your latest collection of trendy dresses. 
This creates awareness of your product and engagement with relevant users. It's an effective way of showing what the brand stands for with a lookbook of its latest collection.
Bring Out The Value Of Your Product
You can stand out by showing one of the unique pieces from your catalog for the clothing ads that will behold the audience.
This is a simple and effective way to reach the target audience with the right message, offering them value and enticing them to buy the product.
Finally, we have the video showing us the look and feel of the product in detail. This simple clothing ad manages to provide information to a prospective consumer need and has a high chance of a conversion.
Feature Influencers Or Actors In Your Clothing Ads
A super simple way to build credibility for your brand is by getting influencers or users to vouch for you. A video featuring influencers and other users talking about your clothes can give you a good amount of promotion.
You can use this as a place to share the latest trends, styles, and offerings associated with a brand.
Promote The Social Cause Your Brand Stands For As A Clothing Ad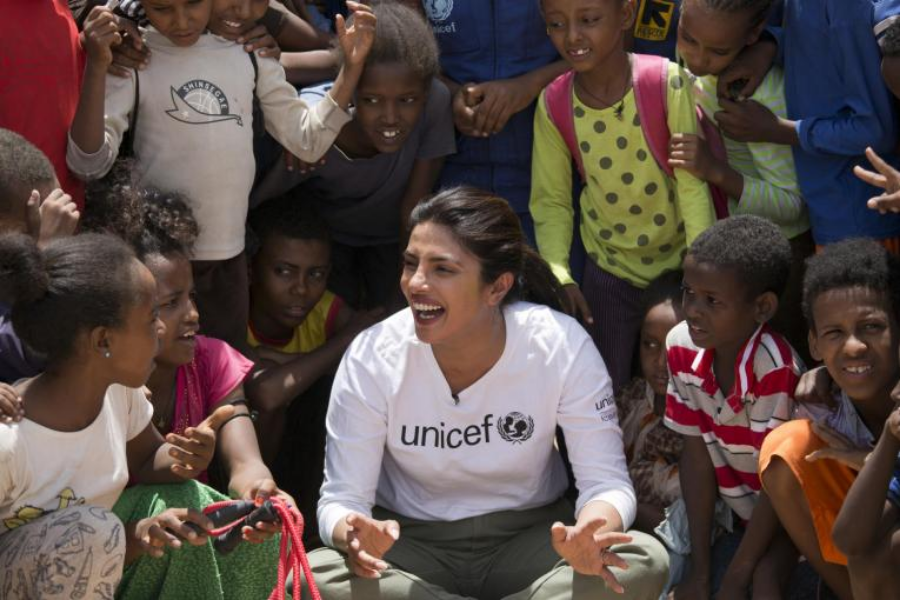 According to a recent survey, 46% of customers expect brands they support to be socially responsible.
If you stand for a cause, posts around how your brand serves this cause are a great way to build a better connection with your customers, establish your authority, and create more long-term loyalty.
You can talk about sustainable fashion, recycling, Green Earth policies, and many more in your clothing ads
This makes your brand more relatable and humane, gives you the right kind of exposure, and builds a following for your brand amidst the hyper-conscious consumers of today.
Wrapping Up…
Creating effective clothing ads that convert to sales and sign-ups is all about recognizing your brand voice and showing off your products. 
You can use the various clothing advertisement ideas we have shared to promote your clothing brand. But you will need to also focus on marketing strategy and social media chops for the best results.
Lastly, for better results an ad intelligence tool can provide invaluable insights into your competitors' strategies, audience targeting, and ad creativity, empowering you to make informed decisions and optimize your campaigns for maximum impact.