Build Winning
YouTube Campaigns Today
by Spying
on Your Competition
Make better marketing decisions by learning what ads are already successful. Get comprehensive data on profitable YouTube campaigns.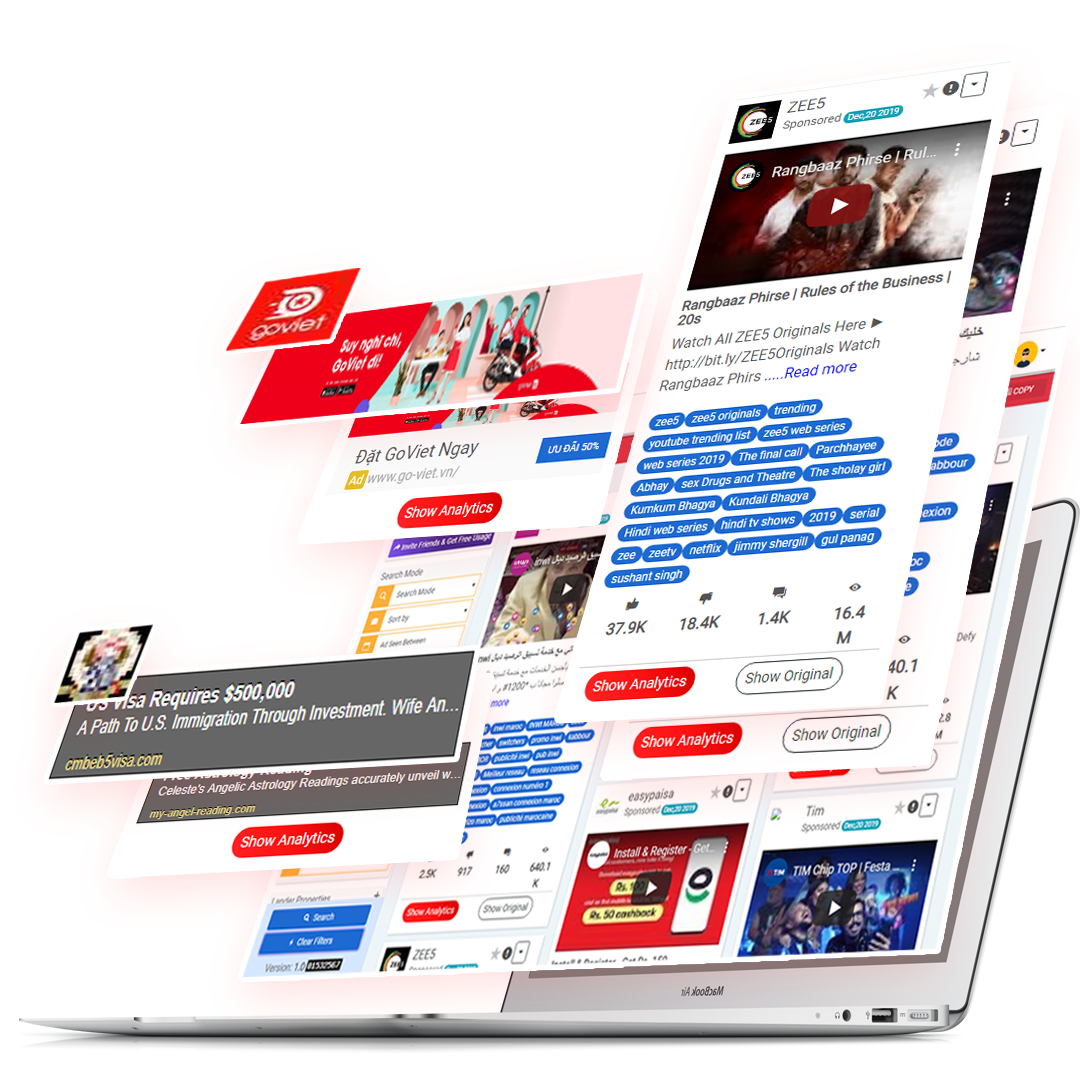 SEE HOW
POWERADSPY


WORKS IN 3 EASY STEPS
Enter Your Target audience Filters (Age, Audience, Keywords, competitors)
View Active & Past Campaigns, Landing pages & Results from Any Advertiser online
Copy & Implement The ads that work so you don't waste money on ads that don't!
TOP FEATURES OF
POWERADSPY
YouTube

ADS
ADVANCED SEARCH AND FILTERS
PowerAdSpy makes it easy to reveal the best ads and countries that sends most paid and organic traffic to your competitors. Only PowerAdSpy lets you search/filter by networks and countries . You can also filter by the interest which gives you more insights into those "leads".
COMPREHENSIVE IN-DEPTH ANALYTICS
Find which Native Ad campaigns of your competitors get the most clicks. See the networks they bought and which network groups are most effective for their ad campaigns and many more valuable metrics with a single click.
FASTER WAY
TO SPY ON COMPETITOR ADS
Browse the complete ad campaign history of your competitors and discover exactly what's working for them to eliminate the guesswork. See the results of every ad split test they've ever run – make their success yours.
WORLDS LARGEST YOUTUBE ADS DATABASE
Poweradspy gives you the worlds larges YouTube ads library to search with over 50 million ads from 20 different countries with thousands of new ads added daily..
Marketers of all kinds use Poweradspy to uncover the secrets of world-class advertisers. Reach out to us with your unique challenge and see if we can help.
LOCAL MARKETING & OFFLINE BUSINESS
Need more customers for your or your clients store? Use Poweradspy to see the winning ads for any local business niche in the world in seconds. Search domain, a keyword or a fan page and be shown the winners instantly to replicate for your or your clients business in seconds.
ONLINE MARKETING, FUNNEL & LEAD GENERATION ADS
Use Poweradspy to search ALL the YOUTUBE ads running to a click funnels, lead pages or opt in offer in seconds – be shown the engaged demographics and landing page, replicate and BANK.
Poweradspy changes the game for those doing ecommerce or wanting to start. Search ALL YOUTUBE ads going to any shopify, magento or woocommerce store in seconds to discover the most trending products, engaged audience and funnel to replicate and bank on instantly.
Poweradspy allows you to grow your email list FAST by showing you the exact ads, funnels and targeted audience members of ANY advertiser, keyword or domain, allowing you to replicate and grow your email list instantly.
Many of these will become upgrades – but if you grab it now you get EVERYTHING bellow.
In a short period of time, this tool has become my favorite spy tool for Facebook Ads. They have gone miles in terms of functionalities, up to date ads and especially search capabilities. This tool really has massive value for every publisher on Facebook.
Jeremy Fuller
Poweradspy is a "PLATINUM PLATTER" tool for anyone and everyone doing paid ads. Quickly find which ads work, model your ads after those and BOOM! Create winning ads while saving time, effort and money. Totally easy to use.
Rohan Nanda
PowerAdSpy is more than just a spy tool. It offers both pioneering and priceless details and insights. Every serious Facebook affiliates need it to stay ahead of Facebook's ever-changing landscape on targeting options, objectives and placement.
Roger Baxter
SPY ON
YouTube

SEARCH ADS
AND DISCOVER SECRETS OF YOUR COMPETITORS