FREE VIDEO SHOWING YOU HOW TO SEE EVERY PROFITABLE FB AD IN THE WORLD
& INSTANTLY REPLICATE THE SUCCESSFUL ONES INSTANTLY IN ANY NICHE
Allowing YOU to profit BIG without spending
ANY money testing ads that don't work
SEE HOW POWERADSPY WORKS IN 3 EASY STEPS
TARGET AUDIENCE
Enter Your Target audience Filters (Age, Audience, Keywords, competitors)
VIEW RESULTS
View Active & Past Campaigns, Landing pages & Results from Any Advertiser online
COPY & IMPLEMENT
Copy & Implement The ads that work so you don't waste money on ads that don't!
PowerAdspy Strategy for Facebook, Instagram, Google, YouTube

Advertising
Nothing in the world of marketing is constant, marketers have to keep themselves updated with new technology everyday. Technologies are changing upside-down everyday and so are marketing tactics. We have 1000s of people around the world watching ads and submitting the best ad copies to us for building our database of ads. You as a marketer can use these ads based on the niche of your business, now you have the power to create your Facebook, Instagram, Google, YouTube Ads compared to what your existing competitors are doing.
Why FB Ads &
Poweradspy
Poweradspy is the first and largest software of it's kind to ensure you run FB and INSTA ads that make you money right out the gate– it's that simple.
Facebook, the world's largest social network with the leading online traffic generation method, FB and INSTA Ads.
57%
of FB, INSTA, GOOGLE, YT users say FB, INSTA, GOOGLE, YT ads influence
their shopping purchases.
30%
Of users have made a purchase
from a FB, INSTA, GOOGLE, YT Ad.
80%
of American consumers say they've discovered products from FB, INSTA, GOOGLE, YT ads.
90%
of Social Media Advertisers
use FB, INSTA, GOOGLE, YT ads.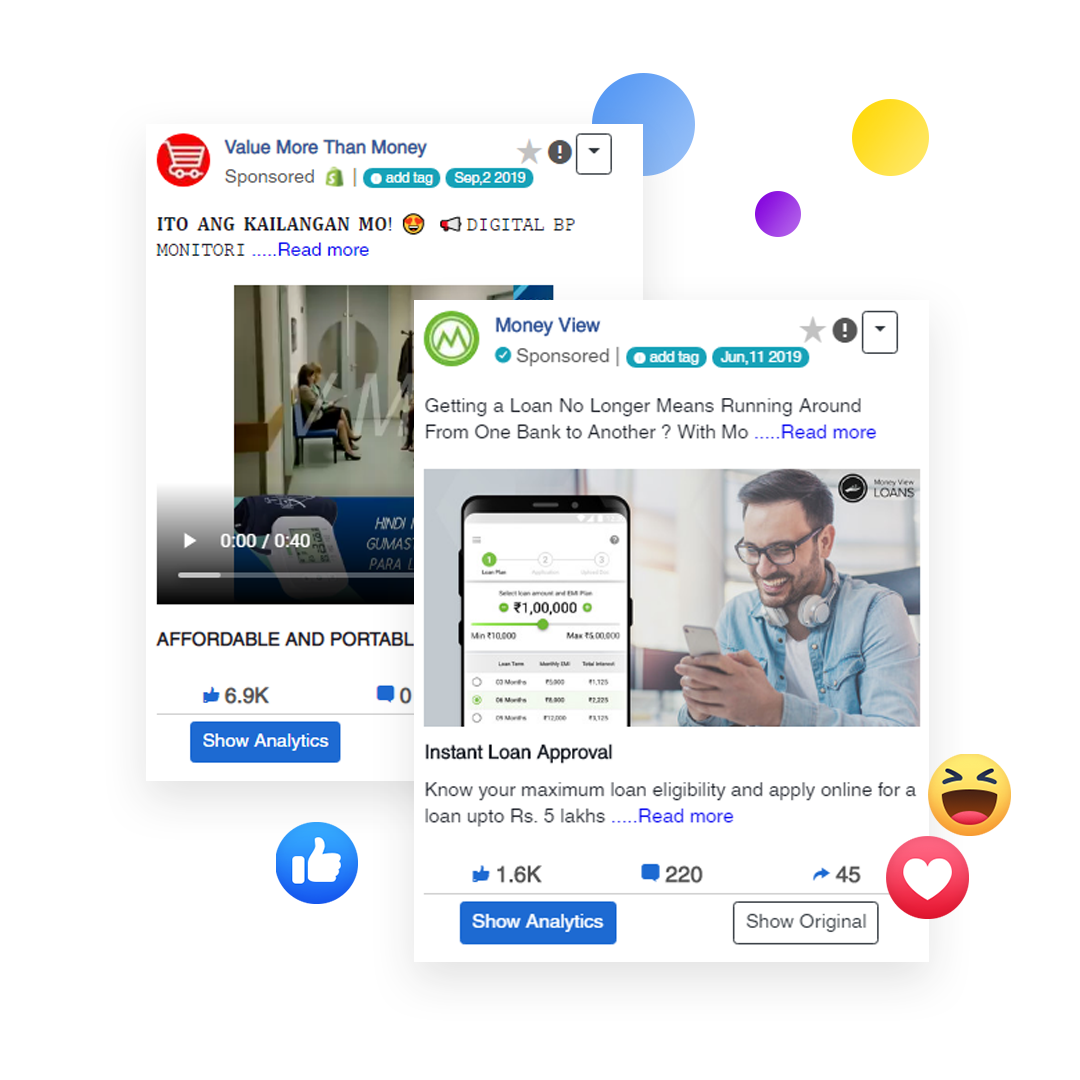 It's clear that most business's make their most 

money online through FB, INSTA, GOOGLE, YT ads,

however I found that many users (especially beginners) faced some key problems.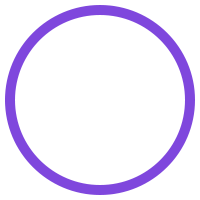 HOW DO I EVEN CREATE A
FB, INSTA, GOOGLE, YT AD?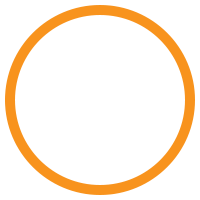 HOW DO I KNOW WHAT AUDIENCE,
INTERESTS AND COUNTRIES TO TARGET?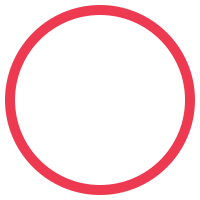 WHERE DO I SEND THE TRAFFIC TO?
OPT-IN PAGE? SALES PAGE? WEBINAR?

WHAT TYPE OF AD DO I DO?
VIDEO, IMAGE, SIDEBAR?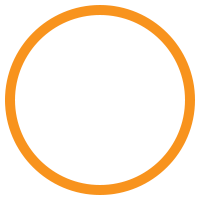 HOW DO I MONETIZE A
FB, INSTA, GOOGLE, YT AD?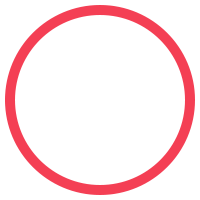 HOW DO I CREATE AN AD THAT IS A
WINNER VS WASTING MONEY
ON ADS THAT DON'T WORK?
Start Creating

 

WINNING

Ads instantly by finding replicating what currently works on the #1 way to make

money with FB, INSTA, GOOGLE, YT

with Poweradspy
PowerAdspy

 
 is the
first and largest software
of it's kind to ensure you 
run
FB, INSTA, GOOGLE, YT ads that make you money
right out the gate– it's that simple.
PowerAdSpy

is the worlds largest
database of FB, INSTA, GOOGLE, YT ads with:
POWERADSPY
allows you to:
See all current live and past FB, INSTA, GOOGLE, YT ads that are WINNERS in any niche
See some of their targeting countries, group age, marital status etc…
See EXACTLY where the ad traffic of the winners is being sent off
Replicate the winners
for my business
So It made me think. What if I could Create a software that shows ALL the FB, INSTA, GOOGLE, YT ads in the world, the engaged audience of the most SUCCESSFUL ads & the exact landing page so I can replicate and bank on the winners instantly?
It doesn't matter what Niche you are in, Poweradspy helps you bank big,

FAST by having others spend money doing the testing so you don't have to.
LOCAL MARKETING &
Offline business
Need more customers for your or your clients store? Use Poweradspy to see the winning ads for any local business niche in the world in seconds. Search domain, a keyword or a fan page and be shown the winners instantly to replicate for your or your clients business in seconds.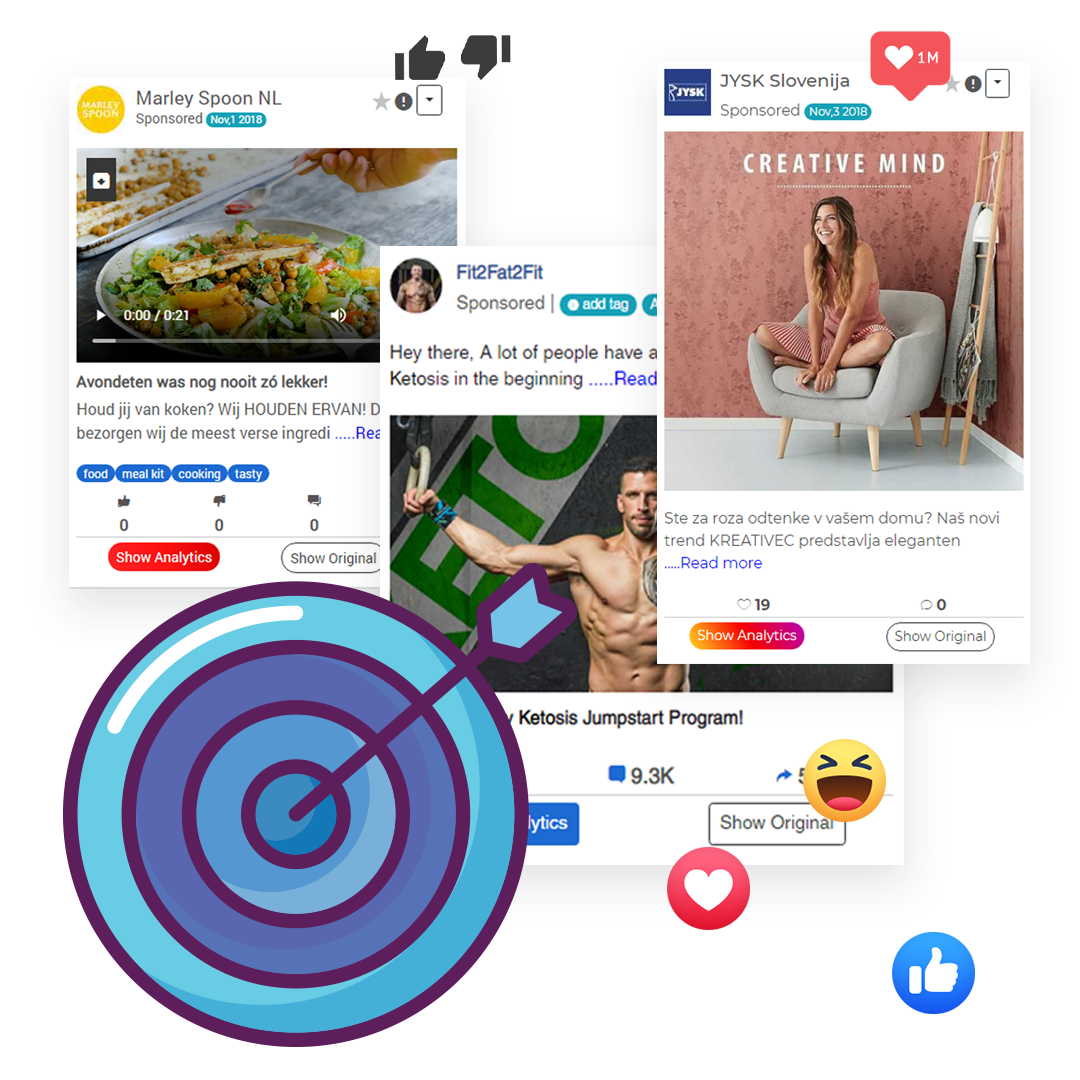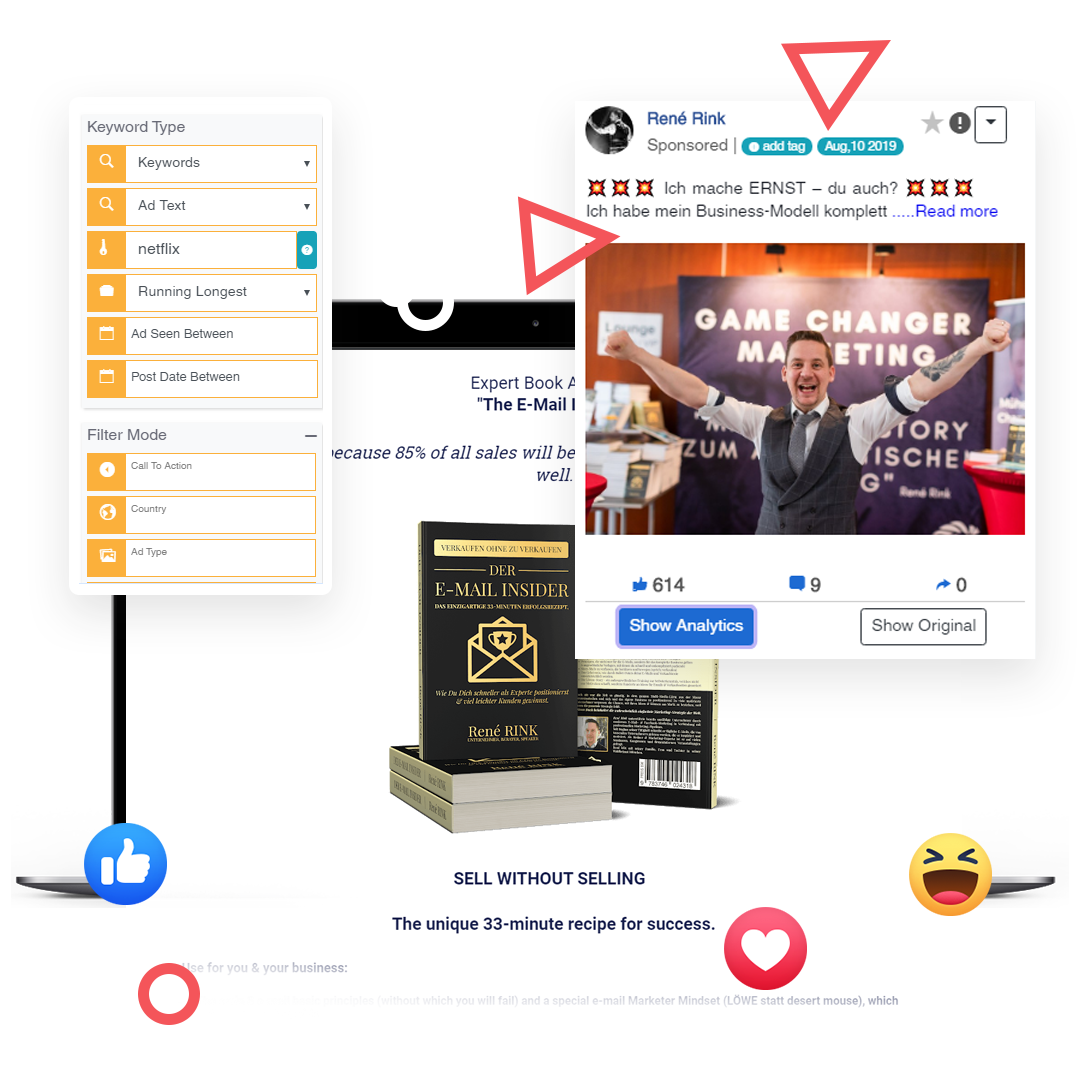 Online Marketing, funnel
& lead generation ads
Use Poweradspy to search ALL the fb, insta, google, yt ads running to a click funnels, lead pages or opt in offer in seconds – be shown the engaged demographics and landing page, replicate and BANK.
E-commerce Domination
Poweradspy changes the game for those doing ecommerce or wanting to start. Search ALL Fb, Insta Google, YT ads going to any shopify, magento or woocommerce store in seconds to discover the most trending products, engaged audience and funnel to replicate and bank on instantly.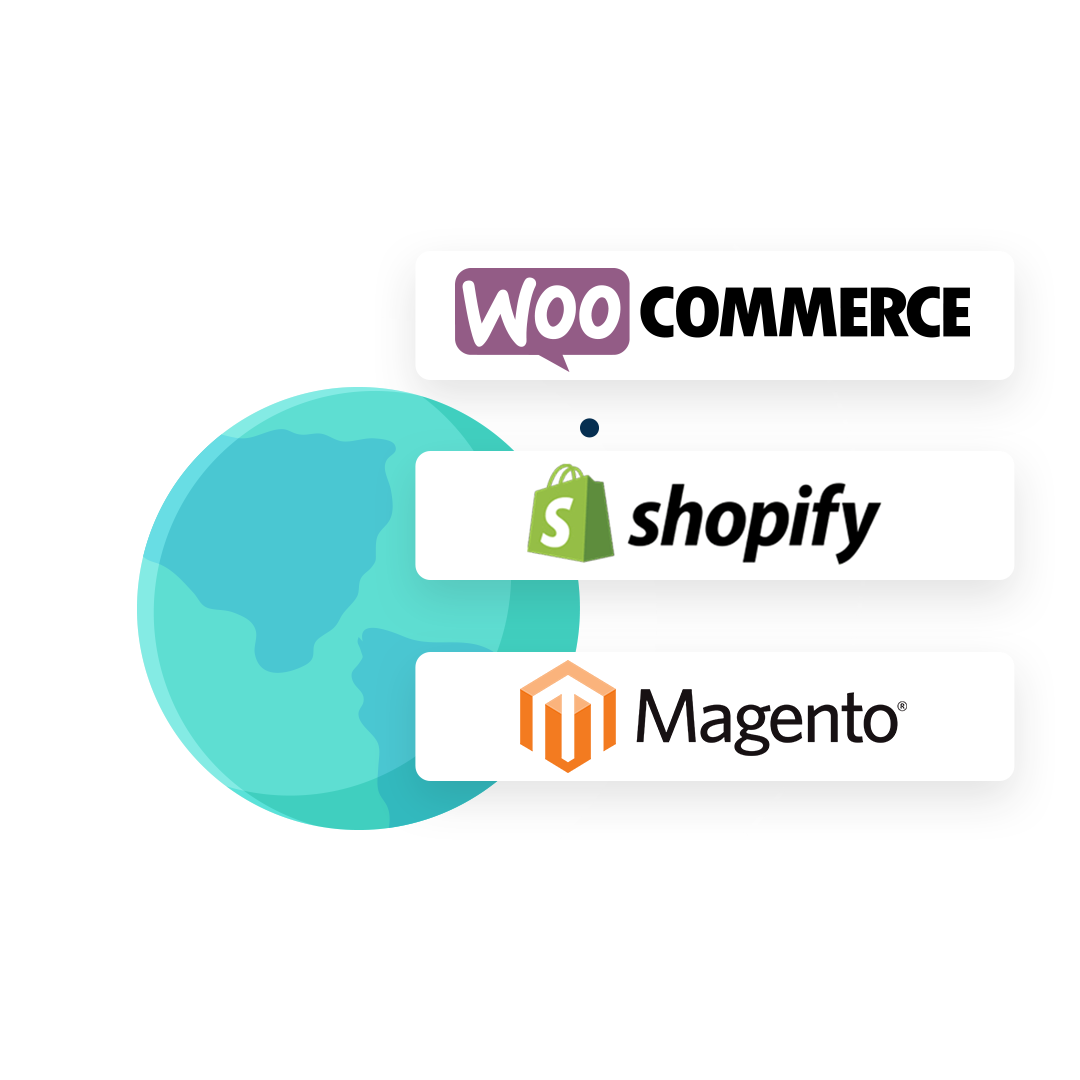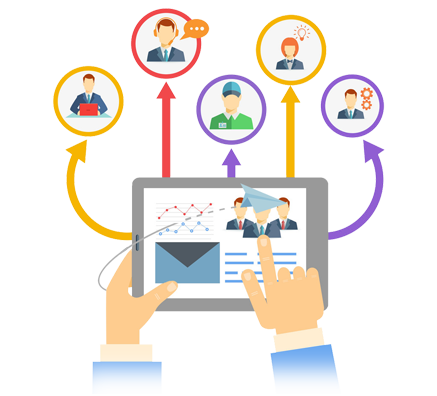 List Building Domination
Poweradspy allows you to grow your email list FAST by showing you the exact ads, funnels and targeted audience members of ANY advertiser, keyword or domain, allowing you to replicate and grow your email list instantly.
Many of these will become upgrades – but
if you grab it now you get EVERYTHING bellow.
DISCOVER POWERADSPY FEATURES
Here is how POWERADSPY is going to have
you making bank as early as today
Remove The Guesswork Of
FB, INSTA, GOOGLE, YT Ads
Poweradspy shows you exactly what ads are working NOW (and what are NOT) so you don't waste money on ads that don't work – Search for Keywords, Niches, Competitors and even domains to see what ads are running & more importantly winning.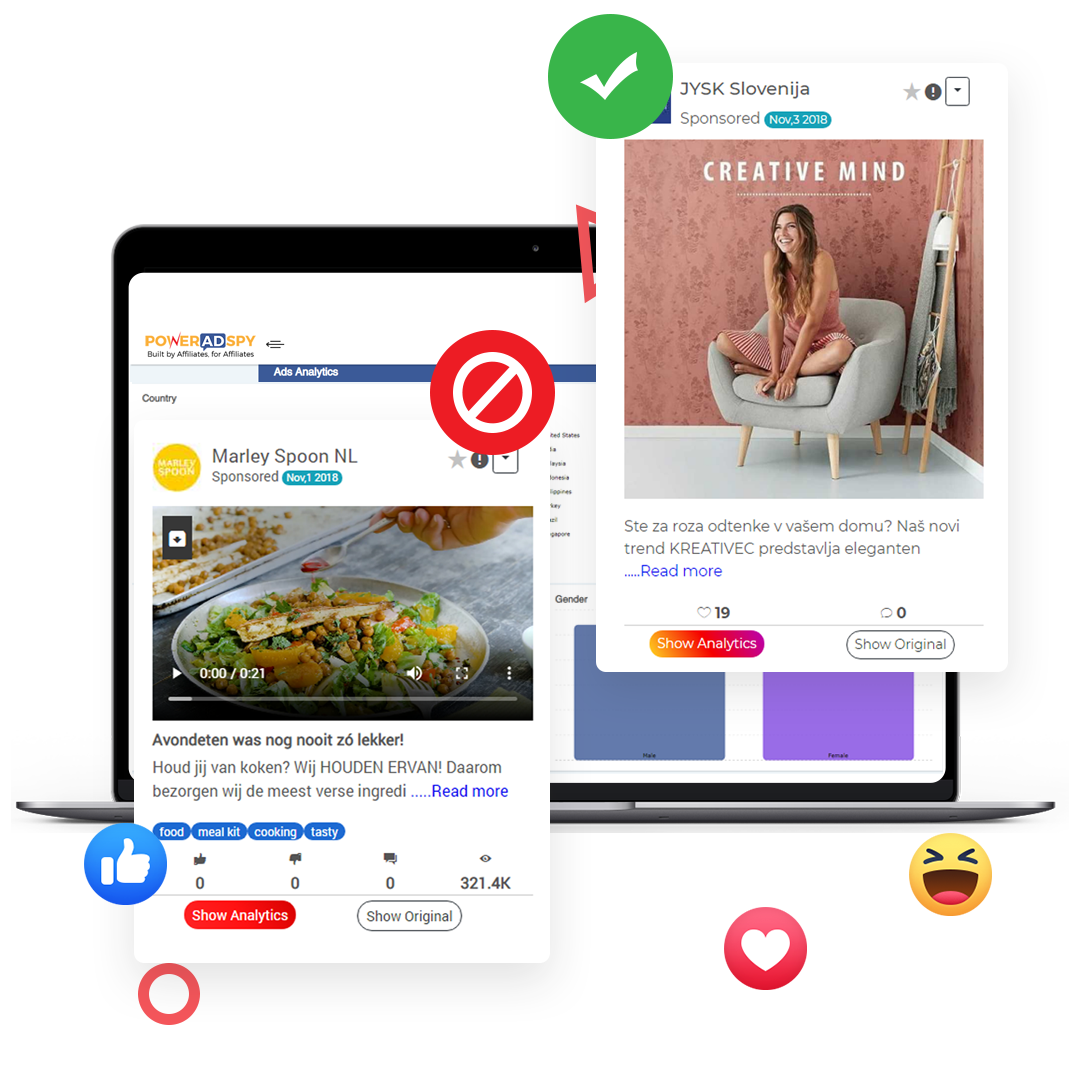 Generate Buyer Traffic Today With Ads
Remove the need to test, change, edit ads by allowing Poweradspy to SHOW you the best performing ads in your niche.
Competitor
Breakdown
Poweradspy will show you ANY competitors running ads along with their landing page in 1 dashboard so you can see what works and replicate.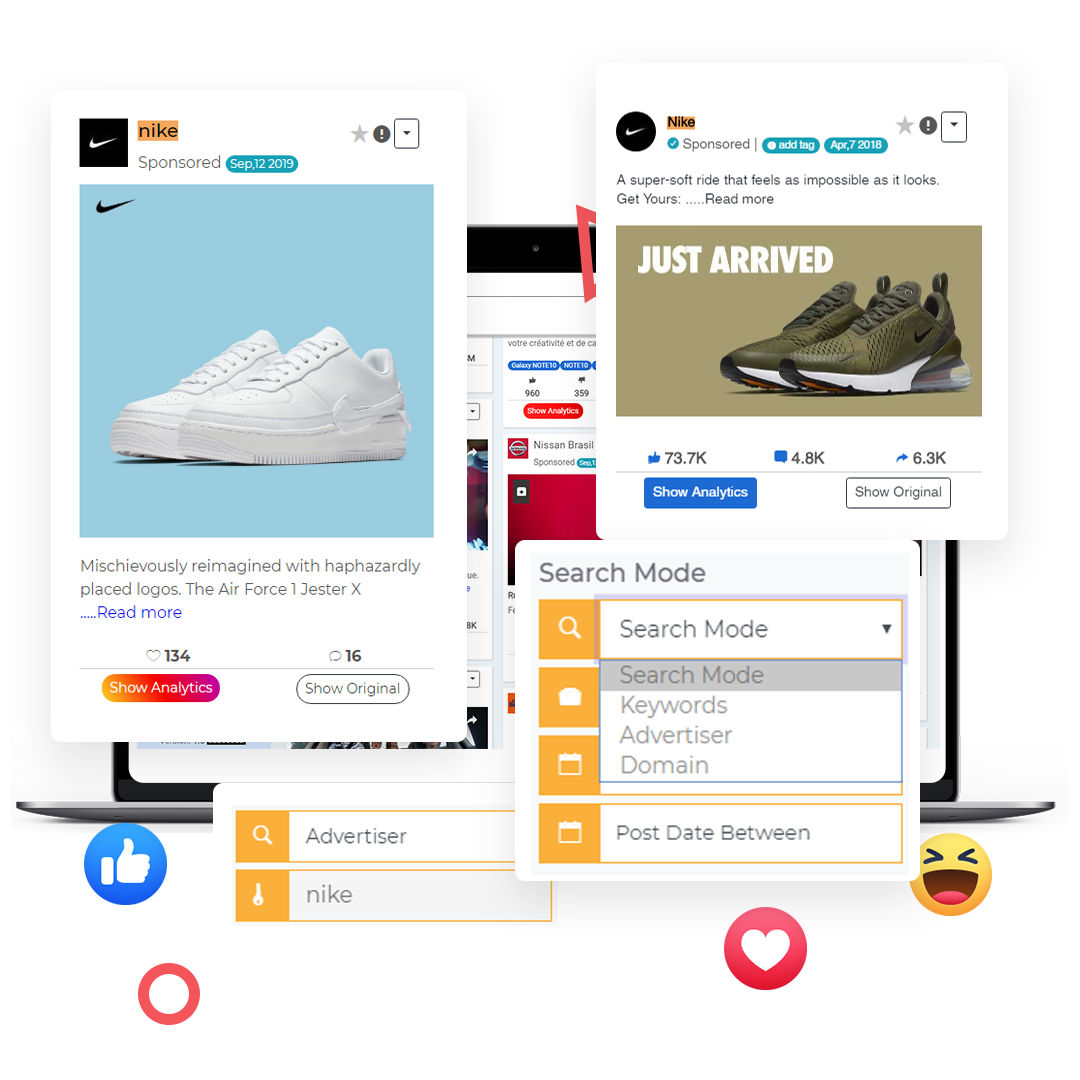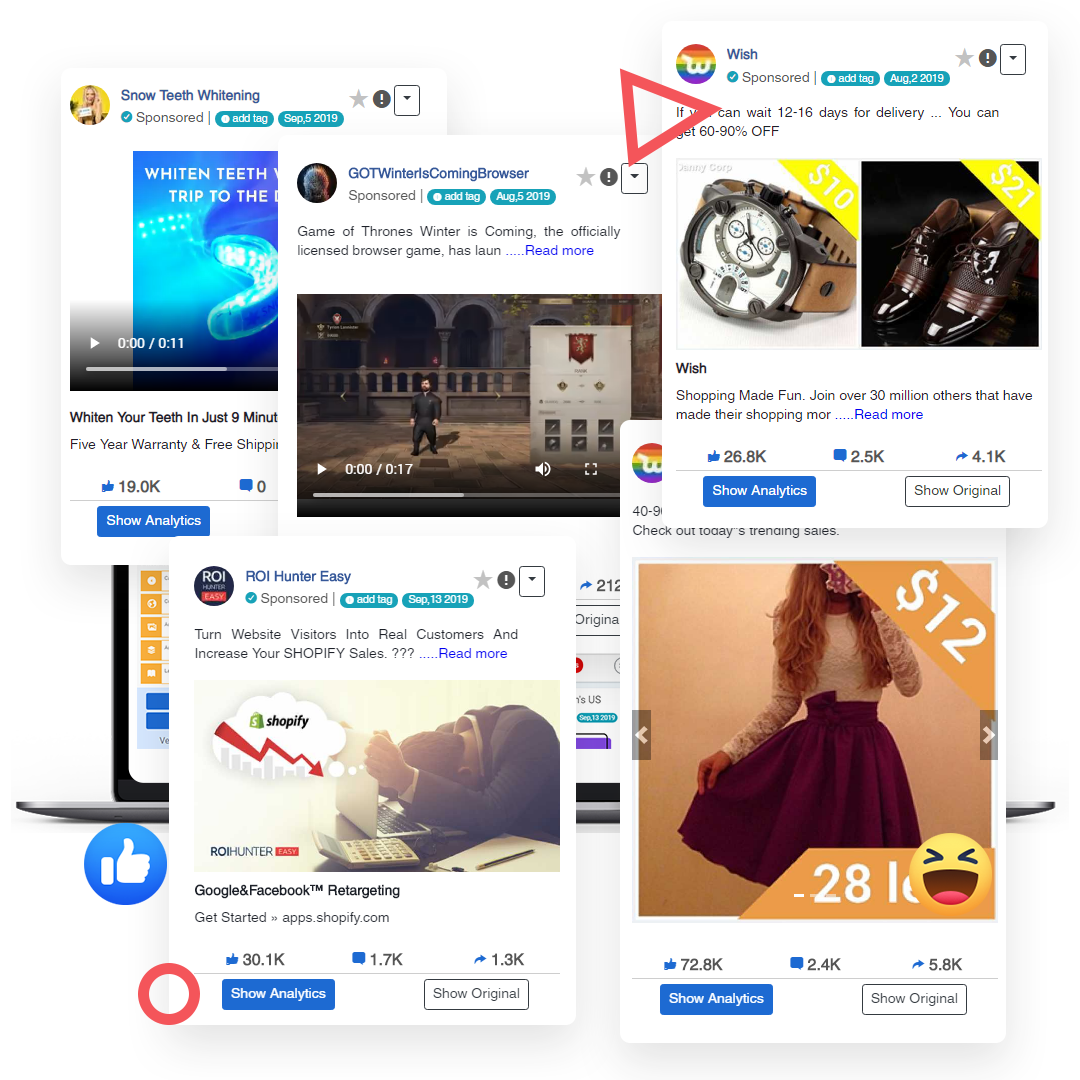 Worlds Largest
FB, INSTA, GOOGLE, YT 
Ads Database
Poweradspy gives you the worlds largest FB, INSTA, GOOGLE, YT ads library to search with over 50 million ads from 20 different countries with thousands of new ads added daily.
Demographic &
Engagement Filters
These allow you to search ads based on gender, age, marital status & location along with searching most likes, comments or shares to see what users are engaging with the most.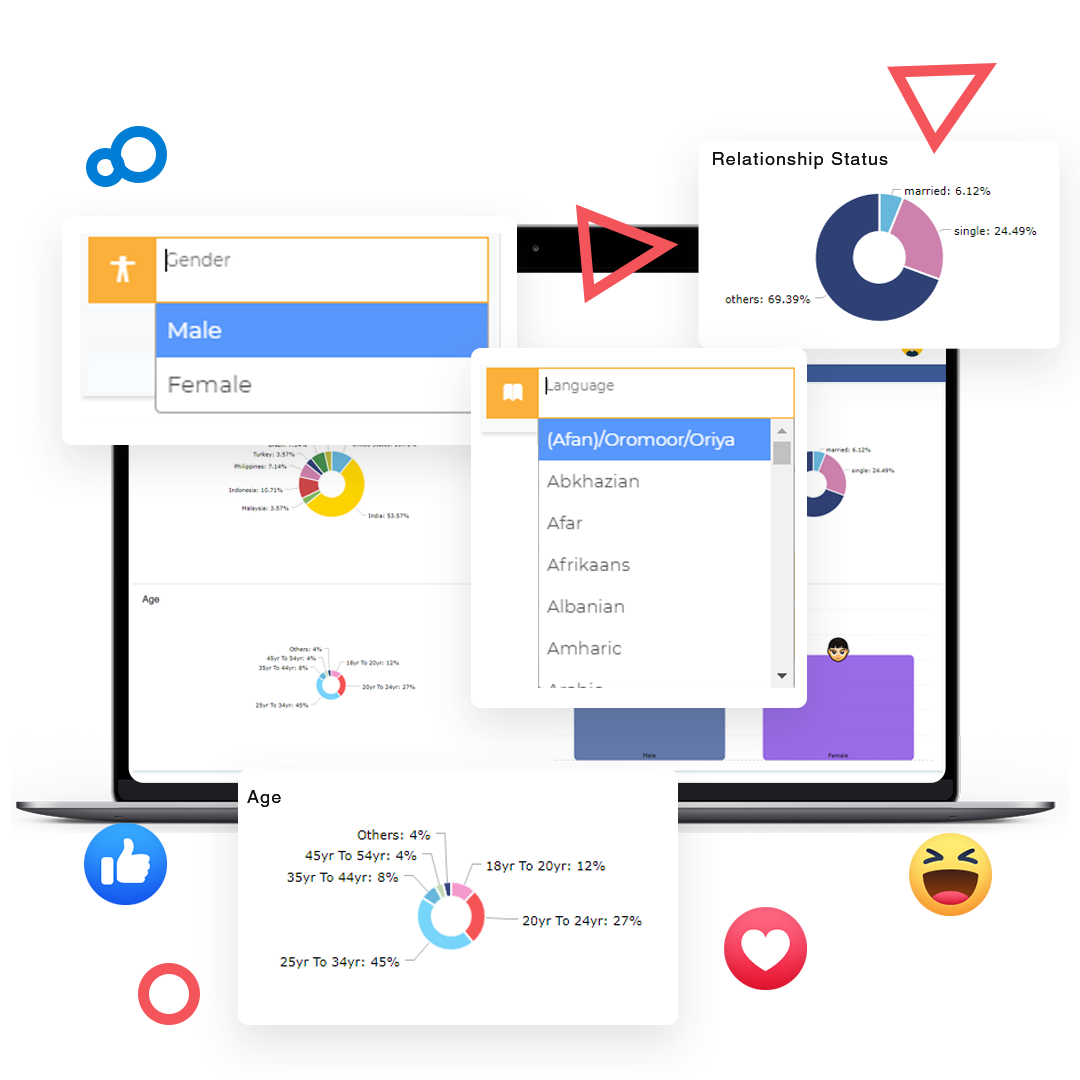 Geo location filters
Hate not knowing which countries to target? Poweradspy breaks down where any ad is being shown to allow you to better identify the audience you are targeting.
Video & Image
Ad Integration
With video ads being a leading ad strategy, Poweradspy will show you what video ads are working the best for YOUR niche in TODAYS market.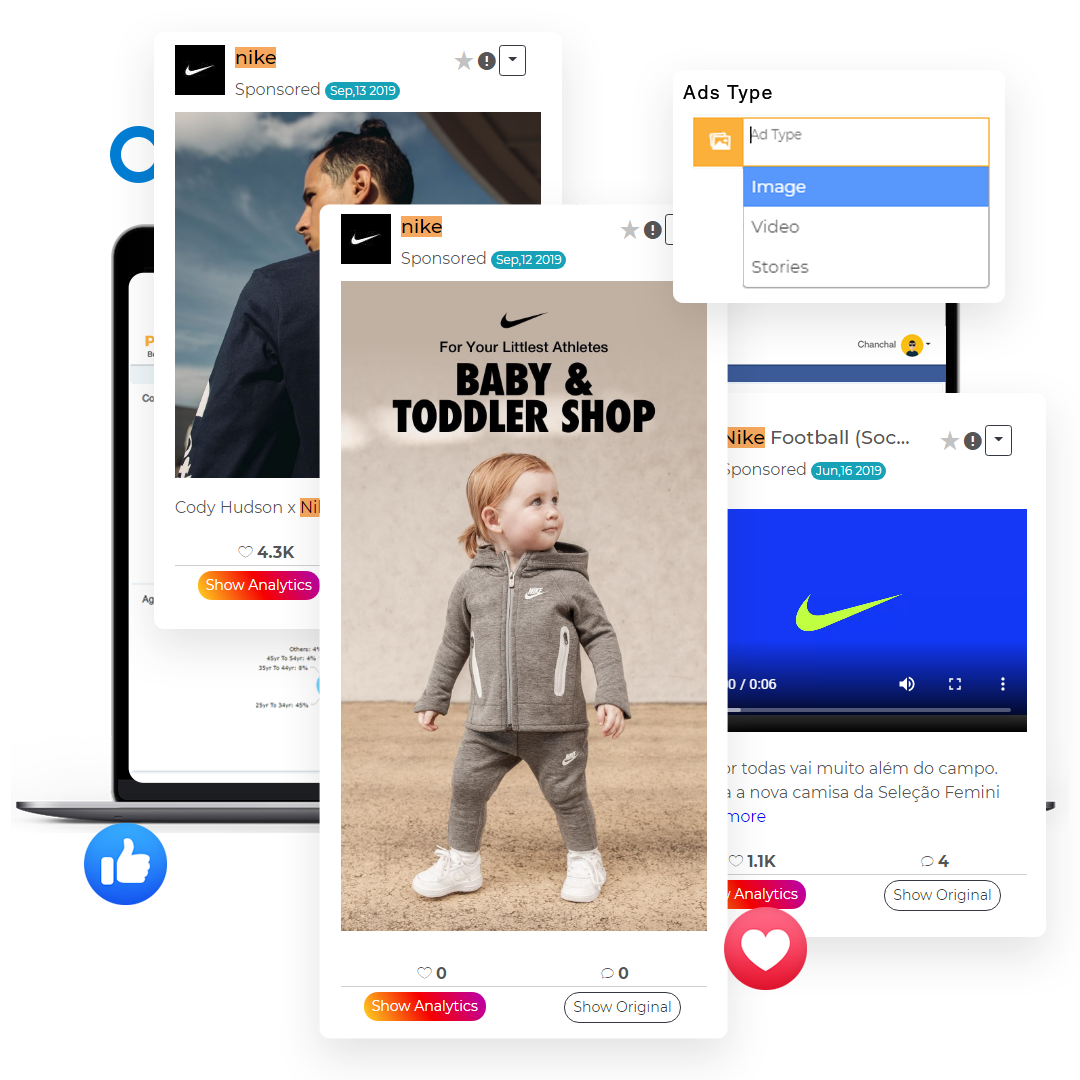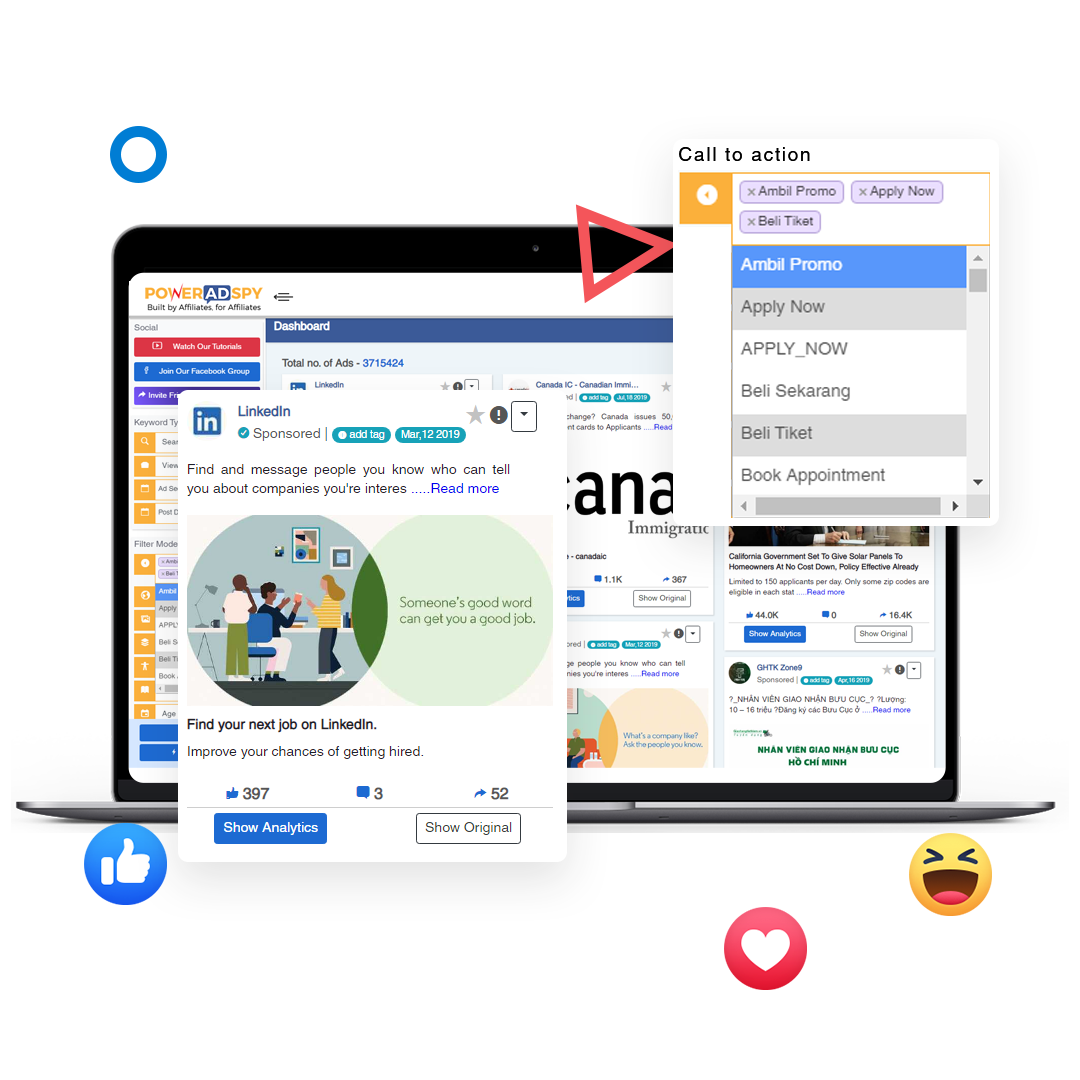 Call To Action
Based Sorting
Poweradspy will allow you to filter ads according to their call to action to show you what is the right call to action for your campaign and niche.
Ad position
filtering
Ever wondered what ads perform better in the news feed vs side bar? Poweradspy solves this by showing you what currently is working best in both.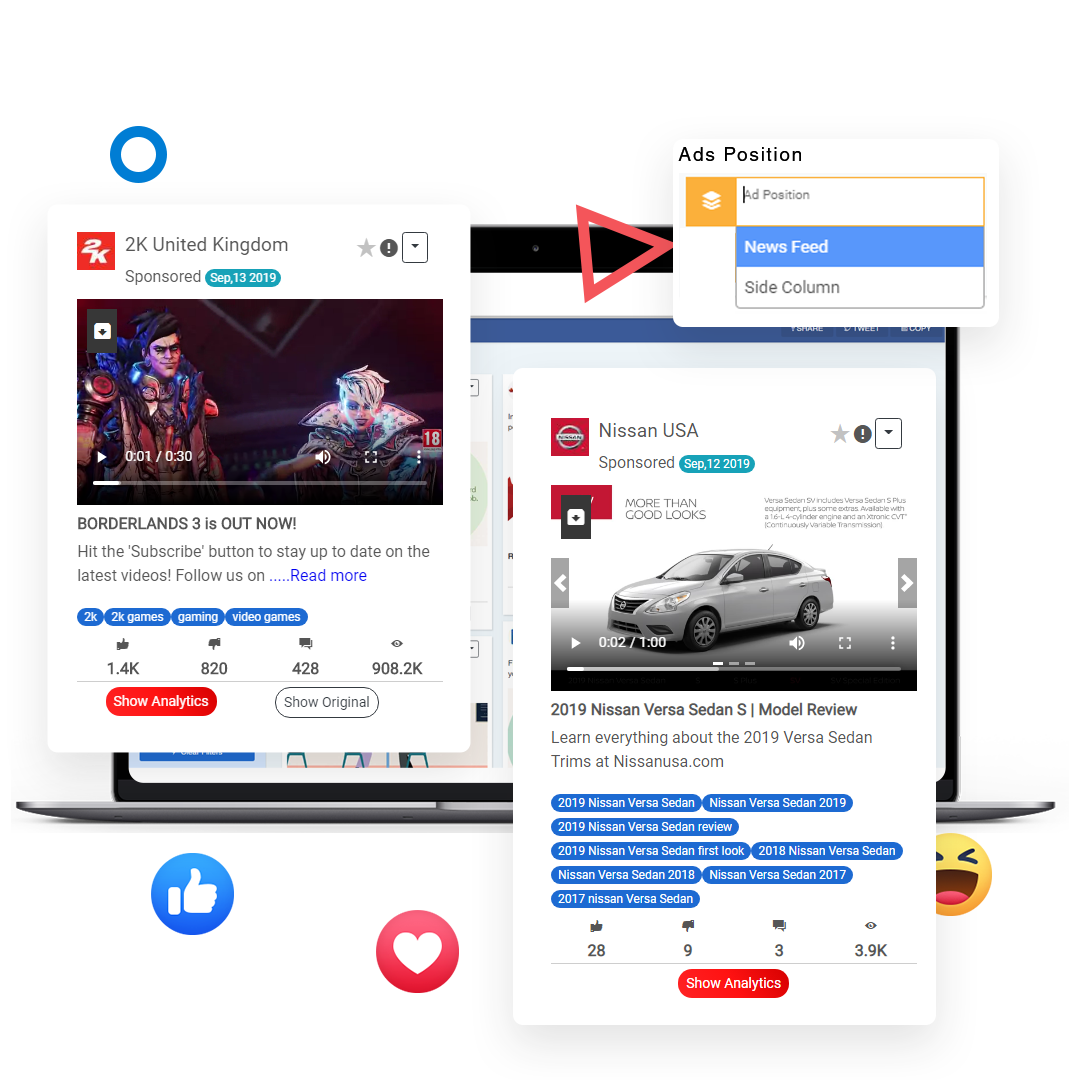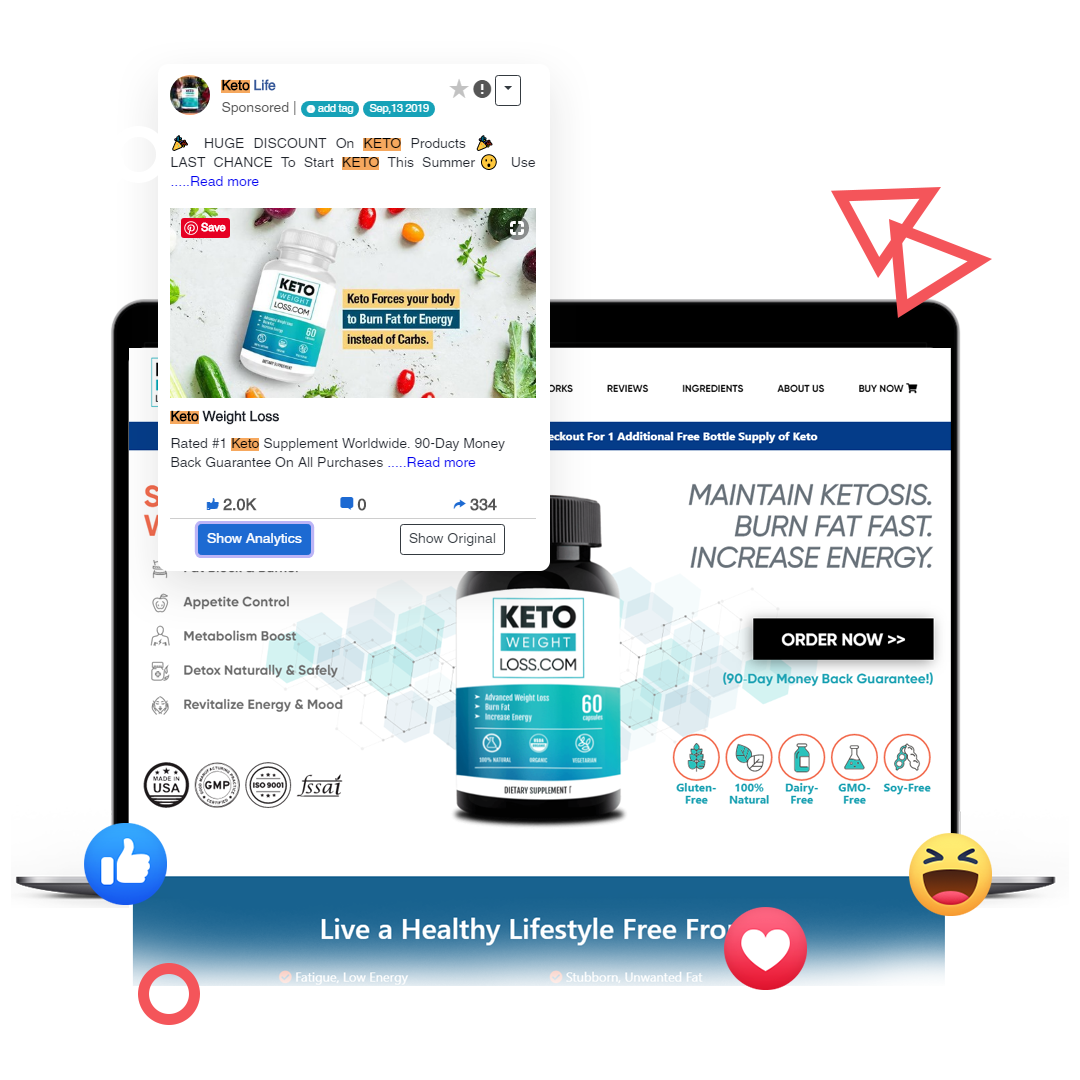 Funnel
Breakdown
Poweradspy will not only show you the winning ADS, but also allow you to see the landing page the traffic is being sent to in 1 dashboard – allowing you to replicate the winning funnels.
Find Winning Ads by Searching Keywords, Competitors and even Domains
Simply search, select the winners and copy – removing the guessing game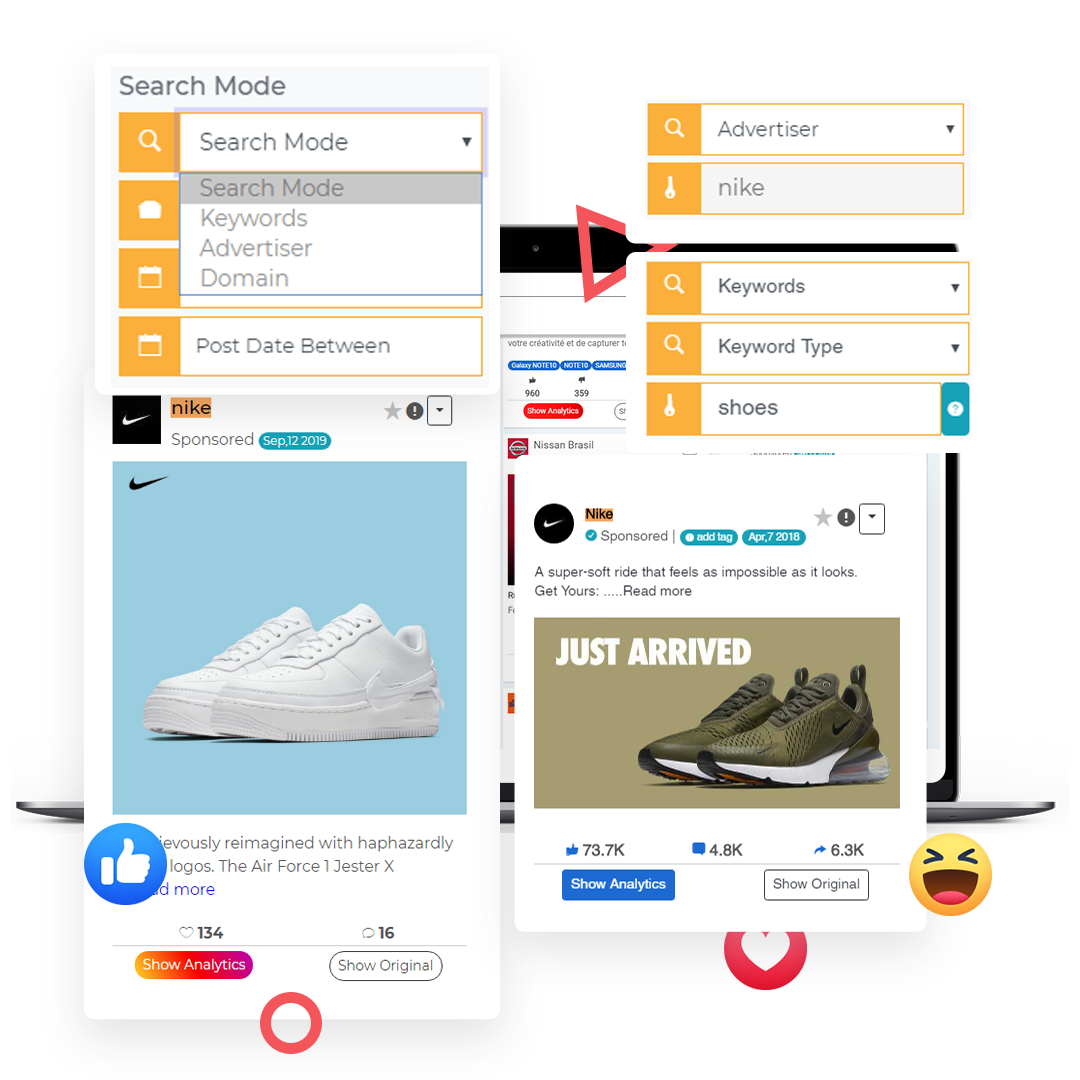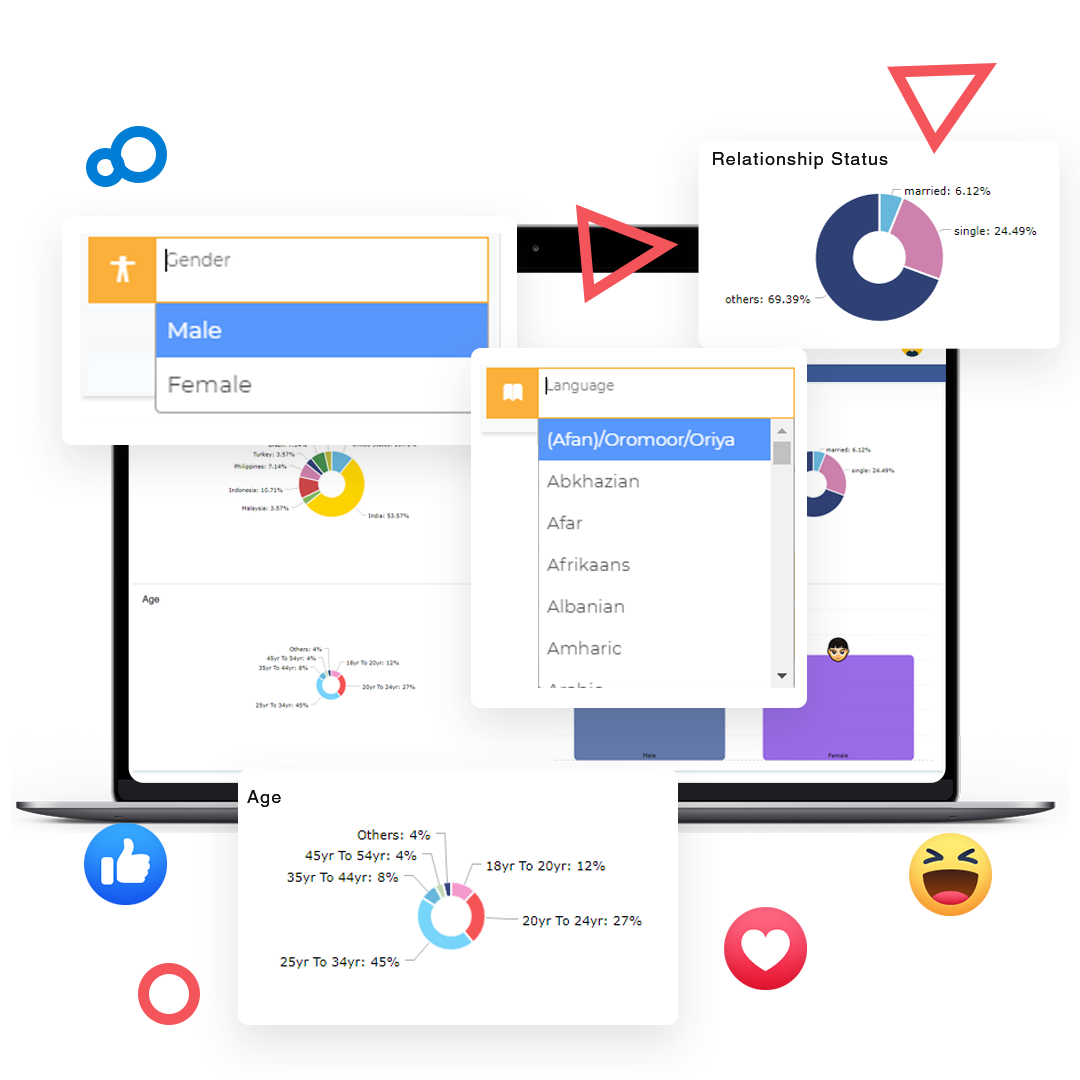 Bank Instantly
With Targeting Module
Poweradspy will show you where the ad is being shown to, the gender of the users, martial status, and even age groups allowing YOU to remove the key things you need to enter when setting up a FB, INSTA, GOOGLE, YT ad.
TESTIMONIALS
Poweradspy is a "PLATINUM PLATTER" tool for anyone and everyone doing paid ads. Quickly find which ads work, model your ads after those and BOOM! Create winning ads while saving time, effort and money. Totally easy to use.

In a short period of time, this tool has become my favorite spy tool for Facebook Ads. They have gone miles in terms of functionalities, up to date ads and especially search capabilities. This tool really has massive value for every publisher on Facebook.

PowerAdSpy is more than just a spy tool. It offers both pioneering and priceless details and insights. Every serious Facebook affiliates need it to stay ahead of Facebook's ever-changing landscape on targeting options, objectives and placement.
OUR EXTENSION
Get over 50 million Facebook, Instagram, Google, YouTube ads by using our chrome extension.
What are you waiting for?