Improve Your Instagram Advertising Campaign: With Best Ad Intelligence Tool
Do you know how many people are using Instagram? More than 1 Billion monthly active users, with 200 million businesses on Instagram.
If you have been living under a rock for the past decade, you should know that Instagram has transformed from a photo-sharing app to a business hub.
Now every business is trying to grab attention to their Instagram advertising campaign on this platform. Hence due to higher competition, it has become more challenging for new businesses to build an effective online presence. But with the Instagram management tool, you can get ahead of your competition and achieve your goals.
In this blog, we will be discussing how you can set up an Instagram business account. What should you keep in mind before starting? And the best tools that you can utilize to grow your Instagram ad campaigns.
So let us start from the basics!
How To Create An Instagram Business Account?
If you want to establish a successful Instagram advertising campaign for your business, you should create an Instagram business account. Here is a step-by-step guide for creating an Instagram business account!
You need to download and install the Instagram app for iOS, Android, or Windows.

After installation is complete, open the app and click the sign-up button.

You can also sign up with your email id, mobile number, or an option to log in with Facebook.

If you choose an email id or mobile number, you provide all the required details.

If you choose to log in with Facebook, it will directly sign you in.

Now that you have created an Instagram account change it to a business account.

From the settings menu, tap the option to switch to Professional Account.
Now, you have successfully created your Instagram business account. If you want to give access to multiple users or desire to connect your Instagram business account to your Facebook Page, make sure to Log in with Facebook or use an admin email id to sign up.
What Should You Keep In Mind While Using Instagram For Business?
Before using any channel for your Instagram advertising campaign marketing purposes, it is vital to be clear about the goals you want to achieve. And it is no different for Instagram if you are going to invest your effort and money.
Ask yourself what your business goals include. They may be:
To increase brand awareness.

Build a community.

Sell products and services.

Better Engagement.

Higher Conversion.
Writing down your goals will help you monitor your growth and encourage you and your team to put in the extra effort.
How To Use Instagram For Business?
Now that you have created an Instagram business account and set all the Instagram advertising campaign goals you want to achieve, here is how you can utilize Instagram to its full potential!
Bio: Make the Most Of Those 150 Characters!
The bio should describe your business, so write a clear bio that defines your business. And do not forget to add CTA buttons.
Share quality content:
Instagram is a photo-sharing app, and it is vital to share good-quality photos. Post professional-looking photos and videos to grab visitors' attention and create distinctive aesthetics on your grid.
Use Stories:
It is one of the most popular features. You can post photos or videos on stories that disappear after 24 hours, and if you want to keep them in your profile, add them to highlight. Instagram offers many tools to create creative and engaging stories, which Instagram advertising campaigns can leverage to promote products and services.
Reels And IGTV Videos:
Instagram offers to share both kinds of videos, short or long. You can utilize this option to create and also share promotional videos or any other type of videos to grow and engage with your audience.
Use Hashtags:
Instagram uses hashtags to categorize content on the platform. Using hashtags in your posts will help you reach a wider audience relevant to your business.
Engage with your audience: 
Engagement is an essential factor for growing an audience on an Instagram advertising campaign or any other social media platform. Engagement shows that your account is relevant, and Instagram will suggest your profile to related users. Start liking, commenting, replying to messages, and tagging posts. It will increase engagement and develop a connection with the target audience.
Need Of An Instagram Management Tool:
As mentioned earlier, there are more than 200 million businesses on Instagram. So if you are starting marketing on Instagram or already using it for your business, competition here is very high. It needs a lot of effort and time to build a brand on any social media platform, and marketers do not have that luxury.
But there is a solution to this problem. There are many Instagram management tools available that can help you get your marketing strategy to the next level. These tools provide many features that can get you ahead of your competitor's Instagram advertising campaign.
Instagram Automation:
One of the benefits of using the Instagram management tool is automation. These tools save you time by automating every activity on the Instagram platform. These tools can also help you with automation in liking, commenting, and following replying to Instagram direct messages.
Instagram Post Schedule:
In any social media platform, consistency is the key to success. Posting content at an appropriate time is vital, and these tools also offer an option to schedule all your posts. 
Manage Multiple Instagram Accounts:
If you run more than one business account, managing all those accounts may feel overwhelmed. Instagram management tools offer to manage multiple accounts seamlessly.
Instagram Reports:
These tools offer detailed reports on all your activities, engagements, and Ad campaigns in a comprehensive manner, which you can use to improve your Instagram advertising campaign marketing strategy or create a better one.
Running Ad Campaigns:
Ad campaigns play a vital role in any marketing strategy. But creating effective campaigns can be tiresome. Many tools help you find which ads are working and which are not and create better ad campaigns for Instagram.
What Is The Best Tool For Instagram Advertising Campaign Management?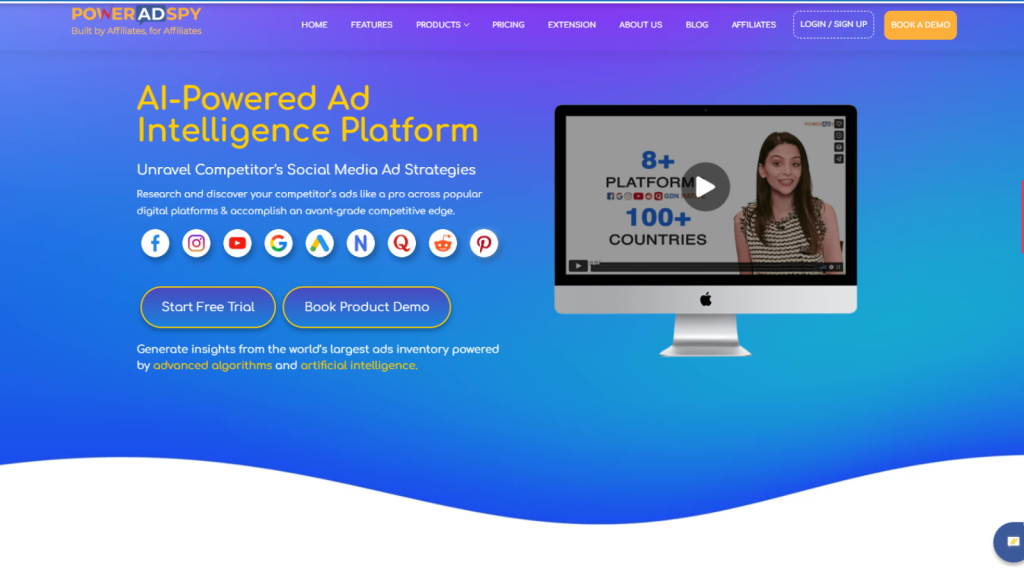 There are many Instagram management tools to choose from, and it can be overwhelming while looking for the best suitable for your business.
Here is the best Instagram management tool that can help you grow your business:
PowerAdSpy:
PowerAdSpy is the first social media ad spy tool of its kind. It offers to analyze the best ads to generate revenue on various platforms such as Facebook, Google, Instagram, Youtube, GDN, NATIVE, Reddit, Quora ads, etc. It has the world's largest database with over 100+ million ads listed. It has thousands of people watching and submitting the best-trending ad copies. 
Key Features:
Combination Of Videos & Image Ads:
PowerAdSpy has the fastest-growing section of Social Video Ads to offer insights into what kinds of video ads are relevant for your audience and allows you to download them for your ad campaigns.
Online Marketing, funnel, and lead generation ads:
You can use it to search various platforms running to click funnels, lead pages, or opt-in offers in seconds. You can easily research Instagram ads of your competitors with the help of ad intelligent software.
Filter By Ad Positions:
PowerAdSpy offers to segment the social media ads based on position and side location to see which performs well in your niche.
Enormous Ad Database:
PowerAdSpy has the fastest-growing data with Millions of Ads from all over the world. It provides you with the latest successful ads in just a few clicks, and you can bookmark ad concepts to use in forthcoming campaigns.
Pricing:
PowerAdSpy also offers a free trial, and the pricing starts from $49/Month.
Concluding Words:
Undoubtedly, Instagram is one of the best and most competitive platforms for marketing business. There are many factors involved in the success of any Instagram advertising campaign, and creating a constructive strategy is one of them. Instagram management tools can play a game-changing role in achieving the highest place in Instagram marketing.
What are your thoughts? Let me know in the comment box below!