Steps To Spy Now Instagram Ads Of Your Competitor
What good does a research tool offer if you don't know the right way to obtain desired results! There are many ways you can learn the functioning of your competition, but the first hack of your research is to know what you are looking for.
Being a brand in this outpouring competitive world is not easy. But here is good news! Using social media platforms such as Instagram seems to help out in the initial stages by providing a digital presence. Still, shining on the platform requires a hell of brainstorming. 
Instagram is a giant platform with millions of ads present on it. Sorting out what you are looking for seems a bit of a hard job. Well, there are some tools available to ensure that your time consumption should be minimum on research and more on planning.
So, it doesn't matter if you are playing alone in your area or going through a tight competition. Having a hold on some good resources on advert research helps you in every circumstance. In this blog, we are going to discuss some excellent tools.  So, let's spy now Instagram ads.
However, first of all, let's understand why Instagram ads are worth putting your effort into!
Why is everyone talking about Instagram ads in 2021?
Well, this is a no-brainer question! But let's unravel the importance of Instagram for business!
Instagram is a key platform for your digital marketing. In 2021, More than 1 billion people are using Instagram, which makes it one of the best options for traversing your digital exposure. A report shows that people use the platform on an average of thirty minutes a day. 
But actually, what is so appealing about Instagram that makes it people's first choice?
Many people define Instagram as an entertainment platform. So they most often use it to kill time and boredom. And this exactly benefits your business! 
Entertainment is Engagement. 
Anything that hooks its audience up to the last is a piece of entertaining content. It establishes a ground for driving engagement in your business profile.
If you still think Instagram ads are a waste of time, then it's high time to change your perception. 
This covid-19 period has revealed the power of Instagram, and so its subsequent updates over time. 
Instagram is planning to match up with e-commerce and video content platforms. It means you won't have to pursue numerous platforms for advertisements. These updates are on their way, possibly go live by the end of the year.
You may be wondering- well, how to begin with Instagram ads?
Let's discuss!
How to begin with Instagram ads?
The paramount to publish your own Instagram ad is to research your competition. The first step to harnessing the power of Instagram ads is to get complete know-how of what is relevant in your niche plus the trends. 
Instagram advertising is something where brands can win their audience. So what are you waiting for? Spy now Instagram ads!
There are a lot of ways to begin your Instagram competitor research. Let's discuss some profound ways to inspect your competitor through these tools.
Instagram
Yes, Instagram is a research tool.

How to spy Instagram ads?
Follow your competition on Instagram.
Use a fake account to follow your competitor, or they would know about you. So it's best to remain undercover! Go through your privacy settings and make your account private if it is public. In this way, other profiles have to follow you to know about you. 
Spy on their branded and most used hashtags.
 Now that you are on board, you can go through their posts and see what hashtags they are using. Derive some common sets of hashtags that they have used in most of their posts. These are the hashtags that are bringing them organic reach.
Go through their stories and posts.
It is time taking but could prove to be an effort-worthy option. 
You can easily derive the sets of CTAs they are using, the tone of the response to their audience, or their current campaign.
In short, you will have full awareness of what they are up to.
It is a dedicated and time-consuming process but can prove to be a viable option if you have only a handful of campaigns. However, it is always good to opt for ad intelligence software that not only saves your time and effort but also decodes your competitor's strategy for you. 
So, spy now Instagram ads using these well-founded tools.
 Facebook Ads Library
Facebook ads library is one of the largest and most used advert spy tools present on the plane. One of the best features of this tool is that you can browse Instagram ads as well. 
All you have to do is to make a Facebook id, go to the official site of the Facebook ads library.  
Look at the red box. There are three filter options available here. You can choose the location of the advertisement, the category of the advert, and the platform through it.
In this way, you can easily spy now on Instagram using the Facebook ads library.
PowerAdSpy
It is another well-known software with numerous advanced filter options that produce your expected result and provide essential insights on your competitor's advert strategy.
Let's have a quick tour of this software.
Firstly, login or sign up to your account and go through the leftmost column of the page. You'll find the Instagram icon. Click on it.

Now, look at the uppermost center of the page. You'll find filter options like this.
There are many options for your advert research on Instagram, but using the relevant filter will ensure the appropriate result.   
Before running for advanced filter options, you have to list out everything you want to search. Like EVERYTHING! 
PowerAdSpy pulls its advert database from the domain where brands are registered, and then it redirects your search results from particular platforms. Hence, it allows exploring the landscape of adverts. 
So, have you decided what adverts you are seeking?
Note down relevant CTA, text in image, brand, the celebrity in the advert, the position of advert, landing pages, location, device, type of content such as a story or feed post, what kind of feed post it is, etc. Every detail matters for good research. 
This is how to spy on Instagram ads!
If you want to dig deep, you have to understand the types of ads available. Instagram can display the following kinds of ads which you can track by using PowerAdSpy.
Photo Ads

Video Ads

Story ads

Story Ads
Every kind of ad has a specific call-to-action button. For example, photo ads and carousel ads are supported by the call to action texts, brand names, descriptive images, or brand ambassador's pictures. Whereas video ads have CTA buttons, like contact us or apply now. And then there are story ads which can be either photo or video ads. After listing out your type of advert, you can easily spy now Instagram. Enter any keyword on the search bar, for example, beauty. 
Search By:

Now go through the filter options given right below the search bar, and choose a relevant option. For example, let's choose search by.
Sort By:
Now, let's move into the second filter option that is sort by. 
As you can see in the red box, an option is available. Now you can sort results as per the number of likes and comments. But hey! If you are looking for story ads, then you don't need to go for this option.
Filters:
So, let's click the third one that is Filters. 
This search option solely derives anything you are looking for. Just type relevant CTA such as-
Apply Now

Enroll Now

Shop Now

Download

Book Now

Contact us

Call Now
And many more! In the next, you can type your target location and then go for the option Ad Type. Through this, you can obtain the image, video, or story results. Then in the last option, choose your desired language.
 Lander Properties:
The last option you see is the lander properties.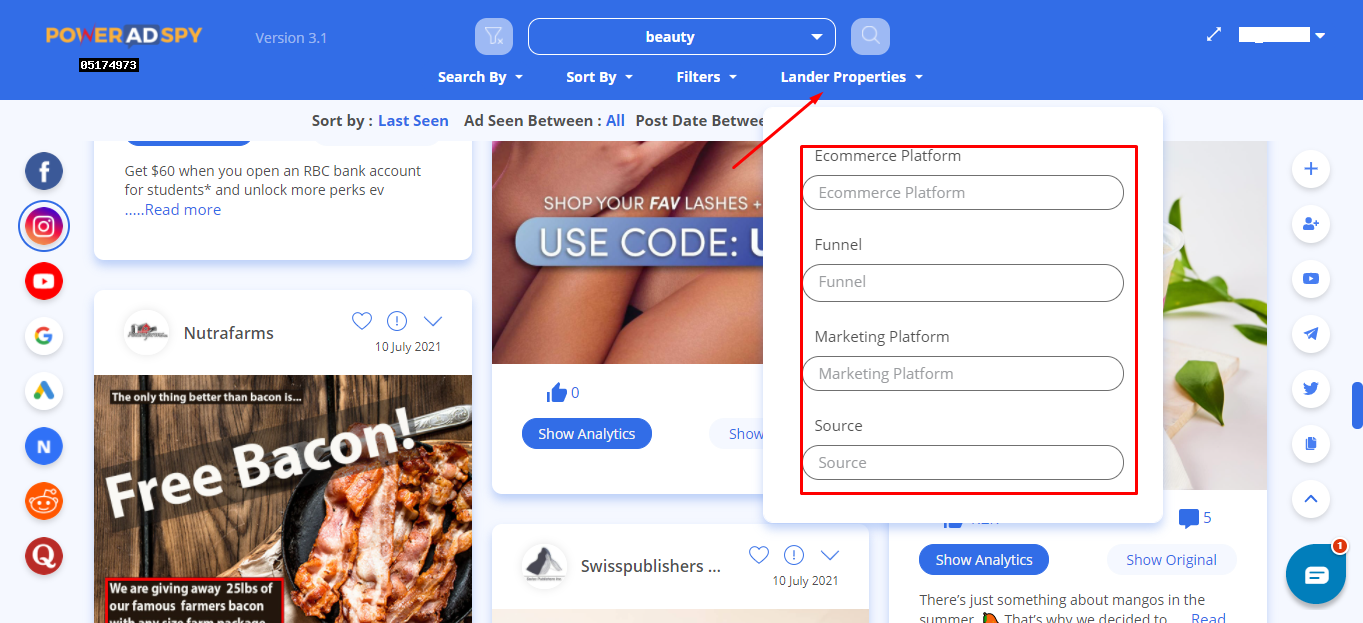 Even if you don't choose e-commerce and marketing platforms, you'll get it mentioned in your result. Your searched ad had occurred on a landing page, for example, Shopify.
In funnels, there are three options available for you, and they are,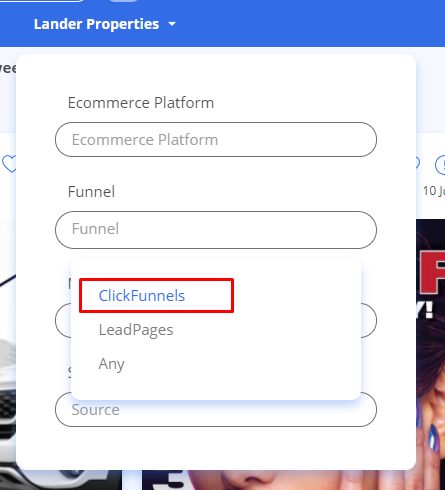 And, you can only opt for the click funnels. Besides, not choosing any option works well too!
Now, for Source, which is the last option. You can choose any of the devices listed here.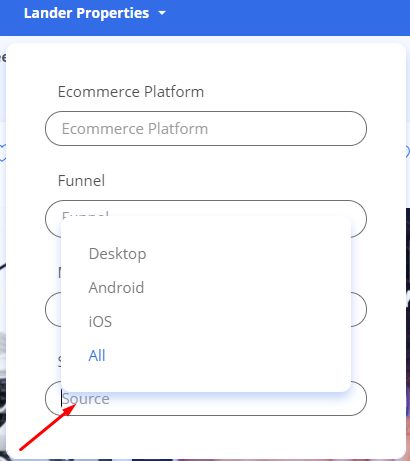 Now, since you know all the search methods, let's pull out some analytics.
Scroll for your favorite ad where you'll see two options, like this
Click on Show Analytics. It will open up in a separate tab, where you can see a detailed report.
1. Ad Details.
It will show you exactly how the ad looks. Like the one, you already clicked on the top.
2. Ad Analytics.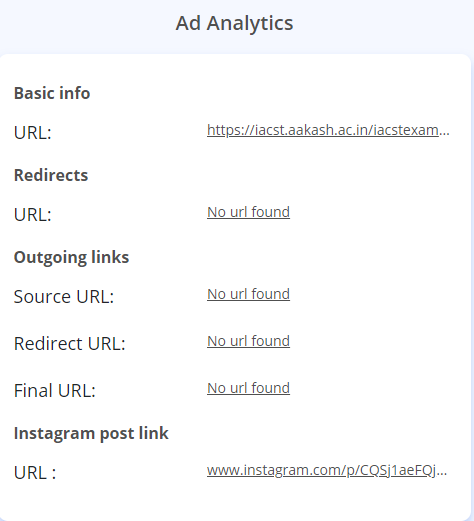 3. Lander Pages.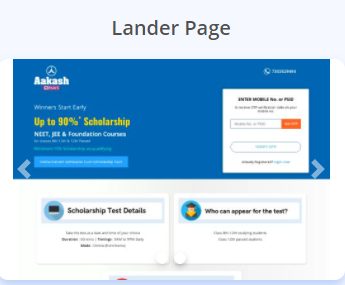 Even if you don't choose any lander options, your result will reveal.
4. Audience Profile.
5. Social Engagement.
6. Country-wise performance.
7. First and last seen of the advert, Post date, Ad language, Age of Audience. Duration of the Ad running & Domain registration date.
Final words
At the end of the day, every business needs more conversion. However, it is considered to expect sales right after the ad campaign. But, anything that counts more is to nurture your clients and customers. It could help you to build a community in the long run.           
Well, with tools like PowerAdSpy, you can easily generate engagement. So make sure to start your free trial so that you can turn your profile visitors into potential clients.
Check Out Our Latest Blogs