05 Sneaky Ways To Spy Twitter Ads
You may have asked yourself one of these two questions in the past:
What tactics are my competitors using to attract more visitors, leads, and social media followers?
Why are my competitors more successful online than me, even though my content is superior?
What if we tell you that stalking your competitors can provide a surefire way to find out? 
No worries, we do not mean it creepily. It would not get you into trouble since they are likely doing the same to their rivals, including you. 
Understanding your competitors and their operating methods is critical to the growth of your business. Once you have gained valuable insights into profitable marketing strategies, you can leverage them to your advantage. While Twitter ads spy may seem a bit sneaky, as long as it is legal, there is no harm in trying it out.
But first, let us get some basic information about Twitter ads examples.
Hit The Play Button To Listen to This Article
A basic guide for Twitter ads

While Twitter may not be the first social network you think of when planning your social advertising strategy. It's worth noting that Twitter ads can reach an audience of up to 486 million users with ad formats that range from basic to advanced. 
Additionally, there is no minimum spend required. With this in mind, it's time to consider including Twitter advertising in your promotional mix. This beginner's guide to Twitter ads will walk you through everything you need to know to launch your first Twitter ad campaign today, including the different types of Twitter ads library.
The different types of Twitter advertisements are known as Twitter Promoted Ads. These ads were formerly called Promoted Tweets and they appear similar to regular Tweets. 
However, the key difference is that advertisers pay for these ads to be shown to individuals who are not already following them on Twitter. Like regular Tweets, Promoted Ads can be engaged with by users through actions such as liking, retweeting, and commenting. Promoted Ads are always clearly labeled as ads and display the term "Promoted" in the lower left-hand corner. 
There are several types of Promoted Ads that feature various types of media. These include Text Ads, Image Ads, Twitter video ads examples, Moment Ads, Twitter Live Ads, and Twitter carousel ads examples, which can feature up to six horizontal swipeable images or videos. 
So, before acknowledging how can your Twitter ads spy on your competitors and learn from their playbooks? Let us explore.
Why is it important to spy on Twitter ads
With the advent of the digital era, starting a new business has become significantly more accessible. 
However, it also comes with its own set of challenges, including heightened competition among marketers. To combat this, conducting competitive research can be beneficial. By examining your rival ads, you can gain valuable insights into their ongoing strategies, such as their use of CTAs, keywords, ad placement, and more.
For example, suppose you come across an ad that has gone viral on your Twitter feeds. In that case, you can extract useful information from it to understand the intended audience of the advertiser, their ad placement, and where most of their traffic comes from. These Twitter ads' spy insights can help you stay ahead of the competition.
Although it may be challenging to investigate the advertising tactics of your rivals, there are now high-quality tools such as PowerAdSpy that make Twitter ads spy more manageable. With this software, you can confidentially examine your rival ad strategies on Twitter. 
Why use Twitter ads spy tools
As the advertising landscape becomes increasingly competitive, brands are vying for higher conversion rates, but not all succeed. New or small businesses may struggle to capture the attention of their target audience, often due to limited budgets or weak advertising strategies.
One effective method to gain knowledge about your industry and target audience is to analyze your rivalry strategies as part of your competitor analysis. This approach enables you to identify successful tactics in your industry, address gaps in your current game plan, and identify competitor weaknesses.
Creating ads that resonate with your audience requires significant planning. However, with the best ad spy tool, you can identify what works for other companies in your industry. This tool is available in free and paid versions, and you can choose the one that suits your niche.
Let us explore five techniques for Twitter ads spy.
Spy on Twitter ads with 05 sneaky methods
Analyzing the advertisements of rival companies can be more challenging than anticipated. It may require different techniques to comprehend the essence of rivals' advertising strategies. 
Therefore, I have compiled some effective methods to aid you in spying on competitors' ads.
Let's begin!
Spy on Twitter ads with market-leading tools
There are many tools and software available to monitor competitors on Twitter ads. But it is crucial to choose the right one that meets your ad research requirements. 
Luckily we have a solution to assist your Twitter ads spy with all your ad research needs. It is PowerAdSpy, an incredible tool that can help you streamline your ad research process and eliminate the need for extensive A/B testing. 
With this tool, you can boost the efficiency of your ad research and get ahead of the competition.
Use Poweradspy to spy on your competitor's Twitter ads research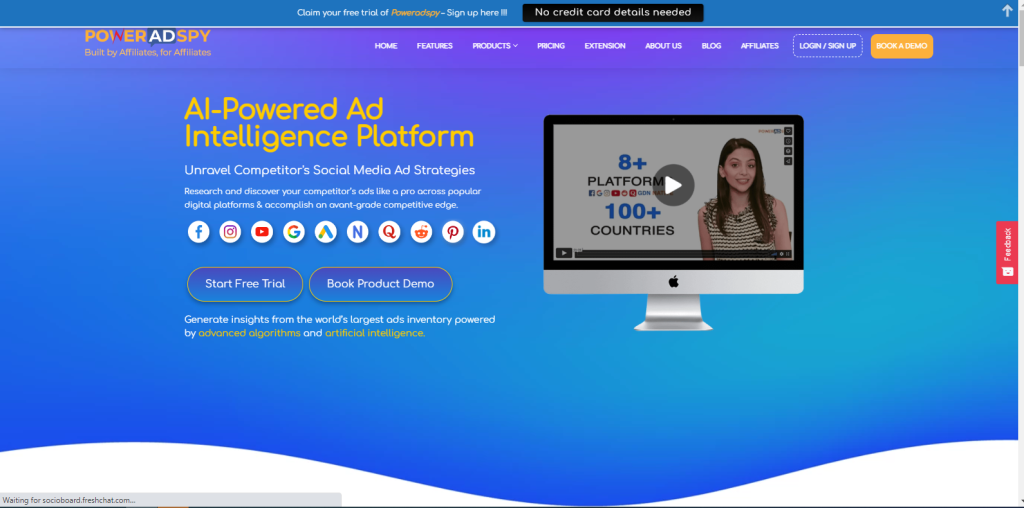 PowerAdSpy is a comprehensive ad intelligence tool designed to help advertisers and marketers identify the most profitable campaigns across relevant ad networks. 
With over 20 million active ads, users can access real-time data and analyze campaigns to maximize their return on investment (ROI) using multi-dimensional data, AI-driven analysis, and powerful filters.
This software provides access to more than 9 platforms, including Instagram, Facebook ads, Twitter, Quora, and Pinterest. Its advanced features allow you to monitor and filter competitor ads by position, gain complete visibility, and search ads by location and relevant keywords.
The high-powered search algorithm and call-to-action features make it easier to narrow down your searches. You can also bookmark the best-performing ads. 
PowerAdSpy provides a free trial available for first-time users. This free trial includes 100 searches and browsing of up to 1000 ads for ten days. With PowerAdSpy, you can streamline your Twitter ads spy research, reduce A/B testing, and enhance the efficiency of your ad campaign.
See how your Twitter competitors engage with their followers
Take a closer look at how your competitors engage with their Twitter followers and uncover the tips and tricks to Twitter ads spy, which they don't share openly on their page. It doesn't matter where you are located or what language you speak, the concepts will be universal.
Observe how they reply to comments and what they like and share. If you have a brand Instagram account, you can do the same when one of your followers posts something.
For instance, a fashion brand may be more inclined to reply to comments about its products or services or join in relevant conversations. They may also engage with their followers about their daily activities or respond to inquiries about their experiences.
If you notice similar engagement levels on your posts, remember that this is your target audience.
Identify competitor's hashtags on Twitter
While conducting research can be helpful, utilizing Twitter ads spy tools can be more beneficial. One effective strategy is to analyze your challenger's posts and observe the hashtags they use. 
By searching for these hashtags on Instagram, you can find out who else is using them and even reach out to them.
As you may know, using a specific hashtag to represent your brand on social media is a popular strategy on Instagram. However, did you know that your competitors also have unique hashtags? It's time to discover them!
You can quickly access their ads and campaigns by identifying the hashtags your competitors use the most. These hashtags act as an archive for all of their relevant platform content, allowing Twitter ads spy to understand how they present themselves to their audience and how their audience perceives them.
Analyse target audience
Analyzing your competitors' ads can provide valuable insights into the success and failure of your marketing strategies. You can identify the reasons why your competitors' products are outperforming yours in certain areas and determine what you're doing better than them in the market.
By adopting this approach in your organization, you can conserve company resources and gain a competitive edge over your rivals. This Twitter ads spy is the exciting part of executing a successful marketing campaign.
Check their ads
Analyzing your competitors' display ads, Twitter ads spy tools can provide valuable insights into their strengths, allowing you to develop your campaign strategy. You may also uncover discrepancies in their messaging or identify optimal placement for driving more qualified traffic.
By keeping a close eye on their ads, you can gain a better understanding of how they're attracting their target audience. You can then take this knowledge and apply it to your own business, ultimately gaining an advantage over your competition.
With the sheer number of websites your competitors may be advertising on, it may be impractical to manually track their display ads. Thankfully, Poweradspy is the Twitter ads spy tool that can help you keep tabs on your competition.
Read Blogs:

Get The Powerful Spying Tool To Seize Your Competitor's Marketing Strategies:
Twitter Advertising 101: Everything You Need To Know
Spying on Facebook Ads | A Trend That Will Continue To Grow
Let's Summarize:
Competition can be a valuable asset for your business, driving progress and growth.
However, Twitter ads spy can also be challenging, especially for new marketers who may not be familiar with it. Mistakes can be costly and lead to wasted resources.
By using ad intelligence software to monitor your competitors' strategies, you can identify which ads work the most effectively and use this information to improve your marketing strategy. This tool can save you time and money while helping you to achieve better conversion rates.
Overall, I hope you find these ideas to be innovative and helpful. 
Thank you for taking the time to read through them.