7 New Instagram Updates To Revolutionize Your Social Media Ads
It's time to pull your socks up as Instagram is continuously evolving!
We all know, Instagram is one of the biggest social media platforms, known for its cool pictures, videos, interesting stories, and influential users. For businesses and advertisers, it's a super practical way to connect with the people they want to reach.
As social media ads keep evolving, Instagram has continuously stayed at the forefront by introducing several updates and features. These updates enhance the user experience and even provide advertisers with exciting opportunities to connect with their audiences.
In contrast, keeping up with Instagram and its trends is a big deal to be successful.
But need not to worry! This blog post will discuss the 07 latest Instagram updates and how they are revolutionizing social media ads today.
Let's start!
Listen To The Podcast Now!
Download Public Reels
Users may now share Reels with their friends more easily. Thanks to a new Instagram feature.
According to a news update, users can soon download Reels of public accounts.
Wait, you don't have to be concerned about anyone using your Reels without your consent.
According to the latest update, "Public accounts can disable the ability for people to download their reels in Account Settings, while private accounts can prevent reels shared by them from being downloaded."
Overall, this feature to download reels can help to revolutionize social media ads by enhancing user engagement, increasing brand exposure, and providing more valuable data to improve targeting.
A download option is a fantastic approach to increasing an advertiser's audience.
Broadcast Channels On Instagram
One-way broadcast channels are soon arriving in your inbox on Instagram, a new feature that marketers and creators may find interesting.
Mark Zuckerberg, the master of meta, revealed the change in his Instagram Story, referring to channels as a "broadcast chat feature." This feature will let artists and marketers communicate with their followers through text, photos, and more.
Even while they will show up in followers' inboxes, broadcast messages won't function like standard DMs. Because of the "one-to-many" messaging architecture, channel subscribers can only read and respond to messages.
With this feature, you can start your broadcast channel from your Instagram inbox once you access the capability. Your followers will get a one-time notification asking them to subscribe to your channel after you post your first message.
Overall, the feature to broadcast channels on Instagram can help you to transform social media ads by offering a more immersive, interactive, and personalized advertising experience. Therefore, this feature will also help to empower marketers and organizations to engage with their audience in real-time, leverage influencer partnerships, enhance storytelling capabilities, and access valuable analytics.
Updated Navigation Bar
In a post on his account, Instagram CEO Adam Mosseri announced the planned changes, saying, "The idea here is to simplify Instagram and focus it more on what we're trying to do, trying to bring people together over what they love."
Since Instagram has significantly altered its navigation bar, the Reels button will be at the bottom bar's center to make room for the Create shortcut. The Shop button will move to the right and replace it with the Reels shortcut.
Users can visit their favorite stores through Discover or other Instagram features (such as advertisements, in-feed posts, Reels, and Stories). This feature indicates that rather than having a separate tab, one can find shoppable content in all parts of the Instagram experience.
Overall, the navigation bar highlights certain features more prominently. Therefore, this updated navigation bar can increase the visibility of social media ads placed and result in higher engagement rates for advertisers.
Music In Feeds
It's a piece of big news for Instagram users that you can now include up to 90 seconds of music in your photo postings that appear in the news feed. On their @creators Instagram feed, Instagram announced the move, saying, "Music is a huge part of expression on Instagram, and we're excited to provide the ability to add music to Feed photo posts like you can with Reels and Stories."
Although music has always been available for Stories and Reels, Instagram users may now add music to images in the main feed for the first time.
Since music can connect with the audience's emotions and content, it can help you increase engagement. Therefore, including music in feeds can establish a deeper emotional connection with the target audience, making the social media ads more relatable and memorable.
Schedule Posts And Reels
Although scheduling Instagram posts through Creator Studio has been available to users for some time, first-time scheduling has been made available directly within the Instagram app.
Users can activate the new Schedule feature by Instagram, located under Advanced Settings while producing a post or Reel. You can then decide when and how to publish the post after that.
Under the new Scheduled Content section, users can control or view upcoming scheduled posts.
Therefore, this feature to schedule posts and reels on Instagram will provide advertisers to gain greater control, efficiency, and strategic planning capabilities for the social media ads campaign. By leveraging this feature, marketers can revolutionize the advertising approach and improve the ad's performance.
Set The Profile Song
Prepare your Rickrolls now! According to reports, you can again upload music to your Instagram profile.
That's right! The function most frequently connected to Myspace profiles since 2006 (and, allegedly, Hinge profiles) may soon be available on an Instagram account near you.
Alessandro Paluzzi, an app researcher, has discovered a brand-new "music" option in Instagram's profile settings. Users will have the opportunity to add a caption in addition to the song of their choosing.
We're already considering which songs we'll want to highlight on our profiles (dibs on the new Paramore), even though it appears that this feature is only just now being widely or even temporarily made available.
Overall the profile song feature might not revolutionize social media ads, but it is part of the tremendous evolution of advertising capabilities. Marketers can utilize more features and ad formats to create engaging and attractive campaigns, resulting in better effectiveness of ads.
Add Multiple Links In The Bio
By allegations published earlier, Instagram is still experimenting with the ability to add multiple links to biographies.
Although the test has not yet been live, users like fashion designer Allegra Shaw are already instead of using the extra link space.
How many links users will be able to add is still unknown.
According to reports, the new function has been in the works for some time; in fact, Instagram's code contained it as of October 2021, according to app researcher Alessandro Paluzzi.
Since we can't add links to captions, Instagram isn't known for being the most link-friendly site. But this new functionality and the relatively recent addition of link stickers to Stories suggest that the platform is allowing users to navigate off-platform.
Whether or when the feature will be available to all Instagram users is unknown. But if the option to add numerous links in a bio is made available as a full feature, Linktree and other third-party applications may be challenging.
Therefore, multiple linking in the bio on Instagram can provide advertisers with more flexibility, better targeting capabilities, and improved campaign tracking. This feature can result in more effective and efficient social media ads that will revolutionize the brand's way to engage with its audience and achieve marketing goals.
Also Read:

Find Your Inspiration with These Top 10 Instagram Ads

Social Media Ad Campaign: Is It Just For Traffic?

How To Create The Best Social Media Ads: 07 Killer Ad Examples
Strengthen Your Reach With Poweradspy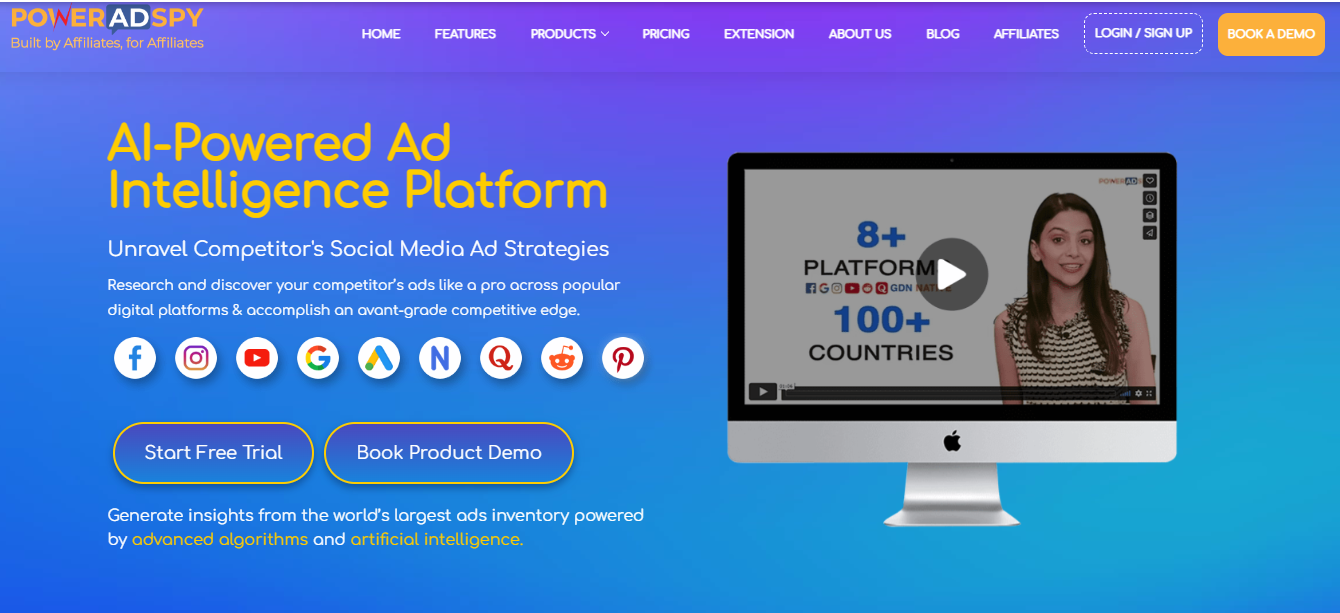 You can now use ad intelligence tools to manage your accounts on a single platform and execute social media ads. With the help of tools like PowerAdSpy, you can manage your work without hassle and provide excellent outcomes.
One of the best ad intelligence tools for managing social media ads on a single platform is PowerAdSpy. It is one of the leading programs for managing all social media advertisements. The best feature is it permits users to view all of the competitors' advertising and landing pages in a single dashboard. Therefore, it will be vital for you to keep an eye on your competitor's Instagram ads.
The software includes features that might help you expand your social media accounts and simplify your life.
Let's talk about a few aspects of this ad intelligence tool.
You can search through 50 million+ advertisements from 20 different countries in the world's enormous social media ad collection, with thousands of new ads uploaded regularly.
It displays advertisements and enables you to identify the ideal demographic for social media ad targeting.
This software will show you which video commercials perform best for your niche when you run a video ad for an effective advertising plan.
It comprises of powerful features:
Social Media Scheduling
Content Management
Audience Targeting
Analytics and Insights
Automation Tool
Account Security
Conclusion
Instagram being the most popular social network, continues to bring more new features for users to run social media ads.
Today's Instagram is nothing like Instagram in 2010. Nowadays, it's a global powerhouse with over 1 billion monthly active users and over 2 million businesses building their business accounts. That's more than any other social network – and we've only just begun.
With upcoming new updates, Instagram is certifying people to exhaust every marketing tactic and get paid for them. Now these recent Instagram ad updates are not just making it a better social media platform where people chat with each other. But it is proving to be a marketing hub for social media ads.