Unveiling the Power of Google Shopping Ads
This digital era is all about promoting and selling products and services online. Businesses want that one formula through which they can reach their target audience and generate online sales.
Google shopping ads are an advertising medium that is experiencing tremendous growth. These advertisements have changed the game for e-commerce companies with the ability to showcase products to relevant users.
Are you looking for something like that?
Then you won't regret spending your next few minutes here on this blog exploring Google Shopping Ads, its benefits, and how you can utilize the google shopping ads spy tool to get a competitive edge. Let's begin!
Listen To The Podcast Now!
What Is Google Shopping Ads
Google Shopping Ads are image-based advertisements. The ads appear at the top of the search engine result page when someone searches for a specific product.
These advertisements let customers compare products/services visually.
They can find all the options available from different retailers and other details like product's price, title, and a picture. This makes a personalized shopping experience for the buyers.
The key components of Google shopping ads include:
Product Image: A high-quality image of the advertising product.
Product Name: A concise, simple name that describes the product.
Cost: The price of the product shown in the image.
Brand Name: The name of the physical store or online retailer selling the item.
Further Details: Important details related to product such as: rankings, reviews, and shipment information.
Now that you have the idea about the Google shopping ads, you might have realized that Google advertising equips with the powerful audience driving capabilities!
This is the reason why most of the marketers are routing towards shopping advertisements on Google.
That being said, you might be wondering how to make a remarkable presence with such huge competition!
Well! With so much competition in the digital market you can utilize ad intelligence tools to help you with shopping ads spy activity that can take you one step ahead.
Utilize Google Shopping Ad Tools
To stay ahead in this competitive e-commerce ads era, it is crucial to understand your competitor's ad strategies. Tools with research features are essential in this situation.
You can improve your advertising strategy by using google ads spy tools.
Shopping ads spy can help you to get insights into the ads campaigns of your competitors on Google.
Let's explore more about these tools and how they might help your company.
You can learn a lot about the strategies of your competitors using the shopping ads spy tool and modify your approach accordingly.
Using tools to spy can help you find out which keywords your rivals are targeting, which can help you improve your keyword targeting and bid optimization.
Additionally, you may examine the products they are advertising to spot market insufficiencies or uncover potential chances to broaden your product line.
One such tool that can help your business achieve all this is PowerAdSpy.
PowerAdSpy is a powerful tool when it comes to shopping ads spy activity that allows you to monitor and analyze your competitors' ads campaigns.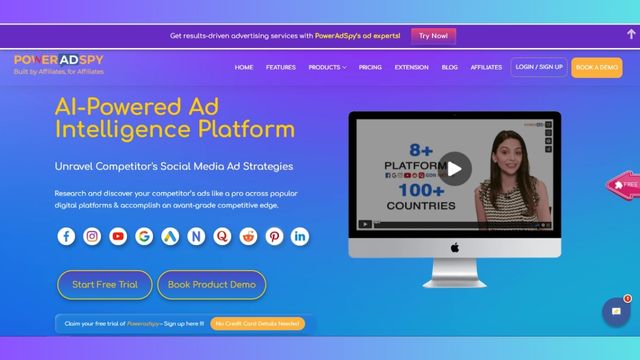 Some of the popular features of this ad research tool are:
It provides clear visibility of ad analytics where you can check the real-time engagement on the post with audience opinion on that ad.
You can research different ads using PowerAdSpy, filter the ads based on position, and analyze the best-performing ads in your niche.
PowerAdSpy brings you the latest successful ads from 100+ countries because it updates its database with thousands of fresh ads daily.
You can bookmark ads into your personalized inventory using this tool for future use. You don't have to search for that ad again.
With PowerAdSpy, you can search ads with exact or relevant keywords that help with better analysis.
Moreover, you can gain a competitive edge by shopping ad's spy activity on your competitor's Google Ads as it provides in-depth insights of their marketing strategies, that you can leverage to stand out.
Analyzing your competitors can help to understand better what works in the world of advertising to accelerate your brand growth. But if you are wondering what else you can get spying on ads, let's explore its benefits in detail.
Benefits Of Shopping Ads Spy

1. Uncover Competitors' Strategies
Shopping ad's spy provides insights into Google Shopping Ads campaigns of competing companies.
It gives you access to information on targeting options, product offers, and ad creatives so you can examine their top-performing advertisements and adjust your campaigns appropriately.
2. Refine Your Campaigns
It provides analysis of your competitor's ad campaigns.
You can create compelling ads that appeal to your target audience using insights from your competitors' ads campaign strategies.
Shopping ad's spy helps in finding successful approaches that you can incorporate in your campaigns.
3. Stay Ahead Of The Competition
Businesses can gain a competitive edge in the market using spy tools.
By effectively taking advantage of ads spy activity on competitors' Google Ads campaigns and discovering their secrets to success.
4. Stay Updated On Ad Trends
Using shopping ads spy, businesses can stay updated about the latest trends in Google Shopping Ads.
They can discover emerging trends and capitalize on new opportunities.
That's how one can stay ahead of competitors and maintain relevance in the ever-evolving advertising landscape.
5. Creative Inspiration
This tool gives you inspiration by presenting the effective and successful ad creatives of competitors.
Gain fresh concepts to produce ads that are more compelling and effective.
Motivate your team's creativity to produce captivating advertisements for your audience.
Overall utilizing shopping ads spy tools can take your business to the next level and make your journey towards success hassle free to some extent.
Also Read
What Google Shopping Ads Can Do For You
Google Shopping Ads offer a variety of advantages that can have a significant influence on business performance.
More detail on the benefits of using Google Shopping Ads are:
1. Enhanced Visibility: One of the main advantages of Google Shopping Ads is improved online visibility.
These advertisements increase your reach to a larger audience by showcasing your products on search engine results pages.
In fact, potential clients are more likely to see your advertisements when they search for goods or services similar to your offers.
Moreover, it enhances the chances of capturing their attention and leading the audience to your website.
2. Higher Conversion Rates: Conversion rates are much higher for Google Shopping Ads.
Users can view the product, its price, and other important information due to the visual quality of these advertisements even before they click on them.
This transparency significantly contributes to higher conversion rates.
Users who click on these ads do so because they genuinely want to buy the advertised product.
As a result, there is a higher chance that these clicks will result in actual sales.
3. Improved Targeting: Targeting gets better in Google Shopping Ads.
By analyzing user behavior, preferences, and intent, the algorithms display ads to users who are interested in that product and will buy it.
This targeting ensures that your ads reach the right audience at the right time, maximizing the chances of generating sales.
This approach helps you make the most of your advertising budget.
4. Increased Brand Awareness: In addition to advertising your items, Google Shopping Ads gives you the option to include your brand's logo.
This feature is essential for increasing recognition and awareness. Even if customers don't want to buy right away, their exposure to your brand's logo creates familiarity.
Thus, customers remember your brand and when they are ready to make a purchase they are more likely to choose your products over those offered by competitors.
With more individuals becoming aware of your brand, you can build a long-lasting connection with potential consumers and improve its reputation as a whole.
Conclusion
Google Shopping Ads have become a vital part of the e-commerce advertising landscape.
They are beneficial for companies wishing to increase their online sales as a result of their ability to showcase products visually, improve targeting, and boost conversion rates.
By utilizing shopping ads spy tools, you can analyze your competitors' ad tactics and using this information for tailoring your ads appropriately, you can gain a competitive edge.
With knowledge of keywords, ad performance indicators, price plans, and other topics, you can improve your strategy, boost your visibility, and produce better results.
Harness the power of Google Shopping Ads and make your company win. Use the information provided by shopping ads spy platforms to take your e-commerce success to new heights.