Get Ahead of Your Marketing Competition Using Ad Intelligence Tools
To thrive in today's competitive market, businesses must stay ahead of their rivals. And advertising plays a crucial role in achieving this. Digital advertising platforms make it easy for businesses to sell their products by effectively reaching out to their customers. If you want to improve the success of your ad campaigns, you need to generate ideas with amazing ad creatives. Ad intelligence tools can help you achieve this by providing insights into well-crafted designs and strategic advertising campaigns. By leveraging these tools, you can significantly enhance your chances of success and outperform your competitors.
Want to step up your advertising game and beat your competitors' ad campaigns? Ad intelligence software will help you do that.
TAP ON THE PLAY ICON TO LISTEN THIS ARTICLE
What Is An Ad Intelligence Tool?
Ad intelligence tools is an advanced software offering information about competitors' advertising strategies. That helps you gain actionable insights for better results.
Ad intelligence software helps businesses gain insight into a complete overview of ad campaigns. Ad intelligence technology can help confirm your advertising efforts yield maximum benefits and offer clear strategies that give you a predictable return on investment.

The use of ad intelligence tools for business can help enhance the effectiveness and efficiency of digital advertising campaigns through informed decision-making based on data-driven insights.
If you want to boost your ad campaign by improving ad quality, this blog is worth your valuable time. Find out what ad intelligence software can do for you, its benefits, features, and success.
Benefits Of Using Ad Intelligence Tools: 
When you use ad intelligence software, you get innumerable benefits for improving your ad campaign. 
Competitive analysis:

With the help of this feature, one can know what exactly is trending in your business niche. It will reveal new opportunities and gives an insight into the strategies of your competitors' ad campaigns. 

Innovative ideas: Ad intelligence would help you to find new advertising ideas, which you can use to stand out your own brand against competitors.
Target audience:

It can also help the vendor to identify the audiences of their competitors whom they can target and try to convert as potential customers.

Performance metrics and optimised ad campaigns:

With an

ad intelligence tools

, you can check the performance of your competitor's ad. And by utilising these performance metrics, you can optimise your ad campaign.
Now, let's dive into how this tool works and what marketers can achieve using it:
Observing Competitors with Ad Intelligence tools:
Ad Intelligence tools help you to gain an edge on your competitor's ad campaigns. It gives you the ability to spy on your competitor's ads. And going through that you can understand their strategies, strengths, and weaknesses which will help you to target audiences that may convert into potential customers. You can also track their performance metrics as impressions, clicks, and conversion rates, to standardise your campaign and improve according to your need.
These tools can help you get an insight into your competitors' ad strategies, such as the keywords they are targeting, the platforms they are advertising on, and the messaging they have in their ads. All this is going to help you optimise your ad campaigns and create better-performing ads by identifying new opportunities and refining target audiences.
PowerAdSpy is one such powerful ad intelligence tools that offers you features that would help you to optimise your ad campaign. Here are some other benefits that it offers: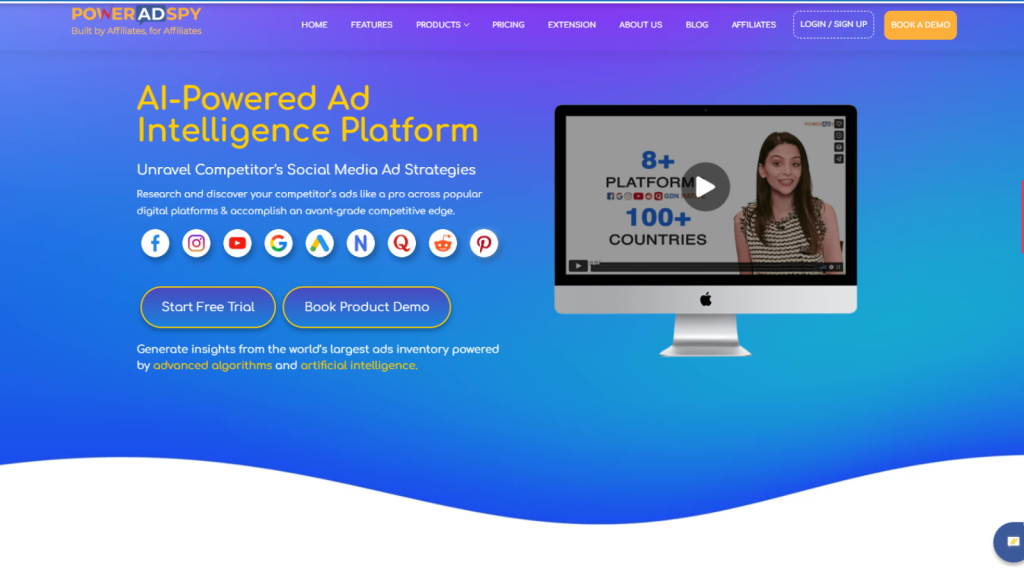 PowerAdSpy helps advertisers with insight into what ad campaigns are performing well in their niche. It also provides you to check various ad types, copies, and visuals to search for the best-performing ads. This can help them save a lot of time and effort in creating an effective ad campaign.
It enables you to identify the most victorious strategies to optimise ad campaigns. You can track engagement rates, click-through rates, conversion rates, and ad placement. And comparing those with your own ads will help you know how effective your ad campaigns are.  
PowerAdSpy currently includes millions of ads from more than 100+ countries, and its data is expanding. It can quickly locate the most effective ads in just a few clicks.  It allows you to search ads based on your niche keywords, advertisers, and competitors' domain. You can also check out the ads run by the top-performing advertisers.
Bookmark ad concepts you want to use in upcoming campaigns and move them to your personalised ads inventory. No more searching is needed. Use popular keywords/phrases/terms to find the ads you want. Discover the best ads by sorting them by date, shares, likes, and comments.
Although images work well, video is the latest advertising strategy that works best on social media. PowerAdSpy offers a fast-growing category of social video ads insight to help you understand the types your audience prefers.
With PowerAdSpy, you can get engagement-oriented details, Geo-targets of your competitors, which help you to identify an audience readily interested in your product/services. You can figure out the best Call to action working in your niche. Thus, it offers a wide range of options to boost your ad campaign, making it the best ad intelligence tools.
Read More
How Ad Intelligence Tools Help Affiliate Marketers Make Money?
Consumer Analytics Using Ad Intelligence Tools:
Consumer analytics, utilising ad intelligence software, gathers and analyse consumer data to understand their online behaviour and preferences, enabling businesses to create targeted campaigns, improve customer satisfaction, and increase profitability. This tool helps to know the target audience, market trends, and consumer behaviour. An intelligent tool allows you to gain insight into the target consumer's social class, online behaviour, and interest, which will help you connect better with the audience after working on strategies by analysing all these factors.
Businesses make conscious decisions in their ad campaign based on which platform they want to focus on, what ad formats are best for their campaign, and how to connect with the target audience by optimising messages. And this is possible if you analyse ad performance data and do some consumer analysis and audience targeting to get valuable insight into buyer's inclinations, market trends, and industry benchmarks.
Tools like ad intelligence allow businesses to gain insight into the audience that is on the target and also the trends in the market, based on which you can check ad placement accordingly and decide strategies. 
Success with Ad Intelligence Platform:
Ad intelligence tools helps businesses optimise advertising efforts with the help of functionalities and extensive features that it offers. With deep insight into your ad campaigns and strategies of the competitor ad campaigns, this platform also helps visualise data, analysis based on competition, and breakthrough analytics.
Businesses need to focus on their goals and try to choose the right platform/tool like PowerAdSpy, which offers an interface that is easy to use, helps in tracking data, provides an insight that is accurate, and much more. Monitoring competitors, analysing data, and further using it to make better decisions for improving ad campaigns that yield maximum benefits are what you get from this kind of platform. 
Making advertising decisions becomes so easy when you go for such tools which provide data from insight so that you can better your ad campaign and when you get an edge on your competitor, success is something that is the by-product here as you are ahead in your campaign leaving behind your competition gaining more.
To make a profit and get the best out of your ad campaigns, you need to understand the market trends to generate opportunities with the help of insight into the ads placement and analyse data on ad spend. All this is going to lead to success in the future.
Utilising intelligence tools like PowerAdSpy will help you save time and resources.
Read More
Ad Intelligence Tool : The Secret Weapon for Successful Ads
Conclusion
Ad intelligence resources are crucial for companies to obtain a competitive edge in this digital advertising world. Ad intelligence tools help in providing tactics to tackle the ad campaign strategies of competitors. For success, businesses can optimise their advertising strategy with the ability to monitor ad campaigns and market trends and do the analysis. Using ad intelligence technology as part of the marketing intelligence plan enhances ad campaign performance and boosts competitiveness increasing marketing success.
Employing ad intelligence technologies can be a game changer in this constantly shifting field to become more competitive. The business may optimise its ad strategy, make data-driven decisions, and succeed in marketing by utilising an abundance of data and insight offered by intelligence tools. So, stop waiting and open new doors to gain success in your ad campaigns by taking advantage of ad intelligence technology.