How Ad Intelligence Tools Help Affiliate Marketers Make Money?
Affiliate marketers need to be always in alert mode regarding the competition and changing trends in the market. That is where ad spying tools play a huge role, making it easier for affiliates to overcome competition and gain profits.
Today affiliate marketing is growing and thriving at a pace. As the competition is growing more intense, people are also coming up with great creative ideas to make higher profits. Although, some affiliates become threatened of losing behind in such a tough competition.
However, competition is a great thing, as it shows that there is quite some scope for growth in the same business niche as yours. If you can keep yourself updated about the new marketing strategies of your competitors, it would help you improve your own marketing to the next level.
Listen To Blog Post In Natural Voice-
So let's find out why as an affiliate marketer you need to be using ad spying tools to grow your money.
Reasons Why Affiliate Marketers Should Use Ad Spying Tools-
It is not that ad spying is a must for affiliate marketing. If you have done thorough research about the ongoing marketing trends and your competitors, then you might be able to overcome any affiliate marketing challenges. Although, there are some highly professional marketers who don't need such ad spy tools. However, if you have just started your journey as an affiliate, it would be better to go with a reliable ad spying tool solution to enhance your marketing.
Discover Your Competitors:
With an ad spying tool, you can discover ads your competitors run on different platforms like social media, search engines, and other online advertising networks. By analyzing the content and format of your competitors' ads, you can gain valuable insights into their marketing tactics and identify areas where you can improve your own campaigns.
Ad spy tools can also help you stay up-to-date on your competitors' marketing activities, allowing you to adjust your strategies accordingly and stay ahead of the competition. Whether you want to improve your social media advertising or PPC campaigns, using an ad spying tool can help you discover new opportunities and stay ahead of the curve in your industry.
Monitor Offshore Brands Without Using VPN:
Ad spying tools help you analyze ad campaigns targeting different countries and demographics. Instead of changing IPs to discover ads from various countries around the world, you can use an ad intelligence solution to filter ads from any specific country. It can be beneficial for businesses looking to expand their reach into international markets or for those wanting to stay up-to-date on global trends and consumer behavior.
Analyze Competitors' Landing Pages:
Many affiliates still manually take screenshots of landing pages from their competitors' websites. It could be a bothersome and time taking process. Instead, they can try powerful ad spying tools that allow them to check and download competitors' landing pages without much hustle. In fact, one such tool is PowerAdSpy, which you can use to monitor and download landing pages with comfy.
Get More New Ideas For Affiliate Advertising:
No matter how hard you try to keep yourself updated about the latest marketing trends, there are bound to be some creative marketing approaches that you might miss. An ad spying tool would help you to uncover those marketing ideas without much effort. And instead of watching over various marketing trends, you can check on your competitors' advertising strategies to find new ideas for your affiliate advertising.
Reduce Your Ad Spend:
Having an ad spying tool brings you the advantage to compare your ad spend with other affiliates promoting similar offers. You can do split tests to optimize your ad expenditure so that you can bring more value from your affiliate marketing campaign.
Increase Your ROI:
By using ad spying tools, affiliate marketers can increase their ROI by optimizing their campaigns. By learning from their competitors' successes and failures, marketers can optimize their own campaigns for better performance and higher returns.
How To Properly Use Ad Spying Tool For Affiliate Marketing?
Now you know that spying on competitors' ad campaigns is helpful for affiliate marketing. And you are ready to utilize the best ad spying tool to improve your own affiliate marketing campaign. Here we are using PowerAdSpy– a powerful ad intelligence tool that allows you to monitor your competitors' ad campaigns running on several ad platforms.
One of the best ad placements for affiliate marketing is native ad platforms. PowerAdSpy allows you to spy on competitors' ad campaigns on more than 17 ad networks with platforms like Taboola, Bing, Outbrain, Yahoo Gemini, etc.
Suppose you want to spy on native ads using PowerAdSpy. You need to log in to the PowerAdSpy platform.
On the right side, select a native ad network.
After selecting that, you can use filters to refine your search results.
You can search by Text in image, Object in image, or any Celebrity in image.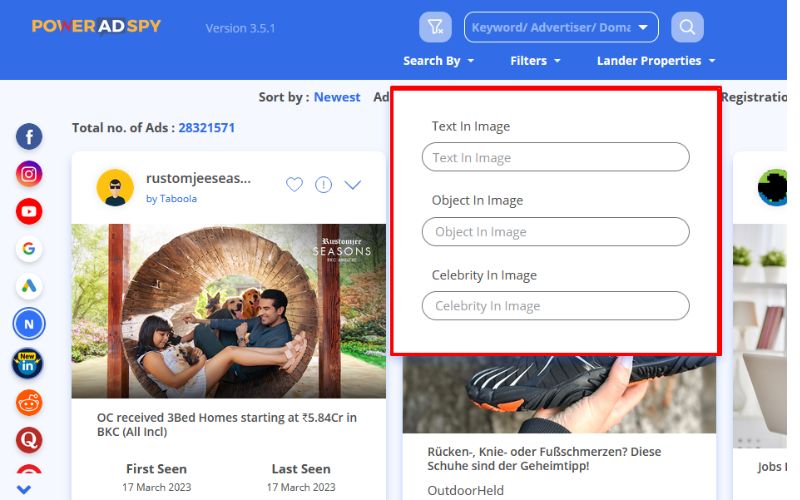 Under the filter section, you can search native ads by country, ad type, different ad networks, and languages.
Next, you have the lander properties under which you can opt for the landing eCommerce platform, funnel, marketing platform, and source options.
Now you are ready to use these filters to search for more relevant ads that relate to your affiliate marketing. Besides this, you can also use this ad spying tool to monitor ads on other ad networks like Facebook, Instagram, YouTube, Google ads, Reddit, Quora, etc.
You can also bookmark your favorite ads and check the analytics section. It will show you the ad views and engagement insights, which you can use to evaluate the ad performance. And by comparing them with your own ad campaign, you can replicate their good strategies and refine your own to optimize your ad campaign.
Why Is PowerAdSpy The Best Ad Spying Tool For Affiliates?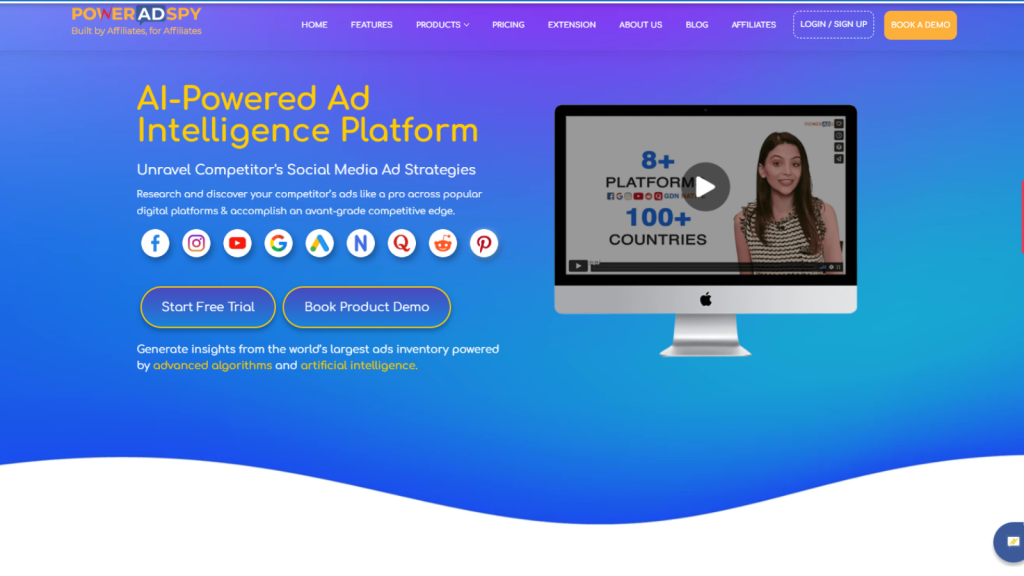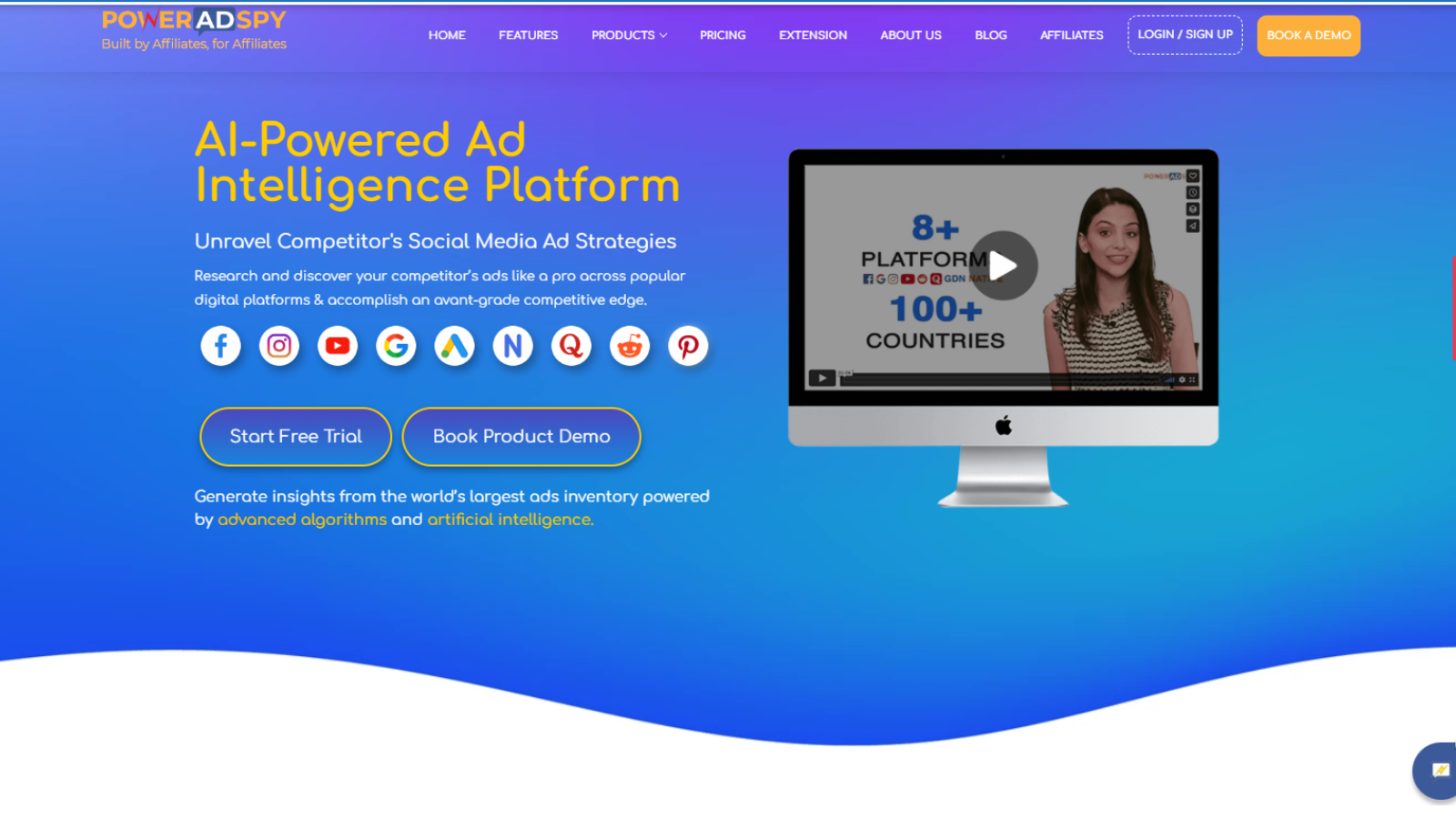 PowerAdSpy is an ad spy tool that can help affiliate marketers to gather insights into their competitors' ad campaigns. Here are some reasons why PowerAdSpy can be useful for affiliate marketing:
Find Winning Ads: PowerAdSpy allows you to search for ads based on keywords, advertisers, or even by the platform. Using this tool, you can identify the best-performing ads in your niche or on a specific platform. It can save you time and money by avoiding testing ads that do not work.
Get Ad Insights: With PowerAdSpy, you can gain insights into the ad creatives, targeting, and other elements that are working for your competitors. This information can help you to optimize your own ad campaigns and increase your ROI.
Identify Target Audiences: PowerAdSpy can help you to understand the demographics of the audiences being targeted by your competitors. And by understanding the audience's interests, you can create content that appeals to your target market.
Monitor Competition: PowerAdSpy allows you to keep tabs on your competition. You can track their ad campaigns and keep an eye on their strategies. It can help you to stay ahead of the competition and adapt your marketing strategies accordingly.
So to sum it up, we can say PowerAdSpy is a powerful ad spying tool for affiliate marketers who want to gain insights into their competition and optimize their own ad campaigns. It may really help you to uncover the best marketing strategies adopted by top affiliate marketers around the world.
Also, it allows you to take a free trial before using it for real. You can experience how this ad spy tool works and whether it fulfills all your standards to find winning ads from your competitive affiliates.
Wrapping Words-
Ad spying can be incredibly valuable for affiliate marketers looking to improve their ad campaigns and increase their profits. By providing insights into the strategies of competitors, these tools can help marketers identify winning ad creatives, understand their target audiences, and optimize their campaigns for maximum ROI.
However, it is also important to remember that ad spy tools are just one part of a larger affiliate marketing strategy. Success in affiliate marketing requires a deep understanding of your niche, a strong understanding of your target audience, and a commitment to ongoing testing and optimization.
Overall, tools like PowerAdSpy can really help you provide valuable affiliate marketing insights and get you competitive advantages. By leveraging them effectively, you can increase their profits, gain a better understanding of their competition, and develop more effective marketing strategies.
As the affiliate marketing landscape continues to evolve. So spying on competitors will likely become an increasingly important part of any successful affiliate marketing strategy.
Also Read
The Ultimate Mobile Phones Advertisement | 9-9 Benefits & Formats
How To Make The Most Of Your Ad Search – 7 Proven Strategies To Get Results
If you want to read more of such blog posts, subscribe to our newsletter. Also, if you have any queries, please mention them in the comment section given below.