Best Approaches You Can Make To Run A Successful Facebook Like Campaign
Whenever we talk about the best social media platform of this era, the name of Facebook jump in our mind in the first place. Well, there's nothing wrong with it. Facebook is a platform that started the whole trend of social media explosion in various ways. According to the most recent statistics of June 2019, Facebook has 2.41 billion monthly active users. That is 8% more in contrast to the MAU's figure found in the first quarter of 2019. So, Facebook is growing not only year by year but also within the year. There are various tactics applied by companies to get brand success, such as Facebook Like Campaign.
Facebook has become the first choice for businesses to market their services. They can reach out to more number of individuals if they endorse their brands on this very platform. Having said that, doing so is not a five-finger exercise. It requires blood, sweat, and tears. Well, it also somewhat becomes more being aware of the latest trends of social media networks. The more you know insights regarding trending things, the better you will be able to cater to the audiences.
Hit The

Play

Button To Listen This

Podcast

:
Marketing campaigns have turned out to be the most practiced errand by businesses in present times. They follow them, so successfully get people's attention. However, various things need to be done precisely for making business campaigns workable. As we all know, social media is the ace of spades for marketers nowadays. That's why many of them choose Facebook for their business marketing. One of the best campaigns run by brands is Facebook Like campaign.
What Is Facebook Like Campaign?
People who are new to Facebook campaigning sector might get perplexed by this term. If we put in simple words, then this campaign is a way for businesses to increase likes on their Facebook page. The main motive of this tactic is to target folks who most probably take a keen interest in your page blogs, brand, and services. Moreover, convert into your customer from a prospect eye-of-view.
So, if they prefer your advertisements, then will click on the CTA button on your Facebook page and that's all it is. Later, you can retarget users who clicked on the call-to-action option of your ads, so point them out in a more personalized way by sending additional offers and advertisements.
What Are The Steps To Follow Regarding A Facebook Like Campaign?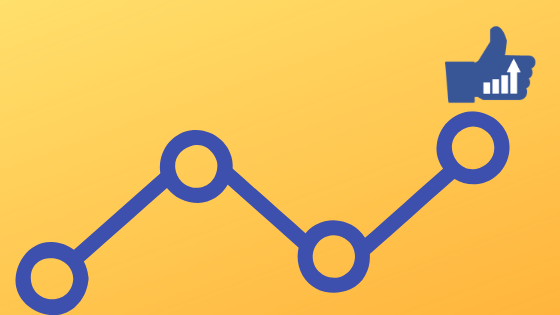 It is not very complicated to set a Like Campaign for your Facebook account. All you have to do is to be clear what you want to achieve through this. To proceed towards setting a Like campaign, you can use either Facebook Ads Manager or any other reliable Facebook marketing tool like Adespresso and PowerAdSpy.
If you are willing to use Facebook Ads Manager tool, then you have to follow the given steps-
Tap on the button, "

create a new campaign

".
Choose "engagement" option.
Click on "page likes".
Finally, tap on the "

continue

" button.
What Are The Different Types Of Audience You Can Target?
As we all aware, these days, different types of audiences exist. Some people like one thing and some like others. So, you have vast options when it comes to targeting them differently. Although, there are two main categories of audiences generally preferred by marketers to target- Custom and interest-based.
I recommend you to go with the option of custom audiences. As these people are the ones who have already in the know about your brand or used your services earlier. But, if you don't want to target custom audiences, then can go for people regarding the following characteristics-
Age.

Geography.

Gender.

Relationship status.

Purchasing behavior.

Education.
Your main aim should be to avoid targeting people who take no interest in your brand as this can waste your time as well as resources. Make sure that you only target people that will take some action as a reaction towards your campaign. Moreover, tend towards your Facebook business page- the ultimatum for this campaign.
The aesthetics of your ads, including its design, text plays a primary role in attracting people to your campaign. Also, you should include a brief description of your brand in your ad copy. So, explain to them why they should like your Facebook page or what you have that others don't.
How To Create A Powerful Facebook Ad Copy?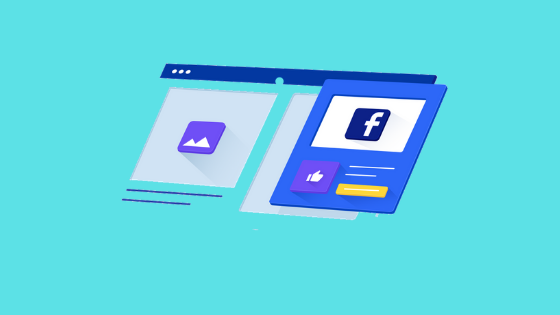 Creating a successful Facebook ad copy is not rocket science. It's all about common sense. Your created Facebook ad copy should represent what your brand stands for. These are some of the following attributes for developing the best ad copy.
Tell users the benefits they can get from engaging with your brand.

Prefer to ask questions as it captivates users' attention instantly.

Make use of verbs such as like, do, etc.

Utilize exclamation mark to add uniqueness in the ad copy.
One more step that's very important in developing approachable Facebook Like campaign is to select the best bidding method. I suggest you start all this from a small amount to avoid severe perils. Later, you can increase the budget if you get the desired profitable outcomes. Besides this, you can also make use of Facebook to optimize your ad delivery via automatic bidding method.
What Are The Tips To Create The Best Facebook Like Campaign?
These are some of the best strategies you can follow to make your campaign super-duper successful. So, without delay, let's have a look!
Mobile-Friendly Traits Should Be Considered: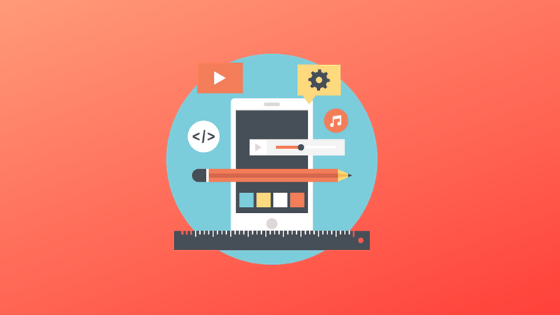 We all are very well-versed with the increased use of mobile devices by human beings. Nowadays, most of the time, people prefer to use mobile phones to access the internet. So, most of the traffic on your campaign will come from mobile users. You have to ensure that the elements of the ad campaign work perfectly on mobile devices also. The factors you have to look after to make the Like campaign successful on mobile devices are Facebook page, landing pages, loading speed, and all other relevant factors.
Target The Right Demographics: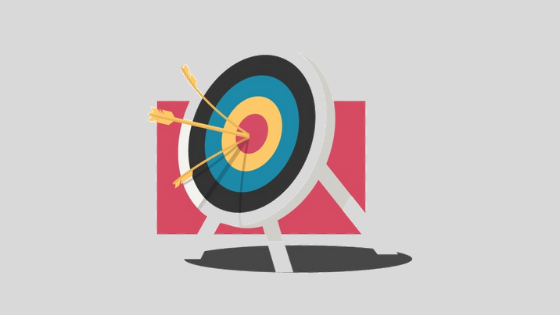 Targeting the right people is the core to get success vis-a-vis Facebook campaigns. To be very honest, it's not always necessary that people prefer your Facebook business page. Unless you provide them with something unique. It happens many times that people only like your Facebook page, but never get converted into your potential customer.
So, I recommend you to spend more time concentrating on the actions of people who can convert into a prospect for your business, other than just waiting for people to like and forget about your Facebook page. That's, in reality, adds no value to your business ventures.
Don't Go For Trial And Error Method: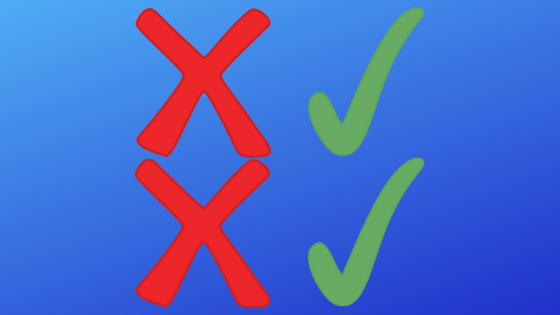 Trial And Error method exercised to signify the concept of playing with more than one idea simultaneously. And wait to see the results hoping some of them will perform. Well, you should avoid this in the case of this errand. I believe you must take proper time in developing campaigns that some of the other ways will serve grandly for your business. It's okay if things will take time to happen, but if they get implemented, then should cause a change in your business growth.
Well, I am not asking you to don't go for ads testing processes like A/B and all. I am telling you to not go for the final steps without foresight the results. Optimize your ads completely while testing and then send them around for people to react.
Professional Tip:
You can also make use of tools like PowerAdSpy to glimpse at the different types of Facebook ads working great for your competitors. It can give a better sense of creativity and vision in regards to comprehend people's response to different ads.
Using PowerAdSpy, you can also filter ads as per the CTA and see the most workable ads of your business competitors. Hence, look at the complete process of following best Facebook ads by using PowerAdSpy.
How to Filter ads based on CTA with PowerAdSpy –
Step 1. Log in/Sign up to your PowerAdSpy account.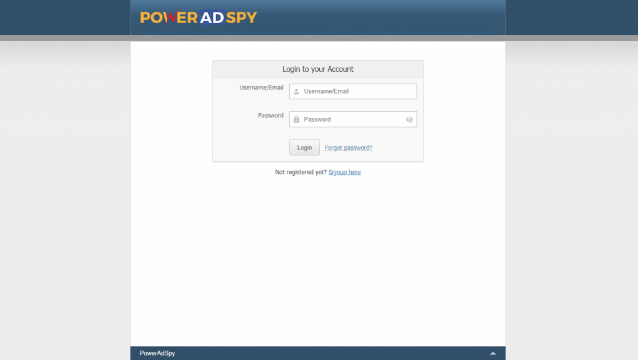 Step 2. Select the Filter mode.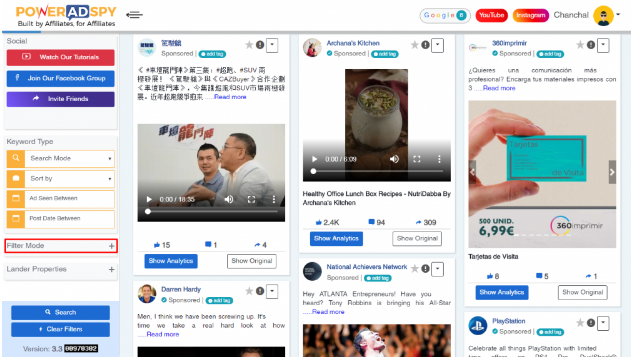 Step 3. Select Call-To-Action Option under the Filter mode.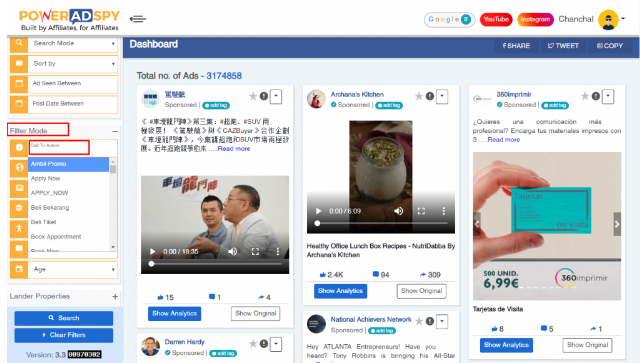 Step 4. Select the CTA as per your niche.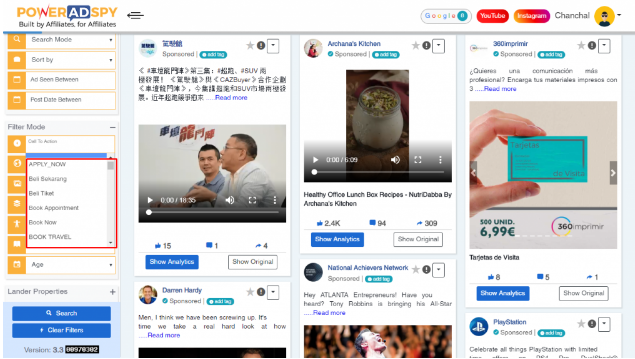 PowerAdSpy provides you the list of CTA options from which you can select according to your business niche.
Step 5. PowerAdSpy will provide you results systematically and quickly.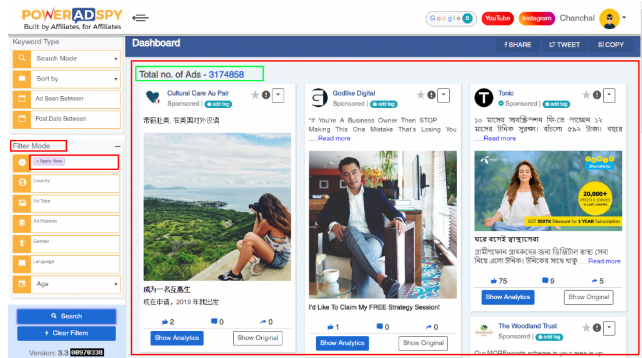 You can also select more than one CTA from the lists provided by PowerAdSpy. This brilliant tool will provide you with results spontaneously without eating much of your time. You can click on ads, can view detailed analytics and can check the original post details too.
Add Some Perks In Your Campaign: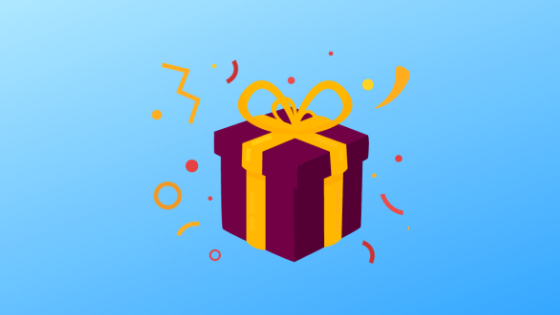 You can add exciting offers and promotions in your campaign. So, people get more driven to see your ads. Well, some folks only click on the ads, when they get fully convinced with the offerings of the business. However, this tactic can give them something to think more and maybe go for at least a glance at your ads. You can also add posts below the advertisements to redirect people at your website. It can help them to understand what they can gain via your business services.
Look For Sale Not For Clicks: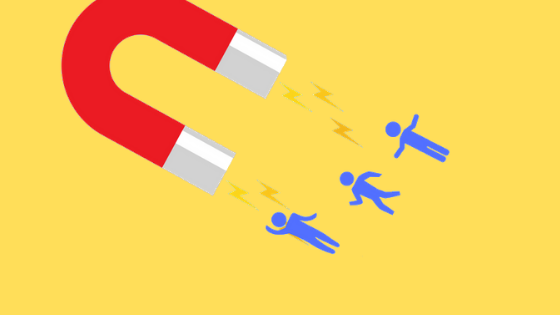 Getting more clicks on your ads can give you a wrong perception about working of your campaign. Are you doing the whole lot for just getting clicks? I hope no! Your main objective should be to get an increase in sales for your business rather than just clicks. That's not going to convert ever in direction to revenue generation.
In a nutshell, if the number of likes your ads are getting is proportional to the sales taking place, then Congo. Otherwise, it is a matter to think what's lacking that people are not converting enough. It can be daunting to understand why some ads are working and why some not without using a conversion tracking software. So, make use of them to properly manage your ads and rectifying things according to your needs.
You Can Also Watch:

How To Find Best Performing Facebook Ads Using Poweradspy?
Worth Customers The Most: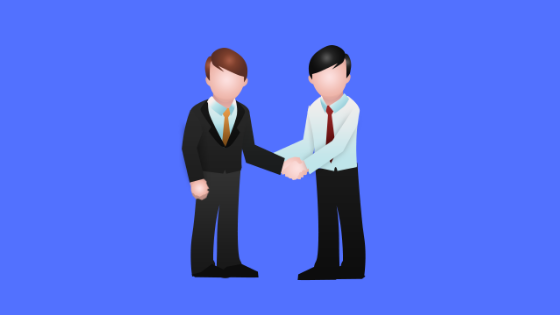 It may sound something frivolous to you, but customers can make and break your marketing endeavors. They should get considered the most in this whole chain of processes. You should value them the most. Else, all your plans and plots can go into the vein. Most of the time, marketers lose trust factor of their customers, when they focus overtly only on money.
Long-time endeavors and a bit of patience are something really can make your business grow profoundly. So, try to think from the customer point-of-view. As, once you gain their trust and reliability factor, then the money is not something far-fetched for you.
Be Crystal Clear Regarding Goals: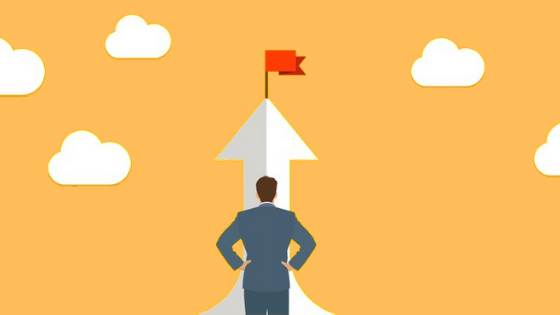 Without grasping the goal you want to achieve through Facebook Like campaign, it's quite difficult for you to execute all this. Be clear regarding your plans, strategies, and results you want to gain as it helps you to analyze all the factors. The best approach you can take relating this campaign is to break down your long-time process into the pieces of small ones. So, you can track them thoroughly.
These were some of the most prominent approaches you should take for running a successful Facebook Like Campaign for business. If you get successful, then this can trigger your business growth to another level. If you haven't tried it, then it's not too late to start. Well, there are various other verticals you can make regarding this topic. Do you want to tell something relatable to this subject? If yes, then comment in the section below. I am all ears!!