5 Tips To Nail Your Facebook Like Campaign
Feeling tired of pouring heart and soul into Facebook ads, only to see desired results? 
Well! It's upsetting when you spent hours to create a campaign but end up losing time and money. But the fact is  – we all know how much Facebook ad matters to grow a business. 
Isn't it? That's why we say —
Good Ads = More Facebook likes = More trust = More purchases!
In fact, there are various benefits of Facebook advertising campaigns available. Some campaigns require users to visit websites in order to enrol in free product trials. Additionally, businesses can advertise their business pages via Page Like ads.
The goal of a Facebook Like campaign is to target people who might be interested in your brand and the posts you share on Facebook. If these people like your ad, they would click the call-to-action button to look into your Facebook Page.
In contrast, setting up an impactful Facebook campaign is not an easy task! And that's why, this blog will help you know more about campaigns on Facebook and how to expand your reach online!
So, let's dig deeper!
Listen To The Podcast Now!
How Can a Facebook Like Campaign Bring You Business?
Once viewers "Like" your page, they have officially shown interest in your business and have identified themselves as potential "warm" leads by knowing who you are and what you do. 
At Full Funnel, you can also apply social nurturing to these types of leads. Social nurturing involves providing your recent "likes" with content that matters to them and giving these prospective customers more insight into your business.
You may be wondering, "Why is this necessary?" or "Why not just show an ad to them directly?".
The answer is simple:
People go to Facebook to catch up on the lives of their friends and family.   Mainly users seek engaging experiences rather than direct purchases. 
This knowledge can enable you as a business to create advertising campaigns that match users' tastes and meaningful content, resulting in more successful Facebook like campaign.
The more interactions and number of engagements you have with an audience, the more likely they are to become customers. 
How? 
Easy!!
By interacting more with a person or just by making yourself seen more frequently, you are increasing trust in them for you as a brand, even if just on a subconscious level.
Now that we've got a better understanding of how Facebook ad campaigns work in marketing. Let's take a look at five things you can do to ensure your next Facebook page like ads campaign hits the mark:
Target The Right Demographic
Targeting the right people is the core to get success. And it is similar for Facebook like campaigns. Honestly, Just a specific audience Likes your page at a lower cost per like does not guarantee that these people will become your customers unless you provide them with something unique.
It's a common occurrence that people follow your Facebook page but don't convert into your Customers. Other than just waiting for people to like and forget about your Facebook page.
That, in reality, adds no value to your business ventures. You can take our recommendation and spend more time concentrating on the actions of people who can convert into a prospect for your business. 
Use The Right CTA Button 
Sometimes a "Call Now" button is not the best fit for some businesses. It may be more appropriate to invite visitors to go to your website or send you a message than to have a call to action which results in zero calls to book an appointment. 
Although a "Call Now" button sounds great in theory, most people aren't ready to take that leap on their first visit. Test different button language and use the information you learn to adjust accordingly.
Professional Tip:  PowerAdSpy
To reach a vast audience, you can also use leading ads intelligence tool like PowerAdSpy to glimpse the different types of Facebook like campaign ads working great for your competitors. It can give a better sense of creativity and vision regarding comprehending people's responses to several ads.
With this advanced tool, you can also filter ads as per CTA and see the most workable ads CTA of your business competitors. 
Let's take a look at the complete process of following the best Facebook ads for page likes using PowerAdSpy. 
How to Filter Ads based on CTA with PowerAdSpy –
Step 1. Log in/Sign up to your PowerAdSpy account.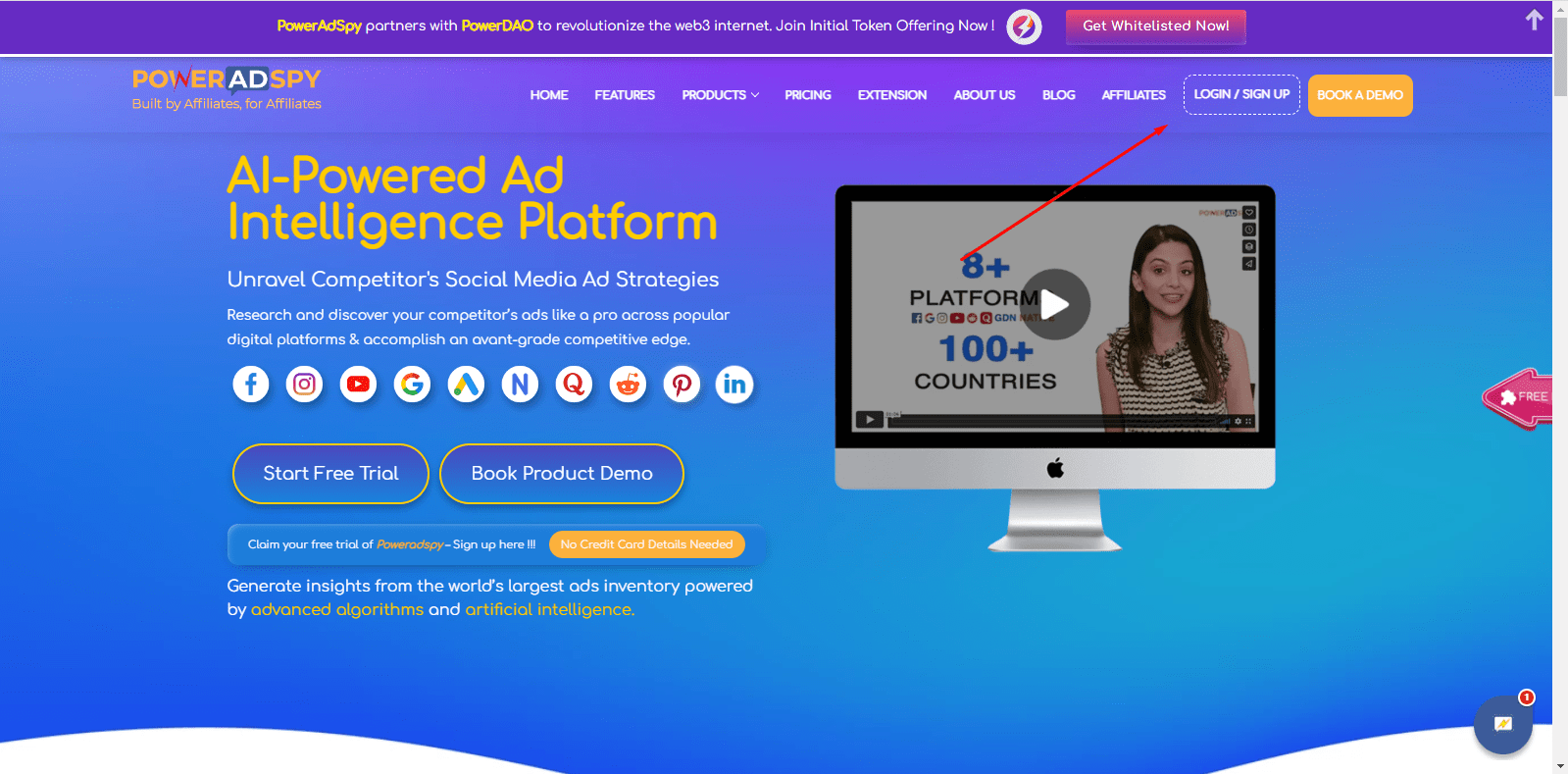 First, log in to PowerAdSpy you will come across all the social media platforms. Facebook, YouTube, Google, Twitter, Instagram, Reddit, Linkedin, Quora, Pinterest, and native ads you can search from. 
Step 2. Click The Facebook Icon.
To peek into the Facebook like campaign of your competitor, you can choose a Facebook icon from the top-left corner. After clicking the icon, you will see all kinds the Facebook marketplace ads on the dashboard.
Step 3: Input Keywords on the Search Bar
Enter the keyword on the search bar to find more specific ads you are looking for. It can be any word on your niche, company, name of the advertiser, or domain of your competitor.
Step 4. Select The Filter Mode.
After all available Facebook ads, you can choose the filter option to filter them out. It will help you get the specific Facebook ads you are looking for. 
Step 5. Select The CTA Option.
To be more precise in the selection, you can choose the CTA option along with Ad type, Ad position and country in the dropdown under filter mode. 
Step 6. Select the CTA as per your niche.
PowerAdSpy shows you a dropdown list of CTA options from which you can select the CTA according to your business niche and advertisement needs.
Step 7. Get a detailed result.
You can also select more than one CTA from the lists provided by PowerAdSpy. This brilliant tool will show all the competitor ads results spontaneously within a few minutes. In fact, you can also click on ads, view detailed Ads analytics.
Read More:
The Power of Facebook Ads For E-commerce Business Growth
13 Facebook Ad Benefits For Your Business
Facebook Marketplace Ads: 10X The Power Of Online Selling
Don't Go For the Trial Error Method
Performing the trial and error method is an attempt to Implement multiple concepts simultaneously and expect some of them to succeed.
Well, you should avoid this in the case of this errand. Rather, you might take proper time in developing Facebook like campaign that mainly serve grandly for your business. It's okay if things will take time to happen, but if they get implemented, then it should cause a change in your business growth. 
Although, that doesn't mean you need to avoid A/B and other ad testing processes. But you should avoid the last steps without the predictability of the results. Optimize your ads 100% during the test process and then send them out to see how people respond.
Pinpoint Important Content
Follow up the offer on your Facebook Like campaign with a pinned post that leads people to your website, a landing page or a lead magnet. Before or after Liking a Page, people tend to go to your Page to take a look at your existing content.
Without any activity, people are unlikely to "Like" your Page. 
Consider this: without content, you would not subscribe to something. Therefore, it is unreasonable to expect others to do the same.
This is the reason you should make sure that these page visitors see what you want them to see first. and make sure that visitors see that you are constantly posting updates on your business.
Add An Incentive To Your Like Campaign
Use special offers and promotions as a part of your Facebook Like Campaign ads to incentivize Facebook users to "Like" your Page. People won't just "Like" your Page out of the goodness of their hearts. You need to give the audience a reason to like the post, resulting in your likes will grow at a much faster rate.
The reason can be several but for Business, the top three reasons are:-
Offers

Money Return 

Engaging
That's A Wrap!
As you watch your Facebook ads page likes and engagement, it's time for you to cook up organic content that will keep your new followers interested. Come up with high-value posts they'll see on their Facebook newsfeed, and make them worthy of reactions, comments, and shares from your followers. 
Think of them as rewards to your page fans for hitting the "Follow" CTA button on your Facebook Like campaign. Once you've established a relationship with your page followers, it's time to continue building your Facebook marketing strategy. 
Your succeeding steps should be to prep your future marketing efforts to reach more relevant audiences and keep your current followers engaged. Run eye-catching ads and release high-quality content. You have plenty of Facebook ad types to choose from, so gear up.