How To Create The Best Social Media Ads: 07 Killer Ad Examples
Do you ever feel like it takes too long to find and create the best social media ads? You are, however, not alone!
Ads are the fuel that powers your social media campaigns, and they are the key factors that determine the success of all your marketing efforts. However, with the constant change in social media algorithms, it has become difficult to get a crack at it.
Furthermore, social media ad campaigns can be challenging, especially for beginners. Finding the right inspiration and then crafting the best ads on social media that align with your brand's style and tone is no easy task, whether you have a small or large brand.
Is there a way to solve these issues?
Yes! And you've already made the first move.
Hit 'Play' Button & Tune Into The Blog!
You're looking for a way to boost the effectiveness of your marketing campaigns. But look no further because you will find the best social media ads and killer social media campaign ideas in this article. But, before we get there, let's understand what social media ads are.
What Exactly Are Social Media Ads?
Social media ads are the soundest if you are looking for the best effective ways to connect with your customers and improve your campaigns.
But, many businesses fail to leverage the powers of ads and social media. And the reason behind this is the mindset that the most audience base a platform has is the best platform to promote a business.
But that's not the case!
The truth is that not all platforms are better suited for all kinds of businesses. When deciding, look for the social media platforms that have more of your target audience and are better aligned with our marketing goals.
Key Elements For Creating A Solid Social Media Advertising Strategy:
When you start up with your campaign strategy, there are many factors you need to be careful about. And these elements will make your process powerful and effective. So let's discuss the most crucial of them one by one briefly!
Goals And Objectives:
Without knowing where you want to go, you can reach nowhere. Goals are the path maps that will lead your business to the best possible success. You need to have a really good idea about the goals for social media marketing. Most companies use SMART goals which means having a goal that is:
Specific

Measurable

Achievable

Relevant

and time-bound
Audience Persona:
The first step to creating a social media ads strategy is to determine who your buyer personas and audience are so you can target their needs and interests appropriately.
Think about the people you're trying to reach and why, and how you would classify them as a group.
Finding your audience persona is a very crucial element for the success of your social media ads campaign. If you want to create the best social media ads campaigns, never skip this step.
Companies that skip this step heavily suffer from a lack of relevant engagement on their social media accounts. It's because they don't have an accurate audience persona.
Competitor Analysis:
It becomes very frustrating when you want the best social media ads to work for your business if you don't get them. The best way to tackle this problem is competitor analysis.
To stay on top of the industry, it's crucial to dig into your rivals. Take a close look at their strengths, weaknesses, and techniques and use them. You will discover the type of content your target audience is most interested in and which ads are working and which don't.
But, how can you do that?
Doing it manually will take time and effort, which most marketers don't have. If you want to know what your competitors are up to and get the best ads in your niche, you can use PowerAdSpy!
Let's know more about it!
PowerAdSpy
PowerAdSpy is one of its kind, intelligent ads spy tools. With just a few clicks, it can save your day and make your ad campaigns blockbuster.
With the help of PowerAdSpy, you can look at their best-performing ads and advertising strategies. You'll also discover the keywords your competitors are targetting. You will get everything you want.
Resource Management:
Managing your resources and budget for your advertising plays a significant role in the success of your marketing efforts. Like your campaign's goals, you need to have a really good idea about how much you will be spending on your marketing strategy.
The overall social media marketing budget is expected to go up from 10 percent to 25 percent over the next 5 years. Considering this fact, you need enough funds to invest in:
Content for your campaigns

Social media promotion expenses

Tools for managing social media accounts

Analytics and community engagement tools
Selection Of Relevant Platforms:
You do not need to be present on every social media platform to effectively target your audience. Choose the most relevant platforms for your business based on your limited resources and time.
Consider your target audience, the type of marketing campaigns you will run on the platform, and how they will align with your business goals.
For example, if you want to build brand loyalty, Facebook may be the best option; however, if you're expanding your B2B business, LinkedIn is the best option.
A Solid Content Plan:
You know what they say about the content being king. But you must believe it if you are to succeed on social media. If you want your follower count to grow, you must constantly share high-quality content.
The name implies that social media is intended to be social. It was not designed to market for you to sell your products, but rather it became one over time.
However, you must strike a balance and create the best ads on social media. Learn from the influencers in your niche about how they create relevant ads for their target audience's interests, and then try to do the same.
How To Create The Best Social Media Ads Strategy?
Ad By Cadbury:
Here's one of Cadbury's best social media ads examples to pique your audience's interest and boost your social media engagement.
In London, they designed a street-level billboard with a seat for an Australian person to sit in front of the text – it's amazing; just ask this Aussie. They turned this campaign into a fun and entertaining physical stunt that passers-by could witness.
The social media side of the campaign was also crucial; followers could ask questions of the Aussie using the Questions sticker through Instagram Stories. They used a customized hashtag, #justaskanAus. Hands down, it was one of the best social media ads you can come across.
The Best Men Can Be – Gillette:
You may have heard many times that men do not feel pain.
But is it even close to true?
This toxic mentality and thought process has put many people's lives in danger. Gillette launched a campaign in 2019 to address this issue.
They released a short film on YouTube depicting how men struggle with traditional masculinity bias. Gillette promoted: the fear of showing their emotions, sexual harassment, and bullying others.
It was clearly inspired by the #MeToo movement and depicts several instances of positive masculinity, such as standing up for others, caring for loved ones, and so on.
Furthermore, the company stated that it will donate "$1 million per year for the next three years to non-profit organizations executing the most interesting and impactful programs designed to help men of all ages achieve their personal best."
Spotify's #yearwrapped Platform:
Spotify launched a campaign in 2019 in which users could view the highlights of the best-performing songs on their website. This special webpage kept tabs on your most listened artists, genres, songs, and other interesting data discoveries.
You could even see how the music you listened to corresponded with the events in your life that year.
After you've gone through all of the data analysis, Spotify recommends sharing these highlights on social media, specifically Twitter and Instagram Stories, and tagging your favorite artist of the year resulting in the campaign being mentioned in at least 1.2 million posts during its first month. Over 60 million people interacted with the in-app story experience.
Carlsberg's Facebook Ad Campaign:
Another one of the best social media ads examples is Carlsberg. To support Liverpool FC in the final of the 2019 Champions League season, Carlsberg created a special red beer to match their football kit.
To promote the beer and campaign, Carlsberg used the power of global fan Facebook networks and celebrated its sponsorship and commitment to Liverpool FC. 
Facebook networks can be a very powerful way to engage a captive audience. Carlsberg improved its brand awareness and drove significant traffic to its website by sponsoring Liverpool.
This type of collaboration can be very effective in keeping a brand front of mind long after the campaign ends.
Shopify:
While Shopify is usually associated with an aspirational tone, this Facebook ad demonstrates its competitive side. Discover the top ten reasons merchants prefer Shopify to Etsy, from no listing fees to less competition.
The headline then reads: Here are some reasons why Shopify is superior to Etsy. This is a good word choice because "find out why" implies that you'd have to figure it out for yourself by using Shopify. In this case, clicking will lead you to specific reasons, such as those mentioned in the main text.
Include specific reasons why you're the better option if you target your competitors for a more convincing and tasteful copy.
Instead of saying, "We're better than [competitor]," say, "[audience members] prefer [your company] to [competitor]." The audience, not your company, is the subject here.
To be effective, you don't have to share an image of your competitor with a big red X through it. In this case, Shopify uses a simple design on its product only, possibly to draw attention to the ad copy itself.
Sephora For Business on Meta: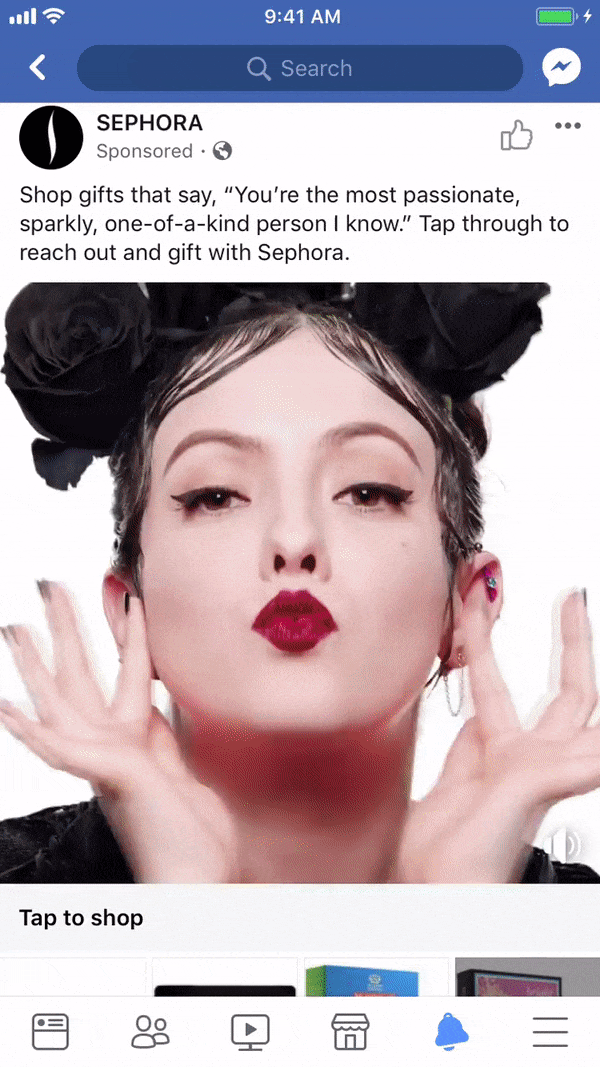 Sephora, a multinational beauty retailer, used a video advertising strategy on social media to capture the public's attention. 
It is in this list of best social media ads examples because its high production value and stunning visuals resulted in excellent results for the brand. They saw a 41 percent increase in CTR and a 32 percent increase in return over previous campaigns.
Check Out Our Latest Posts:

Know What, Why, & How: Instagram Giveaway 101
The Ads You Can Not See: 10 Best Native Advertising Examples
Know More About Uses And Benefits Of Reddit Marketing
That's A Wrap!
There you have it. The best social media campaign ideas to help you make an outstanding social media ad campaign. While innovation is always a plus in marketing, having examples of successful campaigns to learn from at your fingertips may save you a lot of time and money when it comes to going big on social media. I hope these best social media ads examples will be useful and enlightening in developing a marketing plan for your company.