21 Quirky Facebook Ad Ideas You Can Use
Before we get into annals of some peculiar Facebook ad ideas that you can use to know how to target business owners on Facebook, let's first read out loud some of the powerful quotes given by Mark Zuckerberg. 
He once said about Facebook, "By giving people the power to share, we're making the world more transparent."
Mark also once vocalized, "The biggest risk is not taking any risk. In a world that changing really quickly, the only strategy that is guaranteed to fail is not taking risks." 
Lastly, here is one more powerful statement given by him "Our goal is not to build a platform, it's to be cross all of them."
These were some of the great words of wisdom by Mark Zuckerberg, the CEO of Facebook.  Now, it's time for you to know how to target business owners on Facebook. 
Play

The Hit Button To Listen This

Podcast

:
As we all aware of the fact that Facebook is the best social media platforms in recent times. According to the latest piece of information, it holds 2.38 billion monthly active users under its territory. That's more than every other social network of today's era. 
For sure, Facebook is worthy enough for all the praise it's getting. Every section of society making a lot of perks on it. Especially the advertisers. Among the crowd of 2.38 billion people, you can target anyone at any time anywhere. 
Is it so simple? Nope!! 
Advertisers often get bewildered when it comes to target audience like on the core of their business. It is very apparent to happen. Since you can't predict all the time whoever most probably will take an interest in your services. 
Marketers often try to target folks based on gender, location, age, interests, and all. However, this is not enough to truly make through it. Considering demographics and behavior analysis is a substantial step to move forward, but they are not yet there. They possibly can't make you grow in a more significant way. 
That's why I have gathered some of the most remarkable 21 Facebook ad ideas to breakthrough this process and for making Facebook ads targeting effortless like never before. You can follow the below-given suggestions easily by using Facebook targeting aspects and get the ultimate answer of your biggest question how to target business owners on Facebook. 
So, are you guys ready? Let's check this out!! 
1. Aim Generation Y-
I am not talking about any upcoming movie, guys. 
Generation Y is used to refer to the people born between the year of 1981-1996. And in today's social media lingo, they called Millennials. According to the statistics of 2019, about 29.7% of Facebook users belong to this age group. So, no wonder, targeting people from this section of people can assuredly make your ads get better engagement rates. 
Bonus Tip:
Millennials usually take a keen interest in clothes, fashion styles, movies, gaming, and all. Hence, these are some major fields you can touch for targeting millennials effectively. 
Well, targeting generation Y is perhaps one of the best Facebook ad ideas you can implement in your business strategies.
2. Focus Married People-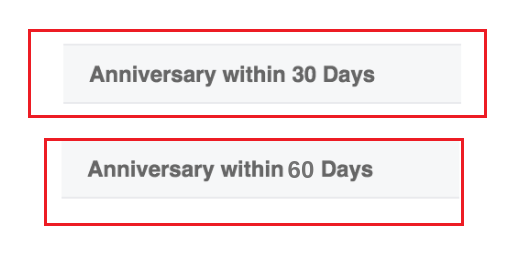 Without a doubt, Facebook gets used by people having different kinds of relationship status in their lives. Some of them may be married, engaged, in relation, complicated, and on and on. 
Bonus Tip: 
Target companies that provide services like Restaurants, Event Planning, Recreational Activities, Hotels, Gifts, etc.
3. Target Technology Centric People-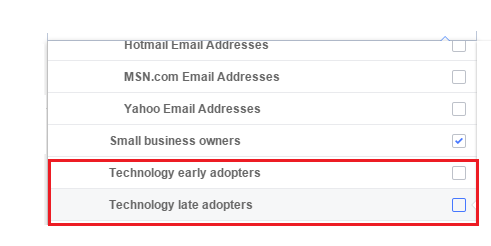 Technology has become a prime part of Facebook over the last few years. The technology ratified businesses use this platform as most often. Therefore targeting users on the basis of their technology adoption rate is a smart move to take vis-a-vis creating buzz around your advertisements. 
Bonus Tip: 
For this, you should target business working on Saas Products, Technology Friendly Stuff, and DIY services. 
4. Target Household Chores Related Audience: 

Household is a vast area to cover. No wonder, in this landscape, you can target the number of folks for your ads. In Facebook ad manager, there is an option to target people on the grounds of household activities. 
Bonus Tip:
Business revolving around Cleaning Services, Home Appliances, Kitchen Subsidiaries, and Holestry are the best to contact regarding household audiences. 
5. Target Friends Of People With Forthcoming Anniversary: 
Greetings have become a daily dose on Facebook these days. People often make use of this platform to wish their friends on birthdays and many other special events.
In Facebook ad manager, you can also target people with friends having an upcoming anniversary.
Bonus Tip:
In regards to this, you should target business with services like Greetings, Online Gift Stores, Restaurants, and many more.
6. Point Out Small Business Owners: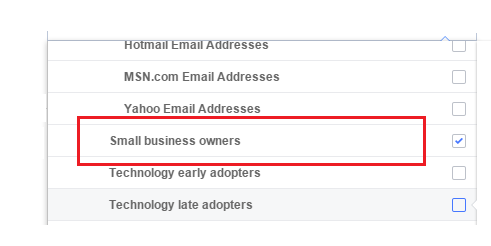 According to a recent survey, 80% of small businesses make use of Facebook for marketing and have a page on this social network. 
So, it is very clear from the above facts and figures that by using Facebook ads, you can target a large number of small business owners. 
Bonus Tip:
The banking sector, Freelancing landscapes, Marketing companies, and Hosting Providers are the best small businesses to target on Facebook.
7. Target Job Aspirants On Facebook:
On Facebook, you can also target people who just got a new job.

Bonus Tip:
E-learning platform, Photography, and Fashion Accessories related companies are appropriate to target for this specific errand.
8. Target People Who Work For Event Management On Facebook: 

 Event management is one of the most flourished jobs on Facebook in present times. Thus, with Facebook ads, you can target people involved in a different kind of event management. It's a grand step forward concerning to target people belong from the event management industry.
Bonus Tip:
Event Planners, Decorators, Cater Service, Movie Curators, Entertainment, are the best niche businesses you can pitch regarding this subject.   
9. Target New Love Couples: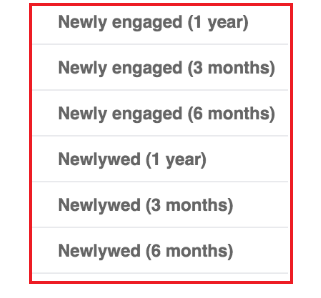 According to various past studies, it has found that Facebook is one of the top social media platforms on which people meet and eventually fall for each other. Hence, you can target enormous new couples through your Facebook ads. So, must consider this factor, if surely want to focus on new young lovers.
Bonus Tip:
Online Gift Centers, Exotic Destinations, and other similar chains of companies are best regarding target newly lovers.
10. Aim Travelers On Facebook: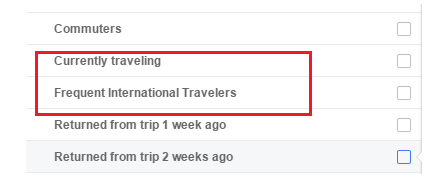 Traveling has become the biggest guilty pleasure of nomads (the traveling freaks) in the 21st century. And their most preferred social media hub to share glimpses of their traveling destinations is Facebook. So, people currently traveling or recently come back from long fun vacation is profitable to target for Facebook ads.
You may have noticed that people while traveling put up a Facebook post saying "traveling from here" or "On this airport" and likewise share every bit of information related to their journey. All this makes targeting and reaching out to these people even simpler.
I know that multiple businesses can target travelers on Facebook. But, if you're in a photography business, then this is something that you should take seriously.
Bonus Tip:
Photography, Airlines, Travel Agencies, and all are leading businesses to choose regarding targeting travelers on Facebook.
11. Target Folks Based On Interests In Politics-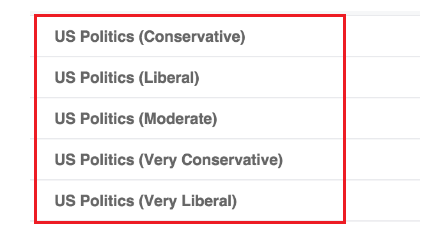 As we all live in a liberal society, so unabashedly have a right to speak and support. In particular, on social media, everyone gets treated with equality. Thus, if you want to share your views and opinions on some political issue, then Facebook is a platform where you can speak about it.
However, never offend anyone with your words and thoughts. Facebook is quite strict when it comes to these issues. Through Facebook advertising, you can target people based on their political interests.
Bonus Tip: 
You can contact Political Parties, Media Houses, and Political Groups vis-a-vis targeting people interested in politics through Facebook ads. 
12. Focus People Using Facebook Payment System: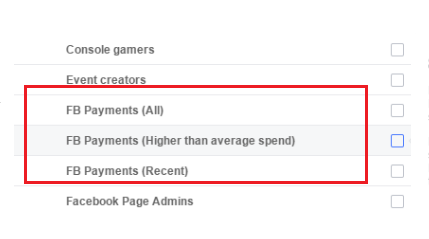 Facebook is the best business marketing tool in today's times. Businesses which are selling their products on Facebook include various payment applications and channels on it. So that audience instantly makes a purchase. This kind of targeting helps you to aim people have been using or used Facebook payment system at least one time. 
Bonus Tip: 
The most suitable targeted advertisers for this category includes businesses like App Developing, Online Retailing, Ecommerce Sites, and all.
13. Target Parents Of All Ages: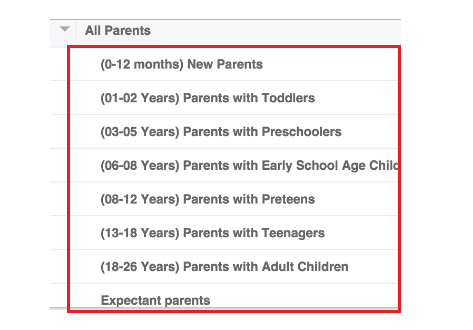 With Facebook ads, you can also target parents (not just parents, parents of all ages). Newly parents to people engaged in parenthood from more than 25 years, you can aim everyone through your Facebook ads.
Bonus Tip:
Businesses related to Hospital duties, School Admissions, and Life Insurance are the best to target parents.
14. Targeting Through Email Domain: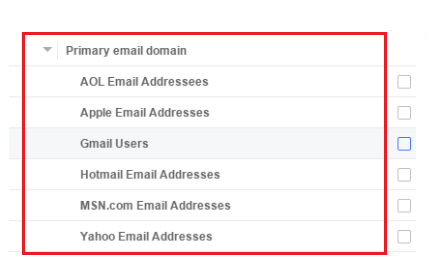 Are you a Gmail user? Me too!
Well, do you only want to target AQL users for your ads? Then, it is a matter of seconds with Facebook advertising. On Facebook, you can seamlessly aim people on the base of the email service provider they use.
Bonus Tip:
Email applications, email marketing platforms, and many more can be considered the most for targeting people based on the email service they use. 
15. Target Users By Mobile Brand And Features: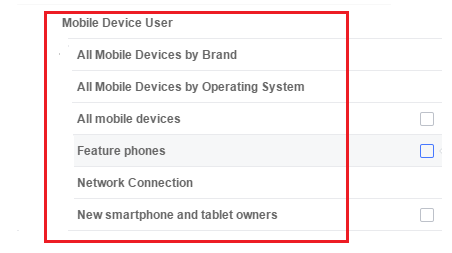 This type of targeting helps you access data regarding the mobile brand's people use most often. However, Facebook has always reported immense traffic from different mobile brands. Also, according to a study done by Facebook, more than half of its users visit it via mobile devices.
Bonus Tip:
Mobile Application Developers, Mobile Phone Vendors, and Online Mobile Accessories Stores are the most appropriate business niche to approach precisely for this sort of Facebook advertising.
16. Aim Friends Of People Who Used Your Application:

Targeting people whose friends use your app is a brilliant hack to create higher engagement on your Facebook ads. Well, there is nothing a hundred percent sure when it comes to getting results on Facebook ads. But, if you target people whose friends use your app, then the chances of their using your app get double fold in contrary to expecting it the same from the wholly unknown audience.
Bonus Tip:
App Developers, App Vendor, and App Testers should be in your periphery regarding this sort of Facebook advertising.
17. Target By Type Of Travelers: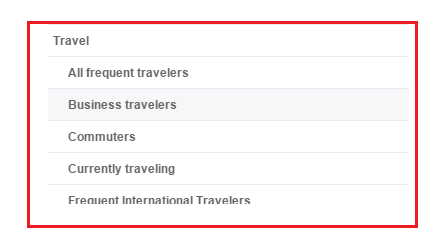 Travelers get divided into various categories. Some of them called frequent traveler, some of them belong to the business traveler zone and many more. You can target all kinds of travelers from Facebook ads. 
Bonus Tip: 
For this, you should target advertisers to work for businesses like Album Creators, Travel Agencies, Airlines, Doctors / Physicians, etc.
18. Focus On Different Computer Operating System: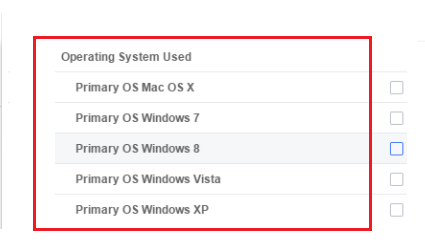 It may sound you weird, but you can target your audience for Facebook ads on the grounds of the operating system they use.
Bonus Tip:
Computer Vendors, Desktop Software Vendors, and Repair and Maintenance Service are the most suited business to target people by the operating system they use.
19. Target People Connected To You: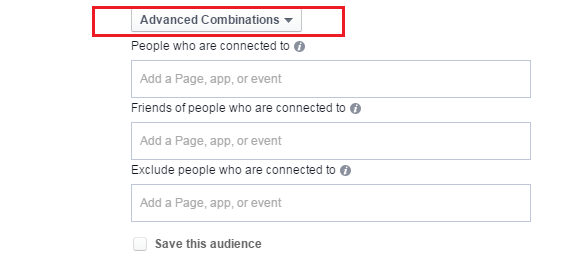 If you want to create a custom audience for your Facebook ad campaign out of the people whom you know, then can use Advanced Combinations option.
Bonus Tip:
Businesses which are looking for unique audiences, you can follow-up them regarding this kind of targeting.
20. Aim People By Their Browser Use: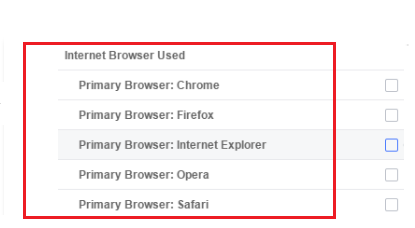 I always preferred to use Google Chrome when it comes to the Browser. 
What about you?
You can target people through Facebook ads depending on the different Browser they use. All this will also lead you to extract valuable information considering the number of people who only use your preferred Browser.
Bonus Tip:
Browser Extension Developers, Productivity Apps, Developer Tools, and all the other relevant business niche you can reach out to perform Facebook advertising in this zone.
You Can Also Watch:

How To Find Best Performing Facebook Ads Using PowerAdSpy?
21. Consider People Who Responded To Your Events:

In this category, you can directly target friends of people who have responded to your Facebook events. 
Bonus Tip: 
Webinar Organizers, Event Managers, Trade Shows, and Event Creators are the business fields you can pitch for this sort of Facebook advertising. 
Making your Facebook ads successful is a tough nut to crack. However, if you walk an extra mile for that, then victory can get into hands. There are various Facebook ads analysis tools available these days on the web. But, I am going to suggest you my favorite software that I have been using for Facebook advertising and getting workable results. Welcome, PowerAdSpy- The best Facebook ad analytical tool. 
By using PowerAdSpy, you can filter thousands of Facebook ads based on location, CTA, and many aspects. Right now, we're going to see the process of cataloging Facebook ads based on their Call-to-action. So, let's see!
How To Filter Facebook Ads On The Grounds Of CTA By Using PowerAdSpy –
Step 1. Log in to your PowerAdSpy account.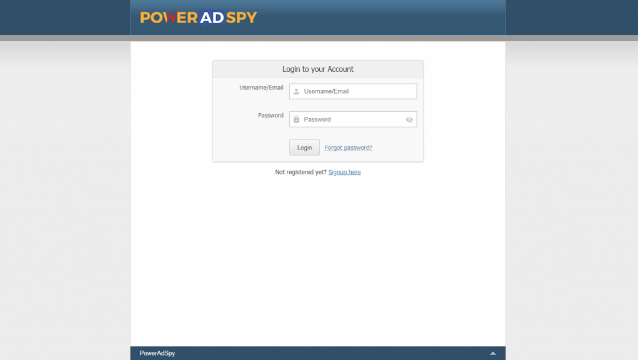 Step 2. Select the Filter mode.
Step 3. Choose the Call-To-Action option given under the filter mode.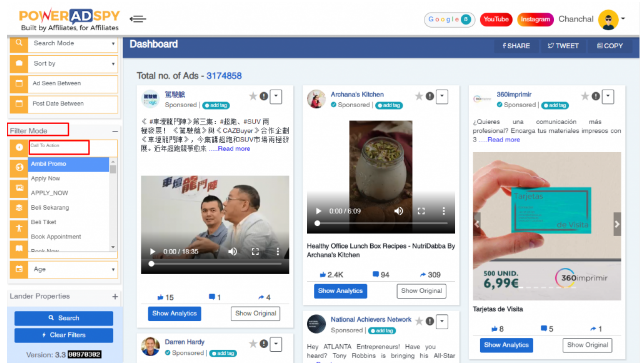 Step 4. Select the CTA as per your requirements regarding the niche, and all. 
Step 5. PowerAdSpy will provide you results instantly best according to your business niche.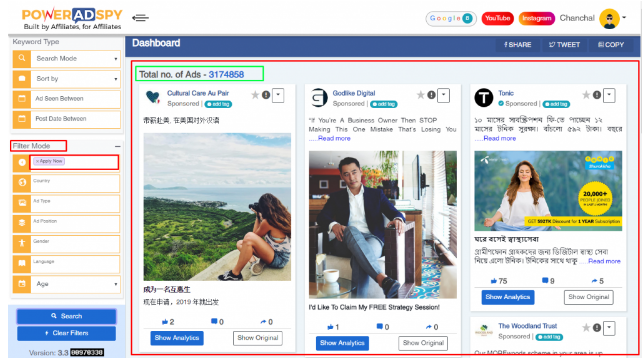 Well, you can also select more than one CTA from the options given by PowerAdSpy. This software will provide you outcomes in no time. You can access detailed information about Facebook ads, analyze thoroughly, and implement them in your Facebook advertising. 
These are the top 21 unconventional ideas you can use to target audience belonging not only from different interests but also from different zones. 
Of course, there are many more ways to implement concerning to target people for Facebook ads. If you have any ideas to share regarding this very subject, so please comment in the section.