How To Master Facebook Ad Targeting | 5 Best Strategies
Where are most of your potential customers hiding? If you know, then it is good. If not, here's a hint – It is one of the most popular social media platforms. Yes! It is Facebook, with more than 2.8 billion monthly active users. Businesses are trying to thrive on social media platforms, and mastering the subtle art of Facebook ad targeting is the key factor here.
Let's face it, marketing and advertising require a lot of effort and money, but advertising on Facebook is easy and costs less than the other marketing channels. It is a platform where big and small businesses can thrive and connect with their target audience.
According to reports, two-thirds of Facebook users frequently visit a local business Facebook Page. You heard it right. People are looking for you! But if you want to grab this opportunity, you can not just rely on luck. A focused FB ad targeting is essential. 
Hit The Play Button To Listen Podcast:
In this article, we will discuss How Facebook ad targeting works? How to advertise on Facebook? And the best strategies for Facebook ad targeting. Let's get started!
How Does Facebook Ad Targeting Work?



Facebook ads targeting uses location, demographics, interests, behaviors, and profile information to target the audience. Once you have created an ad, you choose a budget and bid for each click or thousand impressions that your ad will receive. After posting the ads, users can see your ads in the sidebar of their Facebook feeds.
Facebook's other ad targeting options are excellent for improving engagement and brand awareness, but ads driving users to websites are still the best option for conversions.
There are hundreds of ways to target an audience. Remember that you can use any combination of the following targeting options.
You can specifically target users based on their location, zip code, country, etc. You can get more precise by targeting them where they work or where they live.
Facebook offers plenty of demographics targeting options like age, sex, income, marital status, language, etc.
For building a relevant audience, knowing the interest of the users is crucial. Facebook allows users to target users based on their interests.
You can either include or exclude an audience based on their demographics, interests, and behaviors. When targeting detailed interests, Facebook provides an option to choose the audience size and other suggested likes and interests. 
Behaviors use the Facebook Pixel to target users. Pixel is a code that traces user behavior, it helps you to display ads to people that behave in specific ways. It is the most effective and beneficial way to target an audience.
When someone comments, likes, follows you, or interacts with your content in any way, it is called engagement. If some user has recently engaged with one of your Facebook or Instagram posts, Facebook can show them your ad.
You can use the various Facebook ad targeting options above to target the desired audience relevant to your business. You don't have to break a sweat, Facebook can automatically optimize your target audience for you.
How To Advertise On Facebook?



Now that you know how Facebook ad targeting works, you can start advertising campaigns for your brand. Here are the steps you should follow
#1 Choose Your Goal:
The first and most crucial step is to set your goals for the particular ads. You need to log into Facebook Ads Manager then select the Campaigns tab. Now click on the Create button to start a new Facebook ad campaign.
There are 11 marketing objectives that Facebook offers. You can choose the option which aligns with your business goals:
Brand awareness:

To raise awareness of your brand to a wider audience.

Reach:

Show your ad to more people in your audience and increase reach.

Traffic:

To direct traffic to a specific website page, app, or Facebook Messenger conversation.

Engagement:

To encourage and improve post engagement or Page follows.

App installs:

Encourage users to install and use your app.

Video views:

To improve the viewership of your videos.

Lead generation:

To generate leads for your business.

Messages:

Encourage users to connect and contact your business using Facebook Messenger.

Conversions:

For encouraging users to take a particular action on your website like subscribe to a newsletter, use your product, etc.

Catalog sales:

To present your products to your audience from your e-commerce store's catalog to generate sales.

Store traffic:

  To promote your offline business store locations to people that are nearby.
#2 Name Your Campaign:
Now, you have to name your Facebook ad campaign and declare if your ad meets any special categories like credit or politics.
If you want to set up an A/B split test, click on Get Started button in the A/B Test section. You can pick various versions to run against this ad after publishing.
If you are using more than one ad set, you should turn on the budget optimization. For this, you need to scroll down further.
If you are not sure about the kind of ad you should publish, try PowerAdSpy to test various ads your competitors are using and making their campaign a huge success.
#3 Set Your Budget And Schedule:
Now, decide the budget you want to spend on your Facebook ad campaign. You have an option to choose a daily or lifetime budget. Now decide the start and end dates of your campaign. You can either schedule your ad for a particular time and date or choose to make it live right away.
The most efficient way to spend your budget might be running your Facebook paid ads on a schedule since you can choose only to serve your ad when your target audience is most likely to be on Facebook. But you have to create a lifetime budget to set a schedule.
If you want to save some time and get the best ads that work in your industry and definitely provide you with a higher ROI, you can use PowerAdSpy to get you the best ad working in your niche market.
#4 Target Your Audience:
For the next step, you have to select the target audience for your ads.
You will have to scroll down and click on the first option is to add a custom audience. You will have to begin by selecting your target based on location, age, gender, and language. You have a specific option to either include or exclude cities over a particular size under location.
As you are doing it, pay attention to the audience size indicator on the right of the page, it shows the potential ad reach.

#5 Choose Your Desired Facebook Ad Placements: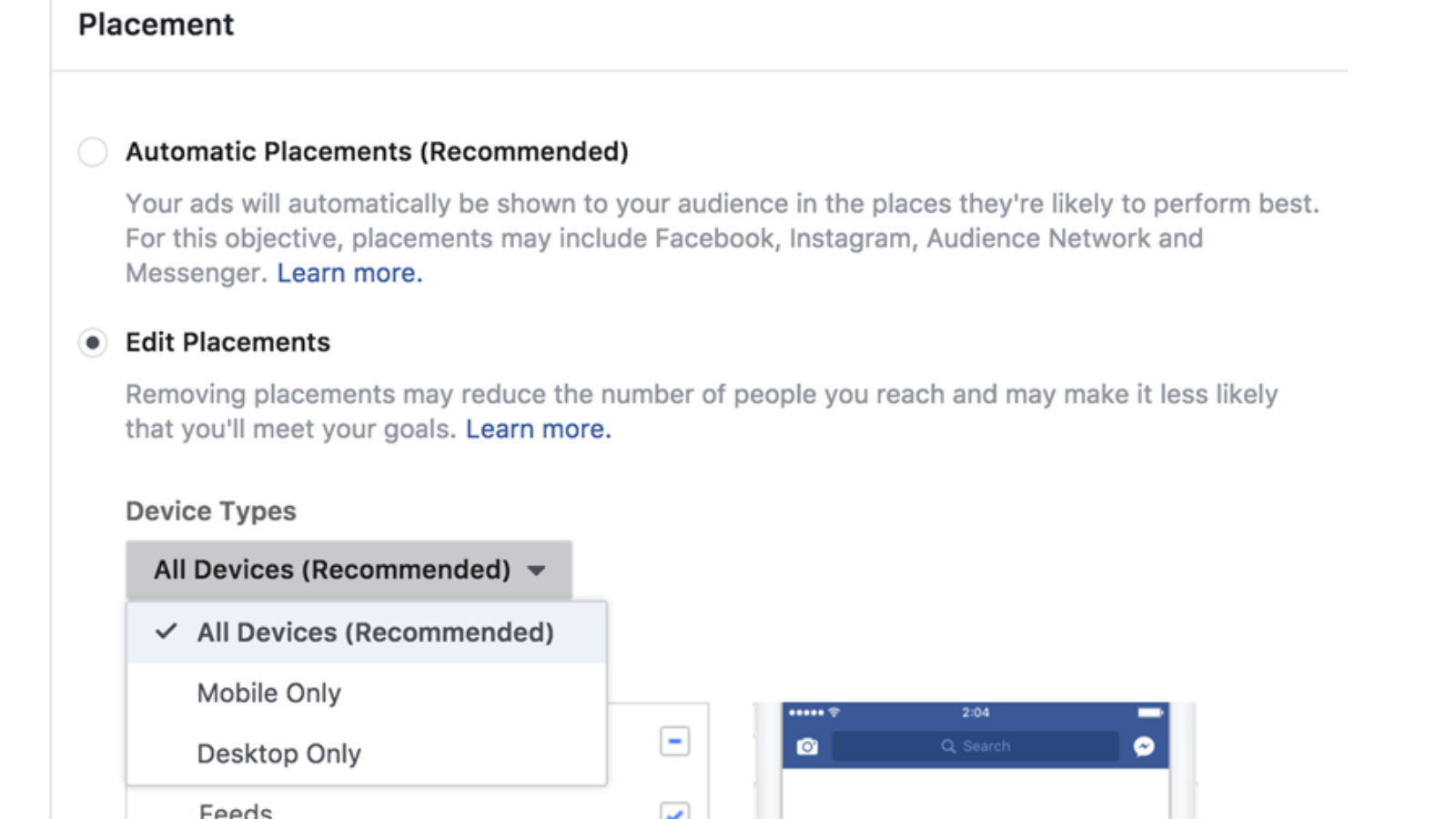 Scroll down to choose the placement of your ad. If you are advertising for the first time on Facebook, you can use Automatic Placements. You can also use PowerAdSpy to experiment with the best ad placement working in your niche.
When you select the automatic placement option, Facebook will automatically place your ads across Facebook, Instagram, Messenger, and the Audience Network when they are likely to get the best results.
PowerAdSpy gives the full control to research through as many ads as you like, segment the Social Ads based on positions as News Feed and Side Location to analyze which performs well in your niche to best conversions.
#6 Set Brand Safety & Cost Controls:
Now, you will have to manage the Brand Safety section to prohibit any inappropriate content that might appear beside your ad. You have the option to avoid sensitive content and add specific blocklists. 
Now, you can optimize your ad bidding strategy and type. You can also add bid control. If you are not familiar with Facebook advertising, select the default options.
When you completed all the steps, check potential reach and conversion estimates one more time. If everything is fine, click on the Next button. 
Related Post – Facebook Advertising: 05 Mistakes To Avoid By Any Means
#7 Create Your Ad:
Ultimately, you have to choose your desired ad format, then write the text and media elements for your ad. The formats available will differ based on the campaign objective you selected back at the beginning of this process. You can use the preview tool to make sure your ad looks good for all potential placements, and don't forget to check ad relevance score. When everything is perfect, click on the Publish button to launch your ad.
Are you wondering where you can find the best ad inspirations for using in your campaigns? You can use PowerAdSpy to get the most trending ad in your market. PowerAdSpy has the fastest-growing ads database from more than 15+ Countries. Thousands of trending ads are added to the database every day. PowerAdSpy helps you to find the latest successful ads in just a matter of a few clicks. 
The Best Facebook Ad Targeting Strategies:



With time, Facebook has been evolving its significance. It has changed from a place to hang out for advertisers to a place where every business is centered around. Facebook gives power to advertisers to reach out beyond their database and create a huge audience. 
Tap Into Recent Purchasing Behavior Among Facebook Users:
Facebook has a huge database for all user activities. Facebook allows advertisers to use this data to target audience sections by various purchasing behaviors. There are also subcategories which include Consumer Profiles, Clothing, Food & Drink, Health & Beauty, and more. Facebook provides limitless options to target per subcategory. 
Step Up your Facebook Ad Targeting With Life Events Targeting
Various businesses or campaigns are based on certain major life events.
Facebook ad targeting has every possible life event targeting option like New job, Newly married, Newly engaged, New relationship, etc. Facebook allows you to target people at specific periods after the change.
Increase Leads & Build Loyalty With Facebook Custom Audiences

Facebook gives you the option to create Custom Audiences. It is an advanced feature that allows you to connect with your existing contacts. It helps to build trust and loyalty to get in front of existing users and app users.
You can create a custom audience by uploading your customer phone list, or purchaser/subscriber email list in CSV or TXT format. You also have an option to create a Custom Audience based on your site visitors and app users.
Expand To A Lookalike Audience
Lookalike Audiences are Facebook users similar to your current users. Once you have a good Custom Audiences strategy in place, you can expand beyond your reach but still target people with highly specific profiles by creating audiences that look like your own targets.
If you list or have enough Facebook following, you can still create a Lookalike Audience using a tracking pixel to create a Website Custom Audience to mirror.
Get Super Granular With Layered Targeting Options
There is an amazing Facebook ad targeting option called layer targeting. It gives you the ability to add layers on top of one another, which means you can gradually target a more specific audience. You can use sequences of behaviors, demographics, and geolocation data to filter your audience. It is the ability to match ad creative and offers to smaller audiences created using combinations of data.
Check Our Latest Blogs:
How To Track Competitors: An Ultimate Guide For Marketers | 5 Easy Steps
How To Write An Effective Social Media Ad Copy?
Market Research on Facebook: Surveying your audience in the right ways
7 Top Strategies for Effective Catering Advertisement
Concluding Words:
Facebook offers endless targeting options to choose from. It empowers you with the options to target an audience on a granular level, and also Facebook optimizes the ads and audiences for you. You can utilize custom audiences and lookalike audience options to retarget similar audiences and increase click-through rates. If you want to run the best ad campaigns, then invest in a Social Ads advertising analytics tool like PowerAdSpy today.
Do you still have doubts before starting a full-blown Facebook advertising campaign? Feel free to leave questions or suggestions in the comments section below!