9 Remarkable Tools For Facebook Ads That'll Save You Time and Money
Are you looking to reach the highest number of people for your business? Then Facebook ads are probably the best tool you have. And you should really know about these 09 tools for Facebook ads.
If done right, Facebook ads are great for more visibility for brands and drive greater traffic. But, many companies make the classic mistake of running Facebook ads without proper planning on budget allocation and effective tools for Facebook ads. Everything they do is mere guesswork with flaky results and burnt pockets.
The reason is that running Facebook ads seems complicated to many people. But in reality, it's not. Marketers are still using this social media platform to get immense leads and conversions. What is the secret weapon, though?
The answer to this question is tools for Facebook ads management. It streamlines every step of your marketing strategy. In case you are wondering which are the best tools for Facebook ads? Or if Facebook ad tools are worth investing in? Stay along, and you will get the answers to all your questions.
Hit The
Play

Button To Listen To The Podcast:
In this article, we will discuss the best tools for Facebook ads? Tools to get the best Facebook ads and Facebook ads optimization tools. Let's get started!
PowerAdSpy: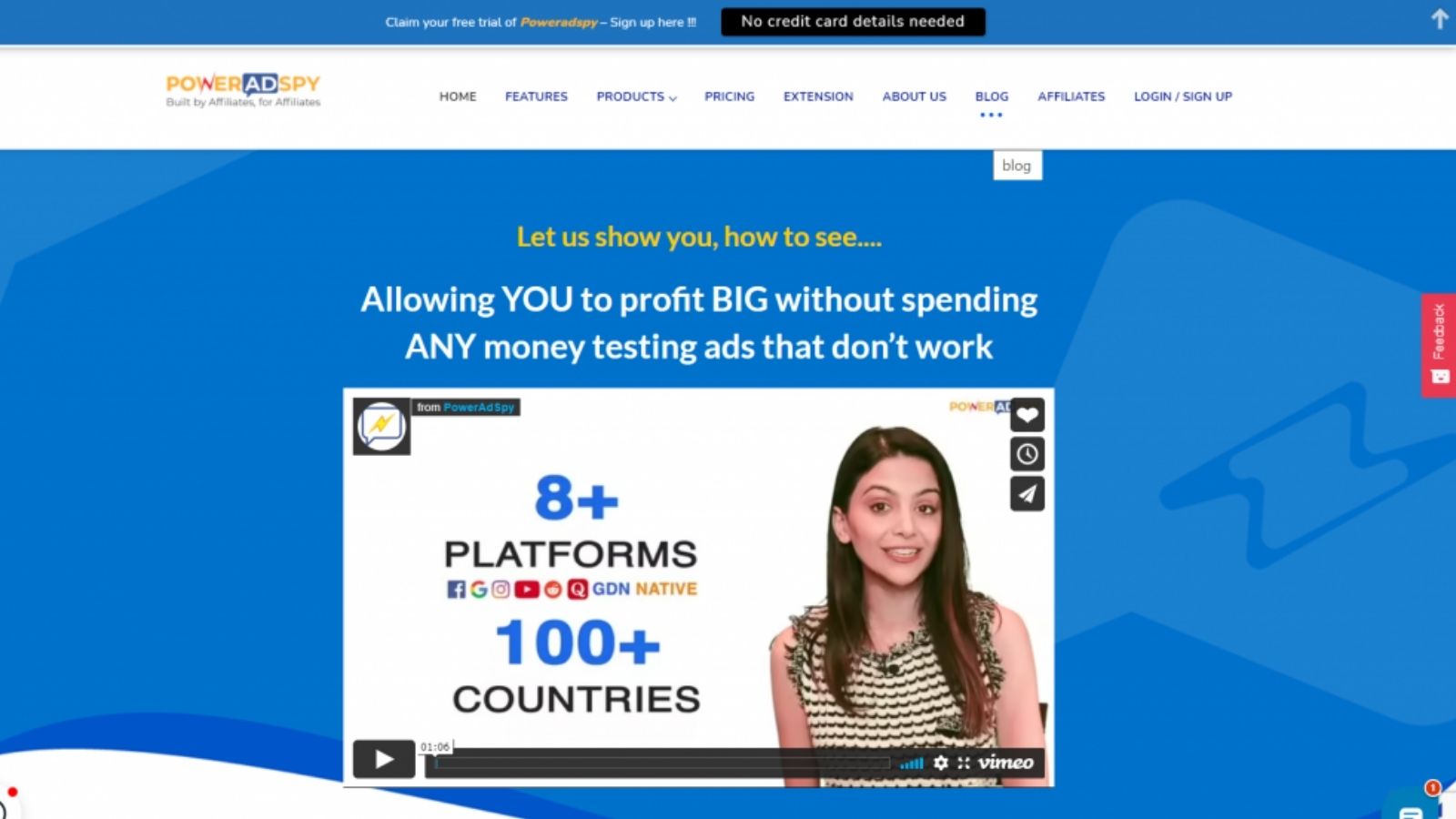 What do you need for running Facebook ads? Ad creative that actually works in your niche, right? 
So provides the PowerAdSpy and much more to get your ad campaigns to the next level with the best Facebook ads.
Advertisement and ad campaigns are vital parts of any social media marketing strategy. You have to get the best ads to beat your competitors. You can utilize tools such as PowerAdSpy to find the best and trendy ads working in your industry. PowerAdSpy is the most powerful social media ads analytics tool and Facebook ads spy tool, which will enhance the performance of social media ad campaigns.
PowerAdSpy gets you the best ads working in your niche for higher conversions.

You can find the best image and video ads to use in your ad campaigns.

You can save the best ads concepts in a personalized ads inventory and use them in future ad campaigns.
These were just a few of what PowerAdSpy offers. Many amazing features are waiting to be explored. So what are you waiting for? Get your free trial now!
Facebook Ads Manager:
What more plausible place to turn for information, advice, and guidance than Facebook itself?
With Facebook Ads Manager, you get access to various marketing tools essential to creating targeted ads implied to reach your audience.
It is the most basic Facebook marketing tool but offers more than you presume. If you want to advertise your small business on Facebook, you need to know how to use it in your Facebook ad campaigns strategy.
Here is the five-step approach to getting started with Facebook Ads:
Create a Facebook page or use an already existing one.

Provide information on what you want to promote.

Pick the relevant audience for your ad.

Set your budget.

Track your results.
If you plan on reaching your goals, it is the one advertising tool that you need to learn. Fortunately, Facebook makes it extremely simple to get started.
Facebook Ads Manager App:
Do you spend less time on your desktop and more time on your smartphone or tablet?
There are billions of smartphone users globally, and the number will grow even further. Facebook is conscious of this. That is why the company is trying to provide the best mobile experience.
But, the mobile experience is not only about updating your profile info and communicating with others. You can also use its Ads Manager App to manage all of your marketing campaigns without a desktop computer.
By using the app, marketers have the opportunity to:
Track ad performance.

Edit existing ads.

Edit schedules and budgets.

Create ads.

Receive push notifications.
Imagine this: you are traveling and realize that your Facebook ad budget has run out. Now, you don't have to return to the office or pull out your laptop to make modifications. You can adjust your budget from your smartphone, instantly placing your small business back in the game.
AdRoll:
Adroll is one of the tools for Facebook ads developed for medium and large-sized companies employing automation and CRM tools. You can target specific audiences on Facebook and get precise analytics on campaign performance.
This tools for Facebook ads supports single-image, video, and carousel ads. AdRoll offers a single format for single image ads, which is great to use in all possible placements on Facebook ad optimization and Instagram. As for carousel and video-based advertising, Adroll supports all available formats and provides best practices to follow.
90-day free trial is available

Broad ad targeting capabilities

Easy creation and promotion of ads for both Facebook and Instagram

Simple setup of retargeting campaigns

$25/month
There is also a free version available, which makes AdRoll an appealing option for businesses, but there's a catch. It was created for agencies and large companies. So it could be relatively complex to use for inexperienced users.
AdEspresso:
Have you ever used a marketing tool that is too complicated? You know it could work for your small business, but you do not have the time, experience, or knowledge to utilize it fully.
Well, AdEspresso is not that. When it comes to tools for Facebook ads and Facebook ads optimization, this one is, by far, among the most straightforward. You can get started in two minutes, it is that simple. The learning curve is minimal, and the results can be astounding for ad campaigns' success.
Clean, easy-to-understand visual analytics.

Customizable dashboards to pinpoint top-performing ads.

Detailed metrics.

Information is displayed in a clear, actionable way. 

Easy to understand Facebook ads optimization. 
With a variety of training tools, all of which are free of cost, you'll never find yourself lost and searching for answers.
AdStage:
AdStage is a phenomenal Facebook ad automation tool that saves you hours spent on reporting hassles. Create your customizable dashboards in seconds and get started with inbuilt templates. You can also automate your ad optimizations with AdStage. Customize your ad specifics as per its real-time performance.
Get analytics from Google Adwords combined with Facebook insights for a comprehensive idea about your online presence. Numbers bore you? No worries. Access charts for visual depiction when auditing Facebook campaign data.
Easy to pull out account details and ad campaign metrics with Google sheet integrations

Responsive and helpful customer service
Qwaya:
Qwaya is another popular Facebook ad management software to manage and optimize advertising on Facebook. It is created specifically for professionals. 
The process of creating ads is fairly simple. All you need to do is click through a special menu. A collection of ad templates is available to help you with the design. Qwaya also has a target audience search engine that finds relevant Facebook users.
Powerful target audience search options are available

A library of ad templates with customization options

Custom ad campaign automation rules

14-day free trial available
However, additional features make Qwaya a bit complicated to use, especially if you are a beginner. The focus on professionals also makes it a very high cost of  $149/month unaffordable for small businesses.
Hootsuite Ads:
Hootsuite is one of the biggest names across social networks, with millions of brands and individuals using the service to schedule updates.
Hootsuite Ads lets you take your Facebook advertising campaigns to the next level. The perfect solution for anybody seeking a simplified tool, there are several things you need to know about Hootsuite Ads:
Let you create ads quickly, with as few as two clicks.

Automatically scans your Facebook Page and news feed, looking for the best posts to promote to your target audience.

Help tailor your marketing campaign to achieve maximum results.

Advanced ad management features, allowing you to spend less time on ads and more time building your small business.
It is worth noting again that Hootsuite Ads does not create confusion in the process of creating and implementing Facebook ads.
Canva:
Canva is an online graphic designing tool with several functions and features that even beginners can use. It allows anyone to create fascinating designs for personal and professional use. It is specially made for beginners and who cannot invest in hefty amounts to get professional designs. It can be the one of the best tools for Facebook ads for creating ads and other content.
Whether you are making a resume or designing an invitation card, this platform covers everything. For additional features, you can also get the paid version available. It gives you powerful drag-n-drop tools and a wide variety of templates, elements, text styles, backgrounds, and animation effects. 
It has a user−friendly interface. You do not require prior experience or to be a graphic designer to use Canva.

It is a versatile platform. You can use open it in your browser or install the application on your desktop or mobile.

Templates, photo editing, stocks images, icons, and fonts

It is a free platform. You do not need to spend on expensive tools to create a professional design.
It is helpful for small businesses and start-ups for producing engaging content consistently and takes less than five minutes to create a high−quality, engaging design. You can also collaborate with others or create your design team. You are the owner of all your designs in Canva.
Check Our Latest Blogs:

Everything about Instagram Carousel Posts
Ad Impressions: Views, but for Ads!
The necessity of Facebook Ad Spy- 7 methods to spy on competitors' Facebook ads
Wrapping Words:
More than 1 billion people visit Facebook every day. You can either ignore this audience or do whatever it takes to turn some of these people into paying customers. Once you create a profitable Facebook advertising campaign, you can scale it accordingly. Maybe you want to spend more money on this strategy. Like with any advertising campaign, you can lose money if you misstep. But, if with PowerAdSpy, you can profit big without spending any money testing ads that don't work, and will be in a better position to succeed.