How Ad Intelligence Benefits Brands
In digital advertising, brands used to have a tough time gaining insight into what they're paying for or which social platforms to position their ads for the best ROI.
Furthermore, the cost of digital ads increased tremendously, as brands were not gaining profits and were paying more without knowing how ads performed in a niche and where they appeared. 
Today advertisers are earning huge profits by gaining insights into all vital details required for advertising strategies, all thanks to ad intelligence tools! 
Ad Intelligence is a collection of the data on your app's paid user acquisition.
And Ad intelligence software is the tool used to capture millions of ad creative impressions from all major networks by grasping creative content. 
Here, you can keep a close eye on your competitor's move by reviewing the types of creatives they prefer, networks they use for publishing their creatives, and what apps publish your competitor's ads granularly.
Ad intelligence solutions provide clarity in an unclear advertising ecosystem. In fact, if your brand is running significant numbers of ads online, ad intelligence solutions are absolutely critical to getting the best return on your investment.
How Ad Intelligence Provides ROI(Return on Investment)
First, how can ad intelligence software give your business real results? There are three big ways.
1. Competitive Intelligence
Using ad intelligence you'll be able to evaluate where your niche competitors are advertising, which ads they're running, and how much capital they're disbursing on each of their marketing campaigns.
Those insights can be used to design much better ad strategies for your campaigns, and you can compete more aggressively by exploiting undiscovered advertising prospects.
2. Ad Transparency
Ad intelligence is also for acquiring more transparency into your own ads performance on various advertising channels.
You'll be able to determine where your spend is allocated and how it's allocated (direct and indirect). This information can give you leverage when dealing with ad inventory providers.
3. Better Brand Strategy
Ad intelligence platforms give real insights that produce actual results for your brand growth.
You can see how different channels, creatives, and placements perform on diverse platforms.
By gaining insights into the market competition, you can build a better marketing strategy for your brands and devise a winning campaign that provides earnings with the least possible spend.
What are the Key Features of an Ad Intelligence Application?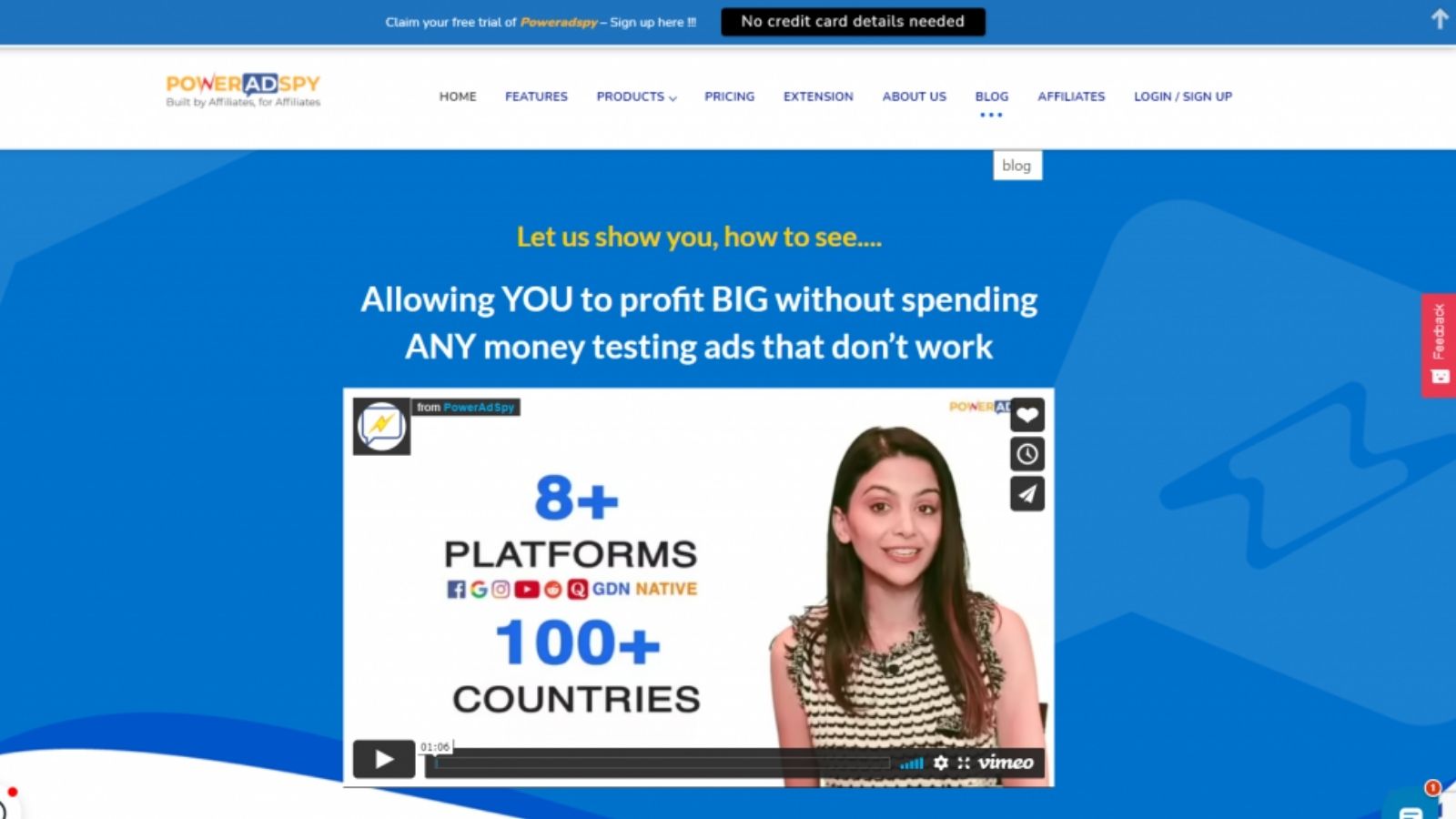 An ad intelligence solution is a platform that tracks every advertising activity of brands. The best platforms supply data on how other brands and your competitors in your niche spend money on ads.
To understand more about characteristic features of an ad intelligence software, let us check the best in the business, PowerAdSpy features –
PowerAdSpy Ad Intelligence Key Features –
PowerAdSpy is the most powerful social ad intelligence tool for improving your ads advertising campaigns. 
It can find hidden niches and lucrative opportunities for you, removing all the hassle of content creation, identifying campaign targets, niche research, native advertising campaigns and more.
PowerAdSpy is the world's largest database of Fb, Google, Instagram, Youtube, GDN, NATIVE, Reddit, Quora ads with 50 million ads listed, over 100+ countries, 50k ads daily added. It ensures you run Fb, Google, Instagram, Youtube, GDN, NATIVE ads that make you money right out the gate. 
Use PowerAdSpy to search all the Fb, Google, Instagram, Youtube, GDN, NATIVE, Reddit, Quora ads running to a click funnels, lead pages, or opt-in offers in seconds – be shown the engaged demographics and landing page, replicate and bank.
Also, PowerAdSpy can grow your email list faster by showing you the exact ads, funnels, and targeted audience of any advertiser, keyword, or domain, allowing you to replicate instantly.
PowerAdSpy Features-
Filter By Ad Positions
You have the full control to research through as many as ads you like, segment the Social Ads based on positions as News Feed and Side Location to analyze which performs well in your niche to best conversions.
Complete Visibility
To offer you crystal clear visibility of Ads analytics, PowerAdSpy allows you to visit the live ad posts directly from the platform. You can visit and cross check the real time engagement along with the audience's opinion over the ads.
Data Of Millions Of Ads From 15+ Countries
PowerAdSpy has the fastest growing data with Millions of Ads from over 15+ Countries so far. It empowers you to find the latest successful ads in just a matter of a few clicks. We add thousands of fresh ads to our database everyday.
Narrow Down Your Searches
It comes with an ability to search ads based on your niche keywords, advertisers and even the domain of your competitors. Also you can visit the top performing advertiser/competitor and see almost all the ads they are running.
Bookmark The Best Ads
You may come across several ad concepts which you would like to use in your upcoming ad campaigns, bookmark them with just a click, and they will be moved to your personalized Ads inventory. No need to search them over and over again.
Powerful Search Algorithm
Find exactly the ads you are looking for by searching for popular keywords/phrases/terms within ads. You can then sort those ads by date, shares, likes and comments to easily find the best ads to grow your own campaign.
Engagement Oriented Details
PowerAdSpy delivers you engagement oriented details of Social Ads. As social interactions help you to identify which ads are really a winner in your niche.
Combination of Videos and Image Ads
There is no doubt that Images are great but videos are definitely better, or at least they are the latest ads strategy that currently works best on Social. PowerAdSpy has the fastest growing category of Social Video Ads to give a better idea of what kinds of video ads your audience responds to and also allows you to download them for your own ad campaigns.
GEO-targeted
With its Huge Data center of millions of ads, PowerAdSpy can provide highly precise information about the Geo-targets of your competitors, which helps you to identify audiences readily interested in your product/services.
Call to Action Based Sorting
Call to Actions are the important factor behind the success of your ad campaigns. And with PowerAdSpy, you can figure out the best Call to Actions working in your niche.
And some more-
Search Shopify Ads of Your Competitors-
PowerAdSpy helps you to search and find the most engaging ads run by successful Shopify store owners. It provides you full engagement details of these ads which can be used to analyze and create your next ad campaigns and maximize the profits.
Search Ads with Exact and Relevant Keywords-
This powerful Social Ads Analysis tool allows you to search ads with your exact or relevant keywords and gives you the ability to explore ads from precise to broad results for better analysis.
Real Time Conversion Tracking
You can monitor clicks, signups, conversions and payout from PowerAdSpy's intuitive dashboard. Not only that you can also track the details of clicks coming through which of your traffic sources.
30% revenue share for the life cycle of the customers.

 

Recurring commissions, not just initial purchase.

 

Easy withdrawal process to get your cash.

 

Monitor clicks, conversions and your payout with an intuitive dashboard.
Some of the Key Products of PowerAdSpy-
Google PPC Spy tool

Native SPY Tool

YouTube ads Spy Tool

Mailgaze-The best email spy tool
Want to Spy on Best Affiliate Ads? Use PowerAdSpy extension
Start creating winning ads instantly by finding, replicating what currently works to make money with Facebook, Google, Instagram, Youtube, GDN, NATIVE.
PowerAdSpy extension delivers every insight into a successful Facebook ad campaign with just one click, and you can install it for free.
With one click, you can view all the advertisements on the newsfeed, check competitors' ad history, and every insight required for your campaigns.
Ad Intelligence Beneficiaries-
Advertisers can:
Monitor competitors and their ad performance

See trends and discover best practices

Learn more about trending apps

Find out the most effective ad networks by country

Analyze the most successful creative strategies
App Publishers can:
Find and monitor competitors by country and platform

Learn more about trending apps

Find out the most effective ad networks by country

Analyze the most successful creative strategies
Ad Networks can-
Monitor the most successful advertisers and contact them

Monitor other networks to see who they're working with

Find out the top creative filtered by ad network
Read More-
Summary
Ad intelligence platforms can follow how brands advertise across desktop, mobile, video, and content. (including details associated with ad spend on various channels with the impressions they generate).
In addition to ad spend and impression information, ad intelligence platforms detail this information for individual sites.(What's more, this data can be broken down by individual industries)
Also, they can display the purchase channels used by advertisers, including direct, ad network, DSPs, exchanges, and SSPs.
Ad intelligence provides relevant insight into the advertising creatives of your competitors and delivers a significant edge to your brand.
Together, the various data supplied can give brands tremendous insight into their own advertising activities and the actions of competitors and help them stay updated with the trends.