Upgrade Your Engagement With Geo-Targeting- All in One Guide
Yes, that beautiful moment when your ads have been given on a silver platter to a prospect who is looking for exactly what you have to offer at that very moment. It's almost magical. Creative targeting can bring you dangerously close to addressing a customer's wants at the ideal time. And, fortunately, there are a plethora of tools and ways at your disposal to assist you. Enter Geotargeting, is a marketing strategy that compromises targeting customers based on their geographical location. You can blame Geotargeting the next time you get a push notification from a store's app offering a 50% off coupon as you step in the door, because it's geotargeting through mobile marketing.
What Is Geotargeting Marketing and How Does It Work?
Geotargeting allows you to provide content to users based on their location who fulfills a specific audience target. Geotargeting can establish by zip code, city, state, or even country. This strategy employs almost all sorts of digital marketing, and you're probably already utilizing it if you're running any form of digital advertising, such as social media advertising or PPC.
Geotargeting is an effective method of reaching audiences in specific geographic areas. For example, if you serve a particular city or place, it makes sense to tailor your targeting strategy accordingly. This phase guarantees that you're making the most use of your resources, and you are sending relevant information to the people who will gain the most from it. Understanding how to target your audience in the right place at the right time is a critical component of establishing a Geotargeting marketing strategy.
How Does Geotargeting Work for Social Media?
Posts and promoted adverts you send out on social media platforms like Facebook and Twitter can reach an audience by:
IP Address: This is the address from which the user signs in.
Recorded Address: Their current street address or the city and state while they live. You don't have to do anything since social networks do it for you. You have numerous options for segmenting at the time of writing, including:
Country.

State/Province.

City.

ZIP Code.
Within your desired locations, you can target even more precisely, such as:
Age

Gender

Languages

Interests

Connections
Isn't it simple to set up?
Checkout Latest Blogs-
09 Mindful Ideas To Inspire Budding Fashion Bloggers
A Step-By-Step Guide To Facebook Lead Generation
A Complete Guide To Facebook Audience Insights: 06 Best Practices To Use It
Is Geotargeting a Good Idea?
There are several reasons why Geotargeting should be part of your marketing plan. Begin with the potential audience is enormous. 94% of the millennial generation owns a smartphone, and they spend more time on it than they do watching television. According to studies, 83% of marketers perceive location data to be more effective and successful in their efforts. Furthermore, while understanding the advantages of geo-targeting is one thing, putting a geo-targeted marketing strategy in place is quite another. To enhance the success of your geo-targeting efforts, follow these guidelines:
Make each geo's campaign unique. It allows you to keep a better track of performance and devote more time and attention to certain places.

Make your ad targeting more precise. You can target your adverts by zip code, neighborhood, or even by drawing individual boundaries. Do not be scared to experiment with microtargeting.

Experiment with different radius sizes in your campaigns. Depending on the performance and outcomes of your campaign, you can expand or contract your radius.

Use tools like Google Analytics to understand where your traffic comes from and where you should spend your time.

Geographic traffic does not behave in the same way. Invest in profitable geos and look into why other geos aren't delivering.

Experiment with both location-specific and generic "near me" terms. You can also change your match types to reach a wider audience.

To demonstrate to customers that you are committed to their area, provide location-based images and information about the geo you are targeting.

If you are confused about a visitor's geo or not sure if they are seeking via location outside of your target area, provide them with location choices.

Create a landing page that isn't geo-targeted for visitors who want to learn more about your company before visiting a specific location.

Consider creating social media profiles for each area; having a separate page for each region can help you get more visibility.
With PowerAdspy, you can make geotargeting easier and more effective.
This ad intelligence program lets you spy on your competitors' ad strategy and give your creative marketing ideas a hike across all major social media platforms, including Facebook, Google, Instagram, YouTube, Reddit, Quora, GDN, and Native advertisements.
PowerAdSpy includes a 50 million ad database from over 100 countries. PowerAdSpy is the best ad intelligence program in comparison to others because its database is updated daily with more than 50,000 ads. Here is a summary of some of the fantastic capabilities PowerAdspy must offer.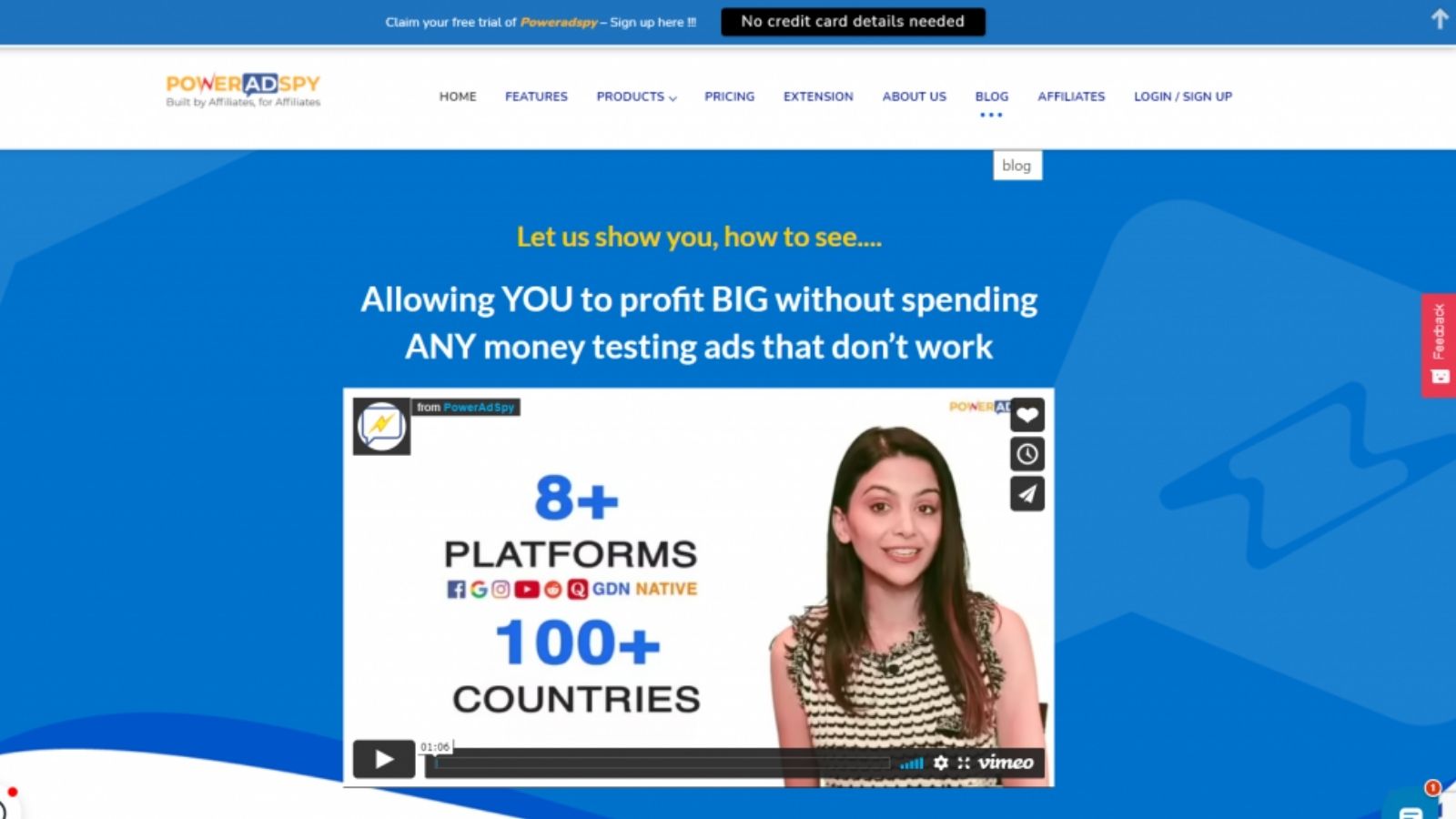 Database of over 6 million commercials, with more on the way:
An ever-expanding collection of advertising from nearly every industry!
It is one of, if not the largest, collections of advertisements from various sources such as Facebook Ads, Instagram Ads, Youtube Ads, and others. Because of the amount of data they've gathered over the last few years, anyone can access an endless source and goldmine of advertising information currently running in numerous businesses.
Monitor the most competitive countries' top ads. Instead of receiving ads from a single area, you can search for ads from 15+ countries, including the United States and Canada.
It's simple to use, and you can find campaigns in only a few clicks:
It is web-based and easy to use. Thus it can be used by anyone without any technical skills. Just type in a few search terms, select some filters (country targeting and demographic targeting are two to test), and it will display campaigns that match your criteria.
Geotargeting Information for Campaigns:
Begin your audience targeting using these data. Finding out the basic audience targeting and demographic information on some of the currently running ads will assist you in identifying audiences worth testing.
Creating your swipe file and landing page template collection can be time-consuming, but with PowerAdSpy, you'll never miss out on what pages were visited.
Spy On Ads Across Several Platforms
Advertisements on YouTube, Facebook, and other sites Would you like to know if your competitors are using Facebook, YouTube, Google Ads, or any other ad network such as Quora, Reddit, or Native Ads to advertise? With PowerAdSpy, you can now.
There is a free trial available.
There is no need for a credit card.
PowerAdSpy sounds promising, but what makes it even more appealing is that you can sign up for a free trial right now without providing any credit card information. Try out the software to see which ads are the most effective in your area and business. As part of your geotargeting process, you should conduct the following three things.
Take Caution When Using Hypertargeting
Your targeting will get more precise as you add exclusions and include regions. That's what you want to achieve, but be careful not to over-target a specific place. Hyper targeting is when you target a minor part, such as a few blocks around your business. While this can work in some cases, it is dependent on the location and the type of search. For companies that don't receive as many searches as others, hyper-specific targeting may exclude a large number of consumers in the region who are seeking a store like yours.
Local SEO Can Benefit From Geo-targeting
Google and Bing users anticipate local results and tweak their search queries to provide geo-targeted results. Customers demand local results, yet they use fewer phrases to specify their location. Google discovered that fewer consumers include their zip codes in restaurant searches and look for weather without identifying their location. It indicates people expect Google to be aware of their area and respond appropriately.
Investing in geo-targeting for your advertising and establishing landing pages for the place you're marketing might help you improve your local SEO. Google serves these sites to clients who anticipate nearby results for their queries.
Examine the Demographics of your Intended Audience.
Geofencing marketing requires a clear understanding of your target demographic.
You may establish a target area that will generate results if you understand whom to target and what they desire. Additionally, you may create advertisements that attract customers and encourage a purchase. Look at the data you already have if you're unclear who makes up your target audience — or if you're overhauling your target audience. Interact with your consumers on social media, for example, to see what they're saying about your business, services, or goods.
Today is the Day for Geotargeting!
Creating marketing strategies isn't a simple task, but geo-targeting may make things a lot easier. You can conduct a better-informed marketing campaign armed with the knowledge geotargeting gives, as well as these recommendations for using geotargeting efficiently.
It allows you to create a relationship with your users and increase purchases. A user-based marketing plan will always be more effective than a one-size-fits-all approach. Is there a simple answer to what might feel like an overwhelming problem? That is something we can support.