How To Use Facebook Ad Library To Find Your Competitors?
Are you looking for creative inspiration for your next campaign? Wondering how to uncover top-performing Facebook ad creatives of competition? In that case, you can use the Facebook ad library to check out the best ad strategies of your competitors.

We all know that competition in Facebook advertising has been growing more and more intense. With so many brands competing on Facebook, one of the most demanding things is getting new creatives.
As the current social media trends are changing, ad creatives have also changed a lot. Those days are gone when we see only still images and static photo posts on the news feed.
Nowadays, short videos are trending in the feed results, including other ad media formats like the story, carousel, slideshow, collection, etc. With the increase in the number of options, the demand for ad creatives is increasing more and more.
Tap On Play To Listen Podcast:
So here in this article, we are going to discover how to use the Facebook Ad Library to know how other brands are advertising on Facebook platforms (Facebook, Instagram, Audience Network, Messenger).
Why Research Competitor's Facebook Ads?
One of the best ways to ignite your creative inspiration is by watching your competitors' ad campaigns. But how to find out the competitors and their campaigns on this huge platform?
Facebook Ad library is the answer to all your questions. With the help of the Facebook ad library, you can find out the best performing ads in your niche and also get to know detailed insights about them.
Talking about Facebook ads and not mentioning PowerAdSpy will not be fair. PowerAdSpy is the most powerful and feature-rich ad intelligence tool. It has a huge database of approx 100+ million ads, and the number is increasing day by day.
Comparing PowerAdSpy's ads library to the Facebook ads library, PowerAdSpy surely has some added advantages.

What is Facebook Ad Library?
An ad library is a place where users can look for the ads running on all Facebook products (including Instagram). And there isn't any restriction to access it. You can even access it without having any account on Facebook or Instagram. However, if you want to report any ad content which is too repulsive, you need to log in with your Facebook account.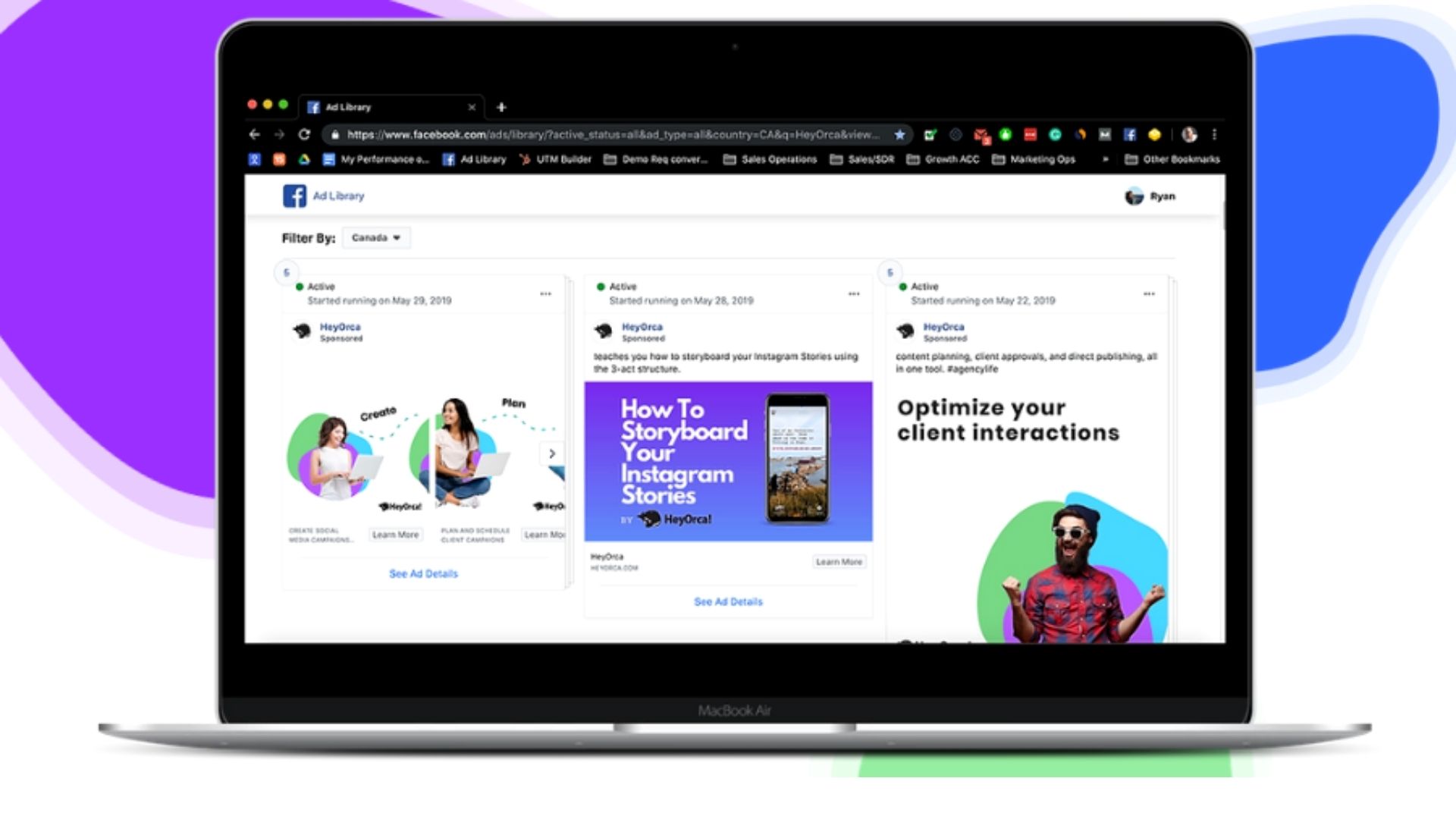 Access Facebook Ad Library:
All the ads that belong to a Facebook page will show up on the ad library. And to access that on every Facebook page, you have the Page Transparency option. When you open the Facebook page, on the lower left of the page view, you will find the Page Transparency section.
If you are using mobile, just scroll down, and you will find it just below the About section. Now tap on the See All option, and it will show you some information about the page like the name of the company which manages that page, Page history, People who manage that page, and ads from that page.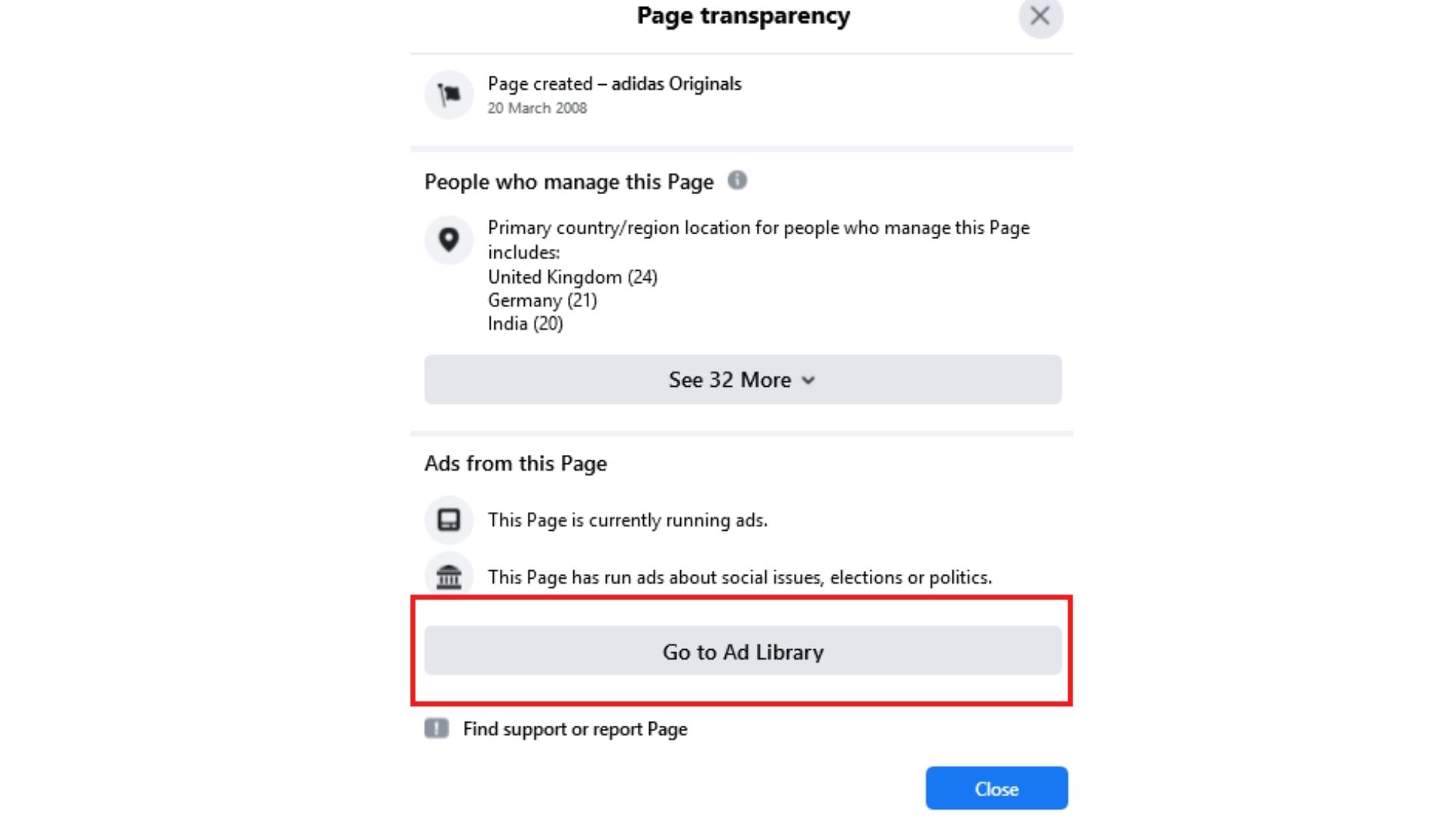 In the last section, you have the tab Go to Ad library. Click on that. There you will find all the ads running on that page. Also, you have the filter option to search ads based on country locations, if they are running or paused ad platforms (Facebook, Instagram, Messenger, Audience Network, etc), and the impressions on ads for the selected dates. All the ads showing up on Ad Library have a headline, creative, and copy.
Filter Ads By Impressions:
Facebook ads library has this feature that lets you filter ads by impressions. There you just have to select the dates, and it will show you the ads which get the most views for that period of time. Most of the big brands run many ads on Facebook. To catch the ads with the most views and impressions this feature can be used so that you can identify the best performing ads from your competing brands.
Evaluate Different Media Types:
You can use the Facebook ad library to find out the trending ad creatives and learn what media types are working for your competitors. Especially when you are setting an ad campaign on Facebook, you have so many options with selecting the different ad formats including, photos, videos, stories, slideshow, carousel, collections and playable, etc. Evaluating different media types will help you to find out the most suitable ad formats and creatives that can get more conversions for your business.
Examine The Campaign Messages:
The main motive of Facebook advertising is to tailor engaging content for the audience, which can attract more visitors to your brand's websites and get more conversions. Viewing the competitors' Facebook ads can get you the idea of their ad copies. You may also find some creative headlines or call to action that can get more clicks on your Facebook ads.
Best Time For Ad Campaign:
If you are not sure about when to start and when to stop your ad campaign, checking ads on the Facebook ad library can help you. Like you might have seen that Valentine's day ads start appearing a week before the date. Using the filter, you can look for such ads to find out the period in which they are most effective.
Likewise, we have seen brands that most of the time marketers tend to target holiday and seasonal marketing tactics. And they start their campaigns earlier so they can attract more views and engagement for their ad campaign.
Check Out The Current Trends:
Nowadays, people used to follow several trends, which are quite popular on social media. Brands can also utilize such social trends to catch the attention of the audience with their creative ad campaigns.
By checking the Facebook ad library, they can learn about the latest offers and trends that are quite popular with the audience. You can also target similar tactics in your own ad campaigns to grab more conversion opportunities for your business.
Also Read:

Before Advertising on Facebook, Check Out These Facebook Ad Specs
Is PowerAdSpy Ad Library Better?
Both the platforms provide some amazing features. But when compared it can be easily said that PowerAdSpy is a bit more extended platform than Facebook Ads Library. It provides a detailed analysis of every ad campaign within a few clicks.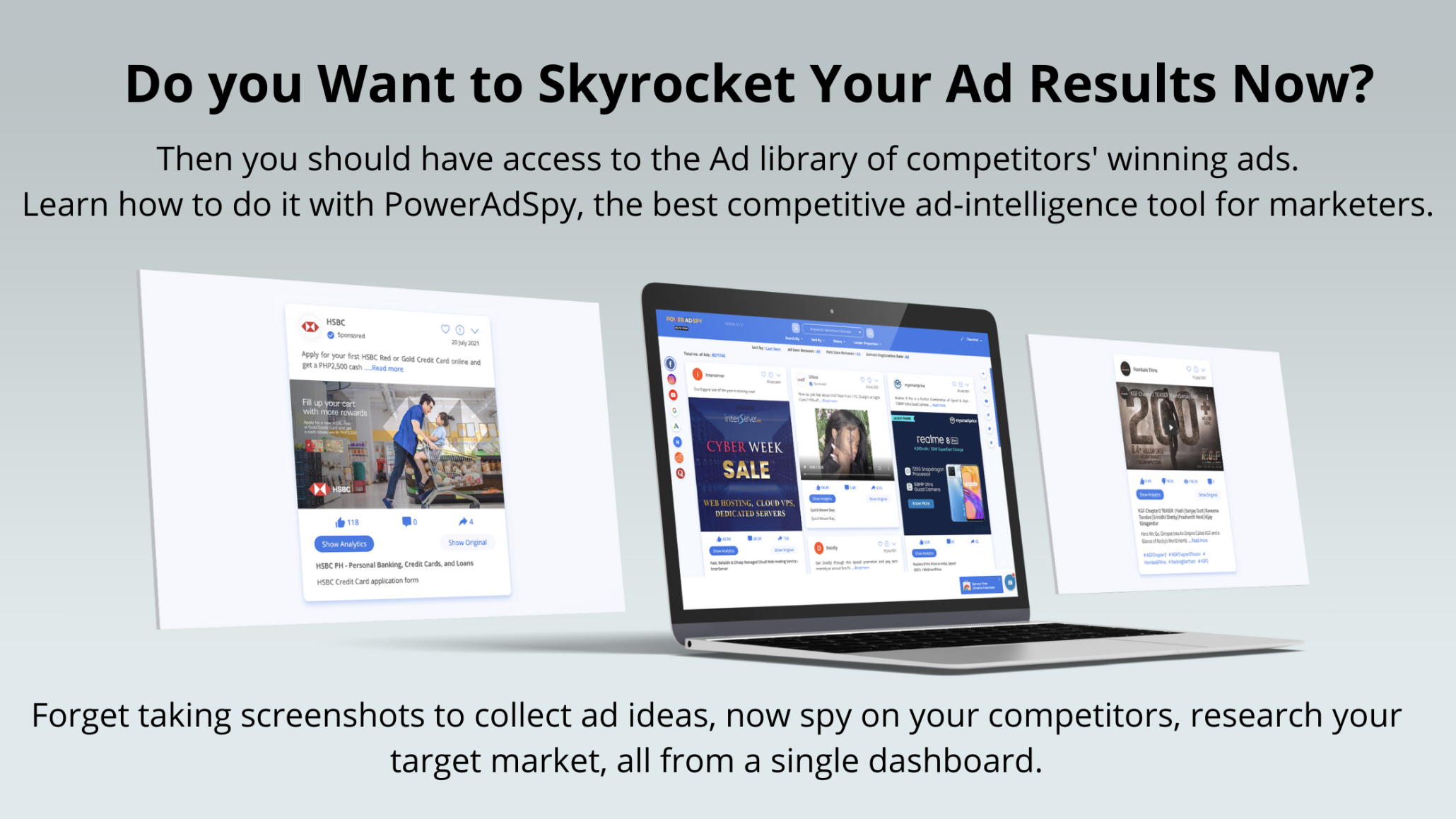 If you are a marketer who wants to focus more on your ad strategy rather than spending time decoding someone else's advert strategy, then PowerAdSpy is a perfect fit for your research module.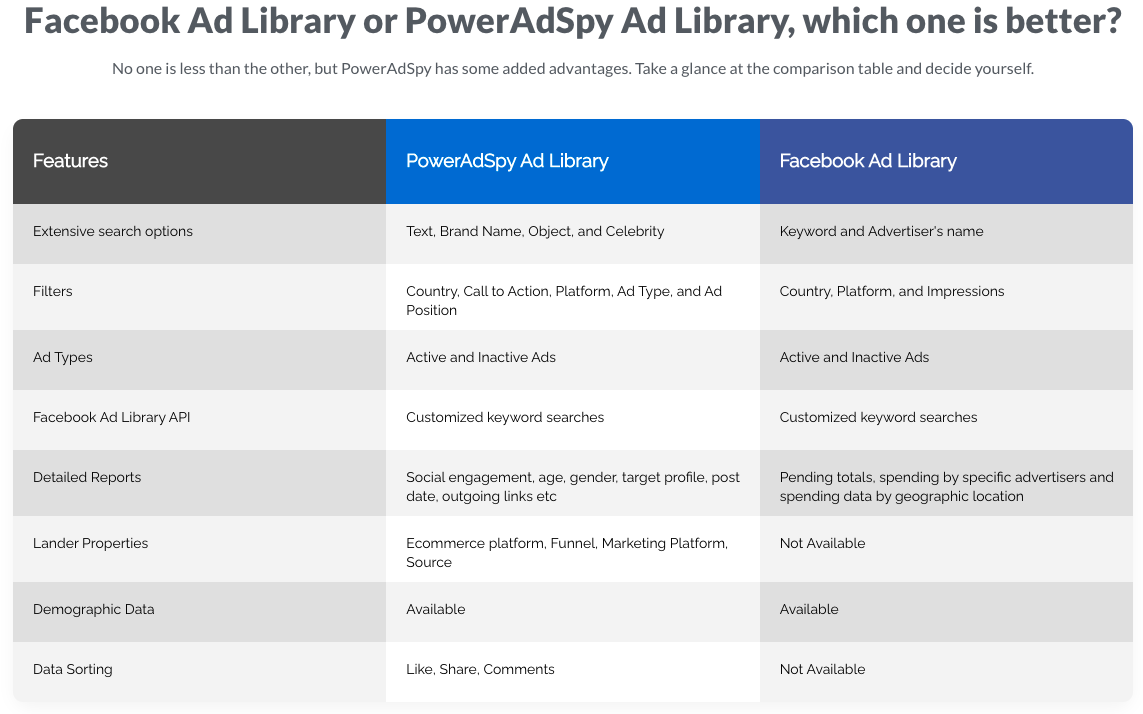 Check out these amazing features that could fit your research module.
PowerAdSpy offers an advanced search algorithm, which makes your hunt for the perfect ad campaign very easy. You can explore the diverse pool of adverts through specific keywords. Just type the applicable keyword, click on the search button, and you are done.
PowerAdSpy helps you to narrow down your searches. You can obtain the best results by filtering adverts through text, brand, object, and celebrity. Just click on the Search By option, choose the filter, and see the results in no time!
Go to the Filters and derive the best result of your searches through advanced search mechanisms. Enter a keyword and choose relevant CTA, country, Ad type, and Ad position. Hit the search button and obtain your personalized result.
Sort Result Through Engagement Metrics
PowerAdSpy provides you the option that produces results based on best-performing ads. Just click the sort by option and choose the range of likes, comments & shares. Hit the search button, and see the best performing ad on the first row.
Use PowerAdSpy's lander properties for more specific ad research as per e-commerce platforms, marketing platforms, devices, and specific funnels. Get to know what works on which platform or device in an ultra-polished way.
 

Bookmark for future & Keyword subscription
Bookmark all the best adverts that catch your eyes and manage your advert research more swiftly. PowerAdSpy offers you the most subtle way of being updated on your favorite commercials through a free subscription of the related keyword. Now, get a hold of all fresh adverts of the present trend more easily.
PowerAdSpy presents the most contemporary research method over demographics through the geo-target feature, which assesses the audience and market trend of that location.
Combination Of Videos & Image Ads:
PowerAdSpy has the fastest-growing section of Social Video Ads to offer insights into what kinds of video ads your audience responds to and also allows you to download them for your ad campaigns.
Bonus Tip: Find Your Competitors Using The Best Ad Intelligence Tool-
Now, you are ready to use the Facebook ad library to find the best ad creatives. But wait! With so many brands showing up on Facebook, it would be quite difficult for you to find your competitors on Facebook. In such a case, you can use the powerful ad intelligence software PowerAdSpy, which lets you find your competitors' ads within a few clicks only. It has a huge database with millions of ads collected from more than 100 different country locations around the world. With its keyword-based search mechanism, you can easily find out the ads of brands having the same niche as yours.
Final Words: (PowerAdSpy Ad Library) Give It A Go-
Comparing the features of both the platforms, PowerAdSpy and Facebook, it is pretty much evident that PowerAdSpy has a bigger dimension of advert database than any other platform including Facebook's own ad library. Here you can search ads of seven other platforms other than Facebook.

Also if you are a full-time marketer with a plate full of ad campaigns in your hand, then PowerAdSpy can be your best choice.
But if you have just started digital marketing or have a tight budget, it is okay to opt for Facebook Ads Library.
Also Read:

Before Advertising on Facebook, Check Out These Facebook Ad Specs
So what are your thoughts? Let us know which one you liked PowerAdSpy's ad library or Facebook ad library. Do you think we should add some other features in this tool? Please let us know. Enjoy using PowerAdSpy and don't forget to give your opinion on this article.