An Absolute Guide To Facebook Ads [2021 Update]
As of 28th June 2021, more than 1.88 billion DAU and 2.85 billion MAU are using Facebook, every month.
With such large universal audience, Facebook has become one of the best advertising platform, which works best for every business. But this mutable Facebook algorithm really makes it challenging for the users to associate with their fans.
In spite of fact that there are hundreds of marketing strategies, only Facebook ads is the strategy that brings in consistent sales from day one. As its special micro-targeting feature allows the users to reach the targeted audience on the basis of location, demographics and user interests. Using these ads, you can easily convey a message to the audience in an appealing manner, who are more likely to use your services and products.
Facebook Ads are a very budget friendly in nature, with lower conversion rates and great returns on investment. You just have to pay to reach the most valuable latent customers. But, before you create your own ad, it's really very important to know,
What are the different types of Facebook Ad Formats available?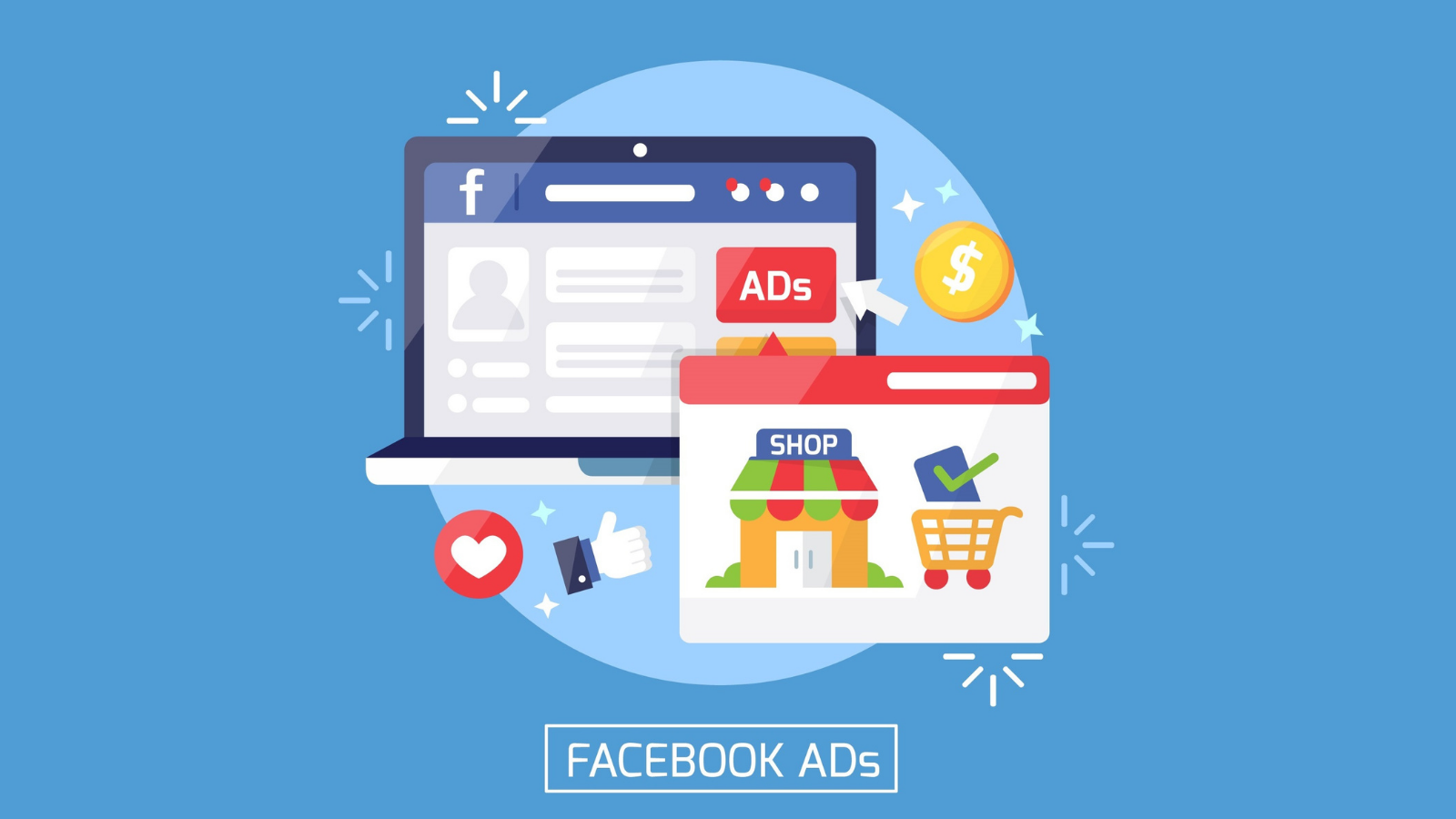 Photo based Ads
These basic photo based advertisements are an extraordinary approach, to get started with Facebook ads. You can make this ad with just a couple of snaps or simply by boosting a current post with a photograph from your Facebook Page.
Photo ads might seem very simple, however, it doesn't mean they are uninteresting. Like, you may think socks are a pretty ho-murmur item, however Happy Socks places them in astonishing settings to make fun Facebook photograph advertisement.
Video-Based Ads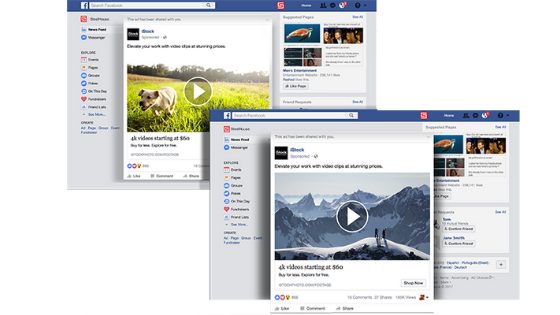 These video ads help in showing your products in the form of moving visual images. You as well can create these video based ads just by providing clear motivation instead of specifying any clear service.
Slideshow Ads
This ad offers a simple way to produce short video ads, you can choose either from the collection of photos or through existing video clips. As, these slideshow ads are displayed in an attractive motion, similar to videos, but with very little consumption of bandwidth, therefore it will load very well even for the people with slow internet connections.
In this slideshow ads, you as well can add text and music.
Carousel ads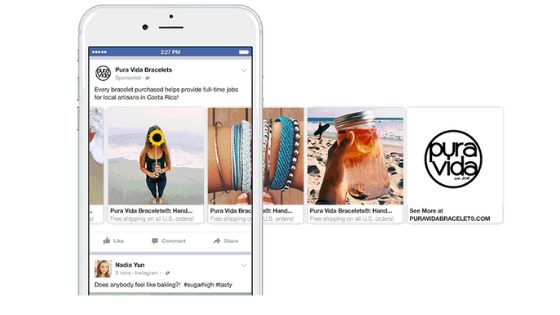 Carousel ads are made using more than 10 videos and photographs to feature the products and special services. You can use these ads to feature advantages of different products or even for one product. You can also use different pictures together and create a large display picture.
Collection Ads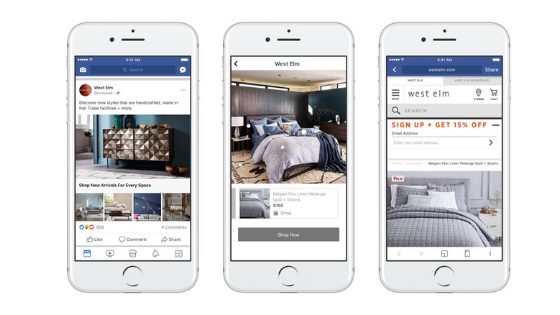 Collection ads, are only offered for mobile devices, which helps you to display more number of products, where your customers can click to buy. These ads are paired with Instant experiences which allows people to buy many more products without leaving Facebook. This helps in making online shopping easy even when people don't have a great internet connection.
Instant Experience Ads
Instant Experience ads are commonly known as Canvas ads. These're a full-screen ad design that heaps multiple times quicker than a portable site other than Facebook.
In case you're utilizing the Facebook Pixel on your site, it's consequently added to your Instant Experience ads to permit full following.
Lead ads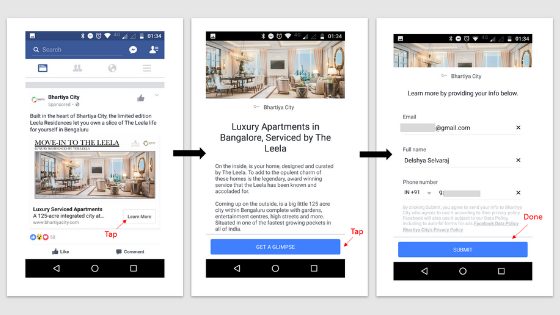 Lead ads are only accessible for cell phones since they're explicitly intended to make it simple for individuals to give you their contact data without a lot of typing. They're extraordinary for gathering bulletin memberships, marking somebody up for a preliminary product, or generally enabling individuals to request more data from you.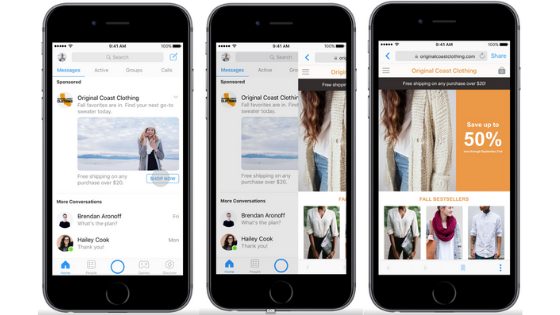 Video Ads, Photo ads, carousel ads all are set to appear in the Facebook messenger. This additional position gives you access to more than 1.5 billion individuals who use Messenger every month. While making your advertisement, just pick Messenger as the ideal situation (you additionally need to choose Facebook channel) and check the status of your ads.
Before you jump in, to create any advertisements, it's really very important for you to think about what kind of advertisements you need to create? How to craft great Facebook ads?
There are tons of ways to get your ads running in a manner which helps you in getting new customers and fans. You might have designed and run various Facebook ads, but Are you getting enough click rate and conversions?
If not, then these, 4 best-proven ad strategies will definitely help you in crafting great ads and get splendid engagements.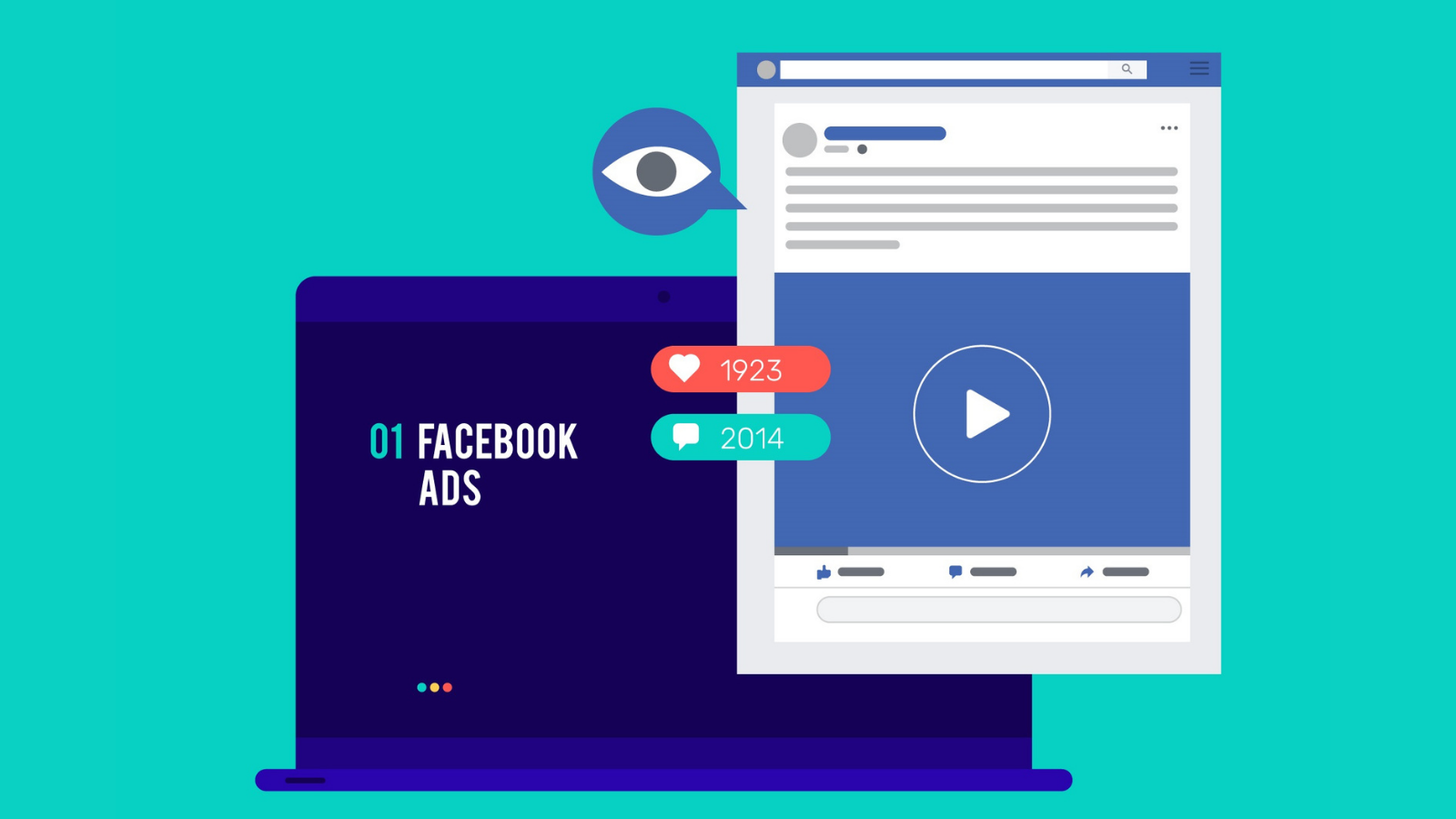 So, let's get started!!
Use Facebook Ad Spy Tools
If you're planning to create ads which drive the viewer to take any particular action, then it is advised to spy on your successful competitor's ads. There are tons of Facebook Ads Spy Tool, using which you can easily know the type of ads your competitors are crafting.
But, amongst all PowerAdSpy is the one which is I personally recommend!
PAS is one of the most reliable and advanced Facebook Ad Spy tool. With the use of which, you can simply spy on your competitors with the best Facebook ad strategies
and directly use it in your business and excel in the market. PowerAdSpy is one of the best user friendly software in which you just have to submit the finest Ad copies and it will built the best Ads database for you.
Advertisers, Media Buyers, Ad Agencies, and others use PowerAdSpy to find the most lucrative Facebook ad campaigns/ideas. As of today, over 500 agencies are using PowerAdSpy to research Facebook ad campaigns of their competitors.
PowerAdSpy is packed with powerful features that will help you expand your business quickly, such as niche-specific ad filtering, millions of social ads, in-depth analytics, bookmarking popular ads, call-to-action focused categorization, elastic search, combination of video and image ads, geo target, and a lot more other features. 
With this powerful ad spy tool, you may access a massive library of winning ad samples from all around the world. You may also seek for successful Ad Campaigns in many categories using various search parameters or metrics, such as date range, age, region, network source, gender, and so on. 
PowerAdpsy also has a huge database of over 100 million ad copies from over 100+ countries which is updated daily. And this is what makes it the best tool you should try for your Mobile, Native and GDN ad searches. 
Test different types of ads
As, mentioned above there are different types of ads which are available, which you can use based on your theme. For example, if you are planning to add some soothing colors and layouts to your ads, then you can experiment using carousel ads. This is one of the best ways to provide a bigger feel for your ads without investing much in expertise.
Like, Shutterstock included tons of carousel ads with multiple panels which showed great collaboration with Adobe Photoshop.
Improve the quality of your offer
See, to be very honest! Though your offer might be clear to you, but it may be unclear for some time who has never heard of you. If you wish to gain good results in your ads, then make sure to be very clear about your offer in the ad copy. Once you are done with it, then it's time to make it even more clear.
What precisely does the customer get from watching your advertisement? Make this completely clear at an early stage.
Compel Action using Urgency
Urgency is always around as long as marketing exists. According to a recent survey, it is proved that people only take an action when the price increases, expiration dates arrive, or limited time offer.
If in case you have not used any real urgency in your copy till now, then it's time to induce.
"Urgency" means an offer which will flee. As "buy now" isn't a style of urgency. You need to show that the offer will disappear.
Check out our latest posts –

How To Target Competitors Audience Using Facebook Ads

Latest Facebook Trends You Should Follow To Grow Your Business
Conclusion
Okay!! So, these are some best-proven ways and different types of ads which will help you to gain great success.
You might be little skeptical in implementing this information, but I guarantee you one thing, the above-mentioned information will definitely put you on the right path to craft best Facebook ads and gain huge profit.
But for that, you need to give it a shot, don't you think so?
As, the more you use and test different ads, the more improvement you'll see on a daily basis.