How To Create Facebook Messenger Ads In 8 Simple Steps
Advertisement on social media is not a new strategy anymore for the marketers of our generation. With over a quarter of earth's population being hosted on the world's biggest social media platform – Facebook, advertisement has become much easier and feasible to reach such a vast audience.
The world of advertisement has become more and more nuanced because of the multitude of options available for the marketers. Hence, it has become of paramount importance to know what each platform, format or types of ads are, how they perform and to whom they should be served.
To know how to generate leads on Facebook, you must first be aware of the most common form of advertisement which appears on a user's wall or sidebar. They have a different purpose to serve from other ads in that they can be used for either awareness or engagement and can be in the form of videos or images. These are the most common types of ads that we see on Facebook.
Another type of ads are the messenger ads which are a bit different from the usual ads.In this article we are specially going to discuss how to use Facebook messenger ads to generate leads. It is a relatively new feature in Facebook ads and has gained instant popularity due to its multiple benefits. It is a somewhat indirect approach of converting a prospect into a customer because it starts with a conversation on messenger between the prospect and the business.
There are basically two types of messenger ads:
Click to message ad: One thing that differentiates this kind of ad from other ads is that there is no call to action button like "Shop now" in the ad. Rather, there would be an option called "send message" for the audience to start a conversation between the two parties.
Sponsored messages: Another way for initiating a business conversation through Facebook messenger ad is directly from the inbox of the user. They are called sponsored messages. You have the option while creating ads in Facebook to directly push the ad into a user's inbox.
One thing that is typical of these kinds of advertisements is that you can hold natural, organic conversation with your users. This way you can keep a customer to your platform, understand their needs, answer their queries and customize your product to suit them. It is akin to having a conversation with a real salesman in a showroom where the customer can clear all their doubts before making a purchase.
Let us look into the settings of Facebook which can be customized to create messenger ads.
Start by logging in to your Facebook account.

Then on your homepage click on create on the upper right-hand side and a drop down will open with four options.
Click on the ad and the Ad manager window will open in a new tab.
Choose your marketing objective:

There are a number of marketing objectives that you can choose from. These are brand awareness, reach, Traffic, messages. Choose messages for now and click continue
Ad set name:

Type in the Ad set name which is usually identified by your target audience.
Then choose the message type.
By default the "click to messenger" would be chosen. Choose this if you want to direct the user to the Facebook messenger from the ads seen on their wall.
Choose "sponsored message" if you want to push your ad directly into the customer's messenger inbox.
Define your Audience:

This is one of the most crucial steps in setting up your ads as it will define the kind of audience to whom your ads will be shown. If you are not sure what is the right set of audience you must select then a good place to start is by using a smart ad analyzing tool called PowerAdSpy.
Before deciding which audience to reach you will have to do some research on existing ads which are performing best in the online market. Hence, through PowerAdSpy you can get the top performing latest ads of your competitors. Once you have got those ads the "analytics" option associated with those ads will reveal the kind of audiences who are interacting with those ads.
These audiences can range from various countries to different age-groups, genders and they may have varied interests which they have shown in Facebook.
Once you have got these metrics and see by yourself that these metrics are performing best for your competitors, you can simply replicate these settings of audience in your Facebook boost post option. Facebook also has similar classifications of your target audience ranging from demographics, interests, age, etc.
Choose the right settings from PowerAdSpy and stay rest assured that your boosted post would reach the exact match of the audience you have selected in Facebook.
Placements:

Facebook will pre-select the places where your ads will be shown.
Since you have selected it to be a messenger ad in the previous steps, Messenger placement would have been already selected for you with both the options which say "send offers…" and "sponsored messages".
Budget and Schedule:

Now you will have to select your budget for displaying ads.
Based on the number of days you select to run your ads, the budget will be shown below.
You will have to do a prior calculation based on the budget you have for this ad campaign as to how much amount would you like to spend on this ad and for how long would you want to run this ad.
Create and launch ad:
Now it will lead you to the option of actual creation of your ads.
You can select the format of the ad as being carousel or single image or video.
Then you can use media to be used in your ads. They can be images or videos which you have already uploaded on your page or can be the new ones which you can upload from your desktop.
Fill up all other details about the ads and you can launch your ad from the ad manager.
Keep monitoring and optimizing your ad:
Once you have launched your ad you will have to monitor their performance.
Based on the responses you are getting from your ads you can adjust the settings in your ads and note the changes in the response rate.
You may also adjust the images or the videos that you have chosen to display and apply whatever changes that best works for your ads.
Also Read Our Related Posts –

15+ of the Best Landing Page Examples That Convert Best In 2020

Facebook Ad Guidelines and Policies: Everything You Need To Know
Facebook messenger ads are the unique way of promoting your brand with a personal touch on each conversion that will happen through your ads. They are affordable, easy to implement and have a high conversion rate that is being shown by the already existing ads running on this platform.
But one thing that is of utmost importance is how you choose to design your ads. The top ads that are already running on Facebook will give you a fair idea of how you must do so. What are the different kinds of visuals you must choose, how and where should you place texts and so on. These are few of the basic questions a marketer has to deal with before creating an ad.
Hence, a super intelligent tool like PowerAdSpy can answer all your concerns about designing a high performing ad. You can make a search on the similar ads that are doing best in your niche and replicate the design in your content for creating maximum effect.
The user interface of this software has been intentionally kept simple to match with the audience of Facebook or other social media users.
This is how it shows ads on its dashboard based on the search criteria on the left hand side: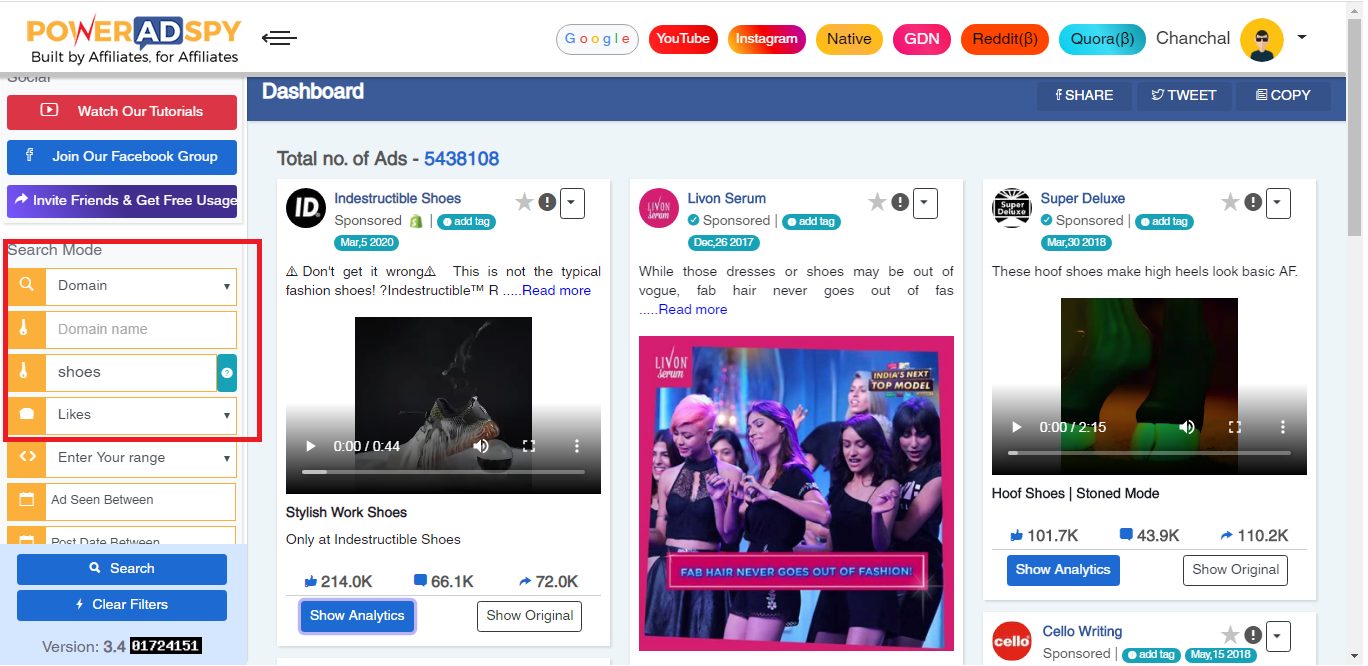 There are thousands of ads that are being added on Facebook everyday and you won't know which ones are performing best unless you make use of a smart tool like Poweradspy.
With PowerAdSpy, your ad creation journey will become a smooth ride along with an assured ROI you can get through your ad campaigns.
Don't miss the analysis of various parameters it has to offer to its users for placing the ads which is necessary for any successful marketing strategy.