9 Tips To Write The Best Facebook Ads Ever
Imagine seeing a new Facebook ad in your news feed for the first time, knowing little to nothing about the brand, the quality of its products, or even the price. Yet something about the ad caught your attention!
You stopped scrolling, the message resonated with you, and now you're convinced to buy a product from this new-found brand. But when you run your own Facebook ads, they don't seem to encourage people to take action.
You have a beautiful image and CTA, but your campaign doesn't appear to convince and convert.
How do you overcome this gap and build confidence with a new audience?
Well! It's a problem every marketer and store owner has to face. And part of that puzzle is the ability to write compelling Facebook ad copy.
So, we are here with nine Facebook ads copywriting tips for crafting the best Facebook ad copy you can use to inspire your next social media campaign to.
Hit 'Play' Button & Tune Into The Blog!
Does Facebook Ad Copywriting Matter?
Of course, copywriting matters! It is also one of the reasons for us to bring the best ads copywriting tips to help you crack the Facebook advertising market.
In simple words, Ads copy is a path between creativity and the end goal you want to achieve through the ad for your business.
When you create an ad, you're trying to get the viewer to act on it. The first thing the viewer sees is creativity. Practically, A sound creative captures attention and sparks curiosity.
A good ad copy explains the journey that the viewer will be taking. Also, It paints a picture of how they will be better off after they follow through on the call to action.
In fact, it also matters because most viewers see ads as vexation and want to skip them even if they are relevant!
However, if the copy spells out the journey or shows relatability to the audience.
This relatability impacts most viewers and creates a close conversational platform for you to address the audience with your potential brand product.
So ignoring this is one of the biggest mistakes you could make and will hurt your conversion rate.
Well-crafted Facebook ads copywriting tips can help you catch the excitement that the image creates and build on it.
Effective ad copywriting drives the audience to the directed page, whereas poorly penned ads can have an immense negative impact on the campaign.
Now Let's jump into 9 best Facebook ads copywriting tips for your business:
Start With Audience Targeting

Mirror the audience's emotions

Include numbers or statistics in your headline

The hook

Make Sure Your Copywriting Matches Your Visual

Avoid words and phrases that might cause Facebook to reject your ad

Test multiple ad copy variations

Remain Focused with On Call-to-Action(CTA)

Create unique, keyword-rich display URLs
Start With Audience Targeting
Always know who you're trying to talk to, don't guess based on your gut! Instead, look at your audience demographics.
These demographics also help to find the important key of Facebook advertising which is targeting the audience.
To find the target, research the data your business has to find out more about your audience.
Start by asking yourself –
What demographic is visiting my website currently?

Does my desired demographic use Facebook?

What is their job title?

Which hobbies or topics interest them?

Where is their geographic location?
Facebook provides an option to target a specific group. But to make an ad campaign successful, you need to have an in-depth analysis of your ads. Isn't it?
Well! How can you do research on Facebook ads?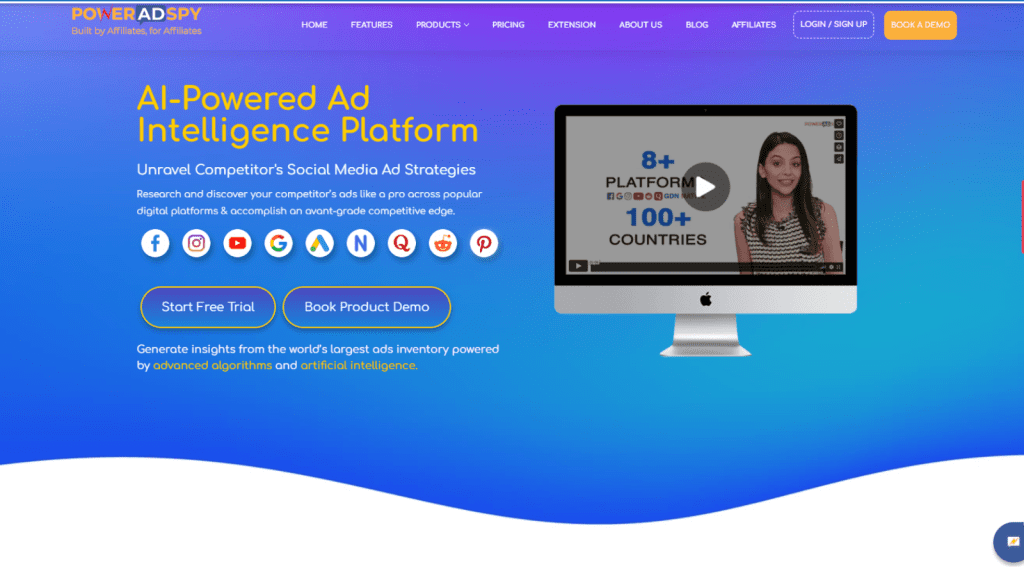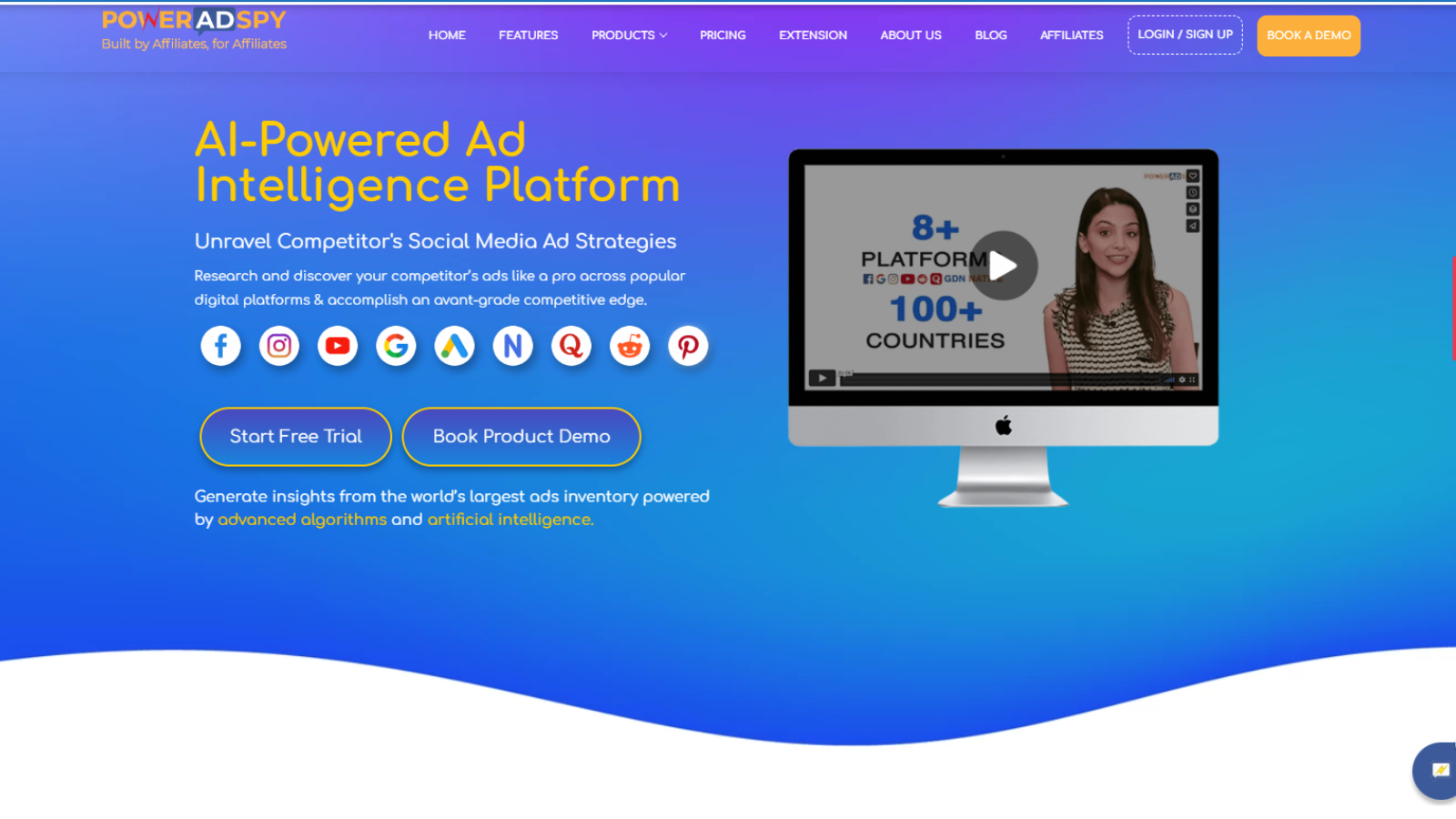 Poweradspy is one of the leading ad intelligence tool, as it helps in spying on all the campaigns of your competitors and tracking all their creatives, ads, angles and others from one dashboard and new Facebook features like-
Facebook Ad Update Button: the new feature that enables advertisers to easily make requests for updates to their existing Facebook ads directly from the ad manager interface, streamlining the ad management process and improving campaign agility.

Facebook Ad Popularity & Impression: It let advertisers access comprehensive data on ad popularity and impressions, empowering them to identify top-performing ads and optimize their strategies for superior results.
To know more about PowerAdSpy – The best Facebook Ads Spy Tool, Check out this video.
After you've found the data to answer these questions, you can also use this ad spy tool to build a target audience for your ad campaign.
It is crucial to do this step first so that you can make sure you write ad copywriting tailored to your actual audience.
Mirror Audiences Emotions
One fact copywriters should never forget is that customers are people with emotions. People buy when they are emotionally triggered and use logic to justify their purchase decisions.
When writing a copy, speak to your customer's emotions!
To this end, one of the most effective Facebook ads copywriting tips is to let the audience know that your brand is aware of how they feel emotionally.
Try to empathize with their problems and show them the solution. When your customers see their emotions reflected in copy and design, it will help you reach your ad target, it will bring audience likes and they might be more likely to keep your brand in mind.
Include Numbers Or Statistics In Your Headline
This tip states more secrets of Facebook ads copywriting tips that you can do practically anything to get the audience to click on their ads, but all you really need to do is make their life easier, cut the crap, and get to the point.
An excellent way to do this is by including numbers or statistics in your ads, preferably in the headlines.
Remember! Static can be anything price of a product or a percentage of the discount.
Most of the audience prefer to have approximately how much they are going to pay for something long before they even consider clicking on an ad.
So including figures or statistics in your ads helps the audience to make decisions when evaluating your ad with a competitor's ad.
The Hook
Knot this up!! This ad copy tip is the collection of all the data you have to add to your copywriting. So, it won't be wrong to call it Facebook ads copywriting tips!
We are in the attention and retention business FIRST. This is why using a powerful hook in your headlines, subject lines, or at the beginning of a sales page or landing page is necessary.
It does not matter what your niche, product or market is. Hooks help you draw the audience's attention and make them potential customers.
Using numbers: number, percentage, figure or statistic

Arouse curiosity: "What if I told you?"

Incite fear: The fear of missing out (AKA FOMO) or The Fear Of Falling
So arguably, writing killer hooks is a critical skill you can develop in copywriting. It is said to be what determines whether your copy converts or flop.
Make Sure Your Copywriting Matches Your Visual
This one tip from Facebook ads copywriting tips states the importance of appropriate visual images for your ad.
Ad copy can't carry the team. Ad copy is just one part of the intricate process of ads forming on Facebook.
This is the reason why you need to use images or videos in tandem with your ad copy. For one to succeed, they need the other.
The image or video is the first thing that a user sees when scrolling, and the graphic must tell the product's story.
Many marketers think that text on an image is inappropriate, but approximately 20% of your ad image can contain text.
This will help the consumer through the user journey, like giving them a sneak peek of the good stuff before diving deep into the ad copy or landing page.
A good ad copy and great photos perfectly represent the 2+2=5. Therefore, you need to work on building them up as a complement to each other instead of viewing them as two separate elements.
In harmony, this can lead to better rankings in search engines, more conversions and an increase in the level of interaction and readability of your copywriting.
Read more :
7 Cost-Effective Ads Types For Small Businesses
8 Tips for Creating High-Converting Facebook Dropshipping Ads
10 Tips to Create Effective Real Estate Ads Campaign
Facebook Marketing Ads: 10x Power of Online Selling
Avoid Words And Phrases That Might Cause Facebook To Reject Your Ad
Well! There are several reasons Facebook could reject your ads. Meta does not allow advertising weapons, ammunition, explosives, unsafe supplements, cryptocurrencies, and anything illegal on Facebook.
But don't worry! You can simply avoid using any words which might get your ad content rejected even if your product is perfectly legal.
It is common for Facebook to reject ads creatives for making a mistake in creative and violating one of the guidelines. In fact, a powerful tool like PowerAdSpy can assist you here!
You can check what your competitors are posting and how they are framing their strategies to satisfy the Facebook ads' guidelines.
So, always remember these Facebook ads copywriting tips that your ads should follow Facebook's community standards and ad guidelines every time.
This means no promoting violence, showing objectionable content, or stealing intellectual property.
Test Multiple Ad Copy Variations
When you write an ad, adhering to a particular copy is not necessary. You should actively tweak, experiment, and change part of the ad copywriting and monitor how each version performs.
And to improve upon it, every individual reacts differently to the information they see and converts one person into leaving another.
So, this tip from all Facebook ads copywriting tips states that the more versions you test out, the better your chances of discovering what works and what not will increase.
Remain Focused With On Call-To-Action(CTA)
Keep all other Facebook ads copywriting tips on one side and this one other because this helps you to drag the audience to become your customers in just one click!
A call-to-action (CTA) can be a vital part of Facebook copywriting, and no, they're not just for ads!
CTAs are short sentences that call the audience to take that desired action. As per studies, CTA makes an impact on the success rate of ads.
If you're beginning Facebook advertising or you're still in the reach or interest phase. Then one of the best ways to promote your brand is through ads CTA. You can encourage people to "learn more".
Try to know about your audience with some Facebook audience tips available on the internet. As you move further in your social media strategy, then you can begin experimenting with other call-to-action.
Something as short as "Check it out here" or "Sign up before space runs out" goes a long way. Use action words, keep it short, and provide links so that it's easy for users to take action when they're ready.
Create Unique, Keyword-Rich Display URLs
Many advertisers overlook the potential impact that a display URL can have on the success of their ads.
Newcomers to pay-per-click may not even realize that the display URL (the URL which appears in their ads) and the destination URL (the actual URL of the page to which the audience is directed after clicking an ad) can be different.
The display URL can serve two purposes –
it can be something more interesting and relevant to the copy of your ads

it can (and should) contain your top keywords.
Even if your destination URL doesn't contain the keywords you're bidding on, your ads can still appear in search results if you include them in your display URL. Before making your ads live, be sure to give some thought to your display URLs and how they can reinforce the messaging of your ads.
Need more Facebook ads copywriting tips? Then Check this out.
10 Tips to Create effective real estate ads
Conclusion
We hope you found these Facebook ads copywriting tips useful. Facebook is continuously changing with nature. But we promise these tricks mentioned here are a solid start to success.
Now that you have the secret to writing good Facebook ad copy that converts the audience to customers like crazy, there should be nothing stopping you from creating great Facebook ads with high conversion rates!