How to Use Instagram Ad Insight to Beat the Algorithm
Instagram is a widely used app among creators, attracting a vast user base across the globe. It stands out as one of the most favored platforms for advertising and promotion due to its extensive reach.
In order to effectively reach your desired audience with your ads and content, it is crucial to grasp the working of Instagram's algorithm. By taking advantage of Instagram Ad Insight, you can gain an edge over the algorithm and optimize your ad campaigns.
Instagram Ad Insight offers a wealth of data and analytics that helps you optimize your ad campaigns and outperform the algorithm. This knowledge enables you to make informed decisions to target audiences, content creation, and ad optimization.
So if you also want to better your ad campaigns and succeed on Instagram then continue with this post. This blog will help you discover how Ads understanding can change your business's advertising success.
Well! To master on ad research for Instagram, first you need to understand how the platform works. So, without further ado, let's engrave more!
Listen To The Podcast Now!

How the Instagram Algorithm Works?
When it comes to promoting and pushing your post, Instagram considers a few things or a set of factors like engagement, relevance, timeliness, and user behavior.
This helps you shape your Instagram ad insight strategy to match the algorithm's preferences and increase your chances of success by understanding the following factors.
Engagement: On Instagram, engagement depends on the number of likes, comments, and shares a post receives. The engaging post is more likely to reach a bigger audience.
Relevance: Instagram pushes content that matches users' interests. They consider demographics, past behavior, and user interests to show what's relevant.
Timeliness: Fresh posts get priority over those that are older. So, it's important to post new content regularly to stay visible in users' feeds.
User Behavior: Instagram tailors its feed to how users interact with different types of content. If you interact with specific themes or formats, you will see more of that in the future.
By understanding these basics, you can optimize your ad strategy. Doing so will help you reach and resonate with your target audience on Instagram.
Understanding Instagram Ad Insight
Instagram Ad Insight provides in-depth details into how well your Instagram ads are performing.
They give you important data and metrics about your ad campaigns. In fact, you can use this valuable information to understand how your ads are doing and make smarter decisions.
Ad understanding on Instagram gives you awareness of the metrics that matter most to your business. These are reach, impressions, engagement, and conversions. To understand these four metrics, here is a breakdown:
Reach: This metric gives you an idea about the number of people who saw your ad.
Impressions: Impression tells the number of times your ad was shown to the users.
Engagement: As discussed in the earlier part of the blog, this indicates the number of people who interacted with your ad by liking, commenting, or sharing it.
Conversions:  When a person come across your running ad and takes action that you have defined valuable as business perspective, then it is termed as conversion of potential audience.
You may target your audience better with Instagram ad analytics and can also optimize your ads for effective results.
Instagram Ad Insight makes it easier for you to understand your audience. You can learn what kind of content your audience interacts with the most, which ads are super engaging, and what compels them to take action.
Using audience preferences, you can tailor your ads so that they align better with the interests and behaviors of your audience.
Moreover, Ad observation on Instagram allows you to spot the latest trends. You can track the performance of your ads and see the emerging patterns.
This helps you identify what's working and where you need improvement, helping you continually refine your ad strategy for better results.
In addition to it, Instagram Ad Insight also empowers you to make data-driven decisions and achieve your advertising goals.
Utilizing the Power of Ad Insights
Are you ready to take your ad campaigns on Instagram to the next level?
Continue to find valuable information to optimize your ads and drive better results.
To make use Instagram ad insight you can follow these tips:
Understand the Audience
Knowing your target audience better will help you to refine your ad targeting easily.
Find out what their interests, demographics, and behaviors are.
Try personalized campaigns that connect with your audience.
Analyze Content
Examine data on how well your ad content is performing.
Inspect indicators like engagement rate, click-through rate, and conversions.
Try experimenting with different visuals, messaging, and ad formats to find the winning combination.
Enhance your campaigns for maximum engagement and conversions.
Explore Time Trend
Find out when your audience is most active and engaged.
Schedule your ads strategically during these peak active hours to drive more engagement.
Your ad campaign's can reach more people and have a better impact if you target your audience at the time when they are online.
Capture your audience's attention at the right moment for better-performing ads results.
With Instagram Ad Insight, You may improve your advertising efforts, establish a better connection with your audience, and achieve your advertising goals.
So, explore the details, and watch your ad campaigns soar to new heights!
Use Tools to Understand Instagram Ads
To further boost your ad campaign's success and tackle Instagram algorithm, you can take advantage of an Instagram ad intelligence tool. This tool can track your competitors' ad performance and identify the best-performing ad creatives.
Well! PowerAdSpy is one such software! It is a powerful ad intelligence tool that provides valuable details into your competitor's advertising strategies, content that is popular, and creative ideas.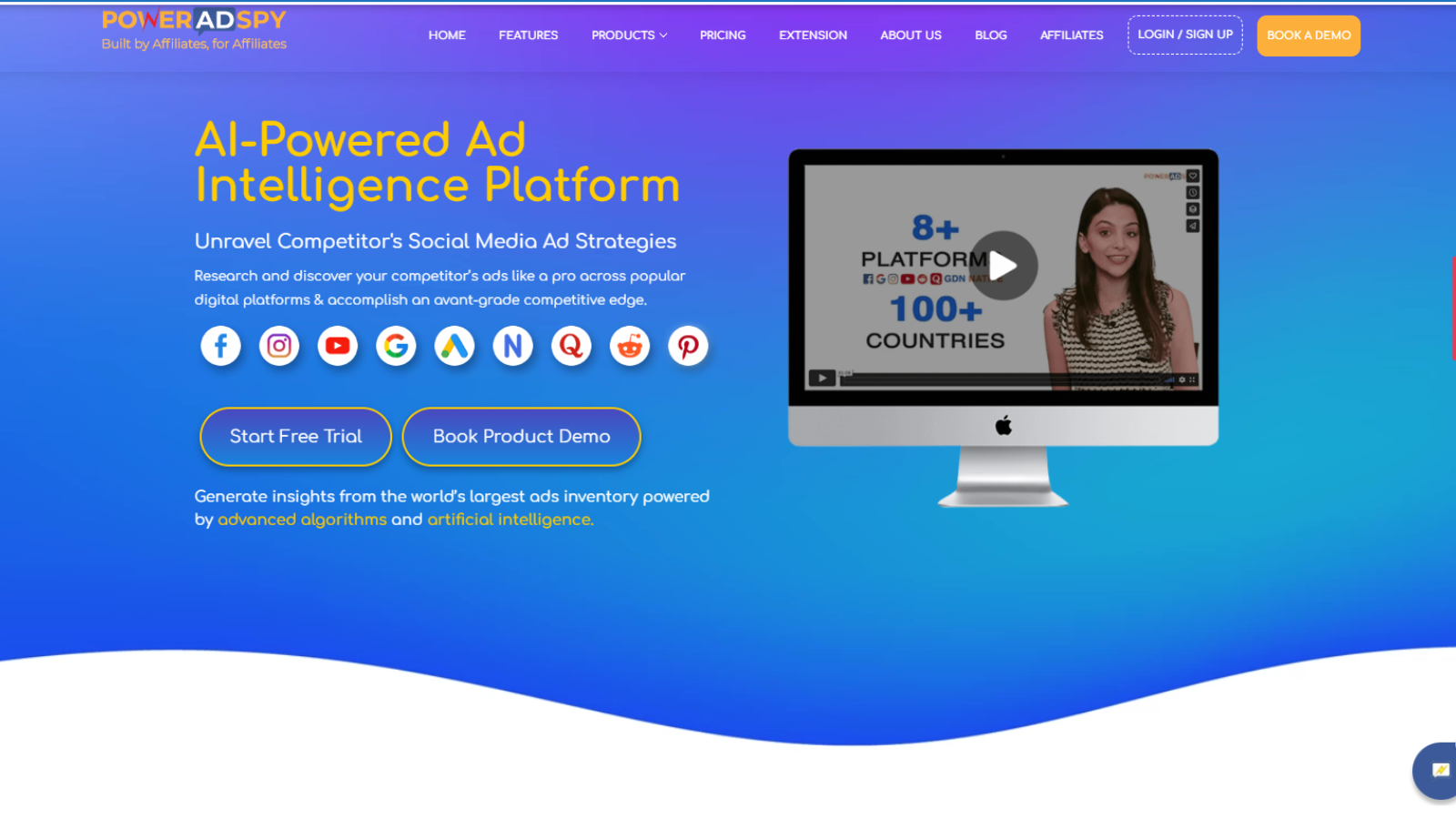 Let's find out how PowerAdSpy can help you gain Instagram ad insight:
Valuable Analysis: The software provides valuable understanding of competitors' advertisement strategies, trending content, and creative ideas.
Competitor Research: With PowerAdSpy, you can check out countless elements of your rivals' advertisements, such as ad copies, creative visuals, and audience targeting techniques.
Moreover, the software also assists you bookmark the best ads thus avoiding the hassle of searching them again and again.
Gather Inspiration: Examining top-performing ads in your industry helps you gather inspiration, identify success patterns, and apply innovative ideas from these information to your own winning Instagram ad campaigns.
Advanced Search Filters: PowerAdSpy also offers advanced search filters to refine your research based on specific criteria such as demographics, geolocation, and ad formats.
When you utilize Instagram Ad Insight with ad intelligence tools like PowerAdSpy, you can take your ad strategy to the next level. These tools help you uncover hidden opportunities, optimize your targeting, and create compelling ads that outshine your competition and meet the requirements of the Instagram algorithm.
Also Read

Improve Your Instagram Advertising Campaign: With Best Ad Intelligence Tool

Get Ahead of Your Marketing Competition Using Ad Intelligence Tools

Stay Updated on Instagram's Latest Features
Instagram is continually working on making things better for its users' experience. And staying updated with these changes is crucial for effective advertising on Instagram.
One approach is to stay tuned to official announcements from Instagram. Pay attention to Instagram's official notification for the latest updates. These announcements offer information about brand-new features and changes.
You can follow industry publications that report on Instagram updates. Gain valuable expertise and guidance on new tools and techniques.
Join forums and communities where members discuss Instagram marketing. Learn from experienced marketers and find successful strategies to beat the algorithm.
When you are aware of the updates on Instagram's latest features, you can enhance your ad campaigns better. This ensures you are utilizing the latest tools and techniques for maximum effectiveness with Instagram ad insight for better results.
By staying informed, you can outperform competitors on Instagram and make the most of Instagram's latest features and updates. This gives you an advantage in reaching your target audience.
Conclusion
Instagram Ad Insight offers you enormous data and understanding to enhance your ad campaigns and outperform the Instagram algorithm.
Knowing the algorithm, your target audience, creating engaging ad content, and staying up-to-date on trends, you can unlock the full potential of Instagram advertising.
Staying updated with the latest features and data-driven awareness can make your ad campaign run according to the algorithm and get the most out of your campaigns.
Strengthen your ad strategy with Instagram Ad Insight while leaving no stone unturned in your pursuit of advertising success.