09 Tips To Quickly Grow Your Facebook Engagement
Facebook is the biggest social media community in the world. In the first quarter of 2019, it had around 2.41 billion monthly active users, and it is still growing. This popularity has made it the #1 place for marketing, major brands and service providers use Facebook as their primary platform to engage the maximum number of audiences possible. 
A new business can also use it to increase its user base and to generate more traffic.
Now, you are probably wondering, how can I engage audiences?
In this blog, I will tell you, tips on how to increase your Facebook engagement. But first, let's understand the basics like why you need it.
Hit The Play Button To Listen: 
Why You Need To Grow Your Facebook Engagement?
Nowadays, everyone is bragging about their presence on social media. You'll see millennials posting continuously on Instagram to generate infinite likes and followers for their posts. You must have also seen influencers using popular models or celebrities to make themselves known, as everyone follows celebrities and models these days thanks to Instagram. 
Have you ever wondered why they do so? Why are they so much indulged in getting people's approval who they don't even know?
The answer is ENGAGEMENT!
The more engagement you got going on your social media platforms, the more people will know you. And as your popularity increases, the easier it gets to engage more people.
I guess now you get the picture. No?
Well let me put it this way, you know Lewis Hamilton, yes the F1 driver more precisely the Mercedes F1 driver, but do you know Sebastian Vettel. No?
Now, why is that? He is also an F1 driver and number 4 on the ranking to be exact.
The answer is simple – social media presence and people's engagement in his social media. Lewis Hamilton has 12.6 million followers on Instagram, whereas Sebastian Vette has only got 882k followers.
Baffled? You should be. That's what a social media engagement can get you. If you get the proper audiences, you will become a brand.
Now the question arises how do I get this engagement?
Let's get right into it then. Here I will be telling you nine tips with the help of which you can grow your engagement on Facebook and boost marketing.
1. Less Is More
Facebook marketing is very easy, you make an ad, and you post it but to gather engagement from that ad is very difficult. So, how do you do that?
It's simple, follow the rule "Less is More". While creating your ad, you should always use fewer words, only use the words which precisely describes your ad.
The reason is the average scrolling time. In mobile it is 1.7 seconds; i.e. people take only this much time to read content and then scroll past it and for desktop it is 2.5 seconds. So, average your content accordingly, make it small and precise.
To know more about how to make ads and target audiences, you can use tools like PowerAdSpy.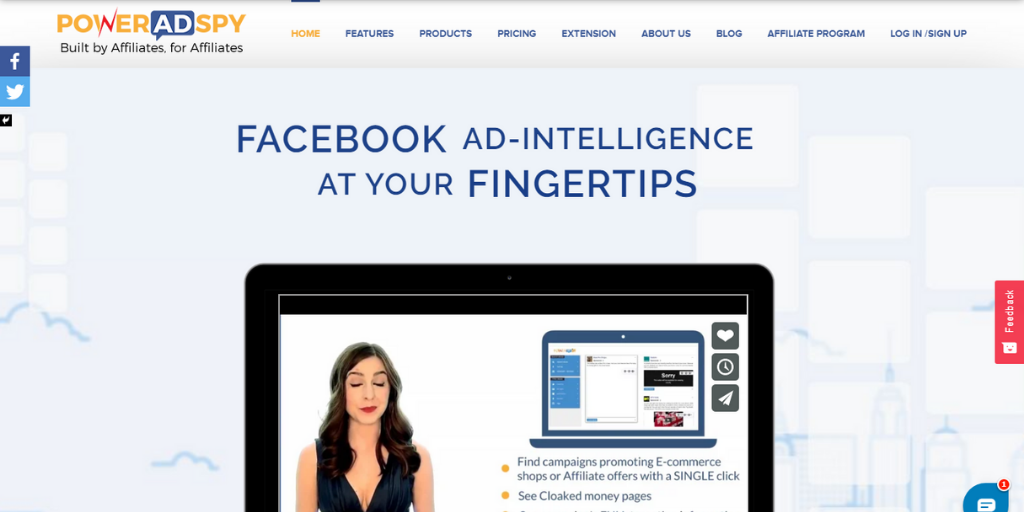 With the help of it, you can stay up to date with all your competitor's ads and use their strategies against them. Just follow these steps to search the most popular ads published by your competitors – 
Login/Signup to your PowerAdSpy account.

Once you are in, there will be a search bar on the left-hand side there you can search for ads with the help of a keyword.

Below the search bar; you'll see the filter mode. Using these filters, you can search the ads based on location, interests, etc.

After all these steps, the ads which are most relevant to your search preferences will show on the dashboard.
2. Know Your Audience
While creating an ad, what you think is interesting or what you think will be beneficial for the company doesn't work. The only thing that matters is what the audience wants.
To get to know your audience, first, you must decide what kind of people you want to target with the ad. As every generation and country perceive everything differently, therefore, you must decide which audience you want to target and then make the ads accordingly.
3. Create Ads Specifically For Facebook
Some of you might think that it is ok to share the contents made for Instagram or Twitter on Facebook; if it's of the same genre.
It is not.
Facebook has different strategies to boost an ad, and Instagram has different. Like, hashtags work on Instagram, but it does not work on Facebook. Similarly, gifs might work on Twitter, but they sure don't on Facebook.
Thus, it is best if you create ads specifically for Facebook. Ads like this will rank much faster as it has made entirely according to Facebook.
4. Go Live
Videos have much higher engagement than a picture, so include videos in your ads every often. 
The one better than a video is a live video, going live on Facebook and interacting directly with the audiences increases the engagement very fast. The reason is that people connect more with those brands who engage directly with them. 
People relate to someone better if they have something to relate too. So, once in a while, go live on Facebook and interact directly with the audiences.
5. Post Less
Did you know you can grow engagement by three times by posting less on Facebook?
Yes, it not only gave me a great engagement but also helped me focus more on quality than quantity. Posting less in a day helps you with the contents as there is a limit to how much great content one can find in a day. 
That being said, some people post ten times in a day while maintaining the quality and its been working great for them. So it really depends upon you, how much can you produce in a day. And it is very much the same with Facebook marketing if you are pushing that way too.
6. Hold Q&A Session
Next big thing is Q&A (Question and Answer), you can engage with the audiences by holding a Q&A session. It is the best way to answer people's questions about you/your brand and connect with them more on a personal level.
It will give you more engagement than a simple post and will help you reach out to more audiences also. 
7. Know When To Post
People think that they can post any time since it's their content and time doesn't really matter here.
But they are wrong. Why?
Posts rank much faster and easier if they get the exposure as soon as they have been posted. Otherwise, they die in fresh. 
So, what's the best time to post then?
People believe that there is a universal time to post irrespective of the brands, but our survey has proven it wrong. As it turns out, depending on your working sector, posting time varies. The reason behind is that best posting time depends upon several factors. 
In my opinion, if you want to find out what's the best time to post for your company. Try conducting a survey, by posting different times throughout the day and then analyzing the gathered data to see when a  post has received the most buzz.
8. Funnel Traffic From Other Platforms

You can also use other social media platforms to funnel traffic to your Facebook account. 
How?
It's easy, post there as usual, and tag your Facebook account in it. Or you can post exclusive content on Facebook and tell the audiences on other platforms to follow your page there to get exclusive content.
9. Get Verified
Verifying your Facebook page shows the user that you are a trustworthy brand and people connect easily with the verified brand. After all, no one wants to share or like pages from a fake brand. 
If you don't know how to get verified on Facebook, don't worry, my post hasn't ended. But remember not everyone can verify here you have to be one of the followings:
Journalists

Popular Brand or Business

Government Officials

Celebrities

Media

Entertainment

Sports Companies
And don't worry if you don't fall in any of the above categories. You can change it to a public figure from about section.
Now, you can follow the steps below to get verified on Facebook. 
Link your profile or page from your official webpage. 

Now different types of information will appear depending upon your category fill accordingly. Make sure you add all the correct details and also add

your website, awards, bio, and more.

If it is a profile then provide the correct information in it and enter your website address in the about section.

Contact Facebook and get verified. 

Make a compelling case stating why you need to verify.

 Now, you have to wait for 2-5 days. 
Wrapping It Up
It takes time to gather serious engagement on Facebook, so don't be hasty. Follow the tips above and keep developing new strategies.
That's enough from me. If I have missed anything or you have some new tips, please mention them in the comments.