Writing Facebook Ads with Style – Learn How to Do It
New ad campaigns are created on Facebook every day. But how many of these reach success? Endless combinations of images, videos, and ad copies are tested to find the winning formula. In this article, you will discover important tips on writing Facebook ads. There are also examples of successful, high-converting ad campaigns.
Contrary to what many might believe, the image/video included in an ad is not the only important element. Some marketers focus too much on the visual part when creating a Facebook ad and forget about copywriting. But the reality is that copywriting is essential. It can make or break your campaign.
Copyblogger founder Brian Clark has said that "great copy doesn't seem like an ad, it seems like a favor." This means that great copy will likely help persuade viewers to click on your ad and visit your website. So put special focus on the way you are writing Facebook ads.
Tips for writing Facebook ads that convert
Be authentic and simple
When writing Facebook ads, keep in mind that this is basically a social platform. Its users expect to see friendly content that uses informal, natural language. Avoid complicated sentences. Keep it simple and be transparent and direct. This way, you can create an authentic voice for your brand. A Facebook ad that sounds like a real person is more likely to be successful than one that sounds overly "copywritten."
Use questions and revealing words
Questions always draw attention. Make sure to include one in your Facebook ad copy. To make sure you pique the audience's interest, use a question that starts with "Want" and which can only be answered with "Yes."  Also, use powerful revealing words that incite to take action like "discover," "secret," "instant," "free," etc.
Use easy-to-understand language
Writing Facebook ads that are easy to understand should be at the top of your priority list. Remember that you are not writing for highly literate people, but for regular users who come to Facebook to see pictures of their family and friends. They don't expect to read complicated texts. It's a good idea to use informal, everyday language.
Also, the message of your ad should explain in simple words what you're offering your audience, how it benefits them and what action is expected of them.
Write specifically for your target audience
The secret to successful ad campaigns is to use Facebook targeting in order to narrow your audience and then write specifically to them. Basically, the ad copy should appeal to the audience's needs and interests. Make sure you study demographic data before sitting down to copywrite your ad. Ask yourself how old your audience is, where they live, what their interests are, what they need, and so on. The answers to these questions will help you create better ad copy.
Write a clear call-to-action
The text you pick for the call-to-action button can have a great impact on how successful your ad is. Depending on your offer and the aim of your ad, make sure to choose a clear, appropriate call-to-action.
Make sure the copy matches the visual part
The image you use for your Facebook ad should be relevant and eye-catching. You should also ensure that it goes together with the copy. You can even create your own image to make sure your ad creates a great, coherent experience for users.
Examples of well-written Facebook ads
Bombas
Bombas is a brand that offers socks. It's as simple as that. But the fact that they sell an ordinary piece of clothing doesn't mean their ads are ordinary. On the contrary. This Bombas ad stands out from the crowd. It invites the audience to take a quiz in order to get a discount on their products. And it's a successful ad because it's playful and catchy. It has great copy with a short and clear message, and it does offer a great price discount.
Another good point is that the text carrying the important message is placed on the image, considering that people tend to read the picture rather than the headline.
Amazon – Black Friday Countdown Ad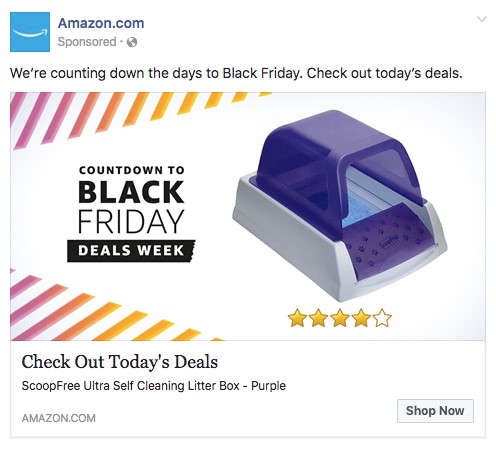 This is a well-written and well-designed event ad from Amazon. It's a great example of Facebook ad due to various reasons:
we know which event is being promoted from the start,
a sample product is in the image,
it uses simple language,
it has a very clear call-to-action that creates an urgency feeling (Shop Now).
Shutterfly
The above ad from Shutterfly is a carousel ad designed to promote multiple products. Besides the right choice of colors and sample products to display, this Facebook ad works because it states from the get-go what it offers (40% off), what code must be used, and when the promotion expires (February 17). Potential customers are encouraged to take action right away via a clear call-to-action.
Stitch Fix
Stitch Fix's ad is simple yet appealing on different levels: it has a large image with very little but relevant text on it, it uses actionable words, relevant keywords, and is action-focused. Besides, it's clear that the ad is targeted at a specific audience: women who are looking for summer clothes.
MU Campus Dining
This is a reach ad from Mizzou Campus Dining at the University of Missouri. It uses well-known logos to promote the dining venue and marketplace. What makes this ad a good one is the relevant, colorful image, it targets a specific audience (hungry students), starts with a question, addresses a need the audience might have, and the clear call-to-action (Get Directions).
Conclusion
As outlined above, when writing Facebook ads the visuals are not everything. A successful ad also needs a well-thought-out message that has the ability to drive people to take action and follow the link included in the ad. It's not easy to create great Facebook ads. If you follow the instructions suggested above and look for some inspiration into other brands' work, your chances of coming up with a successful ad will increase.