5 Best Valentine's Day Ads of 2020
It's the end of the holiday season, and it seems that customers have shopped a lot with solid footing. But wait! The lucrative marketing opportunity isn't over yet. Valentine's shopping is on the way.
Now is the time for love to take over the market. If you are looking for a customer's endearment for your brand, it's the best opportunity that you shouldn't miss.
If you look at it from a business perspective, after the holiday season, Valentine's day is the most enticing sales period for brands. According to stats, last year the expenditure on Valentine's day, crossed over 20 billion USD. And this year, it is expected to reach 27 billion USD.
Don't you want to woo your customers with the best Valentine's Day ads? If not, then you are letting the revenue slip through your fingers.
Here I have accumulated some of the best Valentine's Day ads of 2020, which are getting more engagement and revenue for the brands.
Tap On Play Button To Listen:
Best Valentines Day Facebook Ad- KFC
This year, you need to express your love to existing customers by giving them bonus offers. Just like KFC special Valentine's Day offer, giving away two sandwiches for 35 bucks only.
With such a great price, the meals become more lovable and delicious for customers. It's really "FingerLickinGood."
I was searching for Valentine's Day ads on the best ad analytics tool PowerAdSpy. And I found this ad of KFC giving away exclusive offering
Best Valentines Day Instagram Ad-Faasos
From the word "Valentine," love is the first thing that comes into the mind. Isn't it? But if you are only targeting couples in your campaign, you are going to miss out on non-romantic sales opportunities. In fact, there are quite a number of single people who love to celebrate Valentine's Day.
Here check out this Faasos ad on Instagram. They are targeting all singles and food lovers to enjoy their Valentine's day with their delicious meals. According to them, being single is a cool thing. You don't have to share your food while you can also save money on movies and date nights. Also, by encouraging the audience to tag, they are attracting singles friends and family members to start with Faasos meals.
I was checking the Faasos brand ads on the ad intelligence tool PowerAdSpy. And after checking the original ad, I have checked their latest ads on Instagram. There I found this one. Using PowerAdSpy, it becomes quite easy to find trending ads on Instagram.
Best Valentine's Day Google Ad- The Rose Bear
What's the best gift you want to give your Valentine? Rose or a Teddy Bear. Why not give both? Check this ad by "The Rose Bear." Here is a Google ad of the Rose Bear brand in which they are selling high-quality Teddy bears made up of Floamin roses.
Here I was looking for Valentine's Day Google ads using PowerAdSpy. Found this trending ad of the brand The Rose Bear.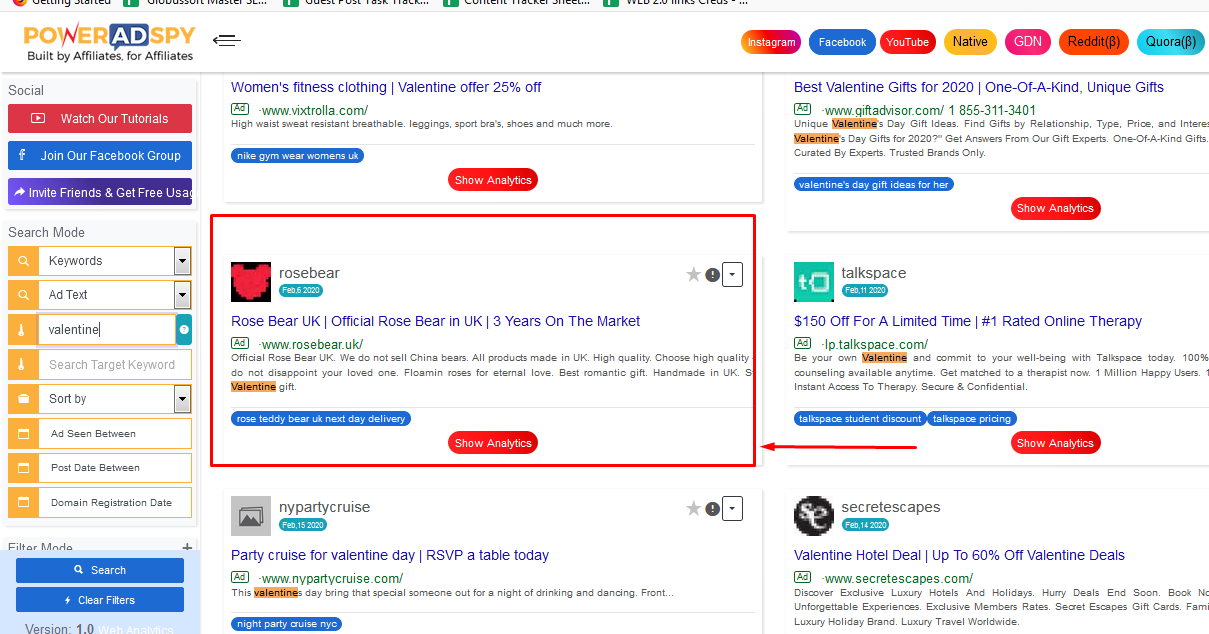 These are some of the best Valentine's Day ads of 2020. If you want to attain success for Valentine's Day ad campaign, you can use the best ad intelligence tool- ie, PowerAdSpy.
Best Valentines Day YouTube Ad- Teleflora
Do you forget about Galentine's day? While Teleflora hasn't. If you are thinking of gifting a coffee mug to your girlfriend, you must check out this humorous ad. With over 3 million views, this is one of the trendiest Valentine ads on YouTube. By showing the nobody wants a clingy coffee mug on their table. Here they have shown why flowers are the best gift to give gals. As it may not seem annoying when the lady is doing her job.
With powerful ad intelligence tools like PowerAdSpy, you can easily search for such trending ads on Facebook, Instagram, Google, YouTube, and some other platforms.
In another ad of Teleflora, they have shown- how an office girl is embarrassed because of the chocolate day message. According to them, flowers are a better gift option that you can take with yourself without feeling awkward.
Here I have shown how you can use the PowerAdSpy tool to find the best Valentine's Day ads of 2020.
Poweradspy is a clear solution to all your needs regarding the social media ad campaign. Using this, you can search for the ads on the popular social media platforms- Facebook, Instagram, Google, YouTube, Reddit, and Quora.
It has powerful search features that you can use to sort out the ads based on Keywords and niche of your content.
With filter mode, you can categorize highly filtered data based on Call to action, location, ad type, ad position, gender, and languages.
Poweradspy's powerful algorithm will help you find the most relevant ads for Valentine's Day. You can further sort out based on the date, likes, share, and other filter options.
There you can search for the best Valentine's day ads and bookmark the ones that you want to target.
Get all the engagement oriented details about the ad which you want to target. While later, you can apply similar strategies to gain better results on your own ad campaign.
Over to You:
These are some of the trendiest ads from which you can get ideas to create Valentine's day ad campaigns. Although Valentine's day gives you a great marketing opportunity to boost your sales, you need to be creative with your ads. The competition on the popular ad platforms like Google, Facebook and Instagram are quite higher. And if you want to achieve success, then you can use the ad analytic support of Poweradspy to boost your best Valentine's Day ad campaign.
So, what are you thinking? If you have something to tell, you are always welcome to comment.