Things You Didn't  Know About Type Of Facebook Ads
Do you ever wonder if you can get massive results while spending less on ads?
Is it even possible?
Well, yes!
But only if you know the different types of Facebook ads and how to use each one effectively. 
Facebook advertisement is a crucial part of social media marketing strategy. The potential advertising reach of Facebook is more than 2.11 billion people, which is 72.5% of their total monthly active users, making it the best platform to connect with your audience. 
Impressive, right?
But the main reason behind using Facebook ads is conveying your word in front of precisely the right part of those people. Your target audience is most likely to be interested in your products or services. 
Hit The
Play

Button To Listen:
To get the desired result from Facebook ad campaigns, it's essential to understand the different types of Facebook ads. Are you ready? Let's dive in!
What Are The Different Types of Facebook Ads?
So you are ready with your unique content to kick off your Facebook ad campaign but not sure how to get it in front of your audience. And that's where various types of ads on Facebook do the magic. If you are not sure how many types of Facebook ads you have at your disposal, you can't utilize them fully. So, let's discuss them!
Image Facebook Ads:
Of all the different types of Facebook ads, image ads are the most basic ad format. You can use the Facebook image ads in multiple ad types, placements, and aspect ratios, but only one image can be used.
If you are a beginner, image ads are the easiest to conquer. These are easy to make and utilize with high-quality photos to promote your services and products. This ad format is an all-rounder in almost every phase of your funnel to raise brand awareness, drive website traffic, and increase revenue.
All you need is the combination of a great image and compelling copy. Although, the image will be the focal point of your ad.
But there are some limitations, too, like you can only use a single photo to convey your message to your audience. And it's evident that representing product workflow or showing multiple products is not possible with a single image.
Carousel Facebook Ads:
If you want to get more in less, carousel types of Facebook ads are for you. You can use carousel ads to highlight your product, explain its features, and tell a story while spending the same price and space.
This kind of ad is more popular on Instagram, but it can also be used on Facebook. It lets you use up to 10 images or videos in one post.
Video Facebook Ads:
Video ads are best for gaining high audience engagement. Do you want to launch a new product or service or show your audience how it works, video ads are the ones to use. Even the companies with less budget can make video ads to entertain their audience and create a bond with them.
It makes more sense to use video ads where platforms like TikTok and Reels have taken the world by storm. There is no doubt that video format content is the best way to attract new eyeballs. 
Here are a few things you need to keep in mind:
The resolution of your videos should be highest with an aspect ratio of 9:16 or 16:9

You can make a minimum length of 1 second and a maximum of 240 minutes. But you should try to keep it short and crisp.

And one of the most incredible things about video types of ads on Facebook is that you can post 360-degree videos. It will provide a whole new and immersive experience for your audience.
Using video types of Facebook ads will be only worth it when you use it for more than just conveying a simple message. But, it also has its drawbacks. And the first drawback on the list is that it takes a lot of time and effort to create a great video ad.
Collection Facebook Ads:
If you want to launch many new products and gain a lot of interest, collection types of Facebook ads might be the one for you. These are very similar to an online store, viewers get to see the primary image, and if they are interred, they tap on it to explore the rest. It is a streamlined method to convert interested visitors into customers.
Slideshow Facebook Ads: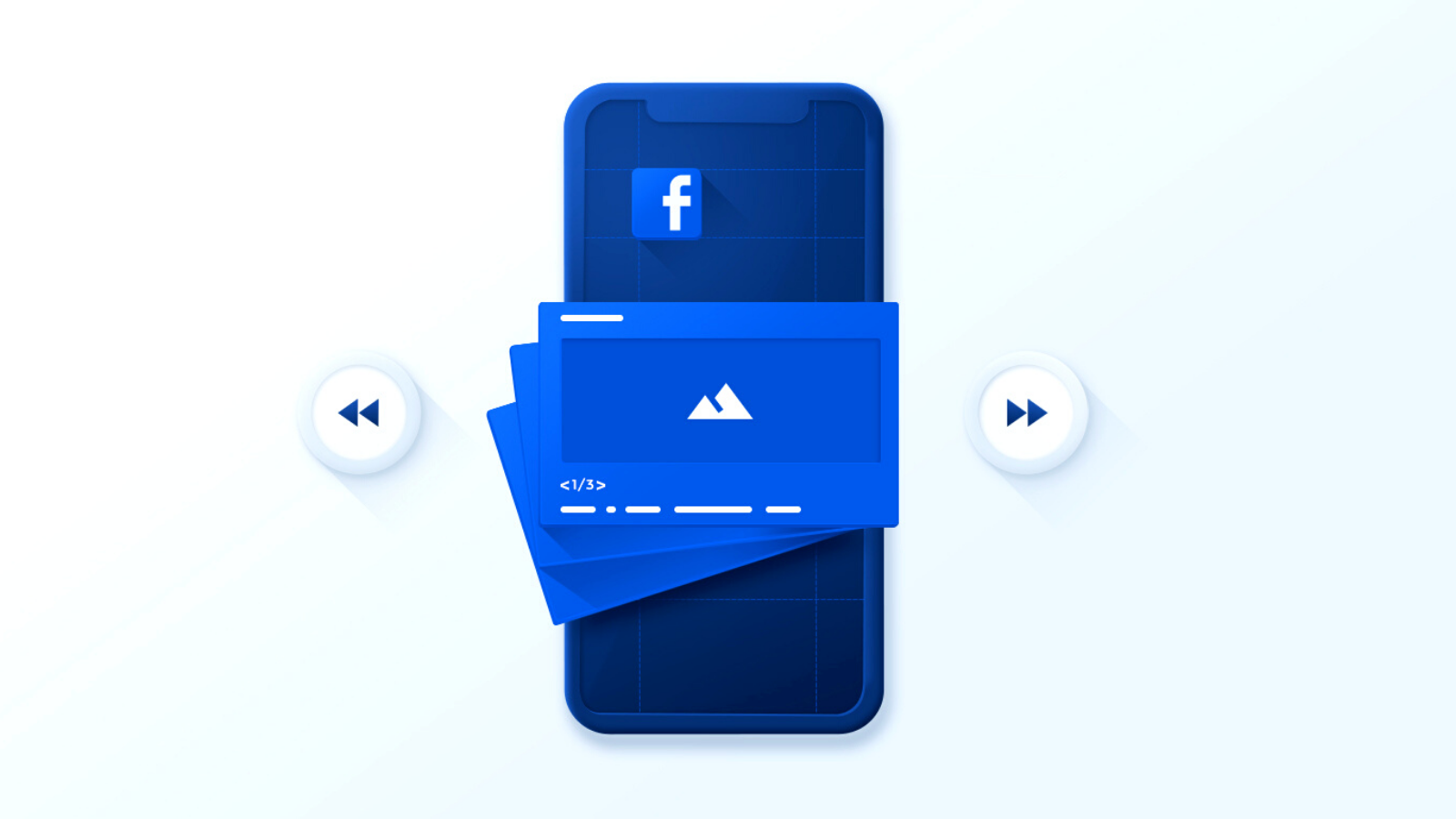 While video types of Facebook ads are best for telling a story and engaging with your audience but it's also costly. If you want to tell a story but not spend as much, slideshow Facebook ads definitely deserve a try. It enables you to take advantage of the quality same as video ads while spending comparatively less. 
And if your audience does not have a good internet connection, they don't have to wait like they have to for video ads. Slideshow ads load quickly and are easily accessible to your audience. You can use up to 3 to 10 images or a single video in a slideshow.
Post-Engagement Facebook Ads:
If you want to drive more engagement and improve organic reach on a particular post, post engagement types of Facebook are made for you. 
Some posts on Facebook or Instagram perform better than others, and you want to use them to gain more followers and activity. 
Post-engagement ads encourage others to follow your page for more content. More visibility, more reach, more engagement, and more growth for your business.
Instant Experience Facebook Ads:
Instant experience ads are a type of Facebook ad made for mobile users. It used to be called Canvas ads. If you want your mobile users to engage with your content, you can use it. Instant experience ads are 10 times quicker than the other types of ads on Facebook. But it takes a lot of time which might not be worth it. If you are a beginner, you might stick with basic ad formats.
Event Response Facebook Ads:
If you plan to organize a product launch event, throw a party, or a grand opening, you might want to use an event response type of Facebook ads. When you use event response ads, your audience can save the date to their calendars. 
And the best thing is that you get all the insight into the performance of your event, reach, and the response of your target audience. Event response ads are local awareness types of Facebook ads, best for driving awareness in particular geographic regions.
Offer Claim Facebook Ads:
If you want to run holiday sale offers, deals, and discounts on Facebook ads, offer claim ads can ease the process. It allows you to customize the CTA button on the ad depending on the offers you are providing. If you want to make new customers and make an outstanding first impression, providing discounts on your best product is the best way to do so. It is one of the most compelling reasons for customers to try your business out. There's no better way to attract a new, loyal customer.
Lead Generation Facebook Ads:
One of the most crucial parts of your business is lead capture forms or contact forms. It helps you contact your customers and send service quotations, offers, discounts, newsletters, or email marketing campaigns. While providing a vast array of customization options, lead generation types of Facebook ads are a great way to make connections from both sides. So it makes total sense to have a way to connect with your customers.
Page Like Facebook Ads:
If you are an advertiser to build a social media presence and create content to drive engagement specifically for Facebook, consider Page like Facebook ads to be your best asset. It is one of the best types of Facebook Ads to expand your reach and visibility. A page like Facebook ads encourages users to like your page with its customizable CTA button. You should definitely give it a try!
But one question remains unanswered!
Where will you find the ads inspirations to use in your campaigns?
The answer is simple, PowerAdSpy!
PowerAdSpy is here for you! PowerAdSpy enables you to increase your revenue, spares you from the hassle of trying ads that might not work, and provides you with the winning ads. So if you want to profit big without spending your resources on the ads that don't work.
PowerAdSpy is the first and the most intelligent Ads spy tool of its kind. It has the fastest-growing section of Social Video Ads to offer insights into what kinds of video ads are relevant to your audience and allows you to download them for your ad campaigns. In seconds, you can use it to search various platforms running to click funnels, lead pages, or opt-in offers.
It can empower you with the best winning ads from various platforms such as Facebook, Google, Instagram, Youtube, GDN, NATIVE, Reddit, Quora ads, etc. It has the world's largest database of over 50 million ads listed. It has thousands of people worldwide watching and submitting the best trending ad copies. 
If you are looking for the best Facebook search tools for ads to get inspiration for your ad campaigns, you can easily find them with PowerAdSpy!
Check Out Our Latest Posts:

Has Social Media Advertising Reached Saturation Point In 2022?
What Is The Key Role Of A Lead Generation In Marketing?
Facebook Video Ads: Everything You Need To Know
Wrapping Up:
Facebook ads are mere tools to leverage for attaining your business goals. But what makes it difficult for people to do so is a lack of understanding of the types of Facebook ads. You can utilize a tool when you know it inside out. And now that you know which ads are best for which scenarios and PowerAdSpy at your side, nothing can stop you from success.