Facebook Video Ads: Everything You Need To Know
When it comes to social media platforms, Facebook has become the undisputed colossus. But, since 2018, the amount of content posted by brands and businesses on Facebook has decreased. The Facebook algorithm began favoring posts from family, friends, and groups in your feed to help people stay connected with their loved ones. It almost ended organic reach on the platform. Organic posts from advertisers now only reach about 6.4 percent of the total fans on the page, effectively ending organic reach. 
Aside from being a social media platform, Facebook has grown into an advertising behemoth. Facebook is the ideal platform for businesses of all sizes to get their products in front of a global audience. Soon, Facebook entered the video ad segment, the most attention-grabbing ad format. 
Buckle up as we go over the intricacies of Facebook video ads and tell you everything you need to know about them.
What Are Facebook Video Ads?
Facebook video ads are paid video ad placements on a visitor's Facebook screen at several predetermined times and places.
Your target audience will be able to see your company's story come to life through Facebook video ads. Because organic reach for businesses is decreasing, Facebook ads will be more significant than ever in 2022 if you want to raise brand awareness, attract new customers, and convert interested users.
You can use video ads to showcase your product, service, or brand. In Ads Manager, you can create video ads or boost a video post from your Facebook page. You can use Facebook video ads for the following – 
Create new methods of promoting your product, service, or brand. Use video to highlight special features or to tell your company's story.

Capture the audience's attention quickly. Make 15-second or fewer videos to captivate and engage your audience.

Only send one message. Create a simple, clear statement that encourages people to take action, such as purchasing a product or visiting your website.
What Is The Size Of Facebook Video Ads?
Facebook offers online marketers a large selection of ad formats and placements. However, different ad formats and placements have distinct specs and sizes. 
Although there is no maximum resolution, Facebook ads video size should be at least 1080 x 1080 pixels. The recommended formats for Facebook ads video size are MP4, MOV, or GIF. 
And, if you're wondering how long should Facebook video ads be, here's your answer. The video duration is from 1 second to 241 minutes. 
How To Make Facebook Video Ads?
You can create a video ad in Facebook Ads Manager by following the below-mentioned steps. You can also boost a Facebook Page post that includes a video.
Step 1

:
Go to the Facebook Ad Manager.
Step 2

:
Click the Create button, afterward, choose an objective that supports the video and press the Continue button.
Step 3

:
Select your audience, placements, and optimization, then click Continue. Automatic placement is the default setting. It means that your ads will appear automatically in relevant placements. Click Manual placements to edit the locations where your ads may appear.
Step 4

:
From the Format drop-down menu, choose Carousel or Single video. A single video is the only format option to increase the number of video views.
Step 5

:
Then upload your video to the ad manager. Click Add Media, Add video and select your video from your library. To add a new video, click Upload. Choose Create Video to make a video with the Video Creation Kit.
Step 6

:
You can also change the look of your video. Go to Edit Video to crop or trim the video and change the thumbnail image. It is possible to add captions, text overlays, and logo overlays. Not all options may be available when using a video as part of a carousel.
Step 7

:
Lastly, you add text, links, and tracking. When you're finished, click Confirm to publish the video advertisement.
Facebook Video Ads Examples
The following are some of the most well-executed and well-curated video ads on Facebook.
Grammarly
Grammarly created this beautiful ad with smooth animation and visuals. 
Spotify
Spotify created an engaging Facebook video ad using only a few resources, such as an album cover, a mix of colorful elements, and on-point typography.
Oreo
Oreo's flawlessly executed video advertisement features a high-quality sleek look, fast-paced movement, and eye-catching shifting patterns.
How Can You Improve Your Facebook Advertising Strategy?
Facebook ads are well-known for generating an extensive amount of leads. As a result, advertisers are increasingly using Facebook to promote their products. The value of Facebook ads has increased significantly in recent years because of precise targeting. You can target a specific audience and convert them into potential customers by promoting relevant content.
Following are some tips to improve your Facebook advertising strategy-
Set objectives for Facebook.

Understand your Facebook audience insights.

Actively engage with your audience.

Plan out your Facebook content.

Plan your Facebook ad strategy.

Encourage employee involvement.

Keep track of and analyze your results.
A well-executed Facebook ad campaign can broaden the reach of your content and drive more traffic to your landing page. Competitor analysis is now an essential step in creating Facebook ads. You can also target a specific group of people on Facebook. You can identify the audience who might be interested in your brands based on their engagement in other advertisements. However, you can use one of the best Facebook marketing analytical tools, PowerAdSpy, to get the correct information about such an audience.
Read More

PowerAdSpy | Best Facebook Ads Spy Tool
One of the best ways to learn about your competitor's competitive strategy is using an ad intelligence tool that has a massive database of advertisements from thousands of businesses.
PowerAdSpy is a free Facebook ad spy tool that provides advertisement intelligence to aid in competitor analysis. PowerAdSpy is an ad spy program with one of the largest ad databases in the world. This ad intelligence tool gives you access to your competitors' Facebook ads plus the overall advertising trend in the marketplace.
You can conduct targeted research on the following things using PowerAdSpy-
Brand, advertiser, or niche.

Ad type.

Ecommerce platform.

Marketing funnel.

Ad placements

Popular device

Geo-placements.

Landing page.

Advert elements (celebrity, CTA, product, and more).

Engagement stats.
Following are some of the best features of PowerAdSpy-
Generate Buyer Traffic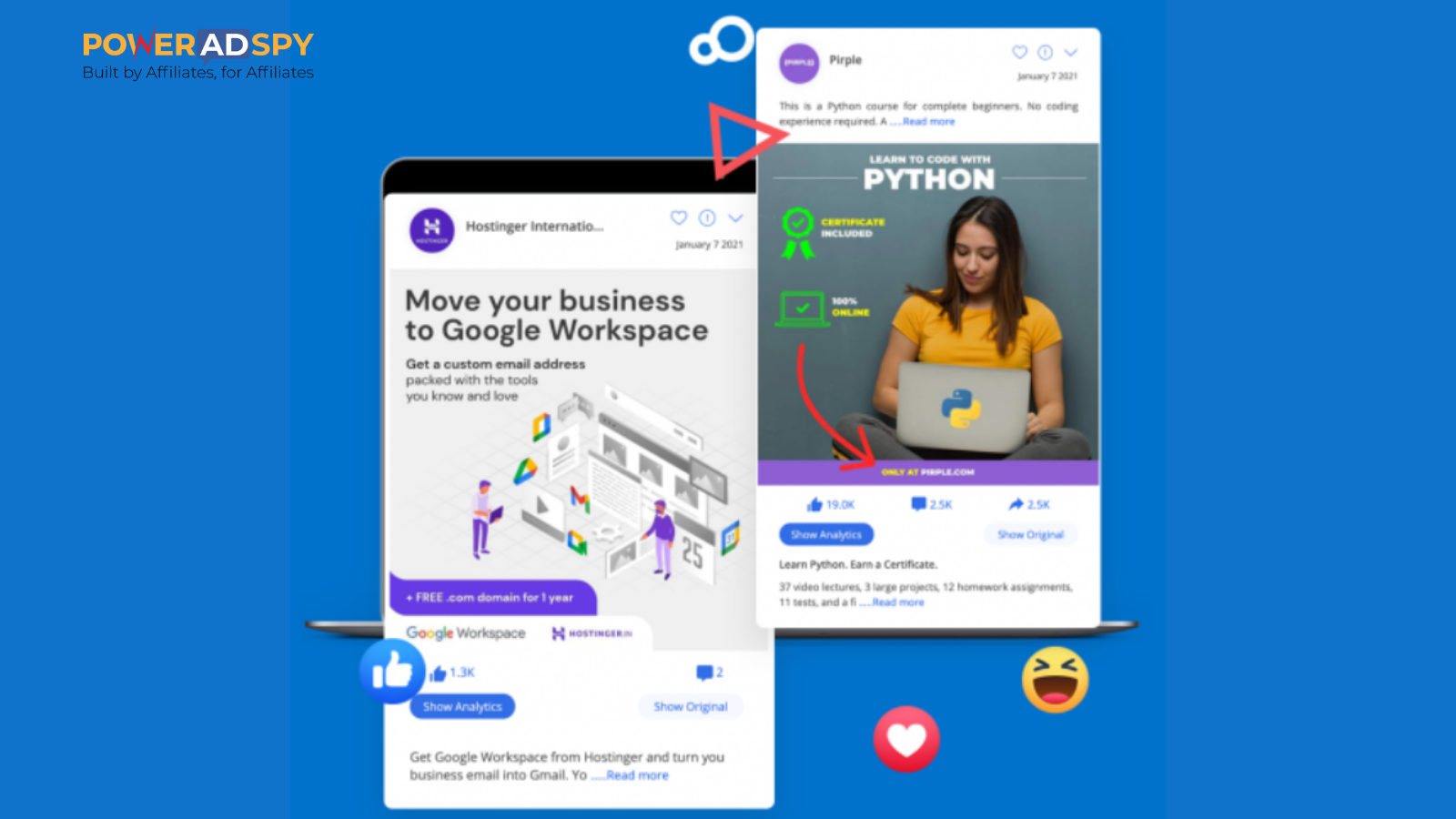 PowerAdSpy displays the most effective ads in your niche, eliminating the need to test, change, or edit ads.
Competitor Analysis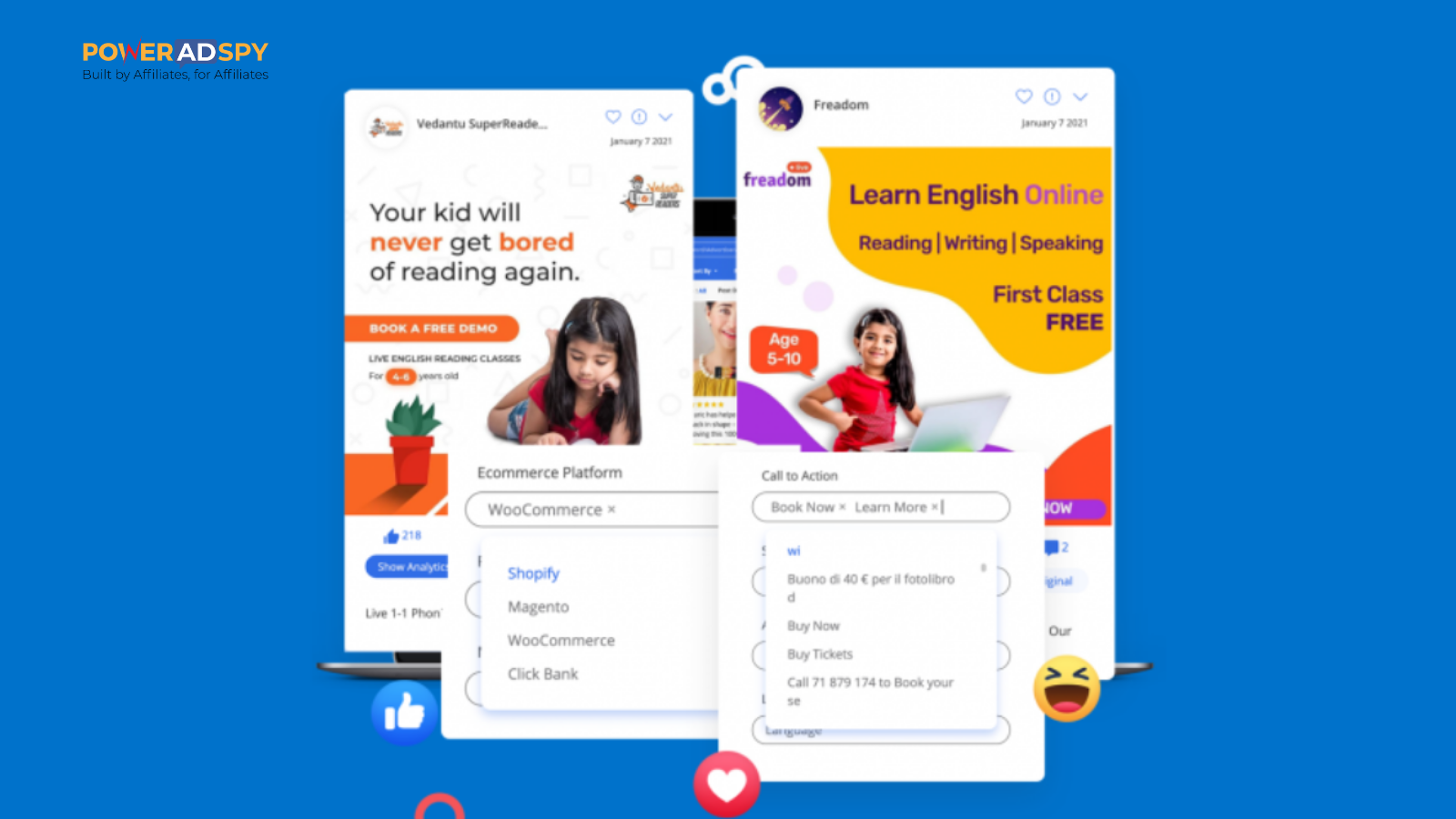 PowerAdSpy will show you all of your competitors' running ads plus their landing pages in one dashboard so you can see what works and replicate it.
Huge Ad Database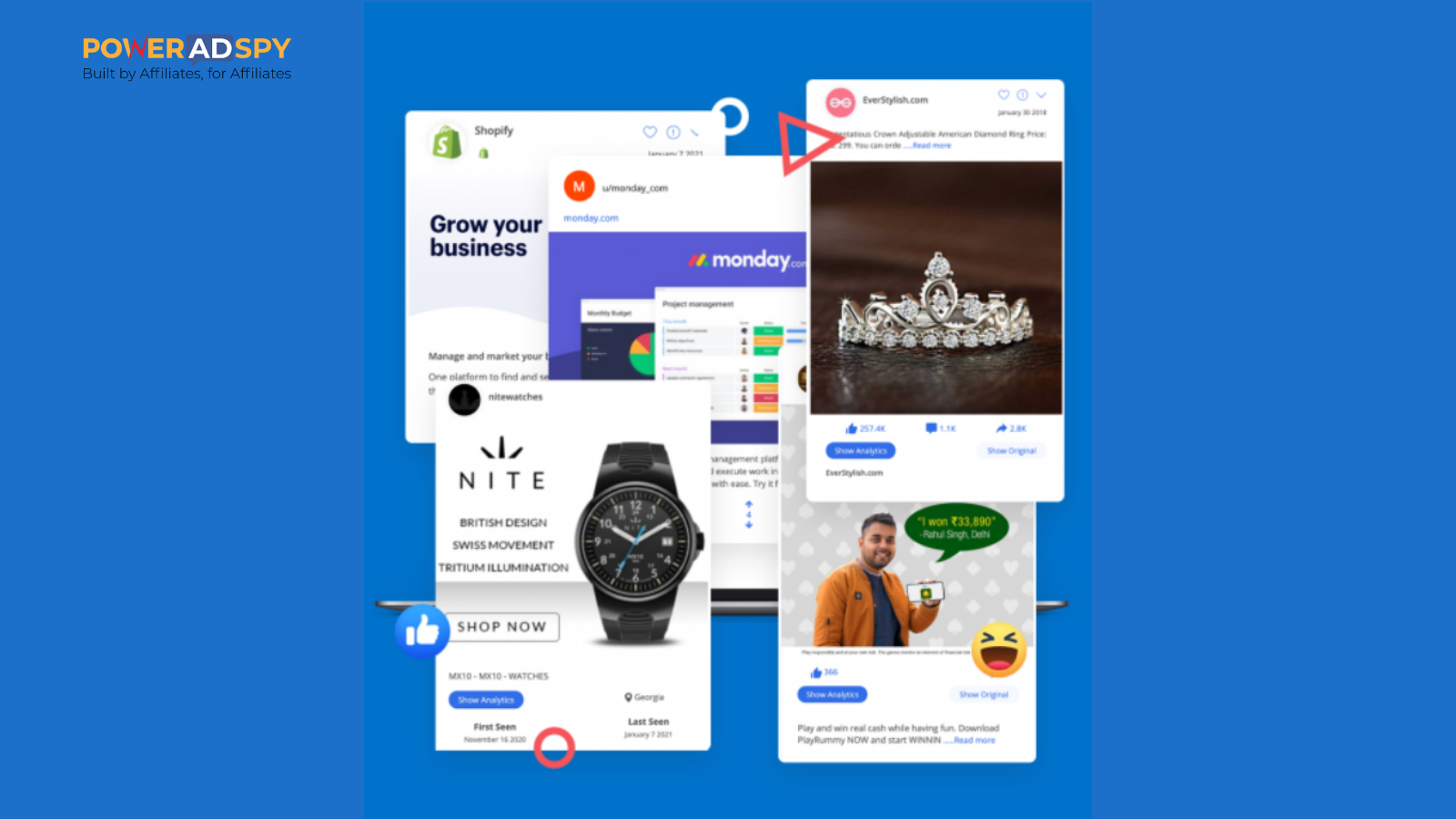 PowerAdSpy gives you access to the world's largest ad library, with over 50 million ads from 20 different countries and thousands of new ads added daily. 
Demographic & Engagement Filters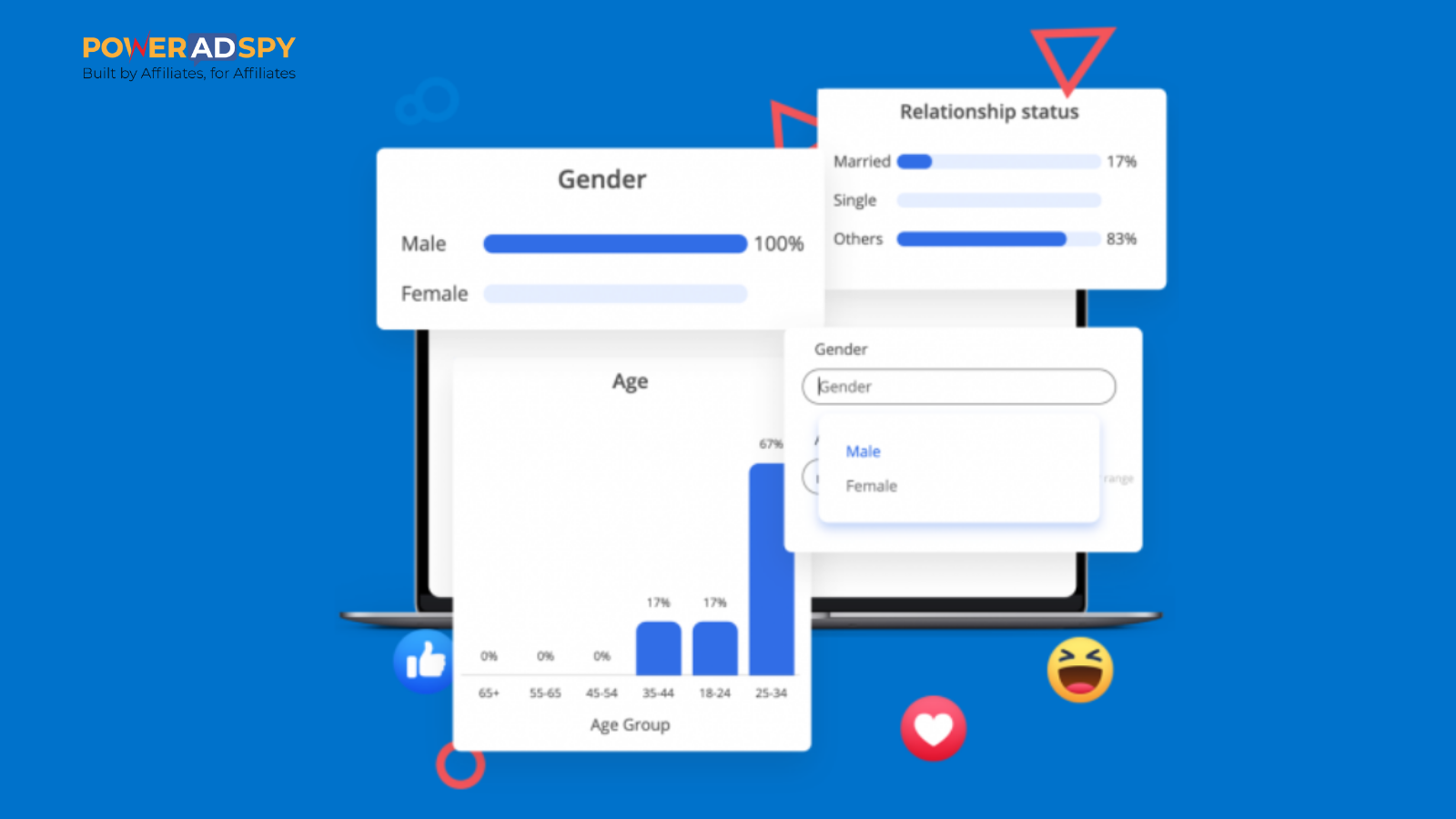 These allow you to search ads based on gender, age, marital status, location, likes, comments, or shares to see what users are most interested in.
Geo-Location Filters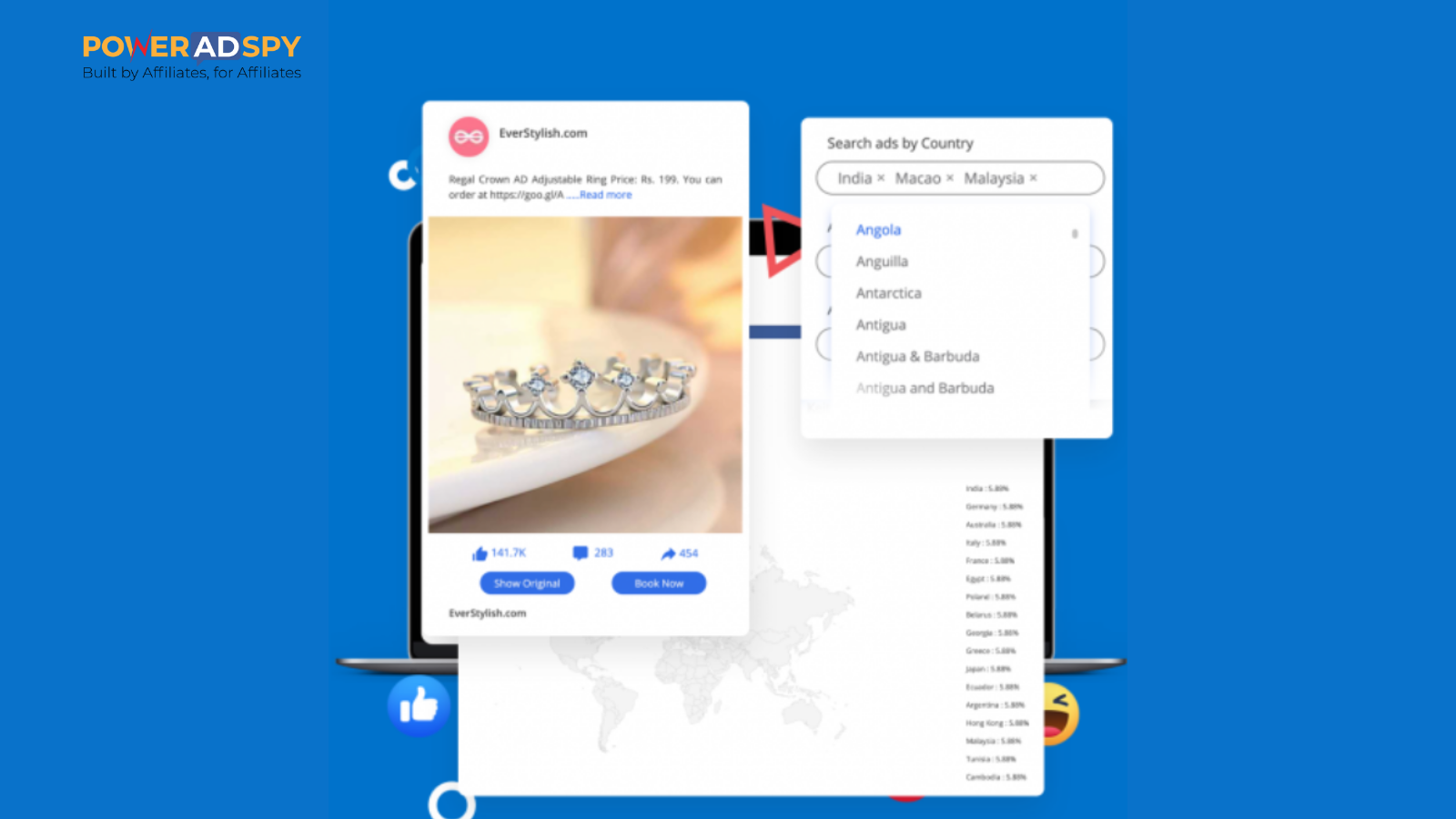 PowerAdSpy breaks down where any ad is shown to help you better identify the audience you're trying to reach.
CTA Based Sorting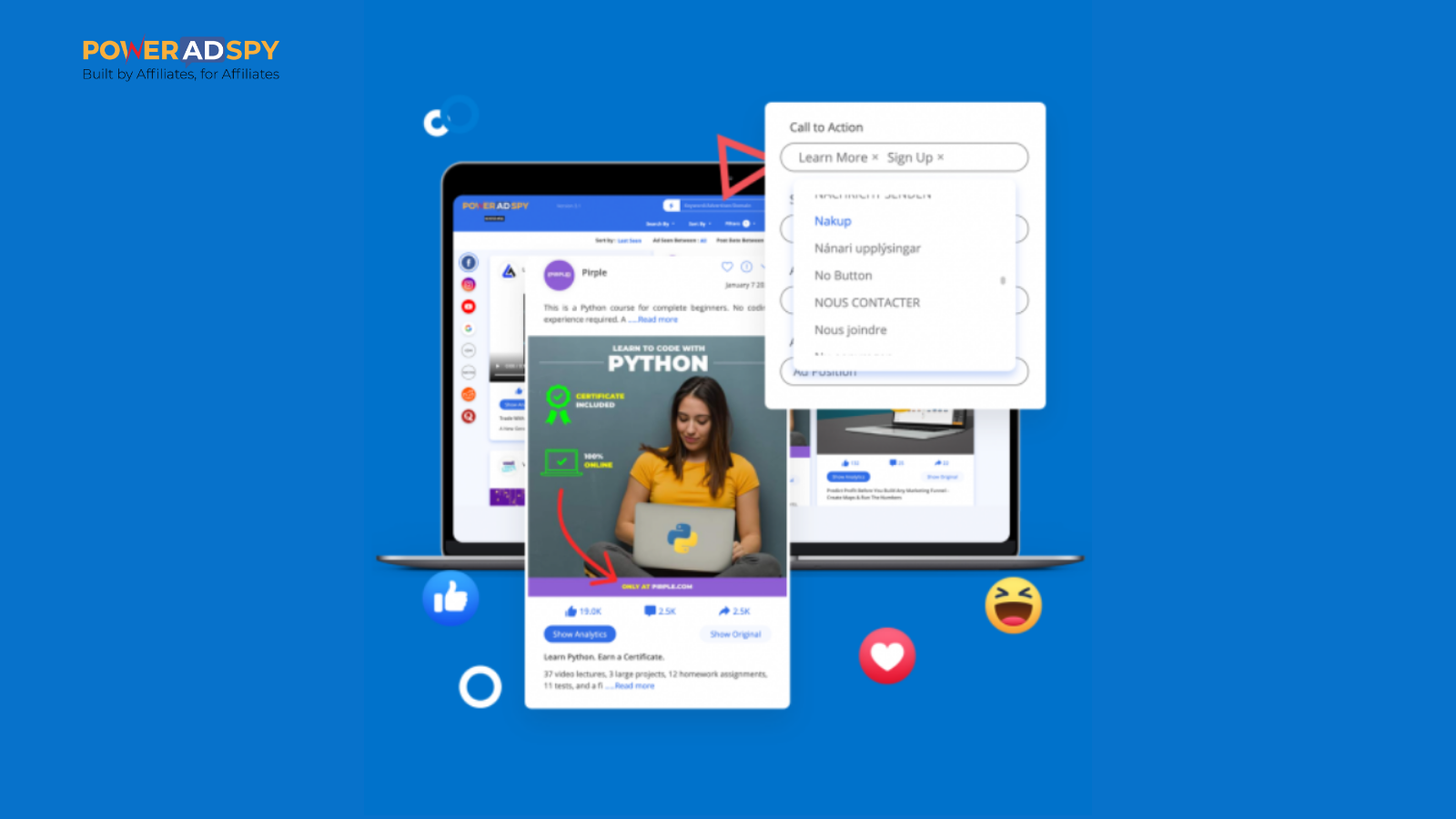 PowerAdSpy allows you to filter ads based on their call to action, displaying the best call to action for your campaign and niche.
Ad Position Filtering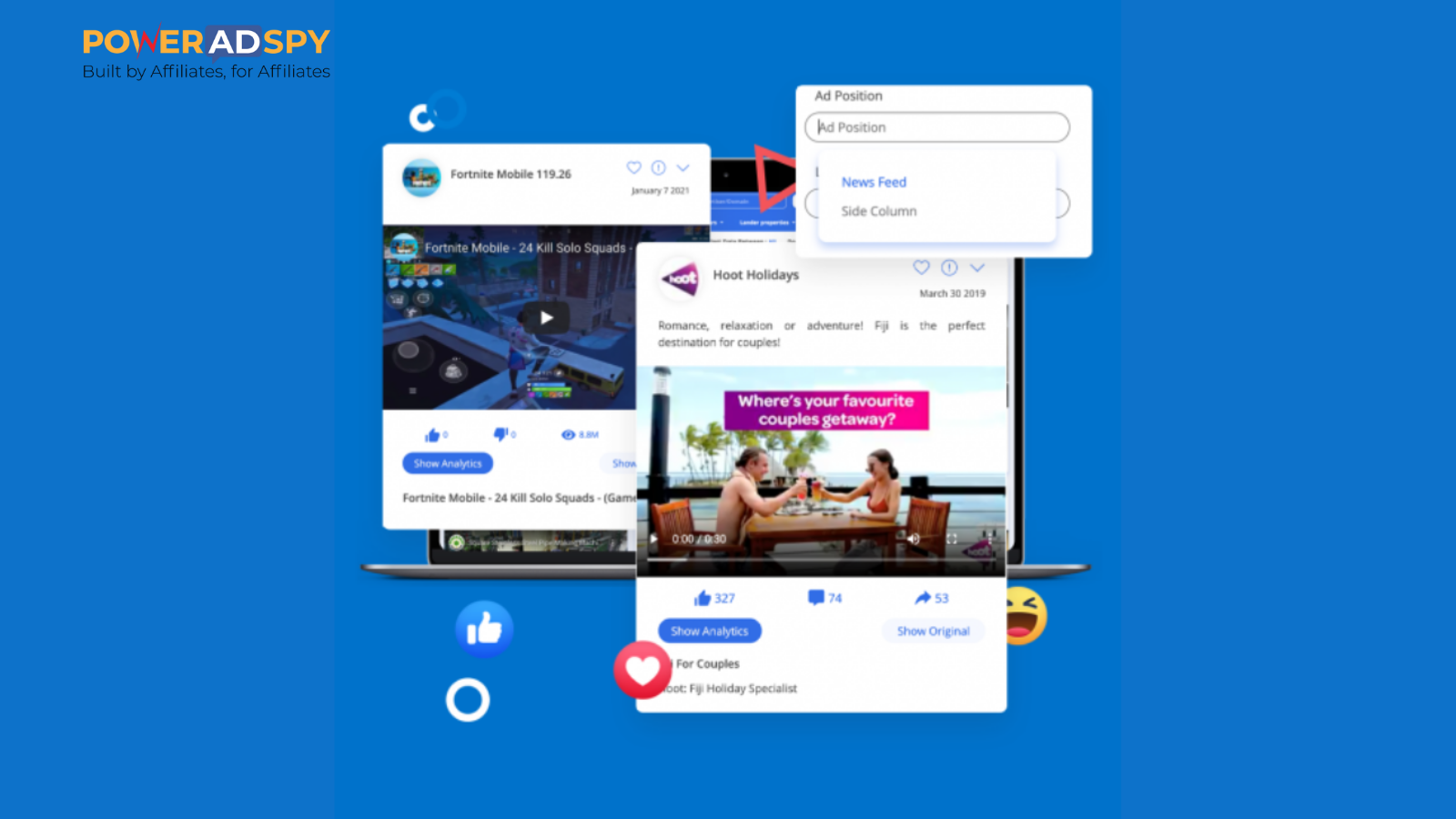 PowerAdSpy compares the performance of advertisements in the news feed versus the sidebar. It also shows what is currently working in both fields.
So these were some of the most helpful features provided by PowerAdSpy. Stop wasting any further time and jump on the PowerAdSpy bandwagon to take your Facebook advertising journey to the next level. 
Conclusion
If your target audience is similar to Facebook, and you want to raise brand awareness and website traffic, generate more leads or sell more products, Facebook ads are a good option. One of the most effective ways to reach your target audience and promote your products and services is via Facebook Ads. But, you must be clever and innovative to win the Facebook advertising competition. 
One of the best ways to learn about a large company's competitive strategy is to use an ad intelligence tool. PowerAdSpy's mission is to assist advertisers in measuring and improving the effectiveness of their campaigns. Are you prepared for the ultimate ad spy on your competitors' ad campaigns? Get PowerAdSpy for your convenience, and you're ready to go.