Top 7 Facebook Ads Spy Tools to Find Competitor's Facebook Ads
With a booming community of more than 2.19 billion monthly active users, Facebook is no more just a social networking platform. Marketers understand how important Facebook is for any marketing campaign, and so, there are around 50 million businesses, trying to get a foothold in the Facebook community.
The competition in every niche has broken previous records, and so brands have started utilising ads. But, figuring out what ads can help you touch the rights chords is the most challenging part of any marketing strategy.
Here is a trick for that, figure out what's working for your competitors and how you can use it in your strategy.
There are a lot of tips and tricks on the internet that can help you in achieving the goals, but one common suggestion of every marketer would be to use the right tools. These tools are specifically designed to help people achieve their marketing goals without making a lot of efforts.
To help you find the right tools, we have created a list of Top 7 Facebook ads spy tools –
1.
When it comes to ad creation, and an in-depth analysis of your competitor's ad, PowerAdSpy is one of the best Facebook Ads Spy Tools present on the internet right now.
The best ads are those that get the maximum engagement and lead generations. With PowerAdSpy you can easily track your targeted keywords, phrases or terms and classify them by engagement rates. Moreover, it also tells you what kind of landing pages would work the best, according to your industry/ niche.
PowerAdSpy is the only tool that will let you search relevant ads, filter the results by age, gender, interest, etc. by monitoring the landing page itself. It also makes it easier for you to target some specific competitors and track all ads, creative angles and landing pages in the same window.
With PowerAdSpy, you can also track your ads and monitor the engagements in real-time, directly through the platform.
2. AdSpy
AdSpy is another Facebook Ads Spy Tools. With AdSpy, you can monitor any ad either on the mobile or desktop in just a few seconds.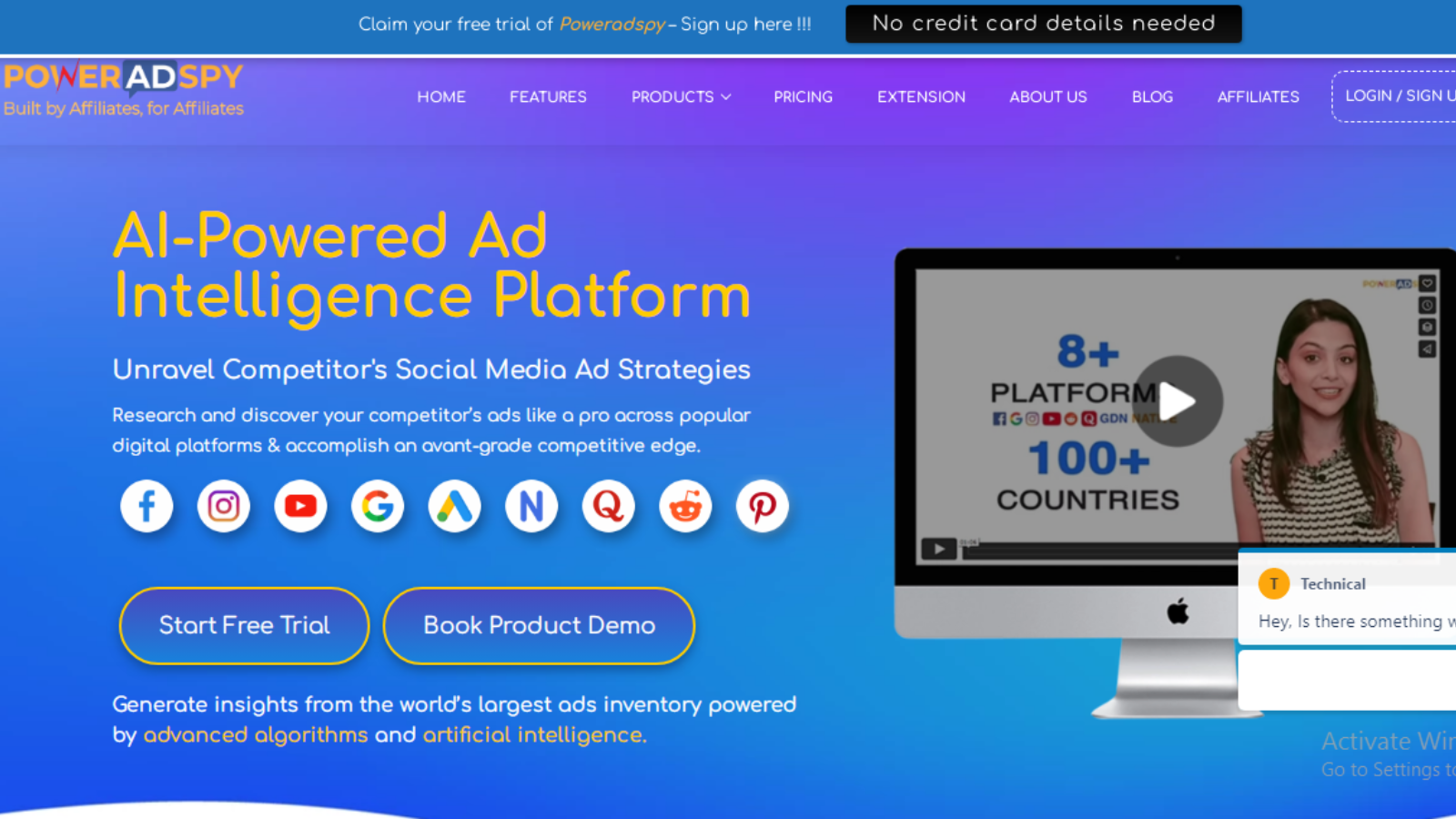 This tool has a rich database of 1 billion ads, covering almost every niche. No matter whether you are a beginner or a pro you can use AdSpy to track the best commercials. You can use keywords, affiliate id, or a landing page, whatever you prefer to find competitors in Facebook ads.
The best part of AdSpy is that you don't need to buy the software, but instead you can use its web version, and from there you can find all the winning ads that you may copy.
3. Social Peta
Social Peta is the ultimate tool for monitoring the winning ads not just on Facebook but also on YouTube, Twitter, Yahoo and many more. Social Peta allows you to gain insight into the marketing data from global mobile advertisements, helping you creating great ads.
Moreover, Social Peta also allows you to capture trending apps, new releases, marketing cases and the best performing ads as well as. With the help of this information, you can easily categorise what works and what not.
Wrapping up, Social Peta is a powerful Facebook Ad Spying tool that can help you in taking your Ad campaigns to the next level.
4. AdEspresso
It is a powerful tool, designed explicitly for Facebook Ad Management. With AdEspresso, you can easily play around your ads, test with different headings, images, text, etc. and look out what works and what not.
The best feature of AdEspresso is that it provides a Facebook Ads Gallery. It is a tool that has a vast database of different Facebook ads. The gallery refreshes at every 30 seconds, and so you get to explore even the new trending ads. Anyone can use AdEspresso without signing up.
All you need to do is use the gallery, search for the keywords, lookout for the best ads and choose what could work for you.
5. Social Ad Scout
It is another powerful tool to find competitors in Facebook ads. Social Ad Scout is the easiest way to explore and monitor thousands of Facebook Ads in one place. It provides access to advertisements from 21 countries around the globe including the USA, Canada, UK, Italy, Austria, etc.
Social Ad Scout provides a variety of filters to choose from, and look out for ads using keywords, URL, demographics, locations, type of devices, etc. You can also explore the angles like who saw the ad, how well did it rank and on what devices was it seen, etc.  It works for both mobile-based ads and desktop-based ads.
To sum up, Social Ad Scout provides all the features that are required to create a winning Facebook ad.
6. Adplexity
Adplexity claims to be the game changer in the world of Facebook ads spy tools. Adplexity provides a pool of thousands of Facebook ads with a feature of downloading the landing pages with just one click and then using the modified version for yourself.
After finding out the keywords, you also need to monitor the winning landing pages. Adplexity is the best tool when it comes to landing page monitoring running on mobile campaigns.
7. Social Ads Tool
The last but not the least, Social Ads Tool is a Facebook ads management and optimisation tool. Some of the best features of Social Ads Tool includes automatic ads optimisation, in-depth reporting, and conversion tracking. Moreover, whenever Facebook releases a new feature or an update, Social Ads Tool updates itself in the very same time that doesn't let its user lose money and time.
Conclusion-
To thrive and gain a foothold on Facebook, strategies and tools both are equally necessary.
Facebook is the biggest networking and marketing platform in the present scenario. 93% of the marketers are already trying to leave their mark on Facebook marketing. In such a challenging quest, you'd need to have a bunch of weapons for yourself.
Don't be a fool use a better tool!