Top 10 Facebook Marketing Strategy For Small Business In 2022
What comes to mind when you hear about Facebook? Is this that Facebook is a giant social media venture, or is a parent company of various other social platforms, or do you like to open this application once in a while to see the compelling news feeds on the application? What is it? What makes you think that your Facebook marketing strategy for your small business will thrive?
I guess you already know the answer! 
I am not going to lie! But we all know that the popularity of Facebook has been down since the boom in Snapchat. One survey of cnet.com shows that Facebook is losing its popularity at a rapid pace. 
In 2017, 67% of the total US population was active on Facebook, but soon, in the year 2018, it declined to 62% and then 61% in 2019.
In 2021, the current global stats show that the average time spent on Facebook has declined by 4 minutes since 2017. In the present scenario, the average time of Facebook is not more than 37 minutes per day, but it was 41 minutes in 2017.
Well! It seems like a few minutes. But, it is a matter of concern! Especially when you are planning to do Facebook marketing in the year 2022. 
But does that mean you should knock yourself back from leveraging Facebook for marketing? Hell noo!
Although Facebook is losing its popularity, it still has more dense roots in our social lives than any other platform. Take Instagram per se. I believe many who are not using Facebook are active on Instagram. But still, Instagram engagement rates are no way near Facebook. 
So, it would be better to refrain from turning your backs on Facebook, as it is still one of the crucial aspects of the complete social media marketing course of action.
Hit the play button to listen
What Is Facebook Marketing Strategy And Why Is It Crucial For Business?
The Facebook marketing strategy is a bid to leverage Facebook ads to influence people regarding products and services to expand the reach.
 Many believe that leveraging Facebook is one of the best marketing practices of all time. The reason behind this is that Facebook is accepted globally. Let us explore the fact – 
Why is Facebook a prominent option for marketing campaigns?
In 2021, more than 300 countries had Facebook in their lands.

Facebook has better exposure due to its various placement options.

Facebook allows integration with other social channels.

Variety of ad formats – reels, stories, videos, feed posts, carousel, and more.

Effective lead generation from strategic paid promotions.
Despite all the declining stats, Facebook is still the number one preference. We all know where to find someone who is not available on any other platform because Facebook has everyone! That is why Facebook marketing is a must.
Introduction To Facebook Ads Marketing Strategy For Small Business
Facebook is a fully grown online social media platform with millions of active users on it. As we move forward, let me tell you that Facebook is a celebrated platform for inbound marketing. Also, with Facebook, a limited budget is not at all an issue. You can utilize Facebook groups and pages to reach your audience. 
Many groups have thousands of audiences and are focused on a particular locality. You can publish your ads on those groups and get numerous impressions. 
The new age Facebook marketing requires a bit of a modification. As we all know, this platform seems like a non-favorite option when it comes to youth. However, people still could not find a way out from Facebook because it is a part of identity. 
Whether we do not remain active on the platform, but as commoners, we all update our main events there. The same goes for companies. Facebook is a place where you can know everything about everyone.
Well! It does not mean that you can only do Facebook advertising for attendance purposes. You can confidently pull off the engagement rates if you precisely level up your game. There are some points that you should consider before planning your marketing campaign on Facebook.
Here you go!
Top 10 Facebook Marketing Strategies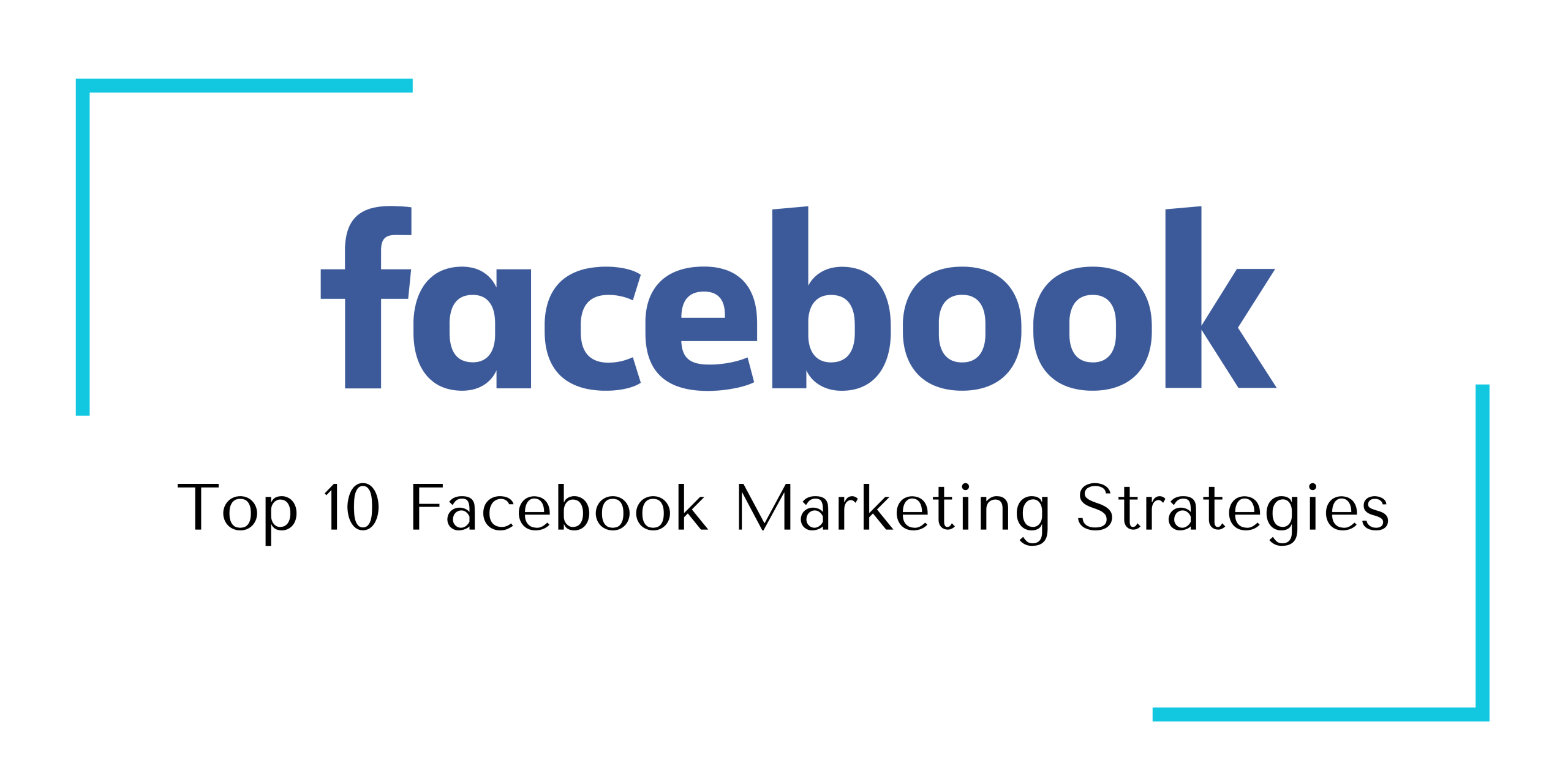 Active User Research
As we know, the engagement stars of any platform are directly proportional to the active users. Therefore, you must get the idea of active users to deal with in your niche when you do Facebook marketing.
Research Your Target Audience
Every marketer knows! It is not the platform that matters-it is the target audience. You know your audience, then you understand the engagement prospects on the ad. Because when you know your audience, it is easier to relate your product to their needs and sentiments. 
For example, if you are doing marketing for nutritional supplements. Then your target audience must fall in the category of; fitness enthusiasts, patients dealing with uneven nutrients in their bodies, and sportspersons. You might want to focus more on the fitness and sports category. As per the season and market mood, you can switch to patients also. 
And if you know your audience well, they do not buy your nutritional supplements because they are healthy. They buy them because they can transform their body, and provide them extra power to do their thing. It means that you are selling them the idea of personality development. Of Course, look wise! 
So! We can conclude that the ultimate goal of Facebook marketing is to pitch your client with the things they want to hear relating to the product.
Know-how of Facebook Algorithm
The Facebook algorithm is the crucial factor that affects the reach of your ads. In 2019, Facebook made a massive change in its algorithm. Giving its users more control over 'what they see' on their news feeds. Which, in turn, made those posts appear on their wall that were not even for the boost.
Facebook calls this kind of engagement matrix- 'meaningful interactions'. 
Facebook uses the interactions of its audience with the posts as leverage to push more from that particular page or niche. Similar to the 'suggested posts' feature on Instagram. 
So, if you are planning for Facebook marketing, then it is high time that you consider upgrading your tactics. 
Users typically interact with images and videos. The Facebook algorithm picks your audience based on the posts they find interesting and valuable, and this means that your audience is a bit smaller as you have thought. 
To beat that, you can create Facebook ads. Those are not just passing the offer but are adding value to them. Use creative ad copy that can intrigue sentiments, or you can share value-generating stats and make the posts savable. That can help you glide with the algorithm.
Best use of Facebook tools for high engagement
Facebook is a giant social media platform with a variety of tools in it such as;
Facebook Marketplace: It is the place where you can pitch your local audience with great ease. 

Messenger: Communication clarity with your client is a necessary step. You can ask your audience to come to the DM to get information in more detail, or you can directly pitch your audience through a nicely crafted message.

Chatbots: Stay connected to your clients 24/7. Develop better customer support with the help of a Facebook chatbot. Be available always! It means that your client will receive a personalized automatic message whenever they begin their conversation. 

Facebook ads library: Facebook marketing requires you to understand the competition and explore all the types of Facebook ads before you make a move. So, the Facebook ads library could be a great place to research your niche ads to create better advertising ideas.

Groups: Leverage groups to generate higher engagement ratios. These groups have members that are interested in the same niche as you. That is why there is a better chance of lead generation here.

Pages: Facebook page is a lot similar to a website. However, this site is on the Facebook platform. And the best part of having a Facebook page is, it is free of cost. Your Facebook page is the homepage of your company. There you can list out all your products and services to give better clarity to your audience.

Comments: Engage your audience in the comment section. Reply to all of the comments posted there. If that is not possible, then at least hit like to all the comments and reply to comment threads to show your participation in the discussion.

And many more! 

Upon leveraging these tools for your Facebook marketing then you can make a difference in your engagement prospects.
Know your correct bid
In advertising and marketing, knowing your bid strategy can help you evaluate your outcomes from a particular piece of an ad. It is crucial to choose the bid strategy that coincides with your KPI (key performance indicator).
Your primary objective is to keep your marketing costs low. Therefore, knowing your budget and finding the appropriate bid is highly crucial. Well! Facebook is the most pocket-friendly platform when it comes to marketing.
Track and measure your reach
Facebook provides its own post insights if you have a business profile. I understand Facebook metrics are a bit overwhelming due to many different types of engagement scales. And that is why small business marketers ignore it. 
Which is a big mistake, my friend!
Facebook insights use terminologies that only read defined actions to give you an overall analytic result. Let us dive into them.
Fan Reach: This is the insight into the number of eyeballs that made an impression on your Facebook post. In simpler terms, this insight gives you a rough idea about the number of fans you have on the platform. Paid promotion impressions are already in fan reach.

Organic Reach: It is the total number of organic impressions on your Facebook ad. This matrix includes the non-fan impressions also.

People talking about this: This matrix shows you the actions which tell you how many people are talking about you. It analyzes the like, comments, and shares activities to give you a discreet figure.

Click-through-rate: This matrix tells you the number of clicks that occurred in your Facebook posts.

Engagement:It is the total number of actions performed in your ad post. The engagement matrix reads the overall number of clicks anywhere on the post, likes, comments, shares, and clicks on the links.
Publish your posts at optimal timings
When you know that Facebook engagement stats are declining, why risk posting your ads at odd timings. Nowadays, posting anything at the best timings is not clever but is crucial if you are serious about your Facebook marketing strategy for small businesses. 
Optimal timings for Facebook posting might differ as per the locations. Researching what works in your locale is a crucial step for Facebook marketing.
Promote your Facebook account on other platforms
Who said marketing only has to be executed on Facebook. There are other platforms on which you can promote your Facebook profile, just like you promote your brand landing pages.
The ultimate goal is generating traffic. Then, a clever way to do that will be to promote your business page to every platform you can afford. For example, social media platforms like Facebook and Youtube are the cheapest platforms where you can reach many eyeballs in a shorter range of time. 
Other platforms would be print media, emails, cold-calling, text messages, and television ads. The pitch directly to the audience on a personal level. Well! Using print media only to ask people to follow your page would be a dumb idea. So, it is best if you stick to the social media channels for Facebook marketing.
Host Contests
Facebook contests are cheaper than you think. And most importantly, they are easy and bring engagement to your profile.
You do not have to be a technical expert to run contests. This Facebook marketing tactic is making it more fun for your audience to follow your profile, plus, you get to know your audience too.
So, it is a winner winner chicken dinner!
Like and comment in your follower's posts
There is much scope if you use hacks to get the attention of your audience.
Liking and commenting on their posts is one powerful hack of Facebook marketing that gives you instant recognition from your recipient. 
However, there are many ways for you to execute this idea. For example, you are promoting your Facebook profile via commenting on the recipient's post. There are two ways that you can approach this technique.
Engage with the user.

Ask them to follow you.
Generally, the first method involves you connecting with them personally. For instance, you can appreciate the content of the recipient in the comment section. The second method requires you to ask them to look at your profile and become your supporter. Which one would you choose?
Obviously! You think that the second one seems more straightforward and can give you the attention you require. 
I beg to differ! 
The second approach of Facebook marketing is more like telling people what to do, and it will not get you anywhere unless you draft a polite comment that will entice them to click on your profile.
However, the first approach can surprise them! Psychologically, a human mind gets offended or takes the message for granted if they are 'told' what to do. Rather! If you give them some time, look at their work, appreciate them, and engage with them, there is a much higher possibility of getting a click afterward.
Bonus Point: Strengthen Facebook Marketing Tactic By Researching Your Competitors Ads Through PowerAdSpy
PowerAdSpy is an ad spy tool with one of the largest ad databases across the world. This ad intelligence tool gives you access to the Facebook Ads of your competitors and the entire marketplace advertising trend. From there, you can conduct targeted research on the following things.
Brand, advertiser, or niche.

Ad type.

Ecommerce platform.

Marketing funnel.

Ad placements

Popular device

Geo-placements.

Landing page.

Advert elements (celebrity, CTA, product, and more).

Engagement stats.
No matter how big a brand is, a small business can still beat large merchandise because of its competitive strategies. For winning against the Facebook marketing competition, small businesses need to be clever and innovative by using various marketing techniques. 
One of the best ways to know the competitive strategy of a large business is to use an ad intelligence tool because it has a massive database containing advertisements from thousands of businesses.
The mission of PowerAdSpy is to help advertisers measure and improve their campaign effectiveness. Facebook Ads is one of the most effective marketing channels to reach your audience and advertise your products and services.
So, are you ready for the ultimate ad spy on your competitors' ad campaigns?
Get yourself the convenience of PowerAdSpy, just with a click!
Read More