How to Uncover Dropshipping Competitor Ads On Facebook And Instagram?
Starting a dropshipping business seems to be an easy way to step into entrepreneurship. However, contrary to what people may think, it became a highly competitive platform. Just having a page on Shopify doesn't give any surety to gain more sales for your business. 
If you want to compete on the same level as your marketing rivals, you need to learn about their marketing strategies. However, you shouldn't forget to pay your attention to dropshipping competitor ads on Facebook and Instagram. As a smart marketer, it's better to have a good grip over all the social media marketing platforms. Nevertheless, most of the marketers make use of Facebook and Instagram for their marketing needs.
If you want to learn how your competitors are promoting their dropshipping business on Facebook and Instagram, then this article might help you to do so. Let's first check how you can find the Facebook ads of your competitors.
Tap on Play Button to Listen-
How to Find Competitor Ads on Facebook?
In June 2018, Facebook introduced the info and ads tab on its platform to enhance the ad's transparency of viewers. However, recently, Facebook has removed that option. Still, you don't have to worry as you can find all the other business ads from Facebook ads library.

To use the Facebook ads library, you need to look out for the pages having ads of your competitors. And to search out for relevant business pages, you can make use of the Facebook ad analytics tool. Or you can also make use of Facebook insights.
In case you want to target specifically for business pages having dropshipping ads. Then you can make use of the ad intelligence tool that I prefer – Poweradspy.
With PowerAdSpy, you can search for the top-performing dropshipping ads, working in the same niche as yours. Using keywords and filter options, you can list out the top-performing competitor ads on Facebook. To analyze an ad, you just need to click on the button "Show analytics" on that ad. It will show you the data about the number of views for that ad. If you want to look out further, you need to click on the button "Show Original," and it will redirect you to its Facebook business page.
For more information you can also check this video:
Now, you can also check the Facebook ads library of that business page. That way, you can look for other ads that are getting more engagement on Facebook.
Check-out Competitor Ads On Facebook Ads Library:
Many of the marketers may have noticed that info and ads section on the Facebook business pages is gone. But the ad transparency is still working fine. You might be thinking – how?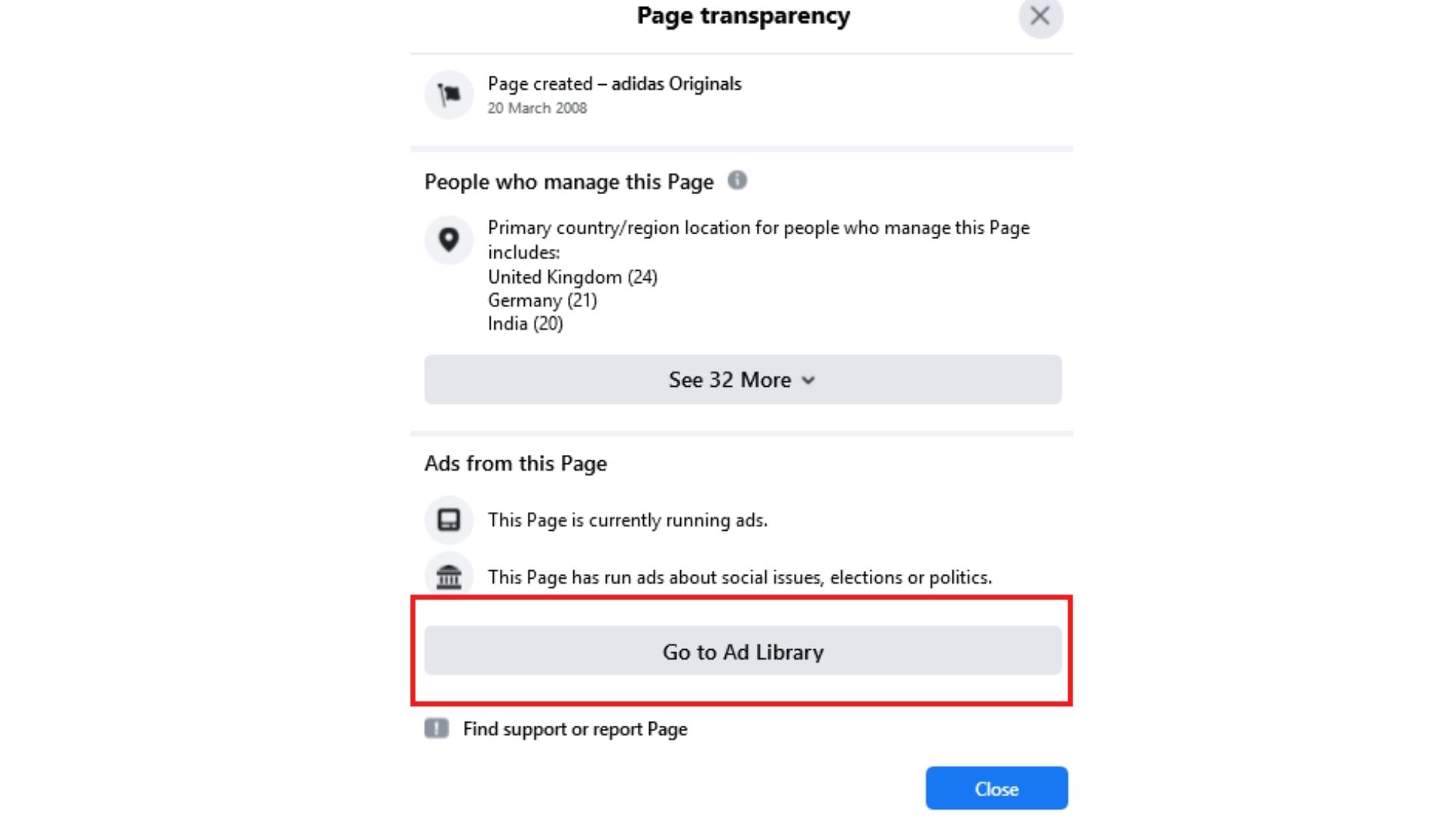 Go to the Facebook page of any competitors of yours. There you will find the page transparency box on the right side of the page. On the right corner of that box, you have the option "See More". Click on that.
Page Transparency window will appear on the screen. Tap on the button "Go to Ad Library" at the lower-right corner of the window. There you will find all the live ads of any particular competitor.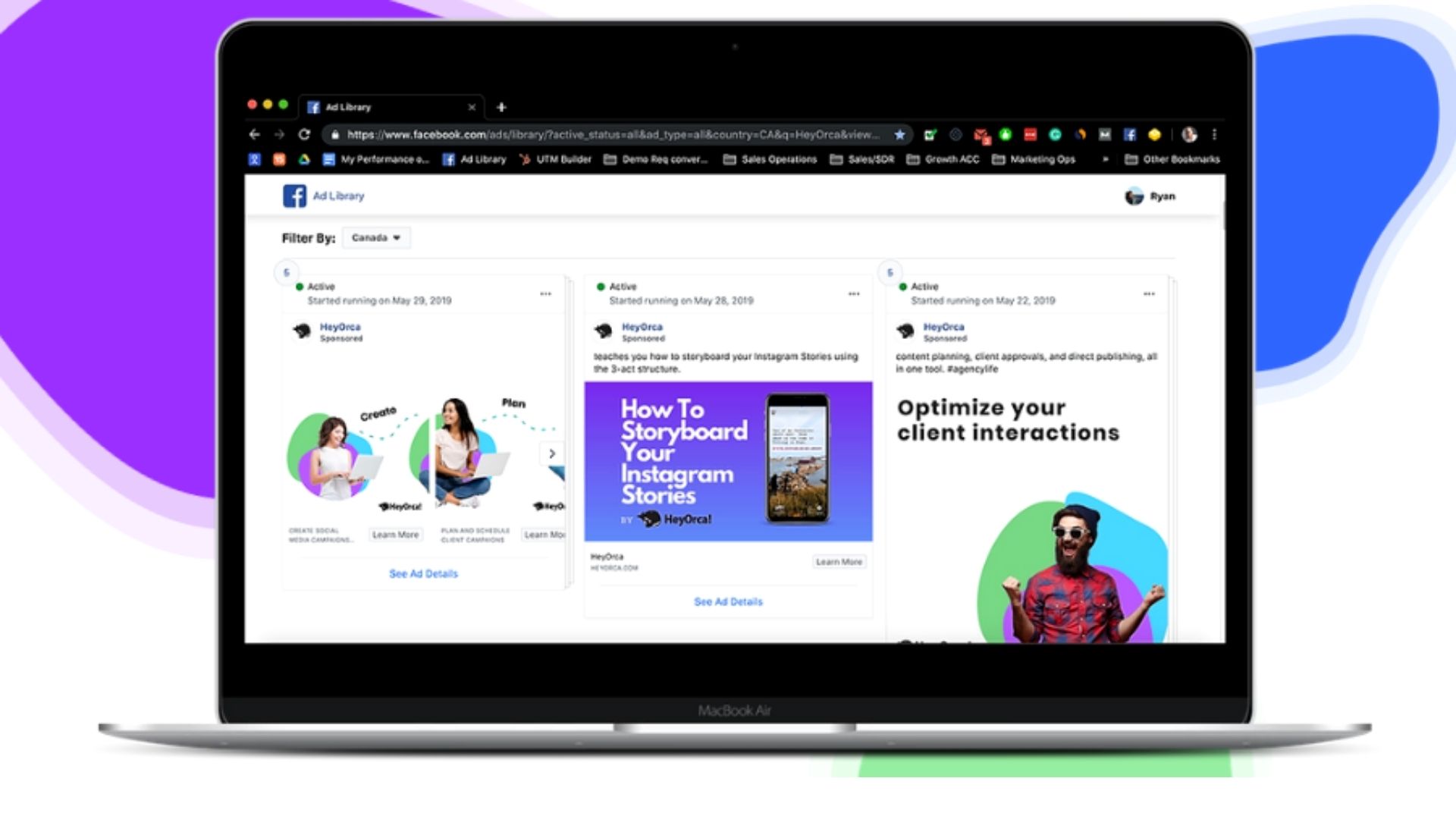 Following similar steps, you can check any one's Facebook business page, to find out about their ads activities.
(Just informing you that images shown here are not representing my competitors. It's just for providing information to you guys.)
There is another way, as you can go directly to the Facebook ads library. It will show you the search option where you can write the name of the business page of the organisation which you want to check.
Note: If the business page which you are checking is political in nature, then you can also be able to check their money expenditure on advertising.
Find-out "Why Am I Seeing This Ad?"
There is another way using which you can find about Facebook ads of your competitors. For that, you need to follow your competitor's business page, and it will show you all their ads on your feed only. If you want to check more, you can click the three-dot button of that sponsored post. There you will find an option "Why am I seeing this ad?". Tap on that.
A window "About This Facebook Ad" will pop up on the screen. There you will find the reasons why Facebook is showing you that ad in your feed. From there, you can learn about the insights based on which Facebook has been showing ads on your feed.
How To Find Your Competitor Ads On Instagram?
Since October 2010 till now, Instagram evolved itself as one of the best social media marketing platforms. Instagram has a much better engagement rate than any other social media platform. That is the reason why many of the marketers inclined more towards Instagram marketing.
According to stats, Instagram has more than 2 million monthly advertisers having more than 25 million profiles. To survive in such a competition, you need to learn about your competitors. That way, you could be able to enhance your ad creation to gain more engagement on your Instagram ads.
Go to the explore page and find the name of the competitor whom you want to target.
Once you find it, open their profile page. There you will find three vertical dots- "⋮" button. Click on that.

A menu will pop up on the screen where you have the third option "About This Account".
Select that option, and it will show you the account info.

There you need to click on the option "Active Ads".
It will show you two types of ads- Feed ads and Stories ads.
Choose either one of them to view the live ads of your competitor on Instagram.
From there, you can find out some of the best performing Instagram ads of your competitor. That would help you to improve your own ad creating on Insta.
Also Read:
Is Organic Reach On Facebook Really Dead?
7 Ways To Engage Your Audience: Social Media Marketing Through Emotional Triggers
The Latest Facebook Updates You Need To Know About
What Can You Learn From Your Dropshipping Competitors Ads?
Dropshipping seems to be more profitable than the usual business. However, there are some obstacles and day to day management barriers which makes it far from easy to make a profit.
Usually, people think that it's quite easy to be a middle man in the deal and also earn a profit at the same time. But most of the customers would like to cut the dropshipping charges and to purchase directly from the real dealer. In such a case, advertising on global platforms such as Facebook and Instagram can be very beneficial for your business.
By running effective campaigns on Facebook and Instagram, you can generate more sales prospects for your business. However, for that, you need to be more creative, trendy and stylish with your ad strategy. You can invest in one of the best ad analytic tools called PowerAdSpy to learn about your competitor's best-performing ads on Facebook and Instagram.
The best thing about PowerAdsSpy is that it can help you to find the most engaging Shopify ads. There you can find out about the most successful dropshipping business owners' ads. It will provide full details of their ad analytics using which you can enhance your own ad campaign.
The powerful search algorithm of this tool can help you to search for ads with exact or relevant keywords as yours. That way, it would be easier for you to explore ads competing against your affiliate/dropshipping business.
Usually, most of the ad analytics tools focus its ability on Image ads only. However, with this tool, you can not only target image ads while you can also target video ads.
While researching through many ads, you can use this tool to filter out the ads based on the country, ad relevance, age factor, gender, placement, etc. Using that analysis, you can target your ad campaign on Facebook, Instagram, YouTube and Google ads.
This tool also gives you an option to bookmark the ads which you would like to see in the future. There you can flag the ads and review them later whenever needed.
Final Words:
In the end, there is no doubt that spying on Facebook and Instagram ads can help you with your dropshipping business. Focusing on the insights and analysis can be really helpful for improving your social media campaigning. However, it won't be any easier for you to build a dropshipping store from scratch. Still, there are some tools available in the market on which you can rely to get a clear vision of your competitor ads on Facebook and Instagram.
It's good to learn from others while you shouldn't be obsessed with their methods. Serving the best to customers should be your aim.
Want to ask something? Please share your doubts in the comments.