How Can Facebook Ad Search Be Helpful For Fashion Business?
Cadbury – "Kuch Toh Meetha Hojaye", founded by the Cadbury brothers & was started in 1847. They later moved the blooming business into a new, larger factory in Bridge Street in the centre of Birmingham. Cadbury was inspired to create this brand, and at the same time, Cadbury been inventing, inspiring, and investing in a nation of chocolate lovers for nearly 200 years to 2021.
Cadbury ad conveys its concepts filled with emotions, feelings, and culture. In addition to high-quality product results, Cadbury is also the most common among consumers. The emotional importance of Cadbury lies in its most important location. Cadbury has also been emphasising the feelings of the company by advertisement tales.
Cadbury advertising primarily concentrates on brand tales, in addition to intuitive product sales. People feel optimistic every time they watch Cadbury adverts as it does not offer a commodity, but an emotion. Customer's mind easily connects these emotions subconsciously with the brand name. Moreover, the sales of this chocolate brand mainly rely on these emotions.
The epidemic is raging in a special time when travelling became limited in 2020, and citizens of each nation were bound to stay home. For several months, the city was locked and faced a second lockdown. Cadbury ad turned out to let us redefine emotions at such times with family and cultures.
The "Cadbury Thank You" video ads released by Cadbury in June exceeded 157000 views on YouTube in a very short span of time. A snippet of the Cadbury ad is given below.
Cadbury advertisements endow family love and value the emotions, symbolizes the affection of how to express your, 'thanks' to someone?
How do you express your gratitude to someone? Do you simply say thank you and hug the person or simply send an emoji over Whatsapp? Some people offer Cadbury, to express their thanks. As it's really a very good way to say thank you by getting it written on the chocolate bar, which makes it even more nice and better than other ways to get the message.
According to Cadbury ad research, it is loved and appreciated by all the people all across the world. What is important to remember is the ownership of this room by Cadbury Dairy Milk. The 'Silk' version owns the romantic room,' Celebrations' rules when it's festival time, and when it comes to saying' Thank you', the original classic Dairy Milk does your job flawlessly.
These are some of the variations in the Cadbury advertisements. Do you also markup your presence against your competitors and wanna stand ahead similar to that of Cadbury? Then, let's dive deep and have a look at the trending cadbury ads, which you can recreate for your brands.
Quick Overview of Cadbury ads –
PowerAdSpy is one of the most popular and trending ad intelligence software, with a fastest-growing database including millions of ads from over 100+ Countries so far.
If you are searching for high-quality creatives or track your competitor ads, then PowerAdSpy is here to help!
Today, of course, I found some of the best Cadbury advertisements in recent years.
Use the link below to download some of the best ads of all times and know what makes this chocolate brand stand as #1.
https://app.poweradspy.com/landing?advertiser=Cadbury%20Dairy%20Milk
1. Introducing Festive Advertising Campaigns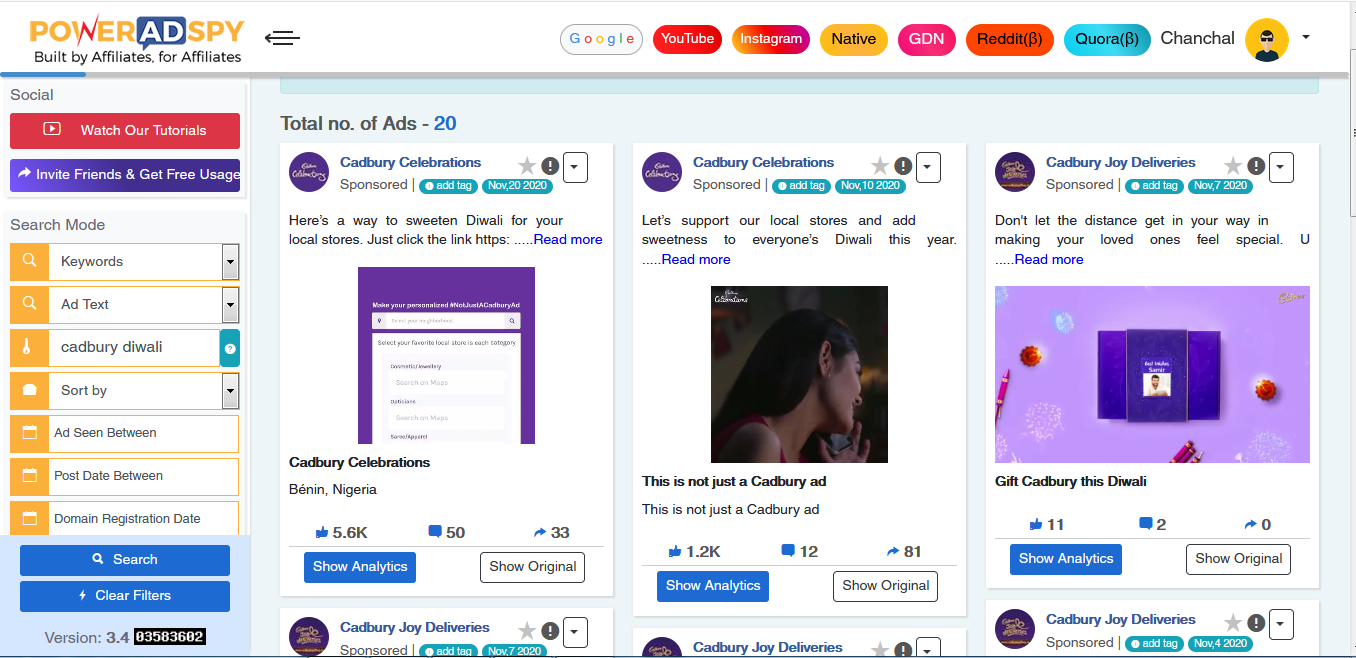 Cadbury's festive advertising continues to innovate.
The main concept of the launched festive ads is based on festive culture and family emotions. The entire ads only last for 30 sec, and the background includes the theme based on the festivals.
This Raksha Bandhan ad depicts the relation between brothers and sisters. The main characterization on the screen is between an elder sister and her younger brother. Brother saves his pocket money to buy Cadbury Celebrations for her sister on Raksha Bandhan, which showcase the pure and unconditional brother-sister love.
2. Not Just A Cadbury Ad
Cadbury's "Not just a Cadbury ad" released on Nov 4, 2020. The cover includes a mother and daughter. This COVID-19 pandemic has brought tons of economic crisis, etc. Therefore, everyone needed a little help to get back to their feet, especially the small-scale local businesses. To help them a bit Cadbury launched a new ad campaign highlighting the local stores.
The Cadbury was successful enough in supporting #vocalforlocal that inspired many people across the world to support small-scale businesses. The campaign also won a positive response from people which overall helped the company in increasing overall sales and brand value.
Let's check the advertising strategies of Cadbury –
Power Up Campaigns Across Social Platforms –
Traditional advertising media is no longer the main advertising medium for brands with the emergence of social forms, and social media outlets need to be given more attention. As it's a historic brand of goods that people enjoy, Cadbury seems to be ready for social marketing. In recent years, it has steadily expanded its investment in digital media advertising.
Cadbury obviously sees value in keeping an active social presence and engaging with customers across social media platforms. It has already achieved a lot of success in cultivating its fans as brand advocates.
Values To Customs Traditions & Cultures –
Apart from its advertising, Cadbury primarily focuses on experiential marketing to change to its invention efforts. It opened its "Glass and a Half pop-up shop" in London's Soho earlier this year, where customers could trade in their own knick-knacks in return for Dairy Milk bars.
The shop mimics the style of the store depicted in the commercial and also sells Cadbury-themed newspapers and postcards to tourists.
While the pop-up is a nice bit of advertisement in its own way, there is also a philanthropic aspect that enhances the market appeal. By delivering all discarded things to charity, Cadbury stands by its contribution to generosity. And it is planned to promote a cycle of donation, with visitors free to donate objects as small (or large) as they want.
These are some of the best strategies Cadbury focuses on to uplift their marketing campaigns. To help you the best, PowerAdSpy helps you in exploring all the Cadbury ad creatives in one easy go!
Let's have a quick look at how PowerAdSpy helps its users in searching for their favourite ads in just a single click.
PowerAdspy is one of the leading ad intelligence platforms, with a massive data centre consisting of millions of examples. It is the next-gen platform that takes the guesswork out of the competitive ads and gives marketers, tactics, insights into the rival campaigns.
Let's check, how to use PowerAdSpy and check trending ads using it?
Let's start —
Sign up or login or https://app.poweradspy.com/amember/member, use your email ID and secure password.
It will take you to the Main Dashboard of PowerAdspy.
From here, you can add the necessary keywords applying the search mode and filter mode options.
Click on the visible ad and check for a copy of it.
Click on the Show Analytics option that will take you to the page for ad analytics.
Check the details and click on the available URL and compare it with yours to get the full insight into your competitor's ads.
Know More About PowerAdSpy Features Click on the post –
https://poweradspy.com/features/
Want to Stand Out With Creatives Similar To Cadbury Ads?
Remember the stuff listed above, and carry out the Cadbury Ad research and come out with flying colours.
Read More
How To Make The Most Of Your Ad Search – 7 Proven Strategies To Get Results