Social Media Analytics- Whats, Whys & Hows?
Who would not like to tap into over 3.8 billion social media users across the globe?
Yes, that's a big enough reason for businesses to be active on social media. 
And that is why they are utilizing social media platforms to market, sell, furnish support to their target audience, and earn profits, in turn via engagements and flourishing conversions.
But what is the point in accomplishing something if not examining the effect of your efforts? 
It implies posting on social media channels without scrutinizing the outcomes among the target base. 
Whether your posts improve engagements, garner likes, or if someone shares them with friends or signup to purchase or subscribe to the blog section for an instant discount? How to track all these metrics and gaze through customer behavior on social media venues?
The key is to investigate each platform and its content consumption through social media analytics and reporting tools.
This will allow an effective social media marketing strategy in tune with the niche customers that will positively influence your business growth.
And now the inquiry surfaces,  what is social media analytics?
Let us understand here-
Social Media Analytics– Definition, Benefits & Key Metrics to Track
Social media analytics is the process of collecting & diagnosing the data from social network platforms like Facebook, LinkedIn, Instagram, Twitter, and YouTube.
These insights are gathered to track the online conversations about products and services for improving the strategic business decisions of organizations.
These days, social media analysis reports are a must use (regarding the fierce competition on social media platforms) to make informed decisions before undertaking something new or to make improvements to existing marketing approaches.
Social media analysis compose of 3 vital steps mainly-
Data Identification

Data Analysis

Information Interpretation
In other words, we can say that it is the procedure of containing unstructured data to derive valuable customer & behavioral data insights that help crucial decision-making and social media campaigns techniques for a business.
Why it is Crucial to Track Social Media Analytics Report
Social media analytics is more comprehensive than tracking the likes, followings, retweets, clicks, previews, and impressions on social channels. 
It is more than reporting services given by  LinkedIn or Google Analytics to support a particular marketing campaign.
This analytics utilizes specially designed software platforms similar to web search tools to retrieve keywords data or topics through search queries across various channels.
After that, fragments of text are yielded, loaded into a database, organized, and then analyzed to derive significant insights.
Social media aids industries by finding relevant directions in customer behavior to influence their marketing efforts for better developments than before.
Check some key reasons to track analytics for social media efforts-
To track the overall efficiency of marketing initiatives.

For improving strategic decision-making.

To gain competitor analytics

Audience Analytics

Sentiment Analysis

Paid Social Analytics
Social media analytics includes the concept of social listening (monitoring social channels for problems and opportunities through tools). 
Social media reporting and analytics tools typically incorporate listening into more comprehensive reporting that involves listening and performance analysis.
Just as the qualities of an excellent product circulate rapidly through word of mouth, bad customer experience spreads faster than poor customer service through social media channels.
Today, consumers are well-informed, active on social media, and look for value for money by holding organizations answerable for their brand promises. 
Also, they convey their incidents to family, friends, co-workers, and the common public through social media platforms.
A well-executed social media strategies audit via reporting tools lets the companies address such issues before they turn into a bad name for the organization and utilize the analytics for-
Spotting the latest trends associated with products and their offerings.

Comprehending the online conversations

Recognize high-value features for a product or service.

Uncovering competitor analysis.

Deriving customer sentiment towards services

Gauge reaction for every social media communication.

Map how third-party partners and channels may influence execution.
 Companies utilize these key insights into the core decision-making to develop their strategies for future use. 
These insights help make tactical adjustments in time and drive strategic decisions because they affect a gamut of business activities like-
Analyzing Facebook, Twitter, and Instagram posts can provide a more exact picture of customer pain points, shifting needs, and their requirements. 
Tracking the trends can help brands reshape the existing product lines and gather inputs for new product development.
Today, organizations are becoming experience-led businesses from product-led businesses.  Behavioral analysis(social media analytics) is a must-use technology across social media channels to capitalize on micro-moments for increased loyalty and lifetime value.
Natural language processing & sentiment analysis can observe positive or negative anticipations to preserve the branding of a product.
Also, they help refine positioning and design new brand attributes.
Competitive Analysis(social media analytics)

– 
Understanding what your competitors are up to and what customers are thinking is always crucial to growth. 
For example, a spike in positive mentions for a product can alert organizations to market disruptors.
Deeper social media analysis can support organizations to enhance how they gauge the market. Retailers can use these insights to drive inventory and suppliers, reduce costs and optimize resources.
6 Key Metrics to be Tracked with Social Media Analytics
1. Performance metrics
Performance measurement is paramount to understanding the consequence of social media marketing strategic efforts. By using social media analytics software, you can analyze improvement areas and the scope for growth.
Key performance metrics to track:
Interactions across platforms to determine content engagement.

Number of followers to check the progress across platforms.

Click-through rate for link clicks on posts to see traffic from various social media channels.
 2. Paid Social Analytics
Ad spending is serious business. 
If targeting and content aren't correct, it can end up as an expensive proposition.
Target your ads through PowerAdSpy's Geo-targeted precise information about your competitors to identify the interested audience.
More advanced social media analytics platforms like PowerAdSpy can help you determine your target audience and better content for your products and services.
PowerAdSpy is a smart, powerful social ads advertising analytics tool that can improve your content creation experience for social ads and advertising campaigns by finding hidden niches & lucrative opportunities.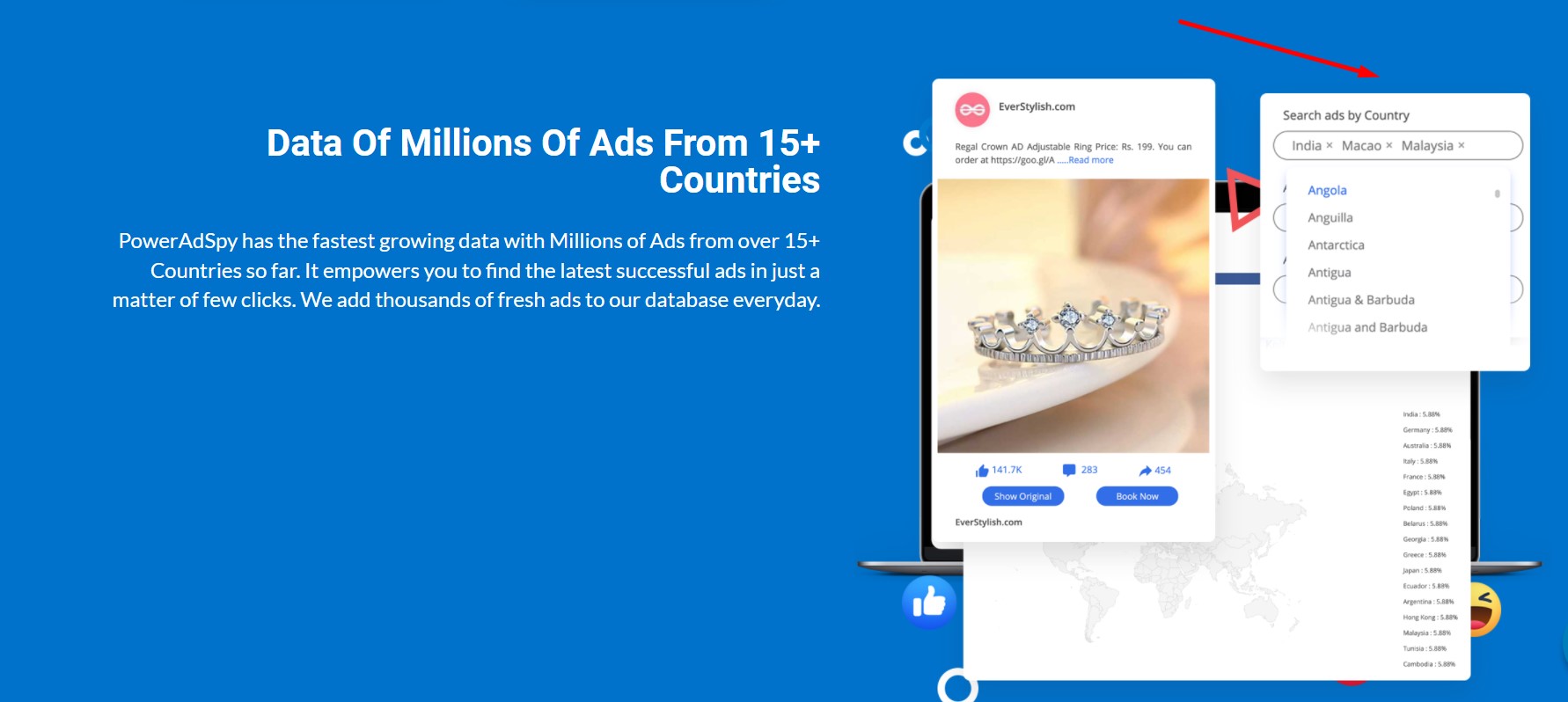 In addition to using in-built reporting analytics on social media platforms, track performance across all social media accounts with PowerAdSpy for best results. 
It is the world's largest database of Fb, Google, Instagram, Youtube, GDN, NATIVE, Reddit, Quora ads with 50 million ads listed, over 100+ countries, 50k ads added daily.
PowerAdSpy will allow you to filter ads based on their call to action to show you the right call to action for your campaign and niche.
Important metrics to track:
Total number of active ads

Total ad spend

Total clicks

Click-through rate

Cost per click

Cost per engagement

Cost per action

Cost per purchase
3. Audience Analytics
It's vital to specify the target audience for assembling a favorable customer experience with targeted content and other marketing efforts. (to know what consumers are peeking for).
When your content is better targeted, automatically the cost of advertising will decrease, and the cost-per-click of ads can be optimized.
Previously, customer data was demanding to measure because of the limited reporting abilities. 
But analytics tools like PowerAdSpy made it possible to research audience data like demographics, interests, and behaviors across platforms before developing marketing strategies.
PowerAdSpy gives complete visibility into ad analytics and lets you visit real-time engagements along with audience opinion over the ads.(social media analytics)(refer images below)
PowerAdSpy allows you to search ads based on gender, age, marital status & location, including most likes, comments, or shares, to see the most engagement.
These AI-enabled smart tools help foresee customer behavior accurately.
4. Competitor Analytics
To obtain complete visibility into every metric, look through the powerful search algorithm of PowerAdSpy. 
With social media analytics tools like PowerAdSpy, the social media performance of competitors' can be gauged through a competitive lens with a head-to-head breakdown about the relative effectiveness and improvement measures.
Also, you can search your competitor's successful Shopify ads with full engagement details that you can use to craft a winning ad campaign.
No more guesswork of FB, INSTA, GOOGLE, YOUTUBE, NATIVE, GDN, Reddit, Quora ads, search for keywords, niches, competitors, and even domains to see what ads are running & more importantly, winning.
Also Read-
5. Influencer Analytics
To make the most of influencer collaborations, make sure you measure key metrics to achieve the desired influencer marketing goals.
Social media analytics can provide the right insights to guarantee that your influencer marketing campaigns are successful. 
Some influencer metrics to be tracked:
Total interactions per 1,000 followers to understand engagements

Audience size and often used hashtags to specify the reach of your campaign;

The number of posts influencers form to decide activity level.

Past collaborations to measure the potential for success with an influencer collaboration.
6. Sentiment Analysis
For customer service-oriented businesses, sentiment analysis can reveal potential hassles.
Sentiment analysis indicates the popularity of a campaign among the target audience. (type of content they resonate with on social media platforms).
Ensure that a campaign maintains its growth rate by tracking the interactions and engagement rate during campaigning.
Gathering customer sentiment to analyze strategic moves can help avoid guesswork, thus, saving precious time.
Efficient social media analytics can detect a spike in hostile sentiment for instant rectification before it turns into a PR nightmare for the organization.
Read More-
Conclusion
Social media analytics can improve a marketing team's understanding of social media strategies by using real-time data and emerging trends.
Learning how to track social media analytics is extremely valuable in today's digital landscape.
Social media management tools with baseline reporting functionalities don't provide the in-depth metrics that analytics tools like PowerAdSpy can supply.
Use PowerAdSpy to search all the Fb, Google, Instagram, YouTube, GDN, NATIVE, Reddit, Quora ads running to a click funnels, lead pages, or opt-in offers in seconds – be shown the engaged demographics and landing page, replicate and bank.
Start creating winning ads instantly by finding, replicating what currently works to make money with Facebook, Google, Instagram, YouTube, GDN, NATIVE.
Claim Your Free Trial Now-