Follow These Steps To Find Best Ads In Your Niche | PowerAdSpy
If you are a digital marketer, you will agree with me when I say that you spend a lot of money on ads every week. Sure, this step is inevitable, but you cannot afford to make mistakes with so much money on the line. 
While trial and error seem to be one inexpensive way every marketer follows to find best ads in their niche, it definitely isn't worth all the time and investment. You can't spend your entire day looking for what sells in the market and what doesn't. 
With a team to manage, a business to run, and various other responsibilities to handle, it becomes almost impossible to keep a tab on the recent trends and memorizing what's happening. 
But here's a thing- you cannot stand out in front of your audience if you can't keep up with their current expectations. What to do, then? Well, the trick isn't to stretch your working hours- but to use tools that do this job for you. The catch here? Let's get right into it. 
Choose Smart Work Over Hard Work 
Use Ad Intelligence Tools 
You can, of course, find best ads on any platform manually. But, as already discussed, they consume a lot of time, energy, and failed attempts. Recreating what already works among your audience is WAY SMARTER than creating things from scratch. 
If we take the best-performing ads in your niche and dilute them down to the core elements, they all must be: 
1. Engaging for the viewers, with higher likes, comments, and shares;
2. Have a commendable appearance and content composition;
3. Use a compelling CTA text;
4. Have a convincing landing page;
5. Micro-target their customers in most of the campaigns;
6. Have something to offer, ex.- a coupon code, content, etc.;
7. Perform well in the long run;
And so on.. 
Not every campaign follows a specified pattern, but the points that I mentioned here are a prerequisite to the ones that outperform their competitors. Now let's get into how you can filter them down using tools for creative inspiration in your next campaigns. 
How To Find Best Ads? 
Find what works for other brands before creating a strategy for your own. We, at PowerAdSpy, are assisting our audience in doing so with our powerful filters and super-intuitive dashboard. We collect and display ads from over 20 million sources on eight platforms- Facebook, Google, GDN, Native, YouTube, Instagram, Reddit, and Quora. 
Let's not beat around the bush. Here's how you can find best ads using PowerAdSpy. 
Getting Started With Dashboard 
Log into the PowerAdSpy dashboard to get access to all the features. You can download the Chrome extension and get started with a free trial. 
The home page, by default, displays the Facebook ads. Select the platform you want from the left side of your screen to start filtering ads on it. 
You'll then get a goldmine of all the ads running on your chosen platform. 
Filtering the Best-Performing Ads 
Here comes the cherry on the cake. PowerAdSpy lets you filter and narrow down your searches to specify the type of ads you want in your search results. Let's look into some of the filters that find best ads on the platform: 
1. Search By Keyword 
A keyword is a set of words/ phrases that advertisers use in their content to target the audience who might be interested in it. For instance, the ads with the keyword espresso would preferably target coffee lovers. 
Type a keyword that orients around your product to look for the best-performing ads at the very top. Also, if you're unable to find enough ample keywords to start with your ad copies, pull down a list of what your competitors use. 
2. Sort By Social Shares 
The more the number of social shares, the better the content performs. But if you are trying to look for local brands, you may want to keep the bar low. You can specify the number of likes, shares, and comments that you want in your ad results by going to the Sort By option on the top. Enter the range, and you will get the ad results accordingly. 
3. Find the Best CTA 
A compelling call-to-action (CTA) button gets more conversions than you can expect. Go to Filters> Call To Action. You will get a list of CTAs in different languages. Select the one that works for you. All the ads that use the CTA will appear on your screen- the best-performing ones being on the top. 
4. Audience Targeting 
Look for the ads published for your target audience. Geotarget your audience by specifying their country from filters. 
You can also target ad viewers by their language and gender from the same icon. And set a range for their age.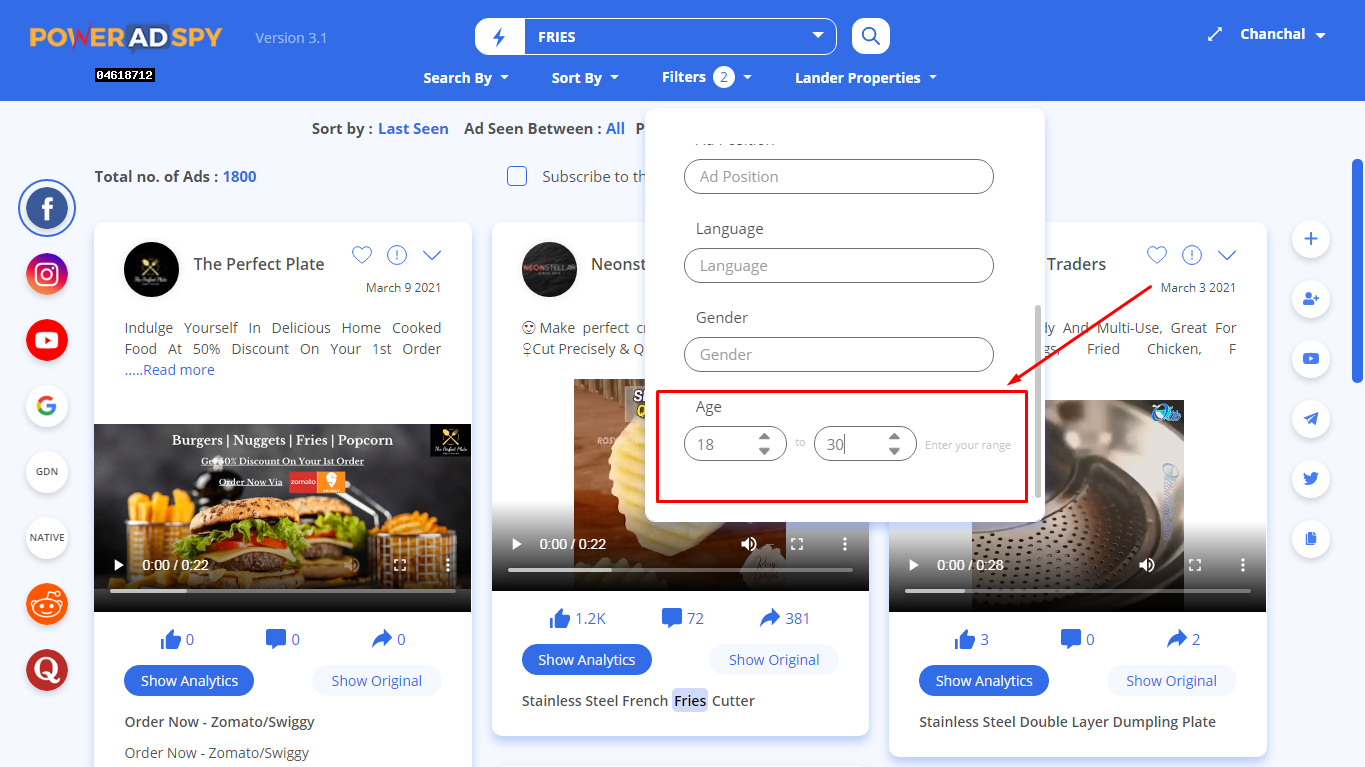 5. Specify Media Type & Position 
Some campaigns work better in the video format compared to ad banners. Go to Filters> Ad Type to choose the media format of your competitors' ads.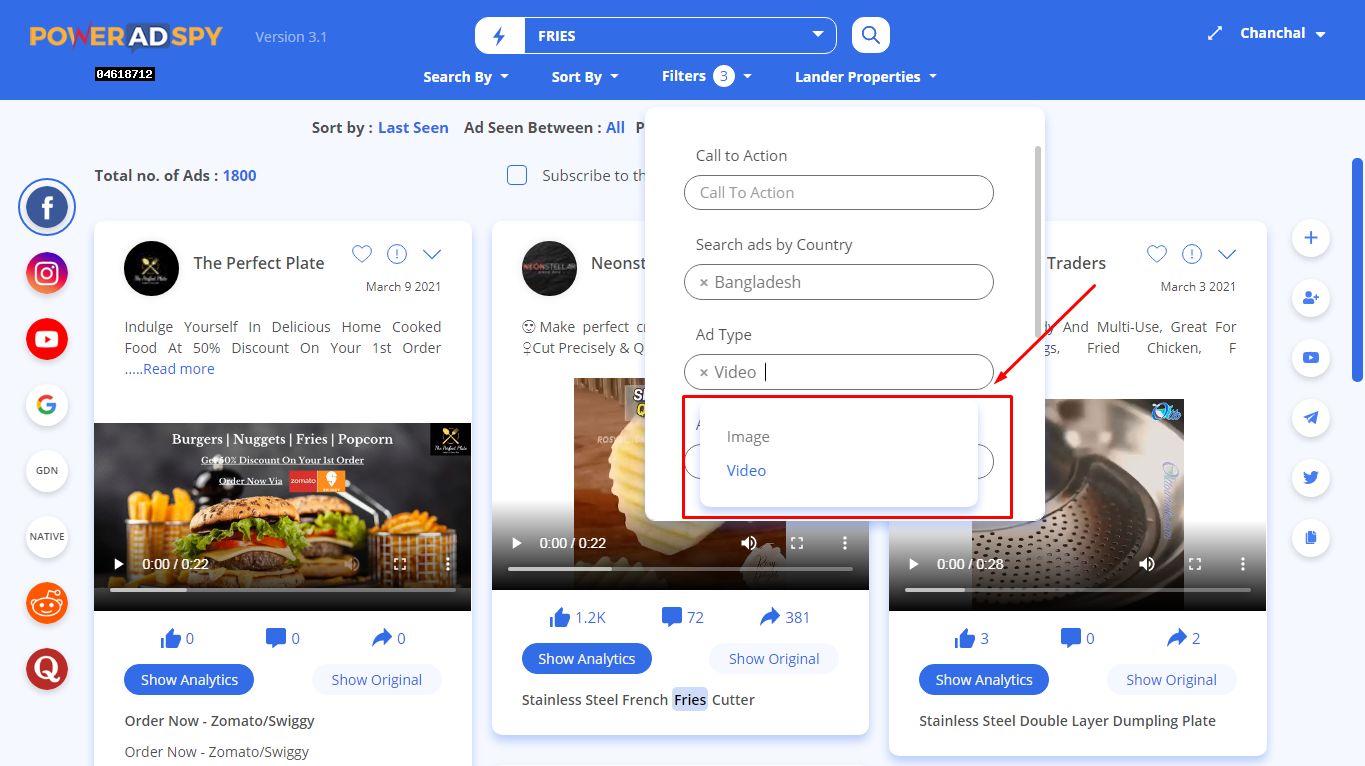 To specify the ad position, go to Filters> Ad Position, then click on the ad position for which you want the results.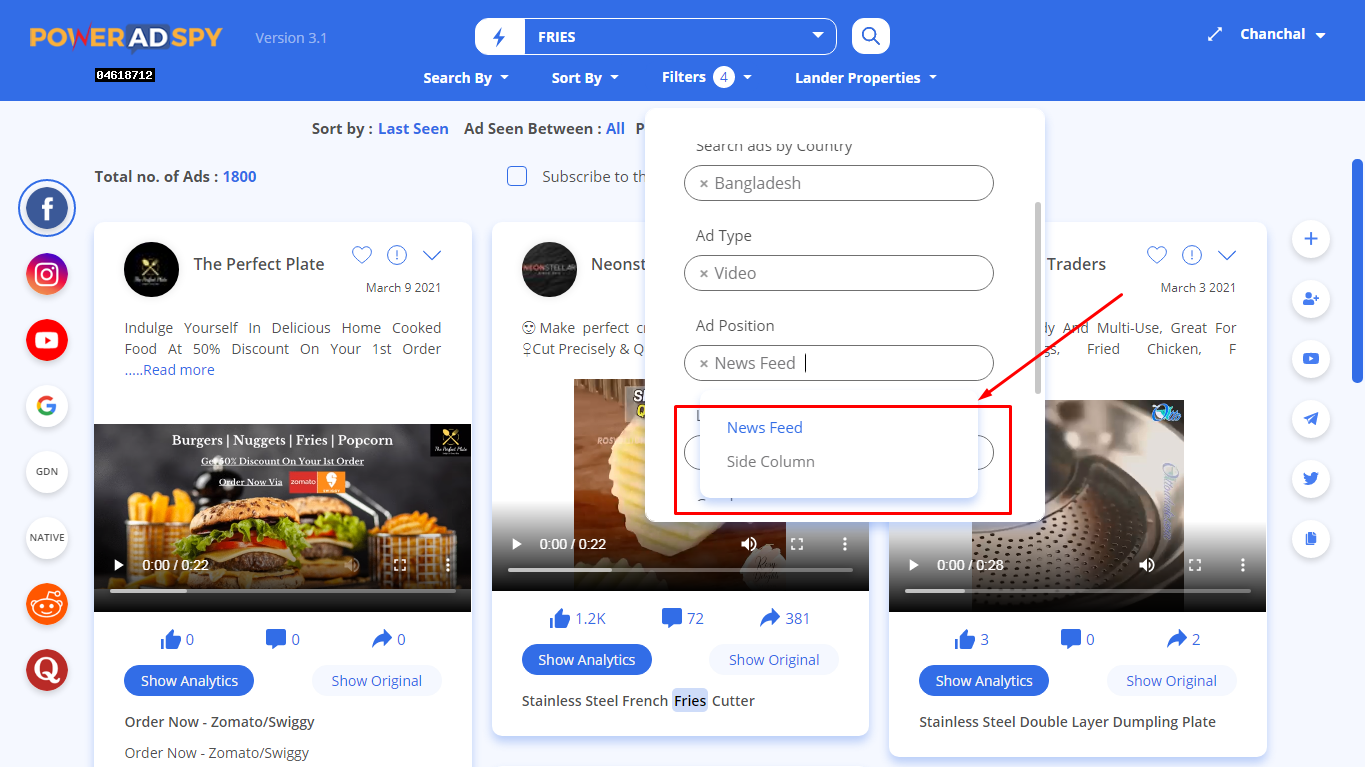 6. Specify Lander Properties 
Filter the properties of the landing pages linked to your competitors' ads. PowerAdSpy provides you with the option to choose the eCommerce platform, funnels used, marketing platform, and the source of ads (desktop, android, iOS, or all). 
7. Sort the Longest Running Ads 
The longest-running ads usually perform the best on any platform. Go to Sort By> Running Longest to get a list of all the campaigns running for a while.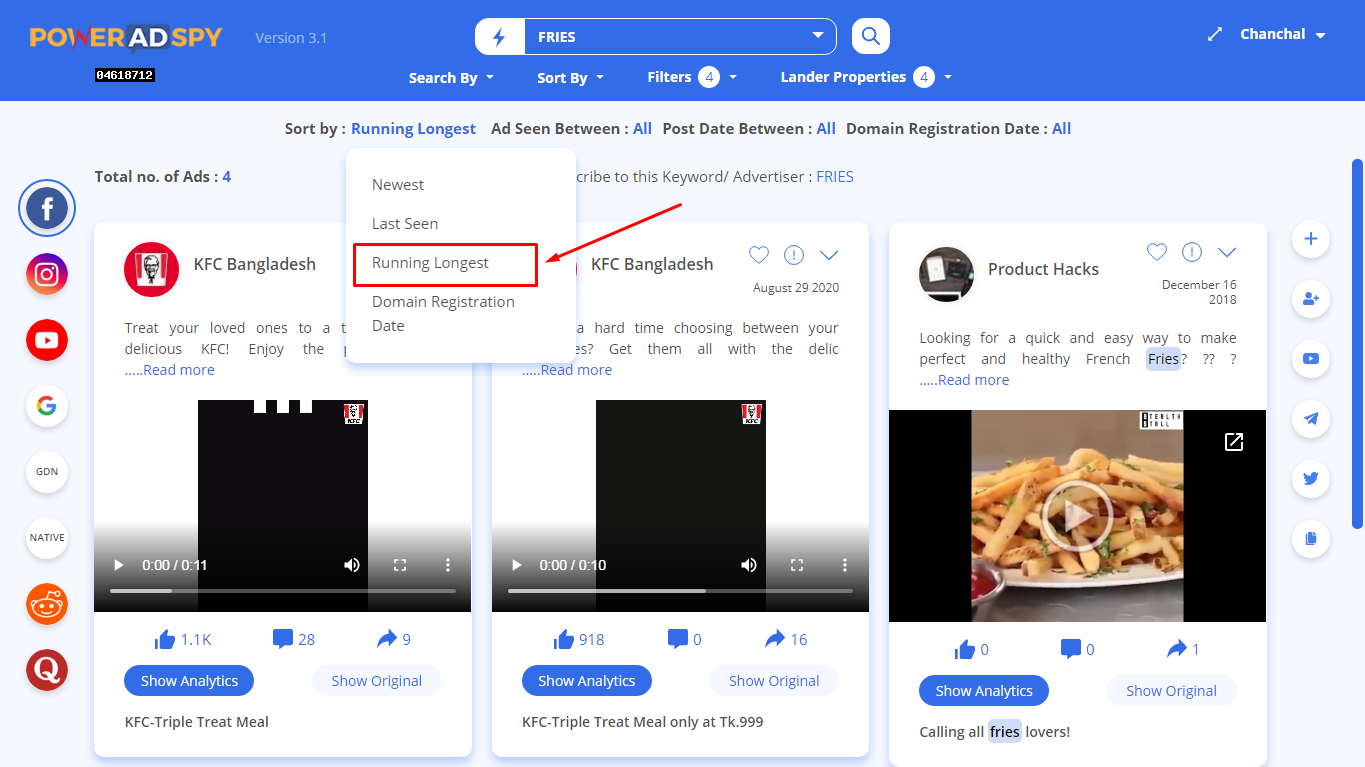 Try all the filters and features of PowerAdSpy to find best ads among your competitors. We offer a FREE trial for our new customers. Get started with us TODAY. No credit card required!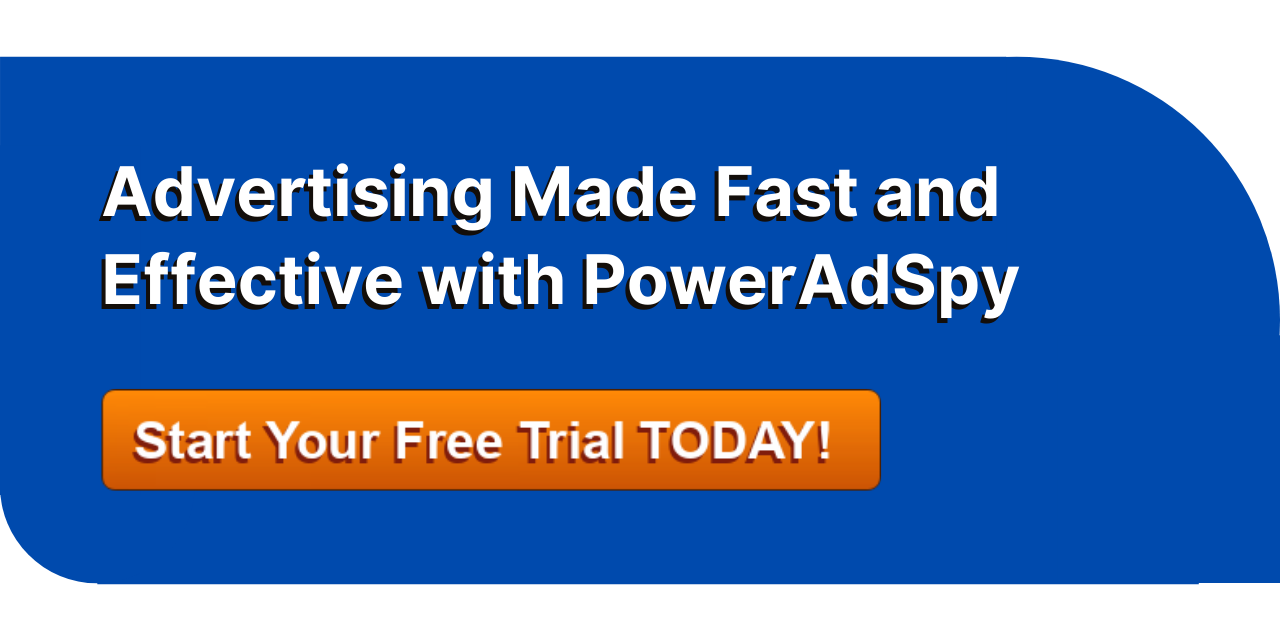 Other Filters 
While the filters we discussed above give you a good glimpse of the best-performing ads in your niche, you can target your searches further with the help of more filters from PowerAdSpy. Here's how they help: 
1. Search By 
PowerAdSpy offers a unique feature to its users- something that no other ad research platform does. You can directly look for texts, brands, objects, and celebrities in the image. The search results will cater to your requirements!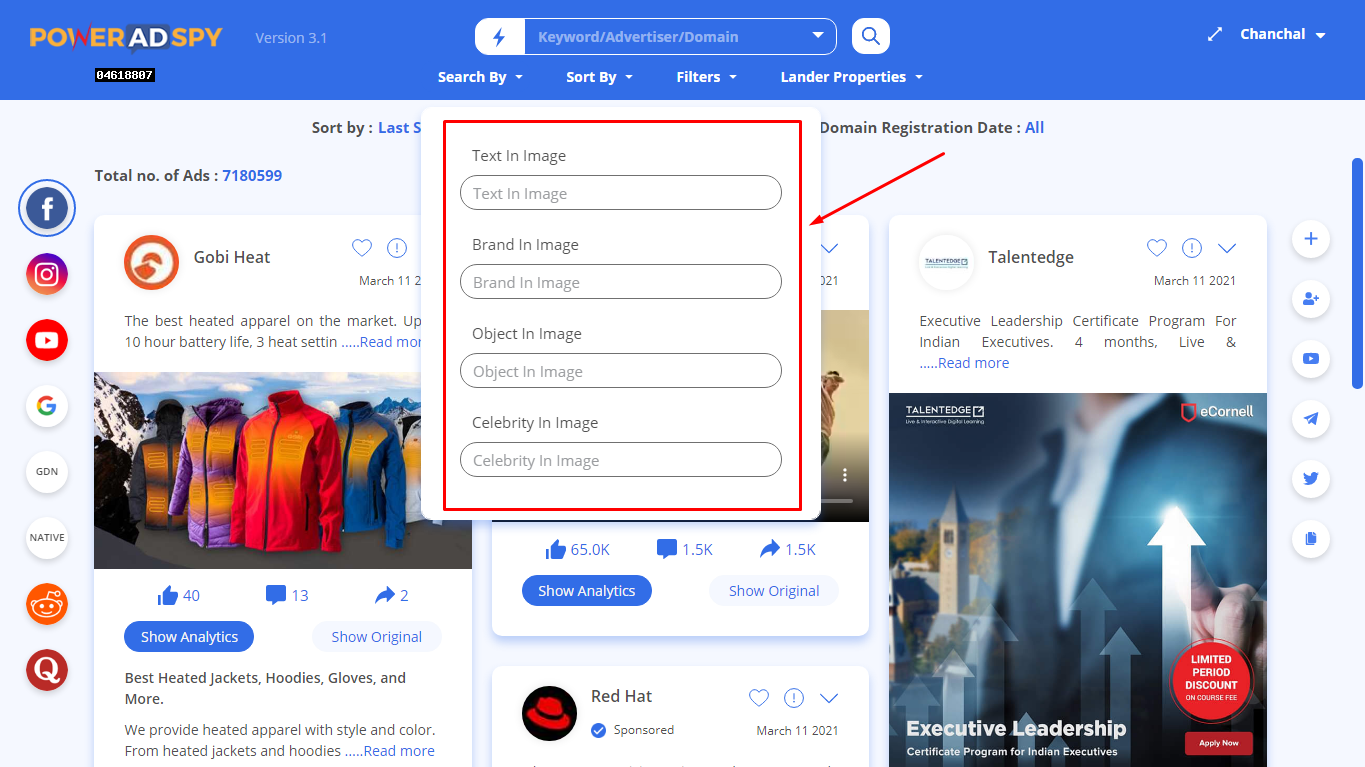 Also Read:
Take Advertising To Next Level With These 04 Facebook Ad Tools
2. Sort By 
This option lets you sort ads based on the newest ones, longest-running, last seen, and domain registration date.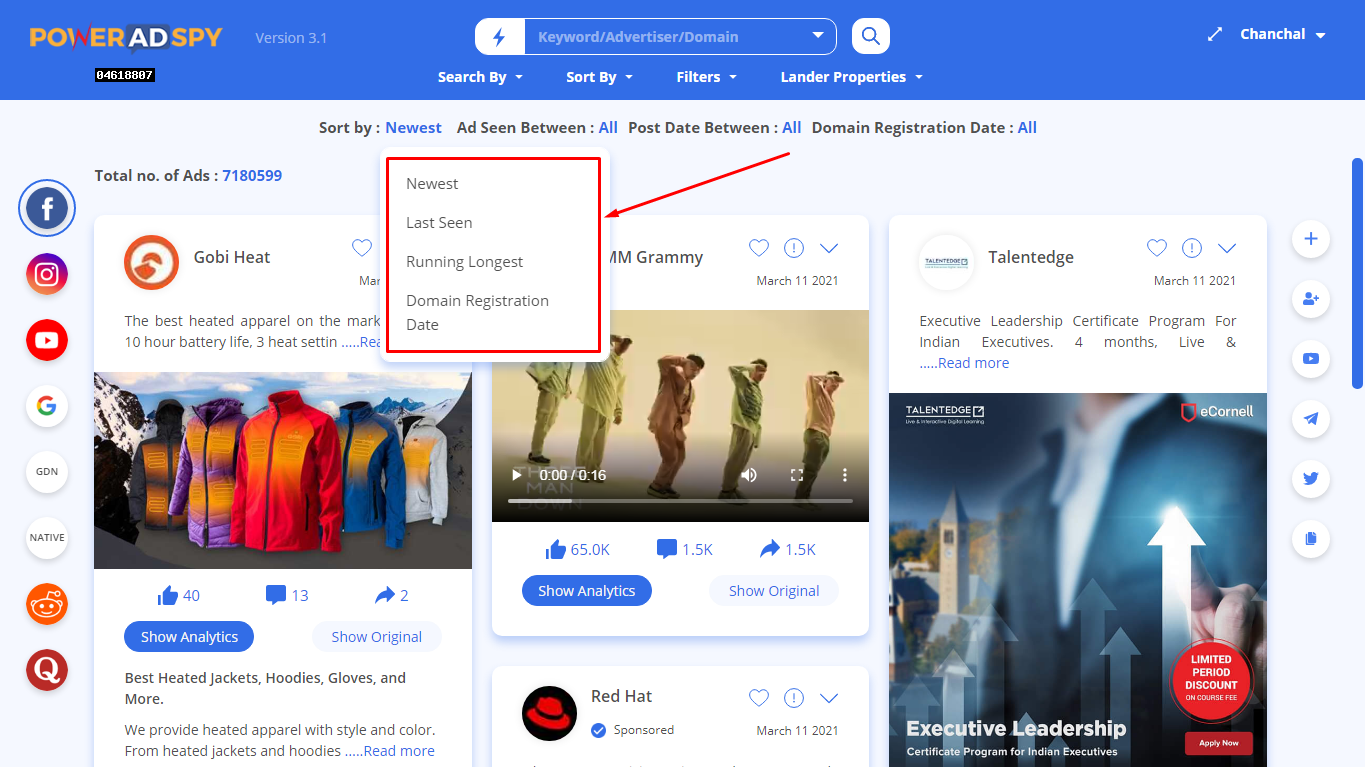 3. Ad Seen Between 
Here, you get an option to set the range for the ads seen by PowerAdSpy in the last 7 days, 30 days, etc.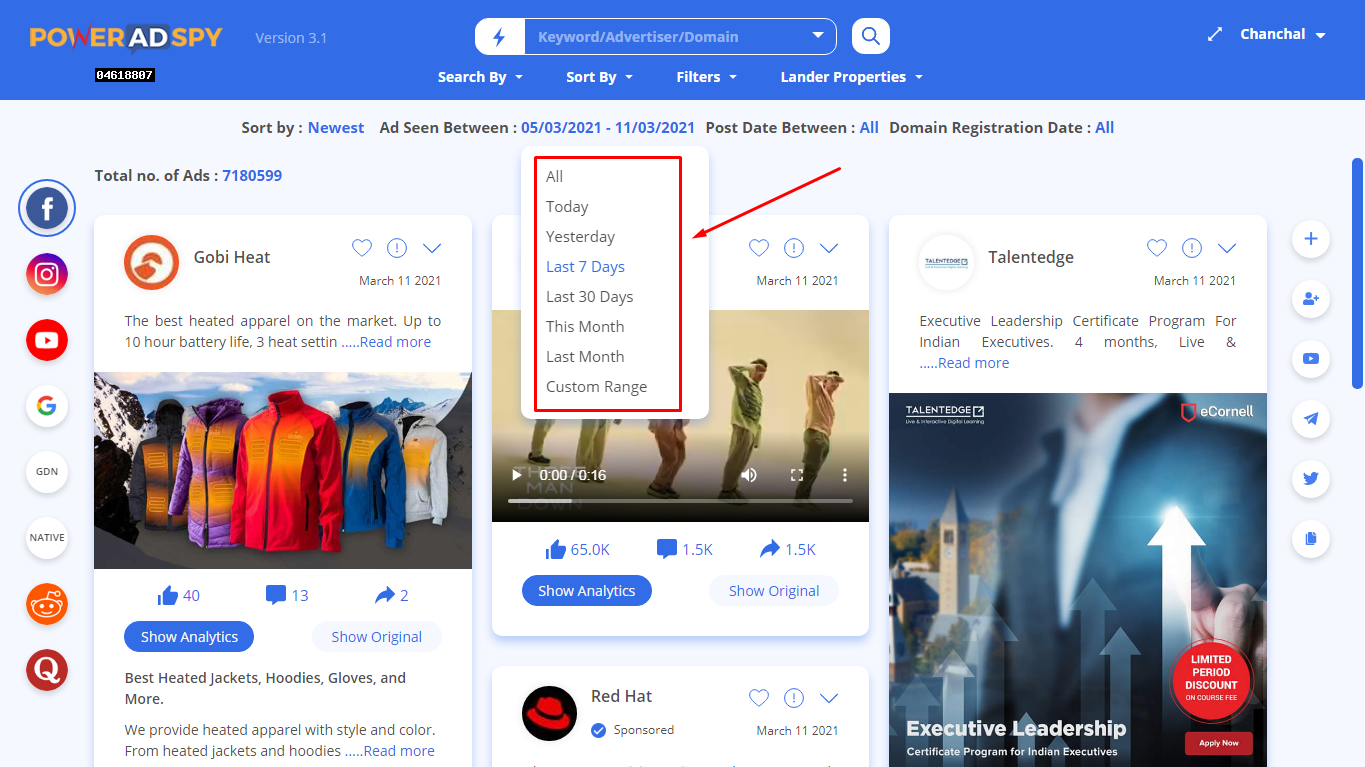 4. Post Date Between 
Use this option if you wish to explore the ads published in the last 7 days, 30 days, set a custom range, and many more.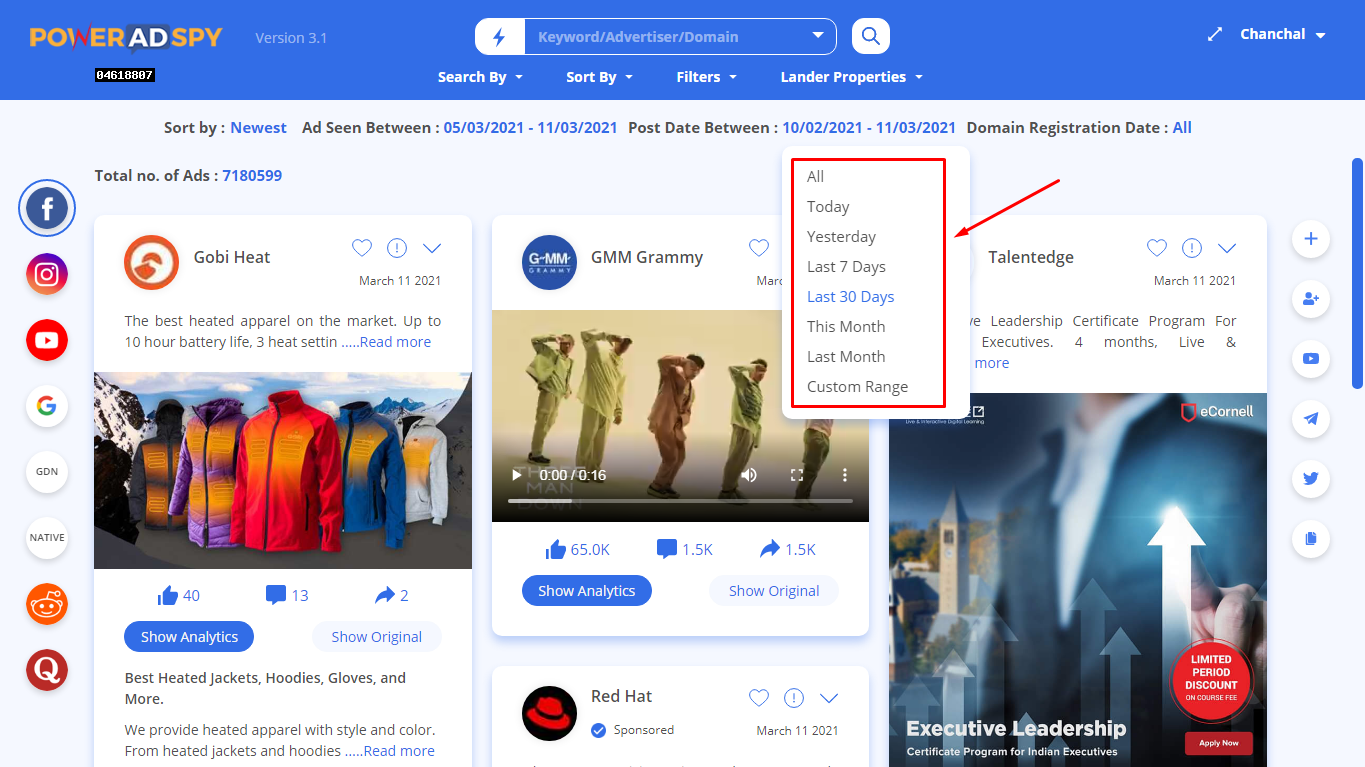 5. Domain Registration Date 
PowerAdSpy lets you find best ads published by the domains registered recently, along with the option to enter a custom range.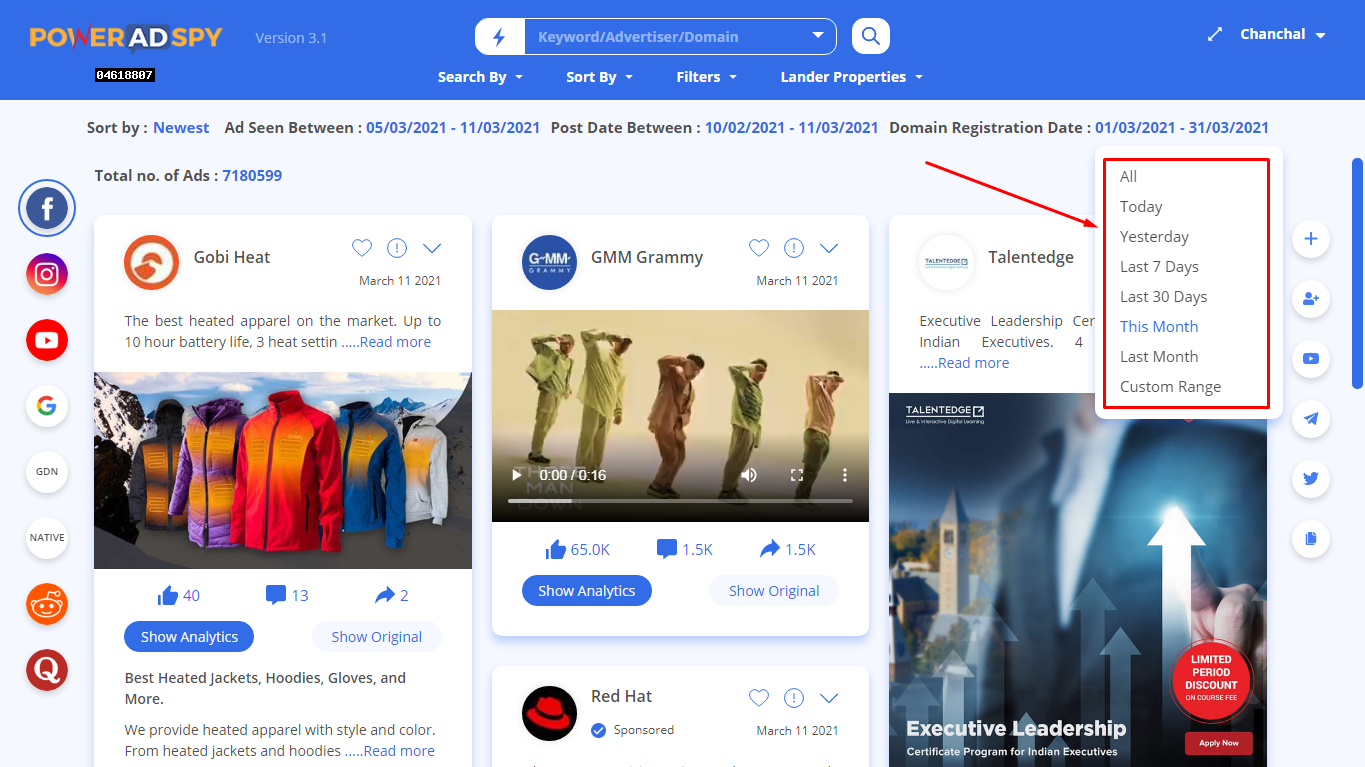 Detailed Demographics & Advertiser Info 
We have just scratched the surface with the menus and options available on our dashboard- PowerAdSpy offers more than that. With this tool, you can look into the analytics and graphs that indicate the performance of the best ads. Click on the Show Analytics button to view full reports. Here is what you will discover: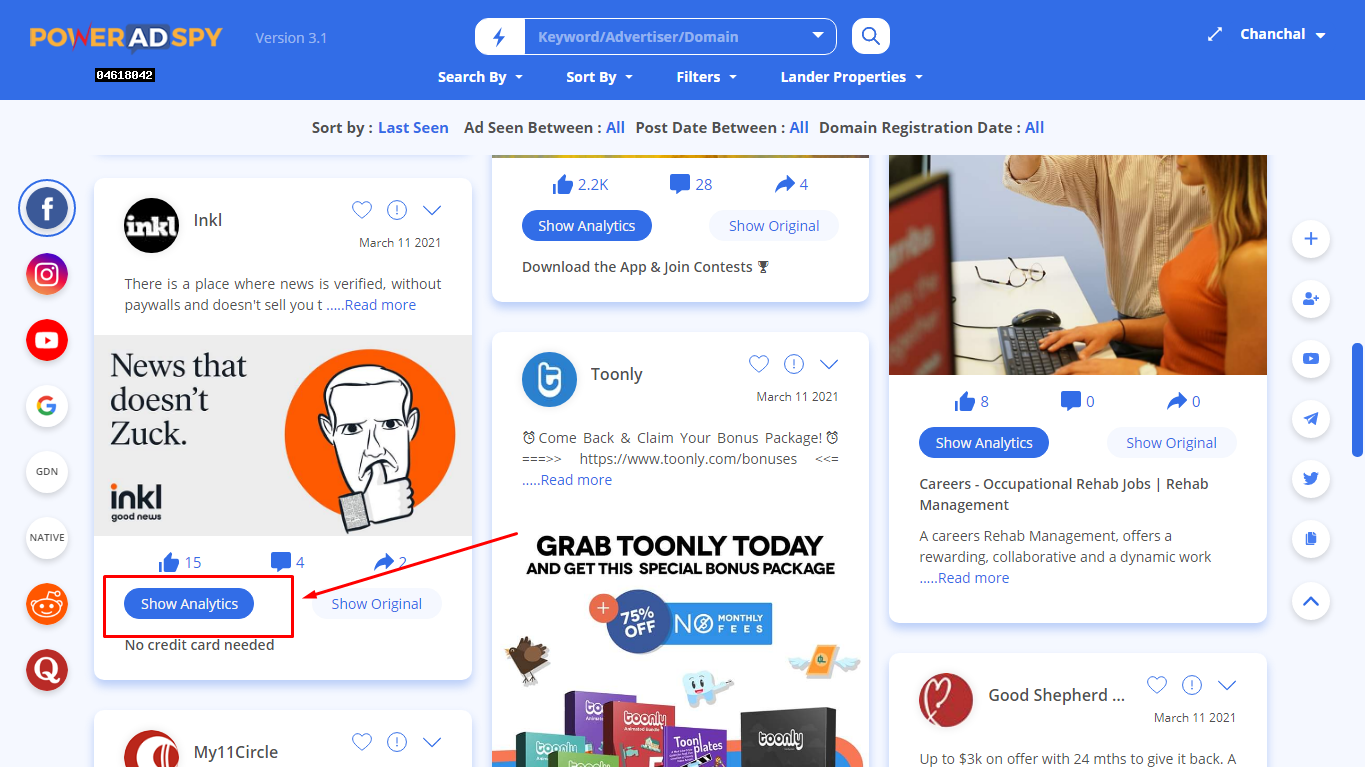 Ad Details 
View summarized detail of the overall ad appearance, name of the advertiser, CTA button, and the overall audience engagement here.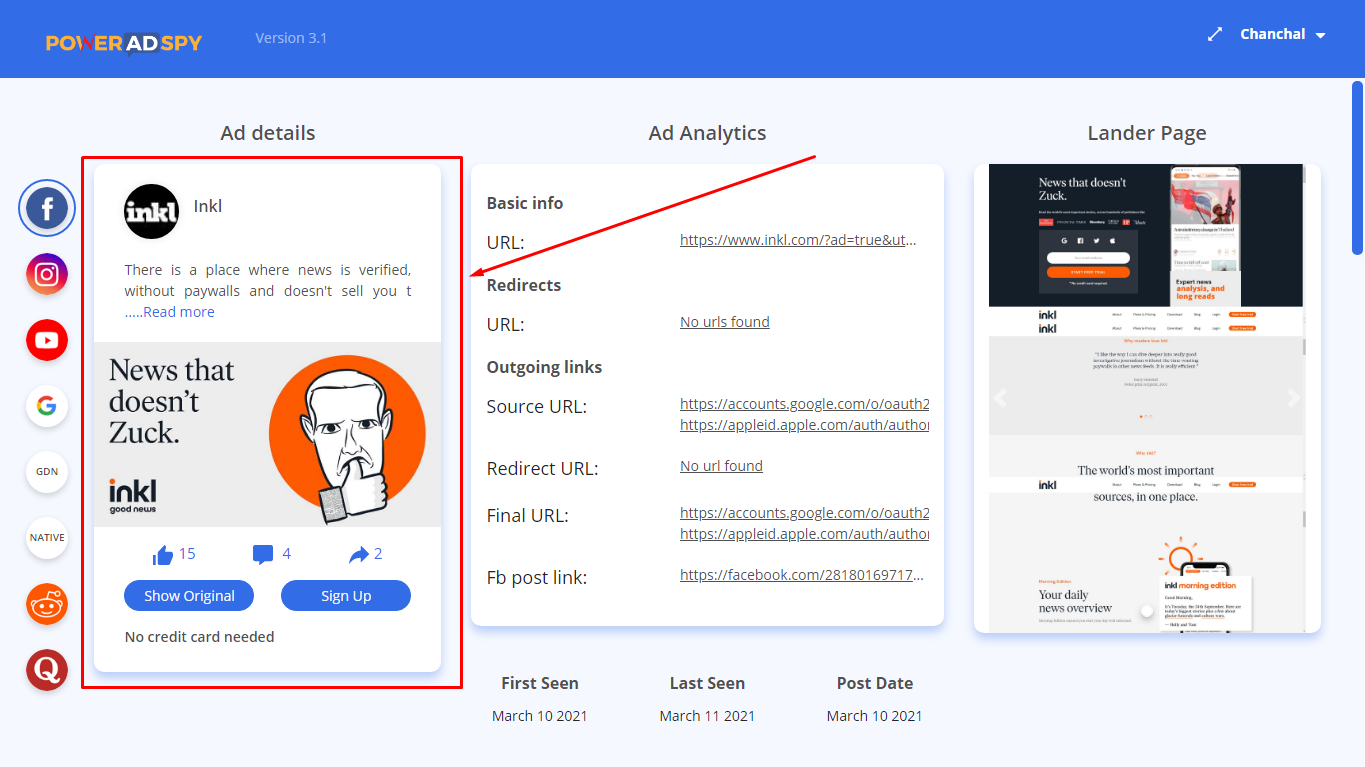 Ad Analytics 
PowerAdSpy lists all the links, redirects, and lander URLs in this section. Know what your competitors use as their landing pages with their ads!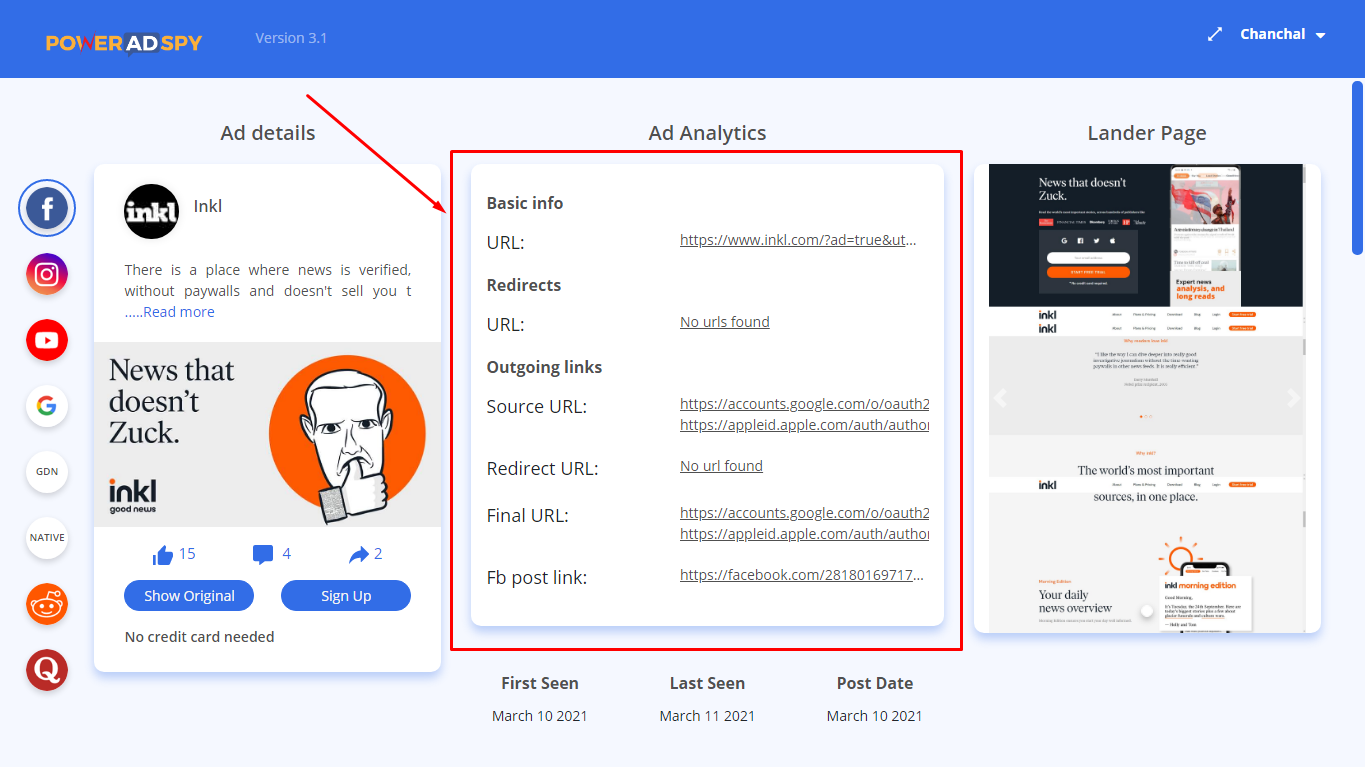 Lander Page & Redirects 
The top left of the analytics page displays the layout of the lander page linked to the ad. Click on the lander URL, and PowerAdSpy will display this page on a separate tab.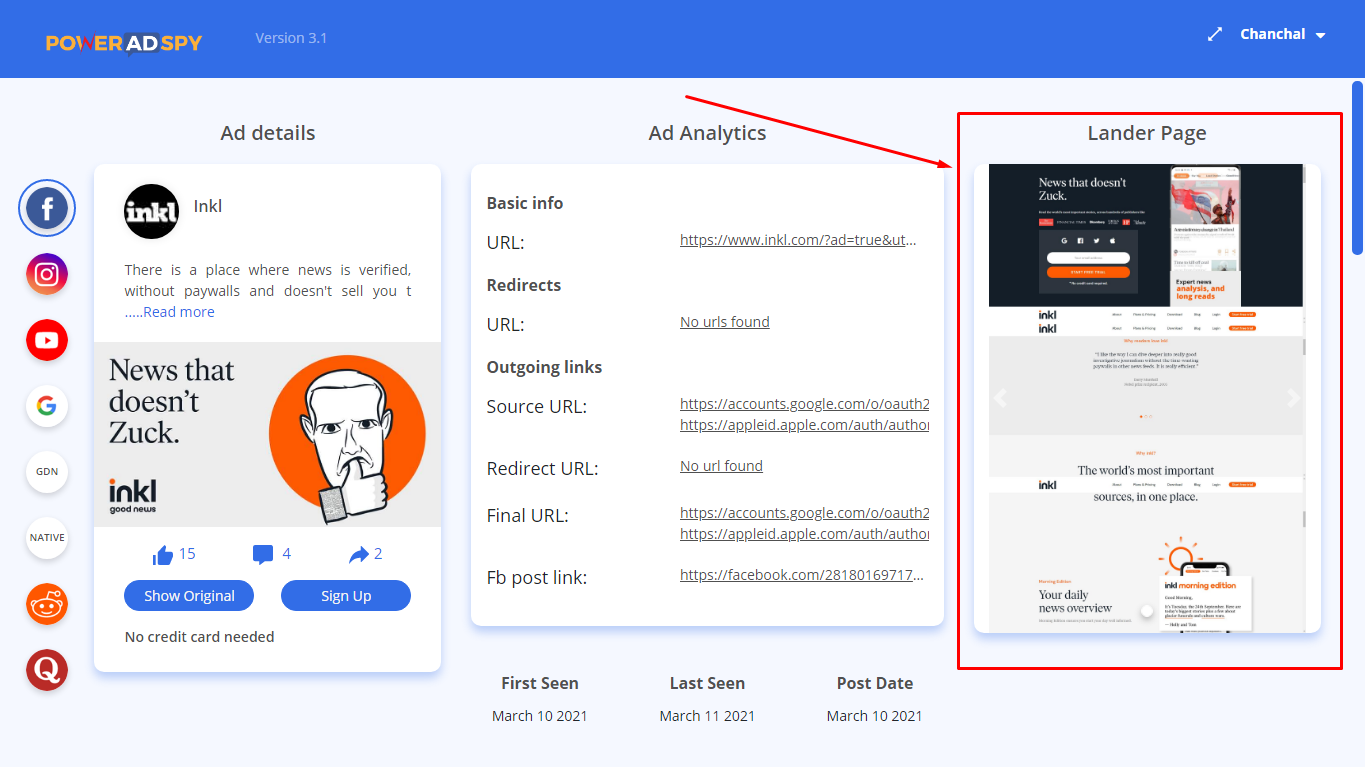 Audience Demographics 
Know what your competitors target with their campaigns. This section displays the details of their viewers- from age to relationship status, posted date, and many more.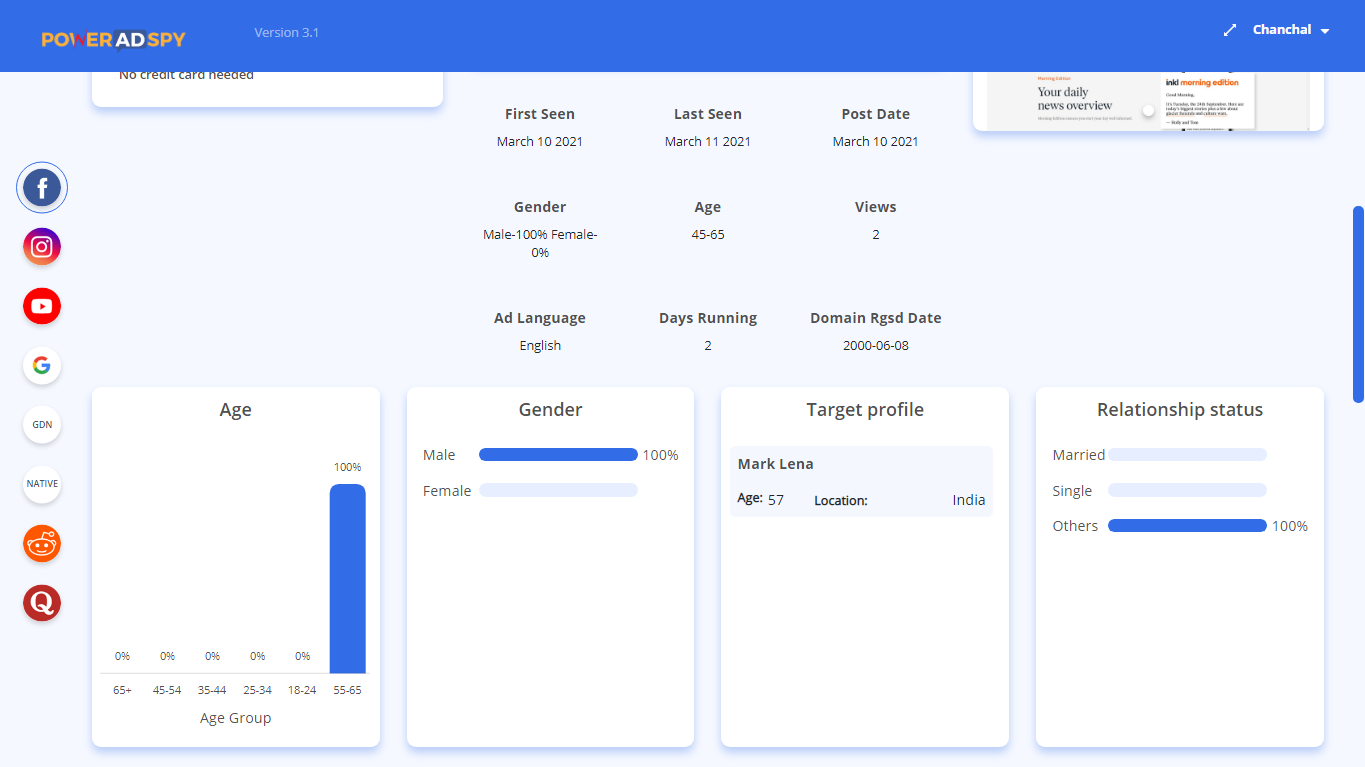 Social Engagement Reports 
Look at how an ad performs in real-time along with the past performance in the form of graphs. This section also shows the targeted countries in which the advertisers published their campaigns.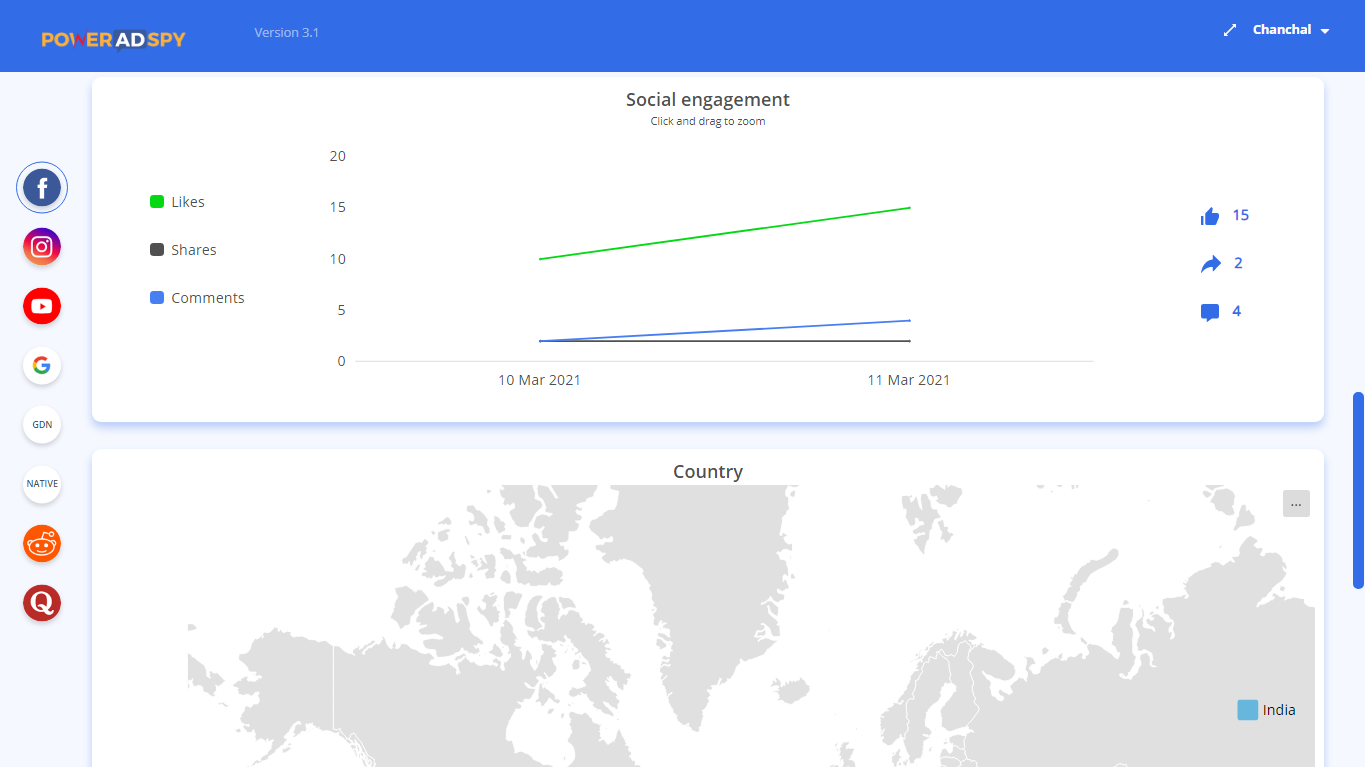 Opening & Saving Best Ads 
Now that you know how to find the ads that work the best, you can keep the best ones saved with you for later. Click on the heart on the top right of any ad for bookmarking it.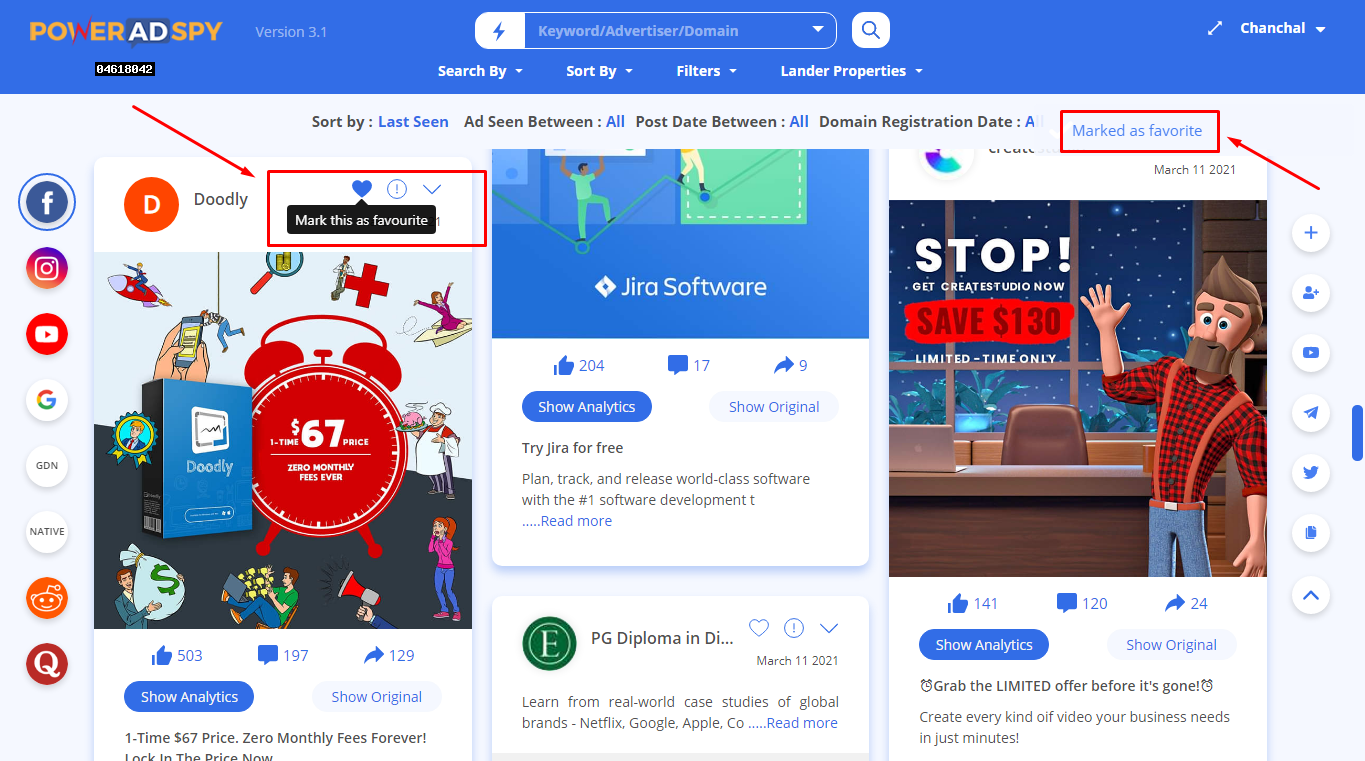 You will find these bookmarked ads on the top right of your account, along with the hidden ads, subscribed ads, and various other settings.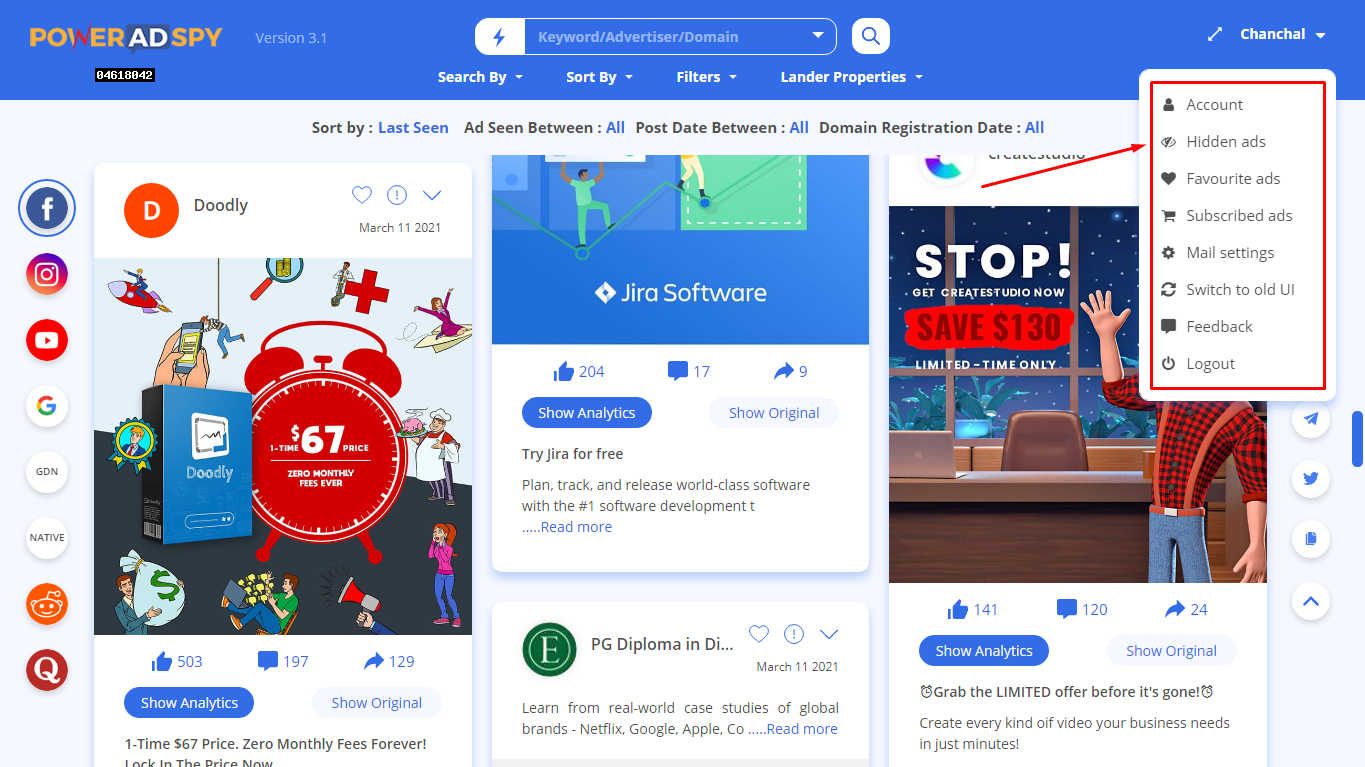 Did You Find What You Were Looking For? 
Bookmark this page to understand how to filter the best campaigns among your competitors. We keep regular updates of the market in real-time! 
You May Also Like, 
Create Better Campaigns With These 14 eCommerce Ads Examples
Target Competitors: 06 best Strategies For Competitive Advertising
Before You Create an Instagram Business Account Follow These Steps
Use PowerAdSpy to Analyze Instagram Accounts
Now Find Best Ads and Create a Campaign for the Perfect Audience!! 
Advertising may be tricky- you never know the what, why, and how everything works among the general and targeted audience. Nevertheless, when you deploy tools and software in the backside, you avoid spinning things out of the hands when least expected.
Search for the ads that make the best move in your market right now. Try PowerAdSpy for FREE. Get a demo today!