All-In-One Guide: What Is Google Adwords And How It Works?
Back in the days, Google Adwords was not something familiar to all the marketers. However, with time, it has become an influential medium for businesses to generate leads for their services. But, still, many beginners find it hard to understand Google Adwords in and out. That's why I have come up with this guide to help digital marketers in comprehending all the nuances of Google Ads.
If we look at the textbook definition of Google Adwords, it is an online advertising platform developed by Google to support marketers to reach out to their customers. It helps advertisers to target customers directly without depending on organic search engine results.
Hit The Play Button To Listen This Podcast:
When people search on Google for a specific keyword like "hotels near me", then Google would return an indexed list of searches to them. But, if you look at the SERPs closely, you will get to see that the uppermost results are usually ads.
You may think, how Google knows, which ad to display and when? Well, it's a process. To understand this, read out the below-mentioned points.
By the time people search on Google, it finds out the complete list of ads relevant to that keyword.

After this, Google analyzes the ads according to factors like their quality score, bid, format, and expected extension.

In the end, ads that win the auction displayed as a result of user query made on Google.
Now, when we have become acquainted with this, it's time for us to see the different types of Google ads.
Google Ads divided into five fundamental categories such as Search Network, Display Network, Video, Shopping, and Universal App Campaign, also commonly known as Campaign Type. These aspects of Google ads further segmented into various forms, which together called as Specialized Campaign Type.
Let's look at each of these Google ads types briefly!
A) Search Ads:
Let's understand search ads with this example. For instance, you have searched for keyword "hotel near me" on Google. And it returned you some results. So, the ads which appeared above the organic results are called search ads. The results marked with Ad are ads. Besides them, all the following SEPRs are organic.
Google takes many factors into account regarding which ad to display first, second, and so on. These are some of the most crucial points Google considers vis-a-vis ads get appeared on it. Take a look at them in brief-
Targeting- You can make your Google ads specific to particular geography by going particular even in terms of ZIP code.

Search Term- The keyword you optimize for your ads must get aligned with the search term users have been looking on Google.

Relevant Ad Copy- Ads that get displayed for a specified keyword should be relevant in the first place. A search for hotels should not return results concerning top colleges.

Landing Page experience- Landing page of your website should be highly associated with the searchers. They should get all the answers to their queries by going through it.

Conversion Rate- This factor depends very much on the landing page quality and its relevance to the users.

Bids- Let's assume, two advertisers have bid for the same keyword. Both have engaging ads and landing pages. So, in this case, advertisers with higher bid get more preference over the one which has a lower bid.

Quality Score- Quality Score somewhat depends on all the aspects mentioned above. You can say, everything is interlinked here at a more all-inclusive extent.
Other than the standard Google search ads, you can also run some unique search ads on Google. What are they? Have a look!
Call-only Ads- These kinds of ads are available for call enabled electronic devices only. After clicking these ads, you don't direct to a landing page, instead make a call directly.

Dynamic Ads- This type of search ad is more appropriate for companies with a flawlessly managed business site. As the ad content plus the landing page get captured dynamically from the website. Dynamic ads are somewhat the same as text ads except that here no keyword involves. For instance, any college is running dynamic search ads. A user searches for "admission open". Google displays a complete indexed list of ads. However, dynamic ads automatically interchange the ad headline with admission open, including the ad text regarding relevant website and landing page content.

Mobile App Promotion- These kinds of ads are very suitable for businesses with in-house mobile applications. These search ads aim to push users to download your mobile app or take the most desired action within the app.
Professional Tip-
How To Search Google Ads By Using PowerAdSpy?
PowerAdSpy is a very beneficial tool when it comes to knowing Google ads working for affiliates or your competitors. To search best performing Google ads of your business contemporaries via PowerAdSpy, you have to go through the following steps-
Step 1: Log in/sign up to your PowerAdSpy dashboard.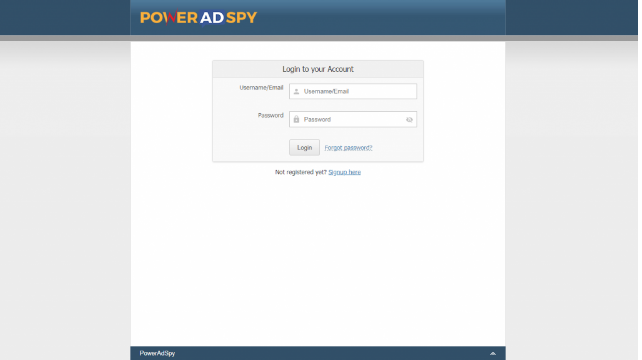 Step 2: Click the Google button given at the top of the dashboard.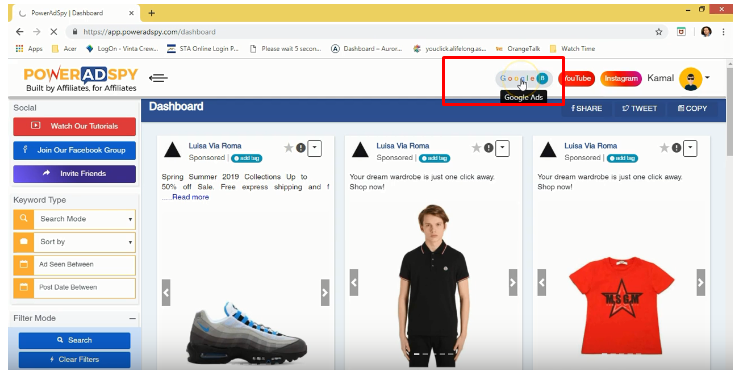 Step 3: Go to the configurations tools and filters given at the left side of the screen.
Step 4: Let's start with Search Mode. In this, you will get to see different categories like keywords, Advertisers, and Domain. For example, choose keywords. Let's take "Hotels" as a keyword and start the process.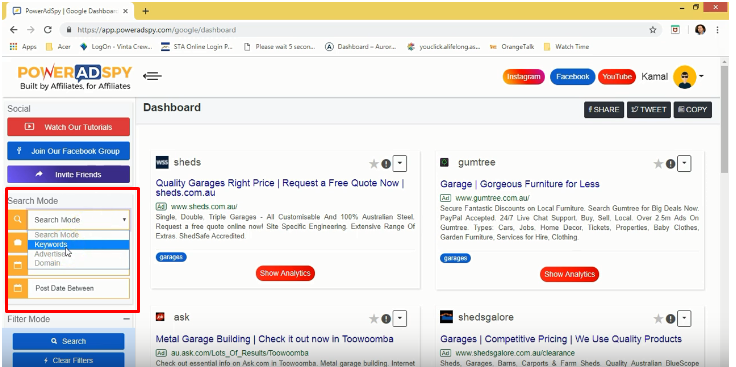 There are also sub-categories given to see most relevant ads according to the keyword like Sort by, Newest, and Running Longest. Select Newest. Then, there is Ad Sort Between and Post Date Between. Choose them according to your preferences.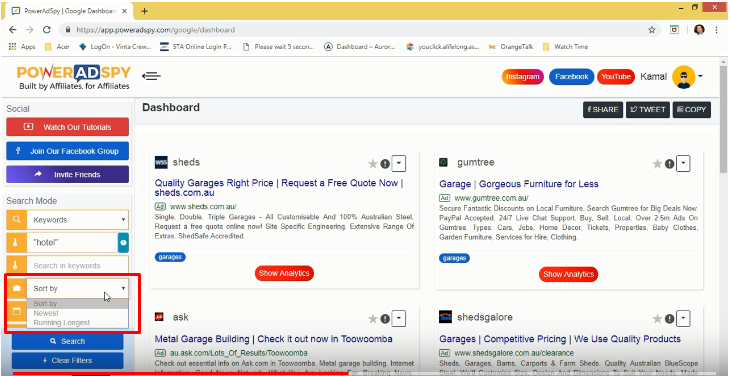 Step 5: Next up is the Filter Mode. This aspect narrows down the search results you want to see. The first attribute in it is Country. So, select the Country where based on Google ads, you want to examine in the first place. Following up is Ad Sub Position concerning the position of the ad. Select Top for this. The last one is the language. Let's choose English.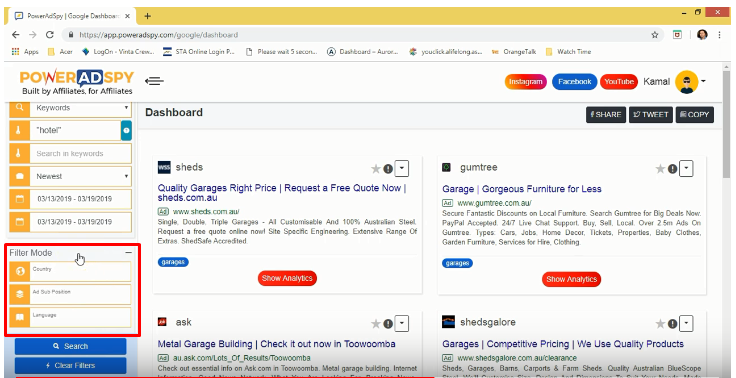 PowerAdSpy also provides the option of clear filters (to undo all the filter settings).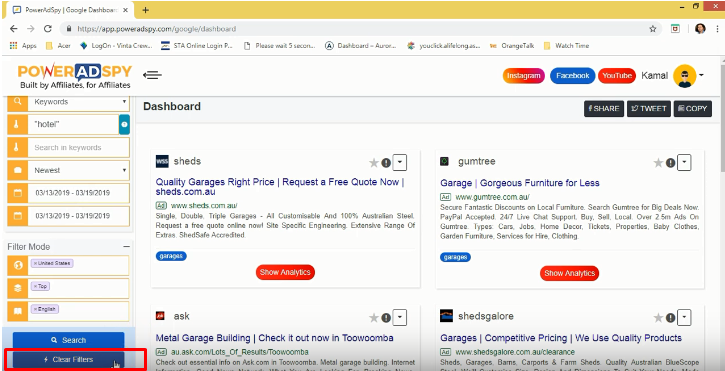 Step 6: If done with all the settings, then hit the search button.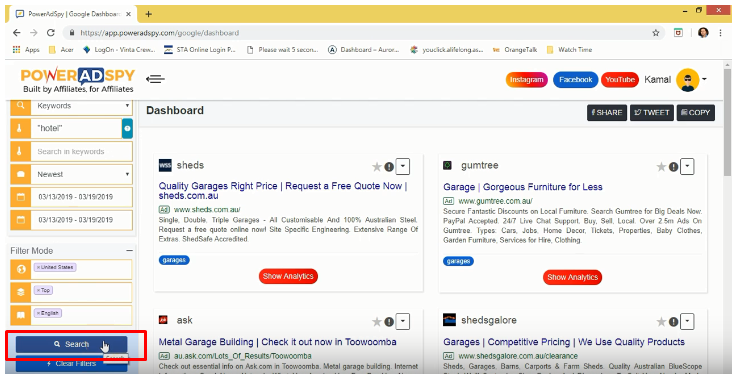 Step 7: The page will refresh furthermore new ads appear according to the specifications you have set.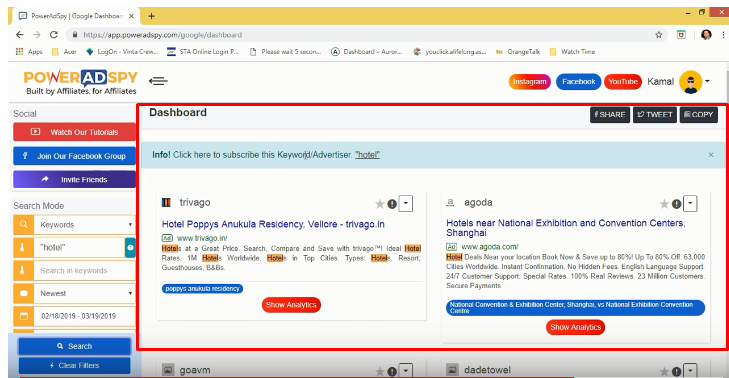 You can also select Show Analytics to learn more about displayed Google ads. Then, PowerAdSpy will open a new tab where you can see the details about ads.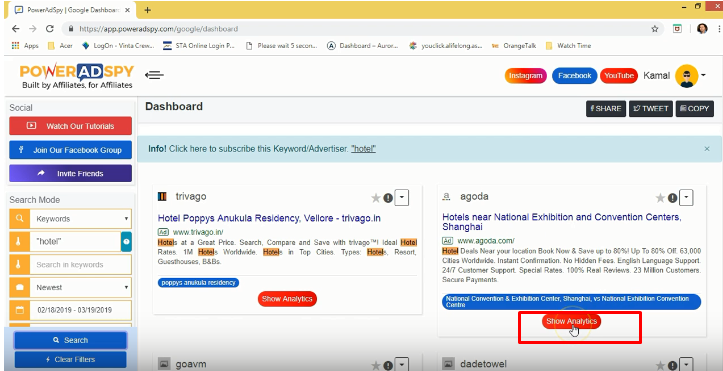 Well, you can also click the company name given at the top of the chosen ad to view other ads run by the same company.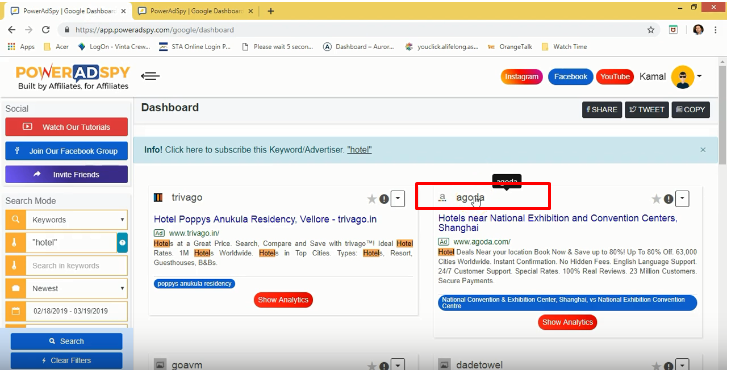 Getting back to the main subject, let's know about display ads right now right here!
B) Display Ads:
I am sure you must have noticed ads while reading blogs and watching videos on some websites. You have seen ads at random places of the sites. Right! They are nothing but display ads also called as banner ads. These kinds of ads appear according to factors like audience interest, keywords, managed placements, and much more. In relevance to all these features, Google decides which ad to put at the display. But, always remember those display ads are shown only to advertising-supported websites.
Below highlighted are some of the points as per which Google selects the websites to display banner ads-
Keywords- For example, you have optimized the ad for the keyword "Social Media Automation". Google will pick the websites containing content related to this topic to display your ad.

Placements- This factor allows you to choose websites on which you want to display your banner ads. To do this, you have to add your preferred sites instead of keywords. For example, if you want your ads to display on some fashion website, then look for advertising-supported fashion websites and include them under your targeting radar.

Remarketing- It's an aspect using which you can retarget your existing website's visitors. Primarily, the people who have not taken any action previously on your domain.

Topic- Google Adwords consists of various groups of web pages. Similar niche websites assemble under one category. So, as an advertiser, it will become much easier for you to select topics associated with your business. Let's assume, if you're looking for topic cooking, then websites related to it given under a category cooking or cookery.
You Can Also Watch:

How to Search Competitors Google Ads By Using Poweradspy?
C) Shopping Ads:
Are you a retailer? If yes, then this type of Google ads are very critical for you. Shopping ads increase traffic to your website and helps in the generation of quality leads plus conversion rates. Following these steps, you can make your shopping ads appeared on the search network.
Step 1: Make an account on Google Merchant Center. It is a landscape developed by Google to help retailers to upload their product listing in a particular format.
Step 2: Next, make an account on Google Analytics and link it with your Google Merchant Center account.
Step 3: Upload updated data about your products within every 30 days on Google Merchant Center.
As both the platform are interlinked, so shopping ads extract all the data regarding products from Google Merchant Center. And, then align it with the search query and return most related ads to the searchers.
D) Video Ads:
It is an ad type which allows advertisers to run videos on YouTube and various Google Display Networks.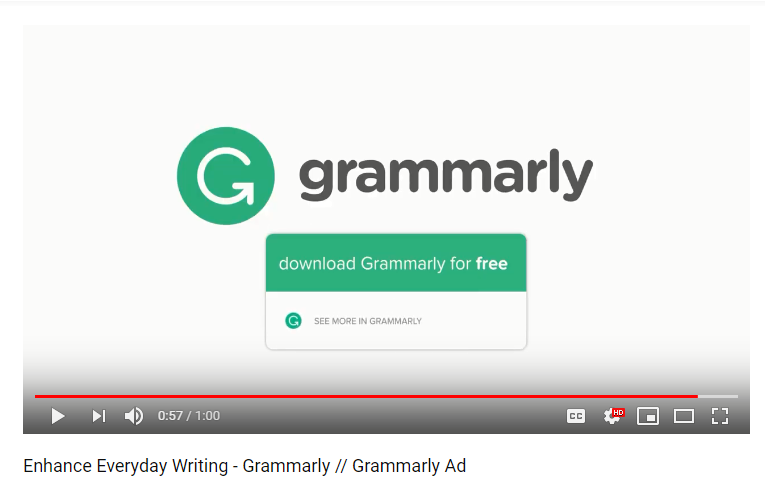 As we know, video platforms like YouTube target audience on point. Consequently, it becomes easy for advertisers to aim potential users for their services at the right time.

According to surveys done in 2019, YouTube is the second most visited website in the world. As per studies, it attracts almost 1/3rd users on the web. So, through video ads, you can target an immense number of audiences. They are available on Google Display Network too, which provide you access to a much-extended group of people.

YouTube ads also let advertisers know about every performance metric of their video ads such as views, likes, comments, performance, engagement, clicks, frequency, and reach. That directly helps in improvement as well as success measurement factors of the video ads.
E) Universal app campaign:
Universal app campaign built for businesses with a mobile application. According to this, advertisers can market their mobile applications across different Google platforms like Display, PlayStore, Search, and YouTube. Google Adwords makes use of ad text ideas given in your application store listings. Here, you need to cater a budget, an initialization bid, and some text. Well, make sure to add languages and locations for your ads.
By analyzing all the provided information, Google Adwords automatically develop a large number of ads in different formats. Also, execute various Ad combinations to pick the best one for the final display.
Wind-up:
These were some of the most critical information one should know about Google Adwords. Now, you are acquainted with Google Adwords and the different types of Google Ads one can run for their business. I will suggest you use Google Adwords for your business in the first place. As it can boost your business revenue to a large scale and help you to expand your market in a big way.
Do you find above blog helpful or expected something else? Please share your views by commenting in the section below.