New To Facebook Gaming Live Streams? Here's What You Need To Know
Microsoft decided to give up on the live streaming platform. And that is when the entire live streaming world got disheartened. Everyone thought it is going to have an immense consequence in the distant future. But there is always something better brewing when one door gets shut for the users.
We all know that Microsoft has partnered with Mixer as it is one of the most renowned video game live streaming platforms in the US. And the gamers had made good contacts with Mixer over the years. Some of the professionals live-streaming gamers also had signed contracts with Mixer. But what about them now?
Hit The Play Button To Listen This Podcast:
Well, Microsoft also had a solution to it. It reached out to Facebook and made a settlement to provide a platform to all the gamers and live streamers. So, the users are now all set to publish gaming content on Facebook gaming live. But does that make Facebook a strong competitor of Twitch?
Well, for the time, we would leave it up to you to decide whether it is or not. But without wasting much time, let's now dive right into the article to check out the significant advantages of Facebook gaming live. Again, if you get intrigued by the features, you must give it a try, and we are here to guide you through this. And not just this, the article has much more information related to Facebook gaming live sessions. So let us now dig right into it.
The Biggest Strategic Approach Of Microsoft
Microsoft made a massive investment looking at the future of gaming live streams. It funded an extensive project that is xCloud which is all set to enable the users to stream their Xbox games straight away on their mobiles or tablets through the cloud. The xCloud only requires a stable internet connection, your Xbox controller, and the most compatible mobile or tablet to stream.
But unfortunately, this tactic did not work out for Microsoft. They failed at grabbing the attention of the Twitch audience network, such as the best streamers like Ninja and Shroud, with the help of this project. But they got determined not to step back. Again, Mixer did not have enough audience network that would run the xCloud project successfully.
Hence, the team decided to join hands with Facebook. It is a vast platform, and Microsoft had great faith in it, stating that this platform would help them provide the pro gamers of Mixer a great platform to live stream. Facebook gaming will unquestionably attract more users and compel its existing users to proffer on the site. And it is all because of the immense and trustworthy audience network of Facebook.
Facebook Gaming Live
Facebook gaming got launched back in June 2018. But Facebook did not develop much as a gaming platform since those times. But now, the Facebook gaming community has started taking steps towards providing pro gamers a better user experience.
Superiority Of Facebook Gaming Live
Facebook gaming has a lot of potential and opportunities for users. As Facebook has partnered with Microsoft to bring home this revolutionary feature, it already has all the eyes on it. The users are more inclined towards Facebook gaming because the live streaming feature is a combination of the Mixer, YouTube, and Twitch platforms.
Again, Facebook already has a huge fan base. Hence, the newcomers will not hesitate to try out the Facebook gaming feature.
1. Promote Your Streams
As we all know, Facebook is a social media giant. It is the best platform to reach out to more users. You can also create your target audience network on this popular social networking site through sharing posts. So, you can build a beautiful and appealing post before going live and share it on your wall. You can also create content to publish in the Facebook Stories section.
Again, your viewers can also share your content on their Facebook page. And this will help you reach out to more users interested in checking out your gaming streams.
2. Virtual Reality Mode
Facebook has Oculus. It enables the gamers to showcase or broadcast their gaming live streaming session for their users straight away in VR mode. And when we talk about virtual reality, Facebook has just the right kind of audience for it. Hence, if you get interested in streaming your sessions in VR mode, Facebook gaming is the perfect place for you.
3. Facebook Gaming Live On Mobile Device
What can be a better advantage than this? In today's world, we have absolutely everything on our mobile devices. So, why not stream live from your mobile itself. Yes, the Facebook gaming feature allows the users to stream their favorite games live straight from their mobile. And this can get done in just a few steps.
It simply takes to download the application on your mobile device, allow all the required permissions, add the particular game to it, and then go live on Facebook. Even if you have a Facebook business page or personal profile, it will directly show the live session in your profile.
4. Partnership Advantages
If you have a popular gaming channel on Facebook, you can level up your game. You can monetize your Facebook gaming live streams as well as have paid partnerships with other brands. Hence, you can advertise accordingly for them through your streams or posts before going live.
Components Required For Facebook Gaming Live
The Facebook gaming live requires some primary equipment and nothing out of the box. You need to have a device like a computer, mobile, or laptop supporting video streaming and a microphone to communicate with the audience. The next component is a stable internet connection with 5-6 MBPS speed. And lastly, it must have the latest streaming software.
Get Started With Facebook Gaming Live
The procedure is pretty uncomplicated. So let us get started with it.
Step-1: To set up the Facebook gaming page, click on the link: https://www.facebook.com/gaming/pages/create
Fill in the details to create your gaming page on Facebook.
Step-2: Tap on the Create Live Video to select your new gaming page as the place to publish your live gaming sessions.
Step-3: In the game streaming software, copy and paste the Facebook Stream URL and Facebook Stream Key.
Step-4: Next, start streaming from your software and check the preview of it once before going live.
Step-5: On the Facebook gaming page, tag the game and add an appropriate description about your streaming.
Step-6: Now you are all set to go live.
Facebook Gaming Live With PowerAdSpy
As we have already discussed, you can promote your live sessions on Facebook. And there are no questions that Facebook is the best place to advertise your niche. Whenever you plan to have your next gaming session, you must promote it to your audience. Let your network build engagement and hype before it starts.
But you cannot keep using the same content over and over again. Apart from that, if you partner with a brand, it is necessary to post unique content every time. Hence, you must stand out from your competitors in the advertising game as well. For this, you need to make use of the most advanced advertising intelligence tool.
PowerAdSpy can be your best buddy to advertise organically and uniquely. The tool has some extraordinary features that you need to look into in detail.
Steps To Search Ads On PowerAdSpy
Step-1: To reach out to the PowerAdSpy dashboard, click on the link: http://poweradspy.com
Step-2: At the top right corner of the page, tap on the Login/Sign Up option
Step-3: Fill in the Username/Email and Password in the box
Step-4: Next, tap on the Login to proffer to the PowerAdSpy Dashboard
Step-5: The left-hand side of the PowerAdSpy dashboard represents the social media platforms from where you can explore advertisements.
So, you get to pick from:
1. Facebook Ads
2. Instagram Ads
3. YouTube Ads
4. Google Ads
5. GDN Ads
6. Native Ads
7. Reddit Ads
8. Quora Ads
Step-6: The search bar is right at the top. Put up the appropriate keywords in the box to showcase the advertisements
Step-7: You can improve your search experience by filtering out the advertisements according to your requirements. You can choose the options suitably to customize your search
Search By:
Text In Image- Specify the appropriate text that you hope to see in the ads, and see the outcomes in no time
Brand In Image- Memorize the logo and search-related advertisements of your niche
Object In Image- Mention any particular object and perceive advertisements having the same components in it
Celebrity In Image- Enter the name of your favorite celebrity and filter out the specific ads
Sort By:
Likes- Mention the range of minimum to the maximum amount of likes and compare the outcomes
Comments- If you want to see the advertisements with the most comments, specify the range and have a glance at the results
Shares- Review the most shared advertisements of your niche, furthermore by specifying the required range
Filters:
Call To Action- Pick from the menu of call-to-action buttons handy, to narrow down your exploration to the appropriate ads
Search Ads By Country- Determine the precise location from where you want to perceive your competitor's ads
Ad Type- Choose either you want to view image or video advertisements
Ad Position- Select whether you want to see News Feed or Side Column advertisements
Lander Properties: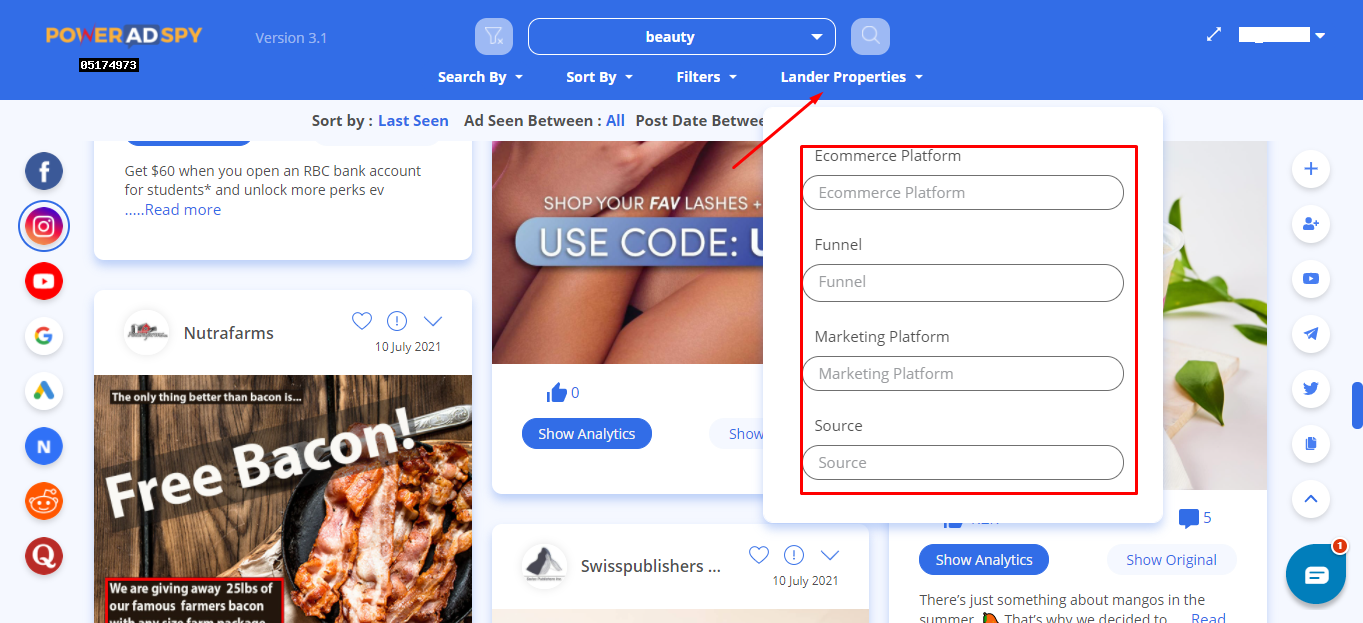 ECommerce Platform- Determine the specific eCommerce platform from which you want to compare the advertisements
Funnel- Choose between Click Funnel, Lead Pages, or Any Funnel of ads
Marketing Platform- Customize your user experience, choose your appropriate marketing platform from the dropdown list
Source- Specify the source of the advertisements. You get to pick out from Desktop, Android, iOS or All
PowerAdSpy also lets you bookmark the advertisements that you get intrigued by and save them for later use. And after diving deep into the features, you must have understood why we said it to be the best. We assure you that you can find advertisements related to your niche and keyword whenever required.
Check Out Our Latest Posts:

How To Use Social Media Metrics To Delight Your Business?
Approaches That Will Immediately Improve Your eCommerce Advertising
A New Way To Think About OTT Platform Advertising Campaigns
Closing Lines
We have seen the advantages and the procedure to get started with a Facebook gaming live session. So, what are your opinions? Do you think this particular feature on the pre-eminent platform will be able to create that hype? We believe it has a great chance to proffer shortly.
As we have seen, live streaming on Facebook is pretty uncomplicated. And you can also make the most profit out of it because it does not have a lot of competition yet.
So, to start going live, you need your mobile device or computer and a stable broadband connection. You need to use a good quality microphone and webcam to interact with your audience during the session. Lastly, add your favorite game to your device, and you are good to go.
If you have a popular channel on Facebook, do not forget to monetize your gaming sessions. You can have paid partnerships with brands and collaborate with them to have a fabulous streaming career ahead.
We hope you have a successful gaming career with Facebook gaming live. Stay tuned for more updates.
I hope the article helped you know about Facebook gaming live. Is there something that we can incorporate? Please drop your thoughts in the comments below. I would love to hear from you!