What Is Quora Digest And How Does It Work?
Whenever we have any kind of query, what's the first thing that comes into mind? Yes, we are talking about Quora! Since its launch in 2010, people have been using Quora for asking and answering questions. In fact, most internet users are quite familiar with Quora as a  platform for asking questions and giving answers. 
If you are a Quora user, you may already find some emails from Quora digest in your Inbox. There you will get the email list with the best answers to most relevant queries. Marketers are also exploring its features to enhance their reach with more prospects and grow their business.
In case you don't know- what is Quora digest? Here in this blog, we will be telling you more about it. 
What Is Quora Digest?
In simple words, digest is the newsletter from Quora where users get the best answer for their relevant queries. Quora sends these newsletters based on the preferences selected by users. Accordingly, they will be getting answers to the question which pique their interest. Mainly the algorithm decides on questions for the email based on the past search history.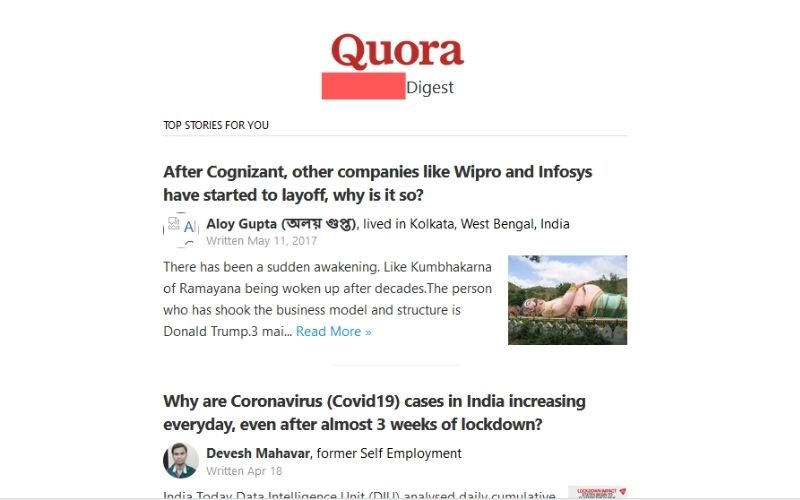 Quora delivers you the best possible answer to the queries based on the ranking given by its algorithm. The questions in the digest are from your own user feed that you can access by clicking on the CTA button at the bottom.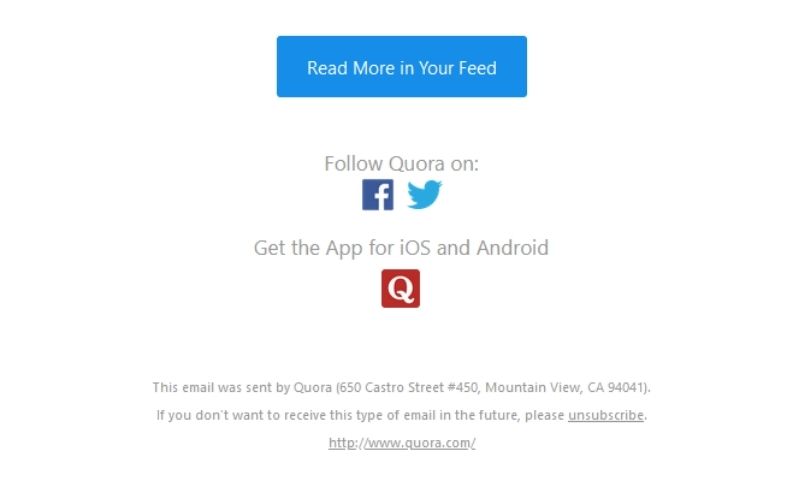 In fact, this feature allows you to get answers to your queries without even logging into your Quora account. The more time you spend on Quora, the more frequently you will get the recommended Quora digest questions with the best possible answers.
Advantages of Quora Digest
Even if you are not checking your account, digest gets you updates about the question on which you might be seeking an answer. Here are some of the key benefits of digest:
It gets you notified about the relevant questions you have missed or not seen yet.

You will receive the finest answer to the question, which has the most views, and upvotes on Quora.

The digest recommends the questions based on your personal search history.

To read the digest, you don't need to log in with your Quora account, as you will be getting all the details in the form of a newsletter email.

You can also customize your digest based on what kind of content you want to receive in your inbox. For example, Quora digest stories, question answers, etc.

If you want to reduce the frequency of the Quora digest email, you can change or even disable it whenever you want.
Obviously, when you have your inbox full of digest newsletters,  you might want to get rid of them or at least reduce the frequency of receiving emails. In that case, we are showing you the way to reduce the number of newsletters you receive, or you can just unsubscribe from Quora digest.
Also Read

Top 05 Social Selling Tips to Connect with the Modern Online Buyer
How To Unsubscribe Quora Digest?
Quora allows you to choose whether you want to turn on/off Quora digest. Just like in any email subscription on any website, you have full control to unsub digest whenever you want.
Here are the steps that you can take to activate, deactivate or change the setting of your digest.
Login to your Quora account, and after signing in, click on your profile picture shown on the top-right side of your screen.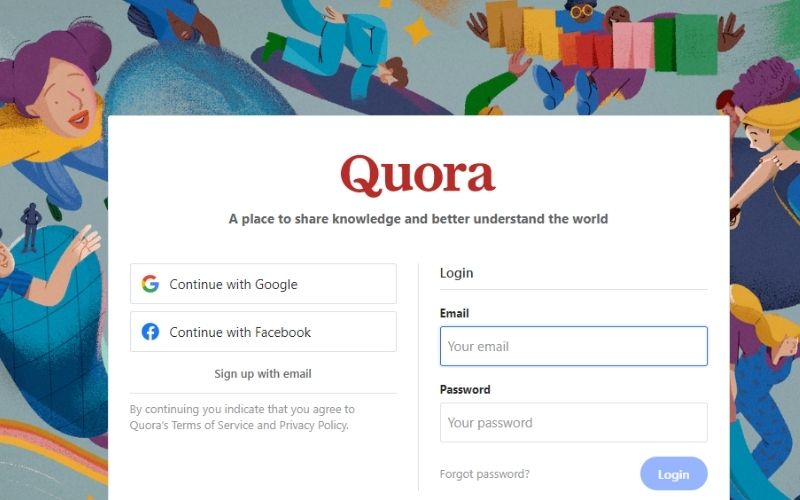 There you will find the

Settings

option. Click on that.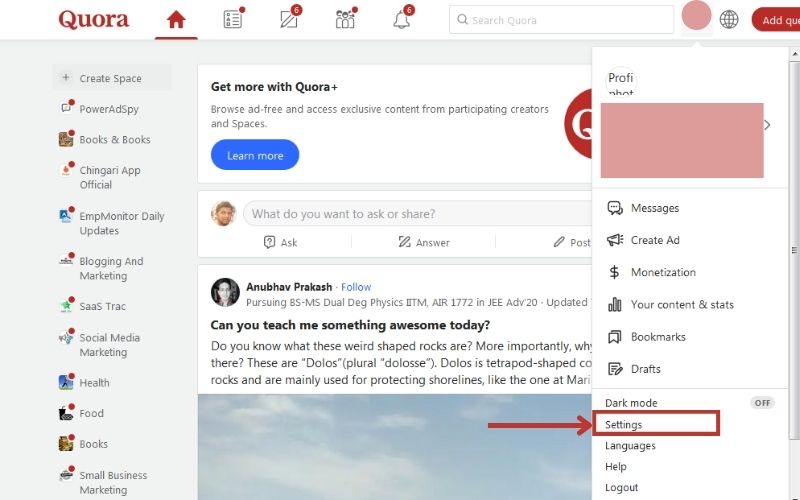 Under the Settings on the right, you will find the option – Email & Notifications. Select that.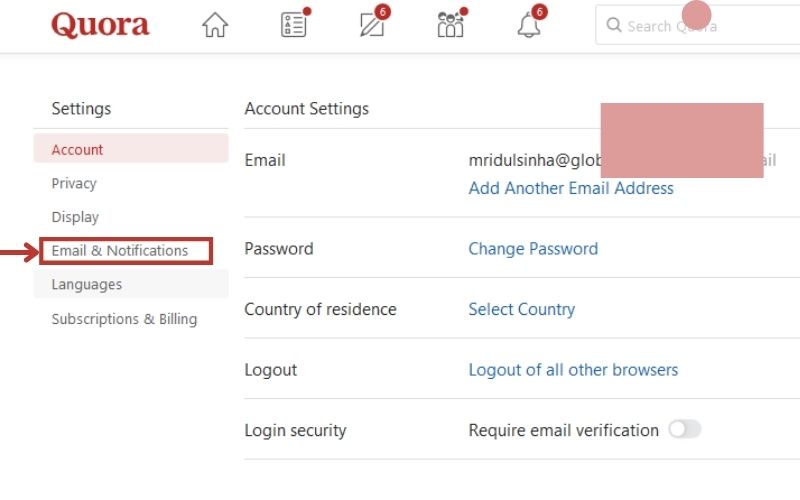 If you scroll down below, under the

From Quora

section, you will get the Quora digest settings.

As you can see, it is currently in disabled mode. After activating it, you will get the option to stop receiving digest, or you can even set the email frequency (receive it every day/ once a week).

Once activated, you will be receiving the daily digest or weekly digest newsletters to the primary email address you have added to your account.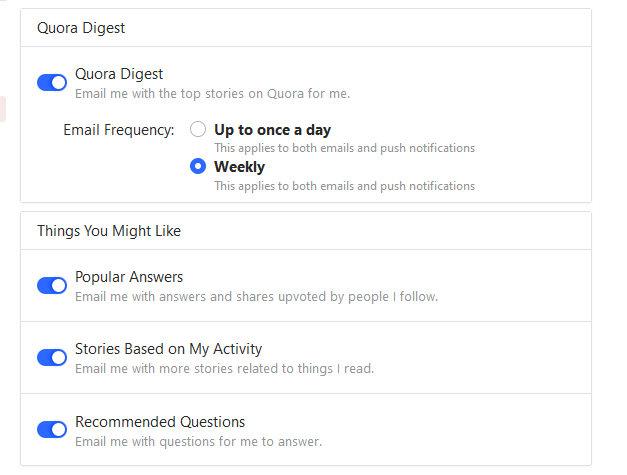 Below that, you also get the option to choose what to receive in your digest email. There you have three options – Popular answers, Stories based on my activities, and Recommended questions.

After making the changes, you don't need to save anything since there isn't a save button. Move back to the home page of Quora.
Now you already know how to activate/ deactivate digest and change the frequency of receiving emails. But still, as a curious marketer who wants to get benefits from Quora digest, what should they do?

Also Read
How Marketers Can Use Quora Digest?
Quora can help you to build the authority of your business. With over 300 million users, it gets you ample opportunities to drive traffic and generate leads on your website. Still, there is a limitation on how many people you can target. In such a case, you can put the digest on Quora to good use.
If you have been writing really good answers on Quora, you might be receiving notifications that people are seeing your answers from the Quora digest.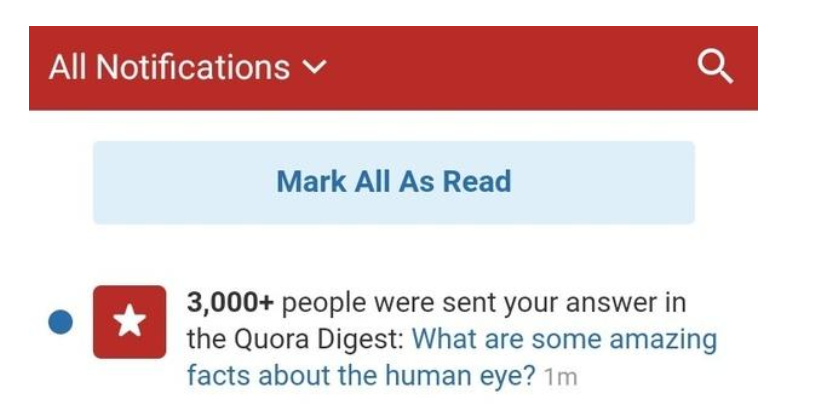 The better your answers would be, the more will be the chances of your answers included in the digest list. And it would eventually help you to gain more popularity on your profile by getting more of your answers in the Quora digest email. But to make sure getting your post recommended in digest, you need to fulfill two criteria.
One is that you need to write a killer answer to the question which can provide a solution to the query of maximum people.

Another thing is that you need to increase the number of followers on Quora. The people who are pursuing your answers will follow you. So try to write answers to the queries of your potential followers.
Sometimes only writing the top-quality answers won't help you. In such a case, you might want to rely on paid ads. PowerAdSpy can help you with that. With a database of millions of ads from 15+ countries, it gets you the exact details and insights of your competitors' ad campaigns. 
Other than Quora, you can also use this tool with other social media channels like Facebook, Instagram, YouTube, etc.
Wrapping Word:
Finally, now you know about the digest features and how they can be used. Likely, there are many marketers and entrepreneurs who are trying to create a reputed profile on Quora to get the attention of Internet users. However, if you want to be one step ahead of them, you can use the PowerAdSpy tool to learn about the most dominating competitors in your niche. It will help you to get their insights which you can replicate in your own Quora marketing.