Facebook Ads for Dentists: 8 Ways to Beat Your Competitors
A strong online presence is crucial for businesses in all industries, including dentistry. Dentist ads have become an integral part of promoting dental practices and services.
Among the plethora of digital marketing tools, Facebook advertisements for dentists have proven to be particularly effective.
In this comprehensive guide, we'll cover everything you need to know about dentist advertisements, explore the power of dental Facebook ads, and introduce you to a handy tool that can revolutionize your advertising strategy.
In a hurry? Listen to the blog instead!
The Importance of Dentist Ads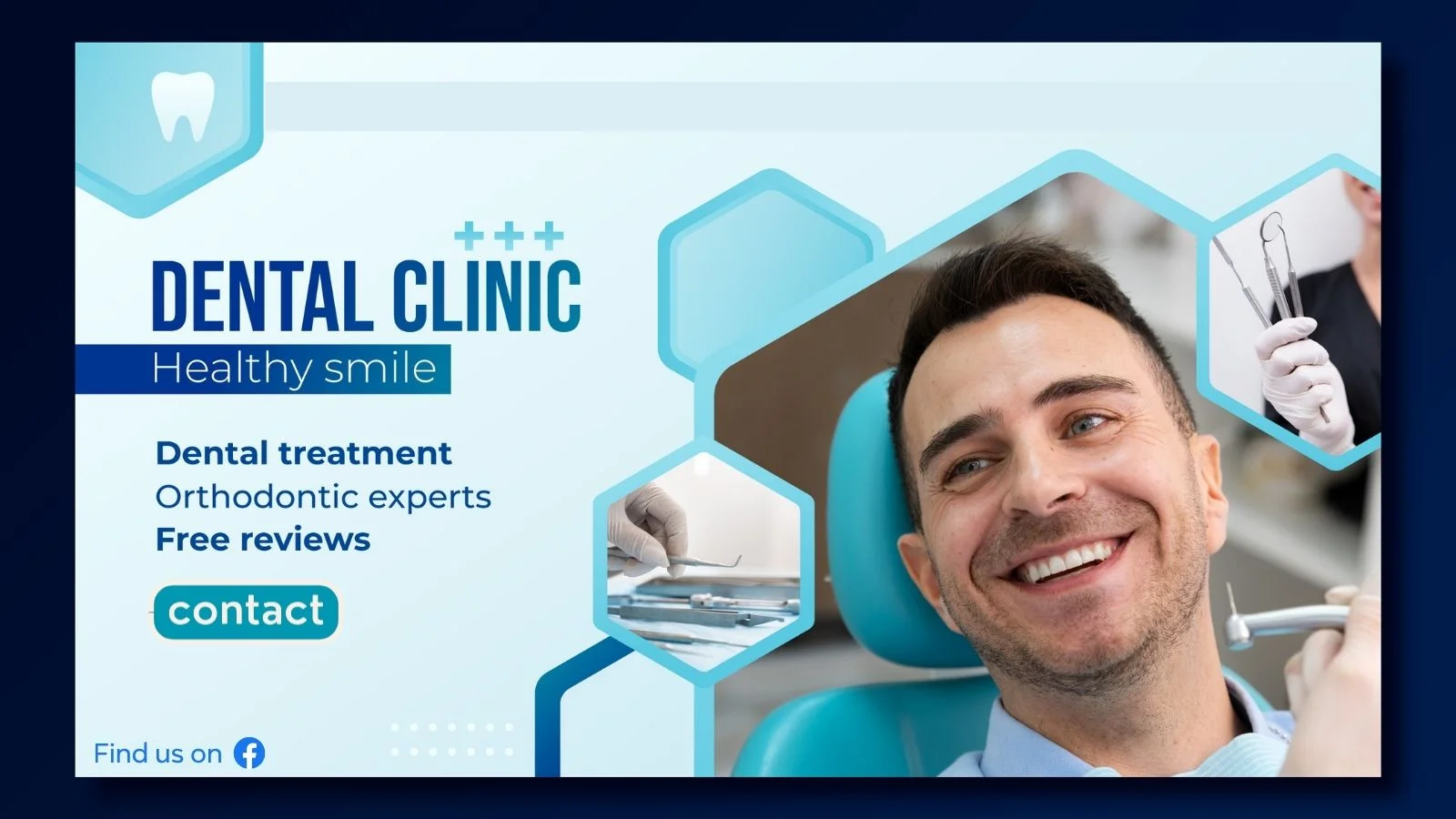 Dentist ads play a pivotal role in attracting new patients and retaining existing ones. Whether you're a solo practitioner or part of a larger dental clinic, your target audience is searching for dental services. But how do you reach them effectively?
A Competitive Dental Market
The dental industry is highly competitive, with thousands of practices vying for the same pool of potential patients. For your brand to stand out in this highly competitive marketplace, you need to employ creative and data-driven advertising strategies. That's where dentist ads come into play.
Take Advantage Of Online Ads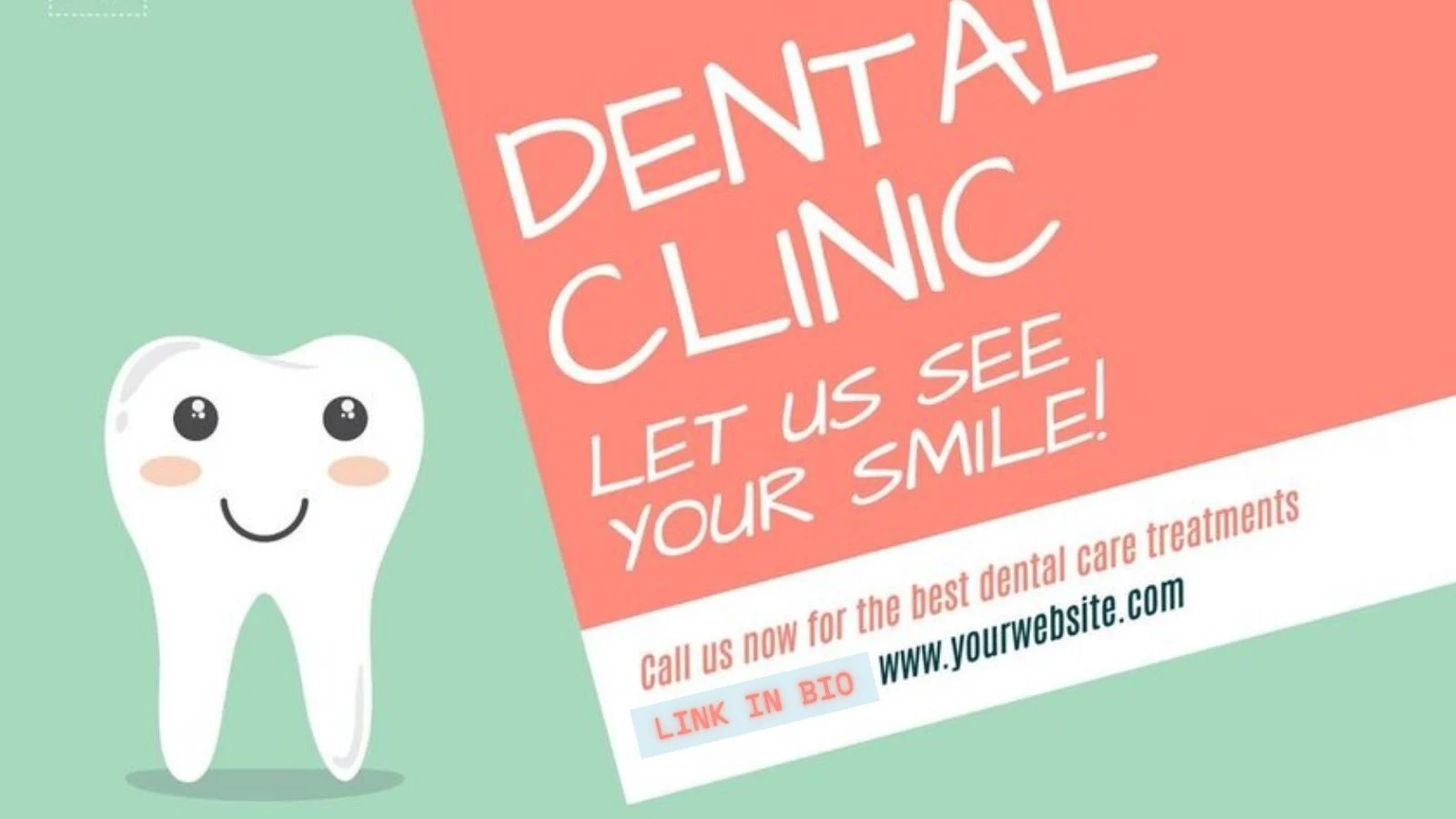 Traditional methods of advertising, like flyers and billboards, have their place, but in today's digital world, it's essential to meet your audience where they spend most of their time – online. By creating a strong online presence, you can:
Increase Visibility: Make your dental practice more visible to potential patients searching for dental services online.
Build Trust: Establish credibility and trust in your services by showcasing testimonials, certifications, and other relevant information.
Engage with the Community: Connect with your local community and address their dental needs effectively.
Targeted Marketing: Reach a highly specific audience using various demographic and behavioral targeting options.
Take Advantage Of Facebook Ads For Dentist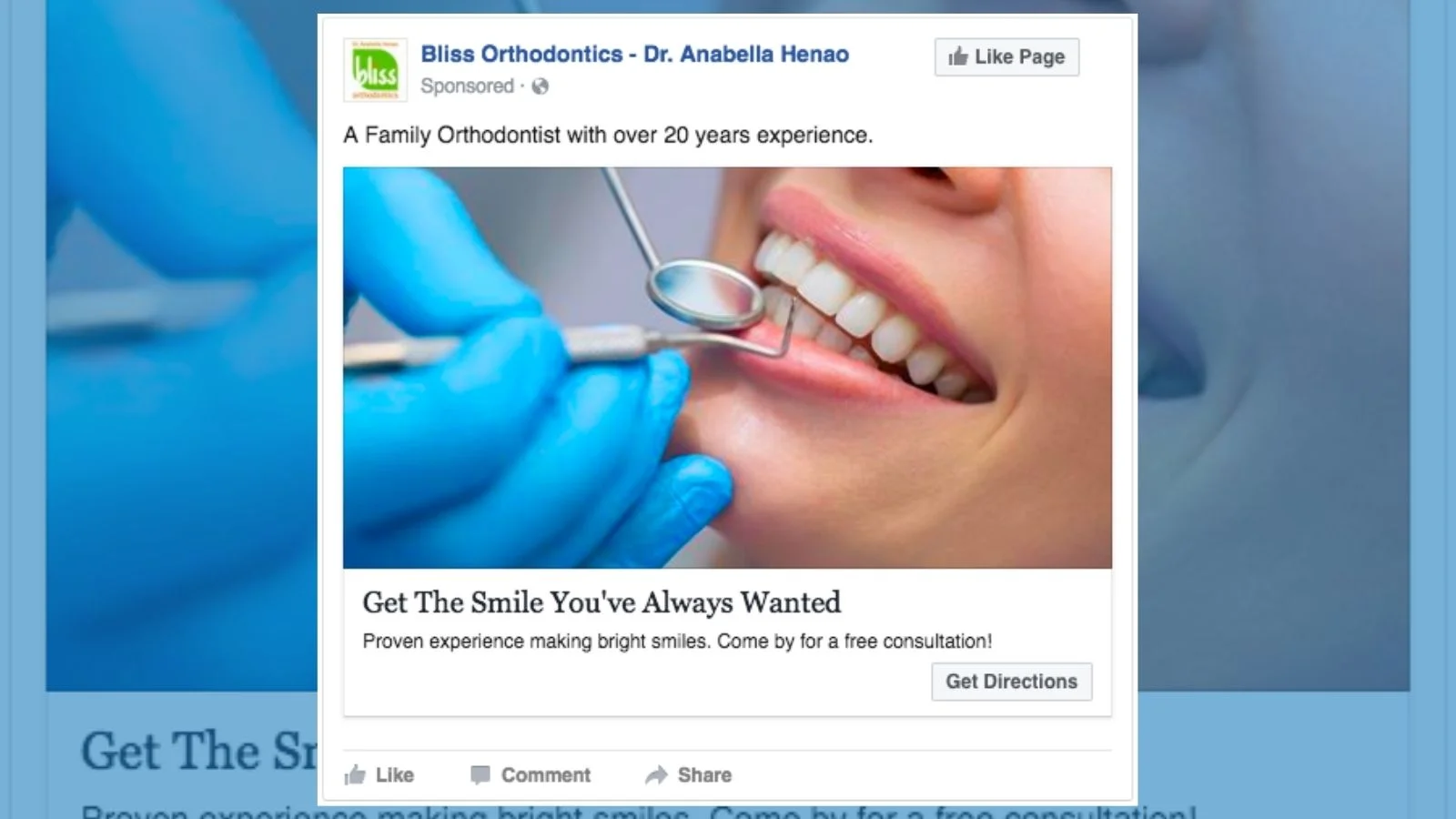 One of the most effective tools for online advertising on Facebook. With over 2.8 billion monthly active users, Facebook offers a massive and diverse audience. Here's how you can harness the power of Facebook ads for your dental practice.
Precise Audience Targeting
Facebook's advertising platform allows you to define your audience with remarkable precision. You can target your dentist ad based on factors such as:
Location: Reach potential patients in your local area.
Age: Focus on the age groups most likely to require dental services.
Interests: Target users interested in dental health, cosmetic dentistry, or related topics.
Behavior: Reach out to users who have previously searched for dental services or visited dental websites.
This level of precision ensures that your dentist ads are seen by the people most likely to become your patients.
Visually Engaging Ad Formats
Visual content is crucial for capturing the attention of potential patients. Facebook ads allow you to use eye-catching images and videos to showcase your dental practice, services, and team. Consider running ads that feature before-and-after photos, patient testimonials, or a virtual tour of your clinic.
Compelling Ad Copy
In addition to captivating visuals, compelling ad copy is essential. Your ad's message should be clear, concise, and persuasive. Highlight the benefits of your dental services, address common pain points, and provide a strong call to action (CTA), such as "Book an Appointment Today."
Mobile Optimization
A significant portion of Facebook users access the platform via mobile devices. Ensure that your dentist ads are mobile-friendly, with responsive design and fast-loading content. This improves the user experience and increases the likelihood of conversions.
A/B Testing
To fine-tune your ad campaigns use A/B testing to compare different ad variations. Test elements like ad copy, visuals, CTA buttons, and audience segments to determine what works best for your dental practice.
Ad Scheduling
Optimize your ad delivery by scheduling your ads to run at specific times when your target audience is most active. This feature can help you get the most out of your advertising budget.
Budget Control
Facebook ads are cost-effective, and you have complete control over your budget. You can set daily or lifetime budgets and adjust them as needed. Start with a reasonable budget and gradually increase it as you see positive results.
Facebook Pixel Integration
To track user interactions with your website and measure the success of your dentist ads, integrate Facebook Pixel. This tool provides invaluable data on user behavior, allowing you to make data-driven decisions to improve your ad campaigns.
Utilize Ad Intelligence Tool For Dental Ads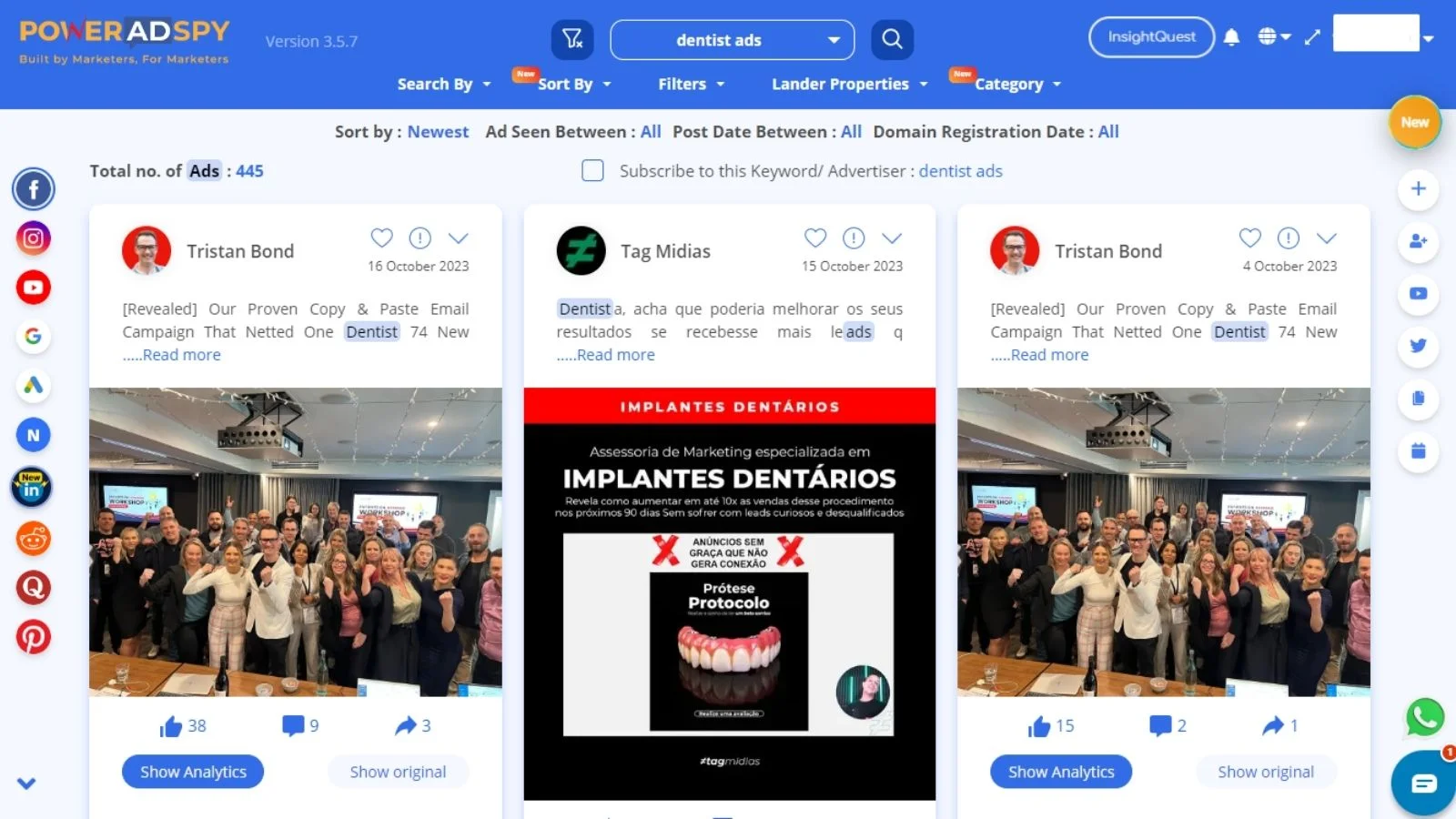 In the world of digital marketing, staying ahead of the competition requires knowing what's working for others. That's where PowerAdSpy, a Facebook Ads Spy Tool, comes in.
It is an invaluable tool for any dentist looking to enhance their Facebook advertising strategy. This powerful tool provides the following benefits:
Competitor Evaluation: You can stay updated on your competitors' ad strategies. Discover what types of ads they are running, their targeting methods, and the engagement they receive.
Creative Advertisement Ideas: Get fresh ideas for your dentist ads by exploring successful ad creatives in your niche.
Advertisement Copy Insights: Understand the language and messaging that resonates with your target audience. Use this knowledge to improve your own ad copy.
Advertisement Metrics: Access data on ad performance, including click-through rates (CTR), engagement rates, and conversion rates, to identify what works best.
Ad Placement Monitoring: Analyze where your competitors are placing their ads to reach their target audience.
With PowerAdSpy, you can uncover the secrets of successful dental advertising campaigns and apply them to your own strategy. Stay one step ahead of your competition by continuously refining your dentist ad.
Also Read
7 Strategies for Decoding Competitor Ads
How To Optimize Your Facebook Ads: 7 Tips & Tricks
Digital Advertising 101: A Crash Course for Beginners
The Future of Dentist Ads
As the digital landscape continues to evolve, so will the world of dentist ads. Here are some trends to keep an eye on in the coming years:
Video Content Dominance
Video content is becoming increasingly popular on social media platforms, and it's likely to become the dominant format for dentist ad. Consider investing in video ad production to engage your audience effectively.
Chatbots and AI
Chatbots and artificial intelligence can enhance the user experience on your website and assist with appointment scheduling and answering common questions. Integrating these technologies can improve patient interactions and conversions.
Local SEO and Google My Business
Optimizing your Google my business listing and local SEO is crucial for attracting local patients. Ensure that your dental practice appears in local search results, and encourage patients to leave reviews.
Telemedicine Services
The rise of telemedicine allows you to offer virtual consultations and services. Promote these services through your dentist ads to cater to patients who prefer remote healthcare options.
Data Privacy and Compliance
Stay updated on data privacy regulations to ensure that your ad campaigns comply with laws like GDPR. Trust and credibility are essential for maintaining patient trust.
Conclusion
In the ever-evolving world of digital marketing, dentist ads have proven to be a powerful tool for attracting and retaining patients. Among the many options available, Facebook advertisements for dentists stand out for their precision and potential reach. To stay ahead in this competitive field, consider using the Facebook Ads Spy Tool to gain insights into successful ad strategies.
Remember that successful ads for dentists require a combination of precise targeting, engaging visuals, persuasive ad copy, and a commitment to data-driven optimization. As you adapt to emerging trends and technology, your dental practice will continue to thrive and serve the community effectively.
Enhance your online presence, connect with your audience, and boost your dental practice's success with effective dentist ads powered by Facebook and guided by the insights from PowerAdSpy. The future of dental advertising is waiting for you to explore and master it.