Bing Ads vs Google Ads: The Ultimate Showdown
Let's be honest. We're fascinated with Google when it comes to pay-per-click services. It's so good that you'll wonder why other search engines exist. Most organizations seldom consider Bing Advertising as part of their marketing plan since they focus on Google Ads campaigns. They should, however. As we bring you the main event of Bing Ads vs Google Ads, you'll see why.
At first glance, Google and Bing look to be nearly identical. The procedure for placing ads is much the same. On each platform, an advertiser creates a campaign with keywords and text advertising to be used on a search network and is charged a set price for each click. So, what exactly are the distinctions?
The search network and the display network are two massive networks that Google has access to. Advertisers can select to advertise on one or both of these networks when they establish a campaign in Google Ads. Using both of these networks increases the reach of your adverts on the internet.
Hit The
Play

Button To Listen:
On the other hand, most marketers exclusively use the search network because the display network displays a text ad as a display ad. A Bing text ad will appear across Microsoft's search platforms (Bing, Yahoo, and AOL). Ads will also be displayed on any of the platforms' partner sites.
What exactly is Bing Ads? (Microsoft Advertisements)
Bing advertising, like Google Ads, allows publishers to bid on search keywords and display ads that appear when a user types that phrase into Bing. Direct response marketing is the term for this type of marketing. You are directly replying to the user's query with relevant information after they enter a search phrase.
Furthermore, Bing uses the exact pay-per-click advertising mechanism as Google Ads. You are charged a fee for the privilege of advertising on Bing as soon as a searcher clicks on your ad. If you've ever managed Google Ads campaigns, you're aware that the cost-per-click for some keywords can be exorbitant. The good news about Bing ads vs Google ads is that Bing Ads are frequently less expensive than Google Ads. However, we'll get to the significant distinctions between Google Ads and Bing Ads in a moment.
What Is the Difference Between Bing Ads and Google Ads?
The pay-per-click approach is used by both Bing and Google Ads. Their mission is the same: to assist businesses in reaching particular users, increasing traffic, and increasing income. To achieve this purpose, each platform has its own set of features.
Businesses create text adverts on search engine result pages on the Search Network (SERP). The Search Network and the Display Network make up Google Ads. Your display advertising is viewed throughout the internet on various websites when you use the Display Network.
Microsoft, which also owns Yahoo and AOL, owns Microsoft Ads, formerly known as Bing Ads. Your ad will appear on all three search engines if you advertise on Bing. As a result, searchers on all three sites and their partner and owned sites will see your campaign.
Bing advertising also allows you to specify targeting filters that define when your ad will be displayed, which might help you reach the proper consumers. For instance, turning down your ads on weekends guarantees that you do not waste leads if you are an electrician who does not work weekends.
Alternatively, if you only want to appear to folks using a mobile device, Bing allows you to do so. While those are just two accessible instances, Bing's targeting possibilities, like Google's, are pretty impressive. When it comes to improving your cost-per-conversion or cost-per-acquisition, you or your marketing team will now have many more options.
Let's look at the differences between Bing PPC and Google Ads now that you've seen a brief overview of how Bing PPC advertising works. You might be shocked to learn that Bing is still worth looking at as part of your marketing plan.
Pros and Cons of Bing Ads vs. Google Ads
When choosing a platform, there are numerous factors to consider. Among them are the following:
Bing Ads vs Google Ads :Popularity
Everyone is aware that Google is the most popular search engine. In reality, Google accounted for 75.74 percent of global desktop and laptop searches in 2019 and had the most visits from the United States. These figures position Google in first place in terms of popularity.
Bing Ads uses three different search engines: Bing, Yahoo!, and AOL. Bing is, without a doubt, the most popular of the three. Even though these search engines are not as popular as Google, Bing remains the most popular, accounting for 33 percent of all internet queries in the United States. Bing Ads has an excellent and targeted reach as a result of this.
Bing Ads vs Google Ads : Competition
Because Google has a larger audience than any other search engine, your adverts will be viewed by a more significant number of people, but this also means more competition. There will be many commercials vying for the same space. It would be best if you constantly optimized your advertising campaigns, keywords, and bids for your ad to appear on Google.
Bing Ads has the upper hand in terms of competition. Most businesses opt to spend all of their money on Google Adwords, which implies that there will be less competition for keywords, bids, and ad places.
Bing Ads vs Google Ads : Bids
Another disadvantage is the bid pricing. Because of the increased competition, keyword bids will grow, requiring you to increase your daily budget and spend more money.
Bids are lower when there is less competition. According to recent surveys, the average cost-per-click for Bing Ads might be 70% lower than AdWords. Of course, bid costs vary by industry, but you won't need to spend as much money as you would with Google Ads.
Bing Ads vs Google Ads : Structure of the advertisement
One of the best things about Google Ads is how simple and intuitive it is. Google will offer you everything you need, including a keyword planner and analytic tools. The format of the adverts is likewise relatively clear. Campaigns organize the adverts, and there are three types of campaigns:
Text advertising is known as search ads.
Display Ads are advertisements that are based on images.
The adverts we see on YouTube are known as video ads.
Your adverts will have a lot of variety thanks to the various campaigns. Under the ad's headline, Google Search ads include your website's URL and description. You can have two 35-character-long description lines or one 80-character-long description line.
Google Adwords and Bing Ads are very similar when it comes to advertisements. Bing Ads offers more specificity than Google Ads, even though Google Ads is easier to use. On Bing, for example, the following are examples of ad types:
Text ads with more space
dynamic search advertisements
advertisements for products
Audience ads from Microsoft
Bing advertising by Microsoft Smart Lookup
advertisements for app downloads
responsive search ads
Ads on Bing feature your website's URL and description under the title, just like Google Ads. Bing Ads, like Google Ads, provides you with the tools you'll need to develop and optimize your ads.
Bing Ads vs Google Ads : CTR (click-through-rate):
CTRs are used to determine how effective your adverts and keywords are. To calculate your CTR, multiply the number of clicks your ad receives by the number of times it appears on the page.
The formula is: clicks ÷ impressions = CTR. Usually, Google has a CTR average of about 2%.
Bing has a variety of shopping and finance ads, which boosts CTR when combined with Bing's prospects. Because the population on Bing is primarily made up of middle-aged persons with higher earnings, the chances of clicking on an ad and making a purchase are significantly higher.
How To Use Bing Ads? Get The Best Ads Using PowerAdSpy!
PowerAdSpy is the first and the largest social media ads analytics tool of its kind. It offers to run the best ads to generate revenue on various platforms such as Facebook, Google, Instagram, Youtube, GDN, NATIVE, Reddit, Quora ads, etc. This social media ads analytics tool has the world's largest database of over 50 million ads listed. 
It does not matter if you see it as Bing ads vs Google ads, you will have to monitor and use all the platforms at you disposal. And if you are looking for ads to get inspiration for advertising on Bing for your ad campaigns, you can easily find them with PowerAdSpy!
Step 1: Log Into PowerAdSpy Dashboard
Go to PowerAdSpy home page and click on Login button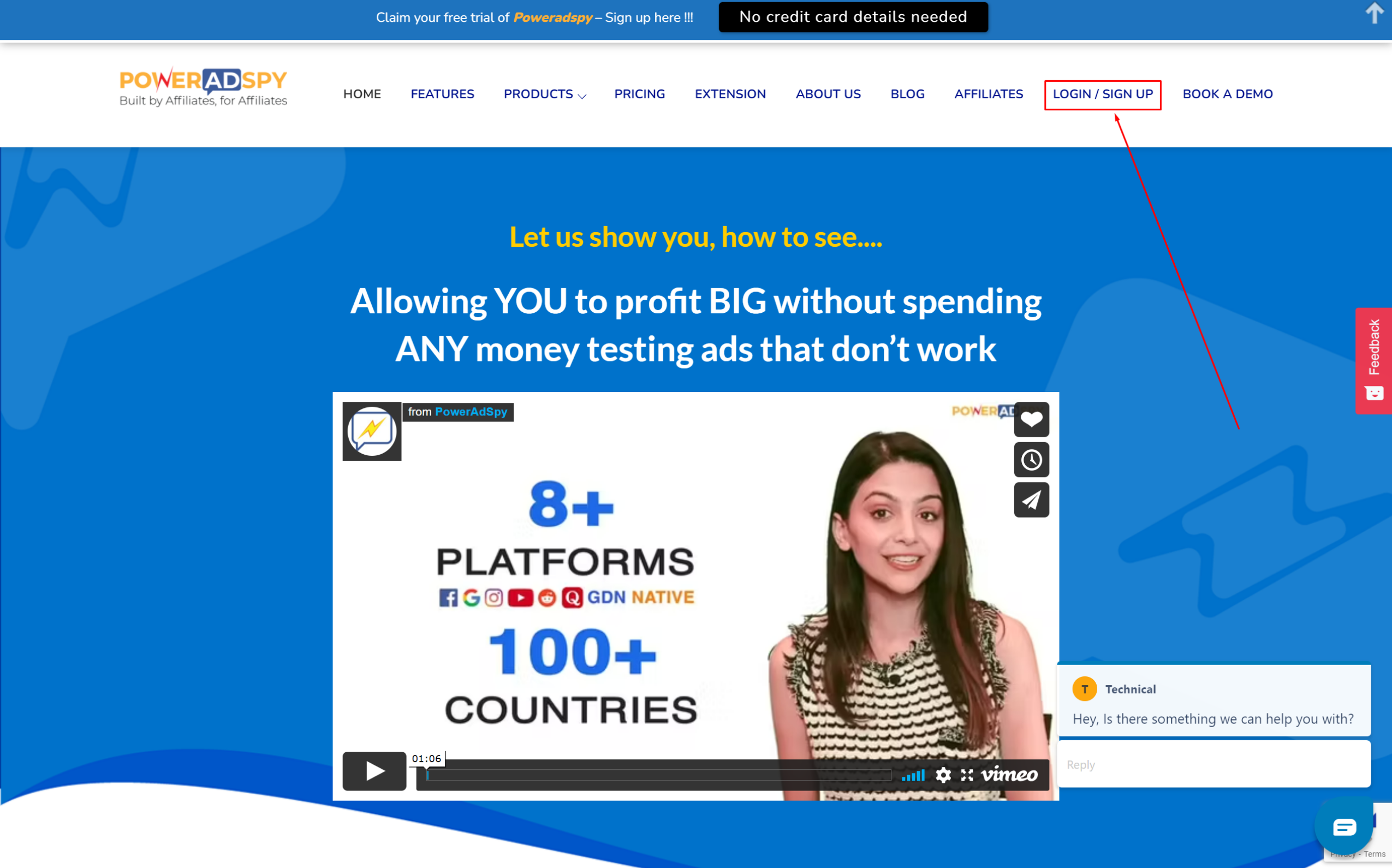 Step 2: Enter A Keyword:
On the top, you will find a search bar where you put a keyword you want ads for. You can search for a domain, advertiser, or keyword. 
Step 3: Search, Sort, and Filter Options:
You can search by text, brand, an object, or celebratory in the image. You also short the ads by likes, shares, and comments. PowerAdSpy has a powerful filter feature that helps you filter ads by call-to-action, search ads by country, ad type, and ad position.
Step 4: Analyze The Detailed Ads Analytics:
PowerAdSpy provides the best insight on ads which gives you in-depth details on the age, gender, target profile, relationship status, social engagement, country, etc.
Step 5: Similar Ads:
PowerAdSpy also shows you the ads similar to the ad you have clicked on. It will further help you get similar ads for the inspiration for your ads campaign.
PowerAdSpy can definitely improve your ad campaigns ten-folds. Want to try it out? Then click here!
Check Out Our Latest Posts:

Twitter Advertising 101: Everything You Need To Know
Top 10 Facebook Marketing Strategy For Small Business In 2022
Top 20 New Instagram Updates And Forecasts For 2022
Which is better, Bing Ads vs Google Ads?
The short answer is yes. Both! You're missing out if you advertise on Google Ads. You're battling for a competitive advantage that you could be earning elsewhere upstream. Get a jump start on the competition. Advertise in places where your competitors aren't and learn  how to use Bing ads and Google ads together. Bing users are expected to increase in the future, as Microsoft just redesigned its Edge browser, forcing many users to switch to Bing.