Secrets To Successfully Targeting Your Competitor's Audience Via LinkedIn Ads
LinkedIn is an influential platform for organizations to reach their audience and generate leads. But with so many businesses in the spotlight, it can take time to stand out and attract new customers. But don't worry, to gain a competitive advantage, you can adopt various strategies on LinkedIn.
One approach is to target your competitor's audience and utilize LinkedIn advertising to expand your reach, attracting potential customers who have shown an interest in your offerings. Another option is to utilize the LinkedIn Ad Spy tool to find the target audience of your competitors. 

Additionally, you can reach out to individuals who have previously demonstrated an interest in your competitor's products or services, potentially increasing your customer base and market share.

It's essential to identify your competitors, analyze their audience, and utilize targeting options to optimize your ads and achieve optimal results. So, let's dive in and discover how you can successfully target your competitor's audience via LinkedIn Ads. 
Listen to this Podcast to Learn Everything About the LinkedIn ad Spy tool and spy Competitor's Ads
7 Secrets to Targeting Competitors' Audiences on LinkedIn- Spoiler Alert!

Targeting your competitors' audiences on LinkedIn can be a highly effective way to gain new customers and increase your market share. However, it's important to employ the right strategies to achieve optimal results.
In this article, we'll reveal seven secrets to help you effectively target your competitors' audiences on LinkedIn. Here are seven secrets to targeting competitors' audiences on LinkedIn-
1. Identify Your Competitors

Conduct thorough research to identify your competitors on LinkedIn. Analyze their company pages, groups, and employee profiles to gain insights into their target audience demographics, interests, and engagement patterns.
To simplify your competitive analysis you can use LinkedIn Ad Spy tools like PowerAdSpy. Find out more about this in the next section.
2. Use LinkedIn's Targeting Options

The next step is to use the targeting option on LinkedIn as it provides users with a wide range of audience targeting options, such as job title, industry, company size, location, etc. Utilize these options to target your competitors' customers and make your ad more relevant to them.

3. Sponsored Content:

Utilize LinkedIn's sponsored content feature to promote your content to your competitors' audiences. This allows you to target specific segments of your competitors' audiences with your content, increasing your visibility among potential customers.
4. Analyze your competitors' Content & Audience

Another secret to targeting competitors is by looking at your competitors' LinkedIn pages and identifying- the type of content that resonates with their audience. Use this platform for insight and create compelling ad content to engage – followers and potential customers. Then, after understanding the content type- study the audience.
Now it's time to analyze your competitor's audience and use the information to create similar audiences. LinkedIn's Lookalike Audiences feature allows you to create an audience similar to your competitor's reach- based on demographics, interests, behaviours, and other characteristics.
It can help you reach a new audience similar to your competitor's audience and potentially interested in your products or services.
5. Target Similar Companies
One of the common yet effective ways to target your competitors is by finding similar companies to your competitors and targeting their employees with your ads. These companies may have an audience- that might be interested in your product or service.
6. Use Retargeting
You can also use LinkedIn's retargeting feature to target individuals who have already engaged with your brand or visited your website. This approach can help you reach individuals who have shown interest in your product or service but have not yet converted.
7. Groups Participation
Join relevant LinkedIn groups where your competitors' audiences are active. Engage in discussions, share valuable insights, and establish yourself as a thought leader in your industry. This can help you attract the attention of your competitors' audiences and build relationships with potential customers.
These are some of the best practices for LinkedIn Ads which can help you target your competitors' audience in a better way. However, always remember to adhere to LinkedIn's terms of service and ethical guidelines while targeting your competitors' audiences. It's essential to be respectful, provide value, and establish genuine connections with potential customers.
Why Should You Spy on Competitor's Ads Before Creating Your Strategy?
It's beneficial to spy on your competitors' ads before creating your advertising strategy as It helps in refining your ads. When you spy on your competitors, it helps you analyse their advertising tactics. You can gain valuable insights into their target audience, messaging, and marketing channels. 

This helps you make an informed decision about how to allocate your advertising budget. So, once you have gathered insights into your competitors' LinkedIn Ads, you can shape your LinkedIn Ad strategy. You can also enhance your research by using LinkedIn Ad Spy tool like PowerAdspy.
PowerAdSpy- Your Ultimate Ad Intelligence Tool
When it comes to keeping a close eye on your competitor's ad strategies, you need a smart and powerful intelligence tool that can provide you with the insights you need. That's where PowerAdSpy comes in.
PowerAdSpy is a leading ad intelligence tool that empowers marketers and advertisers with the ability to spy on their competitors' ads and unlock valuable data and insights. With its advanced features and capabilities, PowerAdSpy provides you with a competitive edge in the ever-evolving world of digital advertising.
With its advanced features, PowerAdSpy enables you to discover your competitors' winning ad campaigns on LinkedIn and popular social media platforms like Facebook, Instagram, YouTube, Google etc.
You can access a vast database of ads from various industries, job functions, and geographies, providing you with a comprehensive view of what's working in your target market.
PowerAdSpy's powerful filtering options allow you to narrow down your search based on ad type, ad placements, job titles, industries, and other relevant criteria. You can also track your competitors' ad performance, monitor their ad creatives, landing pages, and calls to action, and gain valuable insights into their targeting strategies using the LinkedIn Ad Spy tool feature.
Let's see Step-wise How It Works-
Step 1– Login to the PowerAspy dashboard using your registered email Id and password.

Step 2- After successful login, this screen shall appear. Now click on the LinkedIn ad button as shown in the image. And this LinkedIn ad spy tool shall display results according to the input done.
Step 3- Now type a keyword in the search bar for which you want to search an active LinkedIn ad.
Example– Let's search all the Ads on LinkedIn based on the category "design skills".
Step 4– To look for search results, click on the search button.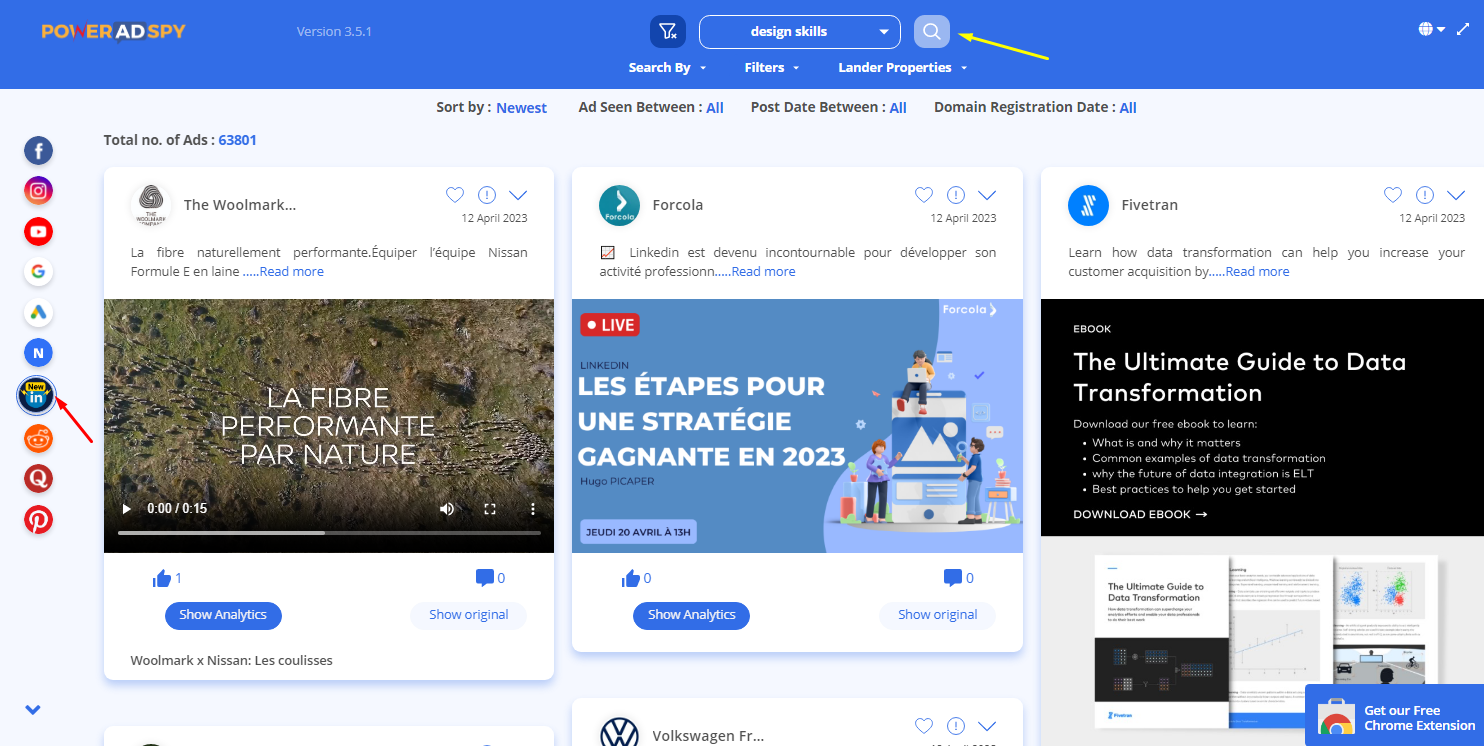 Step 5– Now all the search results related to the keyword shall be displayed on your screen as a search result. You can see all the ads related to design skills on your screen. 
Like this, you can search for various keywords, using different filters to get more targeted results. It will help you make more data-driven decisions.
What Type of LinkedIn Ad Reaches the Audience?
For effectively reaching your target audience on LinkedIn, it's important to choose the right type of ad. LinkedIn offers a range of ad formats, each with its unique strengths and benefits. Understanding the different ad types can help you select the most appropriate format for your advertising goals and audience. 
If you want to win the heart of your content viewers, you can follow the Lo-Fi content approach. It's the type of content where you incorporate less refined and more genuine images into your ad. This kind of content establishes a more intimate connection with your target audience and offers more trust to the viewers.

For Example- If you wish to market the software for small businesses- you could include a testimonial from a satisfied client in your advertisement. This ad can be effectively conveyed with the camera and video capabilities of your smartphone. If you use this content technique, you will skyrocket your LinkedIn ad views and anchor them into the minds of your viewers.
Keep Reading
Observe Your Competitor's strategy using the LinkedIn Ad Spy tool!
How To Target Competitor Audiences Through Linkedin Ad Spy Tool in 2023?
Conclusion
LinkedIn Ads offer a valuable opportunity to connect with potential customers on the world's largest professional network. Then, by utilizing the platform's built-in tools or PowerAdspy- a LinkedIn ad spy tool used by businesses to gain insights into what is effective for their competitors and use that information to improve their advertising.

With creativity and a targeted approach, businesses can create eye-catching ads that appeal to their desired audience. You need to keep your objectives in mind-that testing different ad formats & budgets is a vital aspect of successful LinkedIn Ads campaigns. If you still have questions
or need guidance, our team of social media specialists is available to provide a free consultation. Get in touch with us today!