Ads on Instagram Or Instagram Promotion — Which Is The Best Fit For Your Brand?
What's the best way you can showcase your brand on Instagram? Have you ever wondered about it? Well! My top picks are ads on Instagram and Instagram promotion. 
90% of you must be highly familiar with Instagram ads i.e Photo Ads, Video Ads, Carousel Ads, slideshow Ads, stories Ads, and many more. While only 40 % of people are aware of Instagram promotion but have never really tried to implement it.
Well! Let me take you another way around. Instagram ads, no doubt- are the sure-shot way to sky-rocket your business. But practising promotions on Instagram is just like catching a big fish in a small pond. You might have come across influencers offering you coupons & referral codes. What do you think? Is this the part of promoting their brands via Influencers? 
Of course, yes! The vital aspects of Instagram marketing like Coupons, discounts, and promotions, without a doubt, act as gold mines. However, like everything online, competition has gotten the short end of the stick. If you want to break through the noise, you need to go beyond the basic ads on Instagram.
The initial investment will be well worth it since promotions & advertisements- will help you get new consumers, inspire brand loyalty, upsell, cross-sell, and more when done correctly.
So, who's the winner between advertisements and promotions?
Well! Head on to know which tactic can smell like a rose and will help you grow your business.
Also, hit on the play button to listen to this podcast.
What Do You Understand By Ads On Instagram?
Advertising is the sponsored placement of your commercial messaging. Similarly, Instagram advertisements are postings that companies may purchase in order to reach a bigger and more focused audience. It is beneficial to use Instagram advertisements frequently to increase brand awareness, website traffic, generate new leads, and drive current leads through the sales funnel (and hopefully towards converting).
Running ads on Instagram appear in user feeds, Stories, Explore, and more, similar to Facebook ads. They have a similar appearance to regular post ads on Instagram, but they always include a sponsored label to highlight their advertisements. They also frequently include additional elements than a standard post, including links, call-to-action buttons, and product catalogs.
What Do You Understand By Instagram Promotion?
A standard definition of promotion is the act of spreading your message without having to pay for advertising space in the media. Instagram promotions are newer than advertisements and require far less time and effort than an entire campaign. In certain situations, such as sponsoring a concert and handing out T-shirts or product samples. You pay for and have total control over your messages. While in other cases- you may use influencers such as discounts and referral codes for advertising your items.
Although the Sponsored tag appears in the same place. The Instagram algorithm considers these posts differently. Every user will have a distinct motive, and the algorithm will try to match those differences.
Instagram Ads Vs Instagram Promotion: Cost
While both advertisements and Instagram promotion use the same Ads Manager, their advertising costs are different. Setting the cost of ads by an Instagram ad auction is based on CPC (cost-per-click) and CPM (cost-per-impressions). 
Instagram CPC in 2021 ranges from $0.40 to $0.70 across all measures. This takes into consideration all of the clicks that an ad receives. For better-performing campaigns and ad packages, the Instagram CPM varies from $2.50 to $3.50.
For smaller firms, promotion is frequently a more cost-effective means of growing sales. Advertising through traditional media channels may be rather expensive. Smaller businesses may readily plan a number of short-term promotions to boost sales and customer awareness, frequently with positive and immediate results.
Successful advertising campaigns generally need a long-term financial commitment, which is another reason why using the promotion to boost sales in your small business may be beneficial.
Instagram Ads Vs Instagram Promotion: Types
There are many different types of ads available on Instagram. In fact, there are 06 types of ads you can choose from:
1- Video advertisements: They can last up to 60 seconds.  
2-Photo Ads: allow you to showcase your products through images.
3- Carousel Ads:  Users may swipe through up to ten images or videos, each with a CTA button that takes them to your website.  
4- Stories Ads:  Full-screen advertisements that allow you to share images and videos with your audience.  
5- Explore ads:  It functions similarly to standard Instagram advertisements, except they show up in the Explore area of the app.  
6- Shopping Ads:  It will appear to be a standard Instagram photo post at first sight. In the lower-left corner, you can see a small shopping bag, indicating a collection ad sign.
As you can see, Instagram allows you to build a wide range of advertisements. However, many can produce excellent results. However, many can deliver exceptional results- there are a few particularly entertaining, provide a lot of room for creativity, and have a high return on investment: Instagram story advertising and Instagram explore ads.
Now, what about Instagram Promotion? Can Instagram Promotion also offer you an enormous variety of options? As a matter of fact, not really.
1- Cross-promoting your Instagram posts- Cross-posting your content to other social media platforms is a no-brainer if you want to maximize the return on your Instagram investment.
2- Collaborate with Influencers- Influencers may promote your company by writing product reviews, offering a coupon, or sharing referral codes with their followers.
3- Run a contest or giveaway- To boost the number of interactions and followers on Instagram, you can run a contest campaign.
4- Running a paid campaign- Paid promotion can increase your Instagram visibility & exposure. It is a terrific strategy to get more of your followers to follow you.
Instagram Ads vs. Instagram Promotion: brand engagement.
Did you know that 70.7 percent of businesses use Instagram for marketing purposes? Many people have created Instagram Business Profiles and use them to advertise and promote their businesses on a daily basis. Furthermore, 80 percent of Instagram users follow a brand, and 68 percent of them connect with brands on a regular basis, as seen above.
Now, since Instagram has higher brand engagement, would you receive more views, shares, and comments when doing ads and promotions on Instagram? Yes!
Instagram advertising and Instagram promotions both receive high engagement, so don't you think this will prove to be a solid strategy to invest in for best engagement results.
PowerAdSpy- The Game Changer
While you must be struggling between choosing ads on Instagram and Instagram promotion, there is a one-stop solution that will help you ace the game of marketing. The game-changer is PowerAdspy.
PowerAdSpy is a fantastic feature that allows you to search for specific brands or even famous personalities endorsing brands. You may also follow a few businesses to see how their advertising efforts compare to your own. It will help you to expand your audience and increase conversions in your firm. Below are a few impactful features of PowerAdSpy that will help you understand how to create ads on Instagram and promote the brand on Instagram.
1- Search through relevant keywords of your niche.
Here you can enter any keyword that represents the niche, brand, or product. You may also subscribe to those keywords!
2- Sort By & Filters Dashboard
Sort advertising by the number of likes, comments, and shares they have received. Using this tool, you may get a hold of the most successful ad campaigns.
Filter option solely derives anything you are looking for. Just type relevant CTA. In the next, you can type your target location and then go for the option Ad Type.
3- Ad Analytics Report.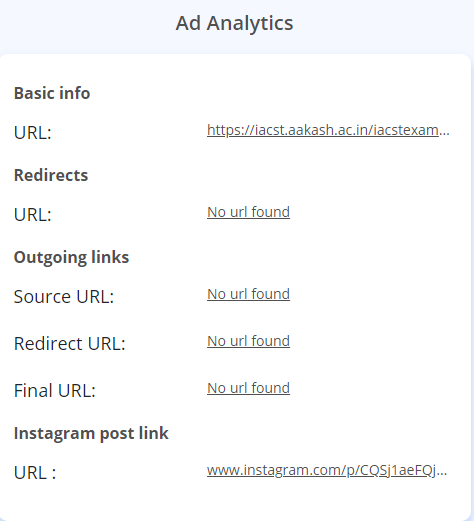 Get detailed reports on your competitor's advertisements. When you select Show Analytics, a new window will appear that will show you the behind-the-scenes of their advertisements.
4- Ad Demographics.
Get a hold of the First and Last-Seen of the ad, language, post date, advert running days, audience age, and domain registration date.
So, what are you waiting for:?
Start your competitive intelligence research with PowerAdSpy and understand how to create ads on Instagram and promote your brand.
Also, check out our latest blogs:
How To Plan A Perfect Facebook Giveaways That Boosts Your Business
Top 05 Social Selling Tips to Connect with the Modern Online Buyer
Takeaway: The Dual Strategy
Rather than dumping all your eggs from one basket to another, it is best to leverage ads on Instagram & Instagram promotion simultaneously and play on their individual strengths.
Whether you are doing clothing ads on Instagram or promoting your online course, if done right- it can serve you great deals. So, without any further ado, claim your free trial of PowerAdSpy right now and take your brand to the next level.