Make the Brightest ads for Diwali 2021
Diwali is upon us! If you are reading this article, you work with social media and trends, and you know how important this time of the year is for us to put out our products for the world to see and buy! Let us take a look at the best ads for Diwali 2020 to draw inspiration for Diwali 2021!
Wondering when is Diwali 2021? It's on 4th November! Diwali brings everybody closer together. Diyas, lights, colorful rangolis, and family constitute Diwali for the world that celebrates the festival.
Diwali 2021 is the second time we celebrate this auspicious festival amidst the pandemic, but as things are falling back to normal, so are people's sentiments towards the festival. Celebrations like Diwali give brands and organizations the perfect opportunities to bond with their customers with their advertisements. Companies pour big money into Diwali ads to sever or culminate a relationship with their audience to reach out to them and try their products.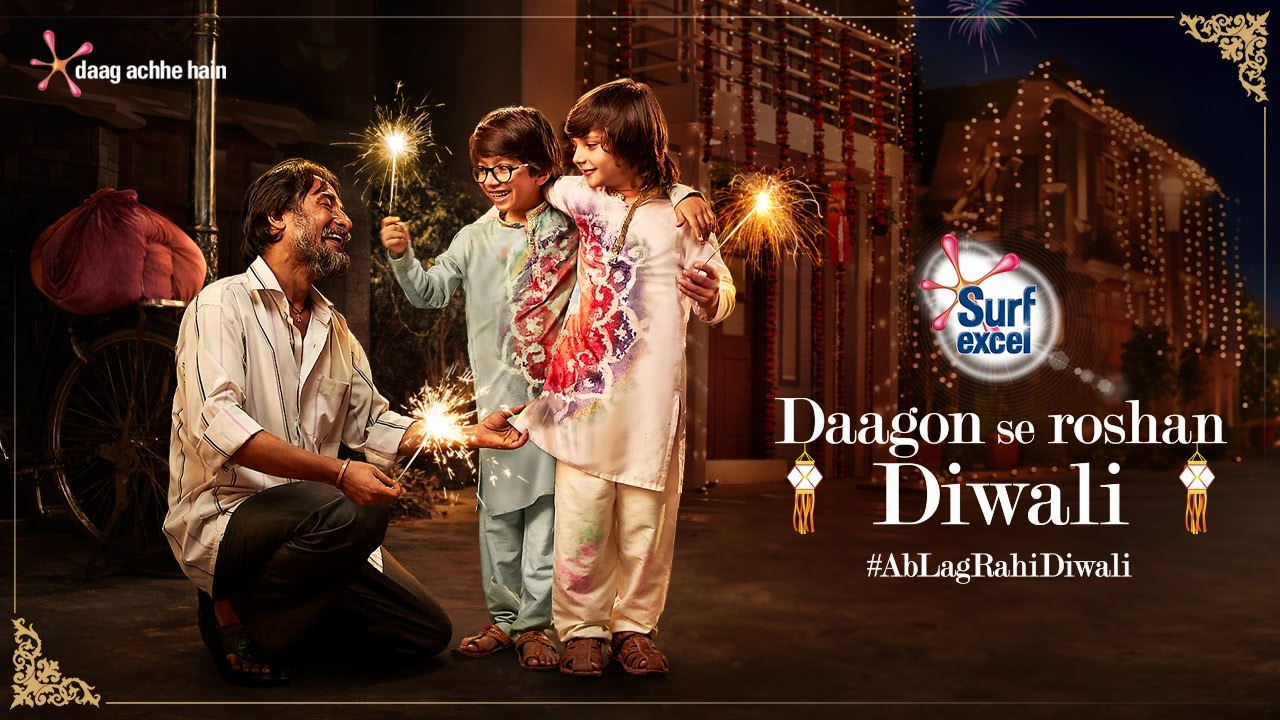 Note: Since the pandemic is ongoing and still affecting our lives, we recommend you to sit at home as you are right now and celebrate it with your family at home. Do not go outside and use sanitizers for a safe Diwali 2021. Celebrate Diwali virtually with your family and friends far away from you and ensure social distancing in every function you attend.
For us marketers and social media managers, Diwali is the perfect time to take advantage of how much people use the Internet to accomplish last-minute tasks for the festivities. Small businesses and brands should provide additional ways to reach out to them for their needs and make themselves more accessible on search engines and social media platforms.
Diwali time has always been a space for brands and agencies to advertise their products to a large audience. As a result, brands set no limits, develop long-form stories, and do not compromise on production value. The sentimental stories of homecoming and escape from home are associated with catchy songs that feature products and messages from various brands. Working with supporters along with some signature themes is part of a trend going on for years.
This year, brands are seeing beyond family and friends. After spending the first half of this year trapped in four walls without work, many are so busy looking for small ways to support their families that they can't celebrate the Festival of Light. People with odd jobs and many other Indians continue their work, some tied to their situation and others bound to their obligations.
The economic turmoil caused by the pandemic adversely affected collective optimism for the celebration. Still, what is needed is a determined optimism of hope and celebration to cheer someone up.
As a result, many brands have chosen to spotlight these overlooked heroes. They urged consumers to support different sectors of our society that are seriously affected by the pandemic.
This year, common themes such as unity, compassion, positivity, generosity, mutual encouragement, and small business support have emerged and have taken over the advertising space. The brands remind their audience to bring light and joy to their homes and others by sharing a small part of their happiness.
If you are a furniture store or an appliance seller with an online website or an offline store, you must curate trending and relevant content that your audience would enjoy. It is the fun part! It is on the creativity of the content creator how they can infuse their products or services with the trend or the feeling they want to evoke in their audience to persuade them to make a purchase.
Even though we could not celebrate Diwali with the utmost celebration last year due to the horrifying, dark clouds of the pandemic, let us look at some of the best Diwali ads of 2020 (and all time) to revisit them and draw inspiration for the most beautiful Diwali 2021 ads!
Sensodyne
Sensodyne is a toothpaste manufacturing brand specializing in finding solutions for teeth sensitivity and has a successful dominance over its audience. Diwali is never complete without mouth-watering dishes that everybody loves! And Sensodyne had no problem with it!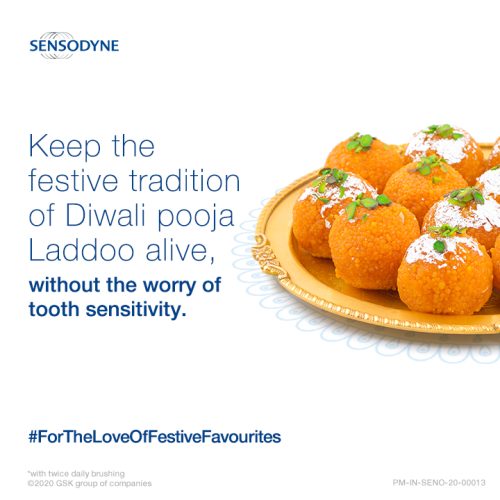 Watch how they decided to bring in the element of video calls in these pandemic times to share a malpua recipe between families and enjoy it together in a safe manner. The advertisement is an apt representation of how festivities can be enjoyed in a safe manner even during a pandemic, together with your family! Search for #ForTheLoveofFestiveFavourties to find more!
HP India
HP India decided to play with our emotions while giving small local businesses a shoutout simultaneously! The tear-jerking ad is a wonderful inspiration for ad content regarding Diwali 2021 as it encourages interaction with local vendors and brilliantly promotes their laptops and printers!
To support this advertisement, they put out a hashtag #GoLocal and got it trending on popular social media networks. It puts out a good sentiment in the public and sends a message to be generous and grateful for the blessings in life. Brilliant work by HP India!
Amazon Prime Video
Amazon Prime Video decided to be sarcastic with their message by asking their subscribers and watchers to spend some time with their families instead of watching their OTT shows cooped up inside rooms all alone. The advertisement was a satirical play on how these TV shows will forever be there to watch, but family time is vital and should be cherished while they can.
They came up with the hashtag #ApnoWaliDiwali by spreading their message with an advertisement featuring Pankaj Tripathi as Kaleen Bhaiya from Mirzapur that advises the viewers to spend some time with their loved ones instead of watching TV inside our rooms all alone.
Vivo India
Vivo's ad "Live the Joy with your family" is cleverly organized around the hashtag  #JoyOfHomecoming. Vivo Diwali's ad shows a depressed grandfather about being lonely at the Festival of Lights. But the new resident of the house kept the old man company and posted his bittersweet moments online via his Vivo phone, which finally touched the hearts of his son and his daughter that left the next day. The ad ends at home on a warm and happy note, where the family reunites.
TVS Credit Ltd.
TVS Credit Ltd. put out a vibrant advertisement that encouraged people to buy two-wheeler and consumer goods availing the loan facility provided by the organization. During Diwali and other festive seasons, brands tend to put out more offers and deals to lure customers in to try their products out.
This advertisement had actors click selfies and pictures of the goods they purchased with the said loan facility and asked their customers to tweet out their purchase stories with #MagicalDiwali on their socials to generate quality user-generated content!
Celebrations' by Cadbury
Diwali ads and Cadbury go hand in hand. It's been so many years that we have seen at least one Cadbury ad during these festive times, and that's because their marketing team puts in solid efforts in determining what caters to their audience!
Last year, when the pandemic took over, and half of the world's small businesses shut down, Cadbury took it on themselves to give these local businesses a massive shoutout through their ads and named the campaign "Not just a Cadbury Ad." The campaign gave small local businesses a platform to advertise their business through Cadbury's advertisement, and it brought forth the true value of Diwali: Celebrating and uplifting others so everyone can enjoy a happy Diwali, thanks to Cadbury!
For Diwali 2021, Cadbury is promoting local businesses and small brands like they did last year. The new advertisement features Shah Rukh Khan, who recently reunited his family, just in time for the holidays to be the face of their campaign in Diwali 2021. Thanks to machine learning and technology advancements, Cadbury managed to deepfake Shah Rukh Khan and promote all these local businesses and small family-owned stores and put a word out. Cadbury has cemented itself as a giver in times like these, and when better to promote them than Diwali!
TATA Motors
Tata Motors came up with a #SilentDiwali Movie that educates viewers to celebrate Diwali in a quiet, more civil manner. This video encourages people to protect the environment by choosing electrical mobility solutions to build a sustainable future for India.
The ad focuses on one of the most vital characteristics of  electric vehicles, the containment of noise pollution, and highlights the underlying message that "the biggest statement is the quietest."
The video begins with a young girl laughing with excitement to launch fireworks. On the contrary, the second scene shows how the natural chakras rotate while the flowerpots are melting in the thin air, how human behavior such as the bursting of fireworks pollutes the environment around us is affected.
Amid the noise shown in the video, the final scene shows a recording of India's best-selling electric vehicle, the Nexon EV. It drives quietly with a low hum without increasing ambient noise. One thing to keep in mind is that the sound of the crackers were covered up by natural sounds like birds, etc.
Paytm
Paytm boarded the "get your audience emotional" train with its advertisement for Diwali 2020. The ad showed how families could not travel and come together in festive times due to the pandemic and solved the problem in their way!
Also Read:
07 Ultimate Strategies For Mobile Advertising Campaigns This Diwali Season
It revolves around the notion that Paytm isn't only for transferring money but also to share happiness with your loved ones across borders. It features people from all walks of life, from a wealthy person to a day-wage worker appealing to several country demographics at once! Brilliant indeed!
Were you searching for a specific ad on here? Impressed by its performance last year and want to take a look at its statistics? Don't worry, PowerAdSpy's got your back!
Make a beautiful ad for Diwali 2021 by doing what the best did, last year!

Are you an advertiser or a social media marketer who had an eye on an ad copy and forgot to bookmark it? Search from a sea of thousands of Diwali ads in PowerAdSpy's database. Do not be overwhelmed by the ads you see on there.
PowerAdSpy's ad database gets updated with thousands of ads every day, so you never fall short of inspiration, especially not during Diwali 2021! Ads from 15+ countries and a search filter so advanced it's like finding a needle in a haystack and finding it!
Recently, non-residents of India have begun celebrating the festival of lights overseas. Advertisers have spotted this and are targeting their Diwali ads in these regions more. PowerAdSpy gives you access to this information and more!
We talk a lot about finding the right ad for you, and we have all the right to do that! With a powerful search algorithm that only requires assistance and the right keywords for you. Sorting is super easy too! Sort by name, tastes, likes, comments and reshares! Tap into the power of unlimited ad knowledge and increasing numbers, thanks to PowerAdSpy!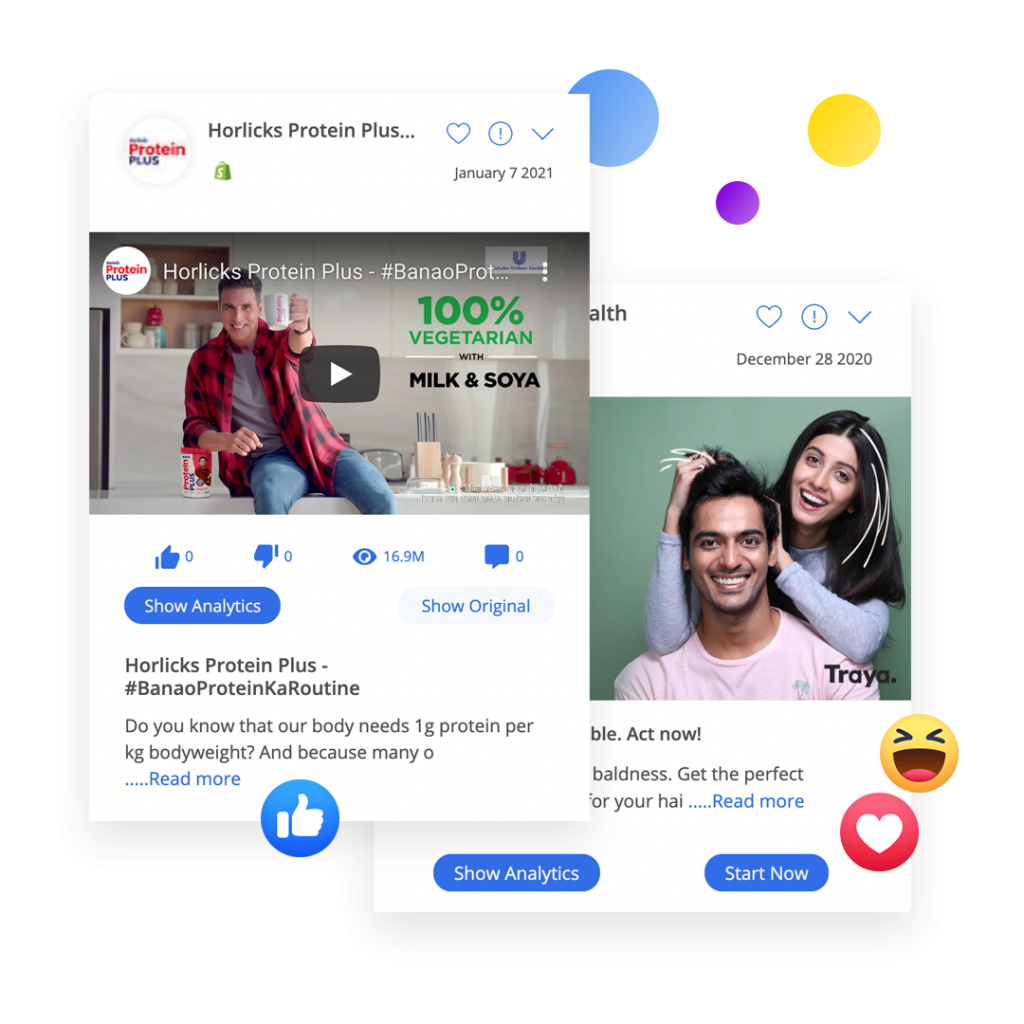 Today's world primarily focuses on niches and trends as most of us spend our time online looking at content curated according to these trends. The goal of a social media marketer with the vision to reach success lies in these trenches: to find these little niches and trends and act on them accordingly.
Not only that! PowerAdSpy provides engagement-focused details and encourages you to modify your steps as a social media marketer to make tomorrow even better. Learn how to analyze all the copies of Diwali ads that have ever existed on the internet to create exciting ad copies during the holiday season. The PowerAdSpy library has both image and video ads, so you'll never run out of content or inspiration to post.
Other countries that have never celebrated Diwali in the past have begun celebrating the festival in their way. Find out if Diwali ads are trending outside of India and target your customers there if you can get an additional return on your investment.
PowerAdSpy will help you locate precisely what your creativity needs by scouring through thousands of ads no matter where it is! Filter your ads by ad positions on the website they are on or choose from the other filtering options by the app!
I would like to conclude this article by blessing you with the perfect ad copy you decide to make, and I hope it comes forth after you do a quick search for it on PowerAdSpy, the number 1 ad spy tool for today's marketers!